Iconic Accessories: The Best Aviator Sunglasses for Men
There is no doubt about it: aviator sunglasses are an absolute classic. Popular with everyone from navy pilots to Hollywood stars since they were first produced a little over 80 years ago, these iconic shades can and should be a part of any man's sunglasses collection.
Not only do they look great, but a good pair of polarized aviator sunglasses can also protect your eyes and help you see better in glaring sunlight. Better still, while these gorgeous sunnies have never really been considered out of style, aviators are due for a comeback in 2022 according to the fashion crowd.
If you don't already have a pair (or if you feel like this is the year for an upgrade), then read on for our list of the best aviator sunglasses for men in 2022.
What to Look For in a Pair of Sunglasses
There are endless options of sunglasses out there, but how do you know which ones are right for you? You've already narrowed down the style you're looking for — the cool and classic aviator — but what now? Here are a few things to look for when searching for a new pair.
Polarized vs Non-polarized
Sunlight is all around us, reflecting off of a multitude of different surfaces in our environment, from lakes and buildings to trees and roads. Beyond the brightness of the sunlight itself, certain conditions, like the sun reflecting off of wet roads or fresh snow, can increase harsh glare.
Sunglasses are essentially protective eyewear with a darkened lens to quiet those harsh bright rays. However, when sun glare is really intense, polarized lenses are the way to go. Polarized sunglasses are treated with a special chemical that filters out a lot of this harsh sunlight, resulting in less glare and eye strain. So while non-polarized options do offer some level of UV protection, polarized lenses have increased visibility in even the brightest conditions.
So why would you ever want non-polarized? While polarized lenses are fantastic for glare reduction and therefore the best choice for golfers, skiers, cyclists, and even just your average dude running errands on a sunny day, they're not always the optimal choice. If you happen to be a pilot, stick with non-polarized. Polarized lenses might interfere with one's ability to read LCD screens. Non-polarized lenses are also a better choice for low-light conditions.
While all sunglasses, by definition, offer a certain degree of UV protection, not all pairs are created equal.
Sure you might find a cheap or vintage pair with dark lenses that look like they'll do the trick, but if they don't offer UV protection in the lenses, you might want to be careful in bright conditions. The dark lenses may allow your pupils to dilate, making them more susceptible to UV damage.
The good news is that most sunglasses today are treated with UV protection. Look for a label that says "100% protection against both UVA and UVB" or similar. 
The 11 Best Aviator Sunglasses for Men
Most Iconic: Classic Ray-Ban Aviators
First developed for the U.S. Army by Bausch and Lomb in the 1930s, the original aviator prototypes had plastic frames and green lenses, designed to give American pilots an edge in the air by replacing their outmoded flight goggles.
Redesigned in 1939 with metal frames and patented by Bausch & Lomb as the "Ray-Ban Aviator," they were popularized early on by General Douglass MacArthur, also famous for his (much less fashionable) corn cob pipe. Ray-Ban Aviators eventually made their way from military gear to commercial product, and haven't looked back since.
Today they are less associated with General MacArthur and perhaps more with the current president. Known in some circles as "Joe Biden sunglasses," the Ray-Bans Aviator comes in a variety of colors and sizes, so you'll be sure to find the right fit for your face, whether you're the President of the United States or just a regular, everyday quintessential man. With exceptional performance, quality and comfort, Ray-Ban aviator sunglasses are always a fantastic, classic choice, and are most definitely some of the best aviator sunglasses you can buy.
UV Protection + Polarized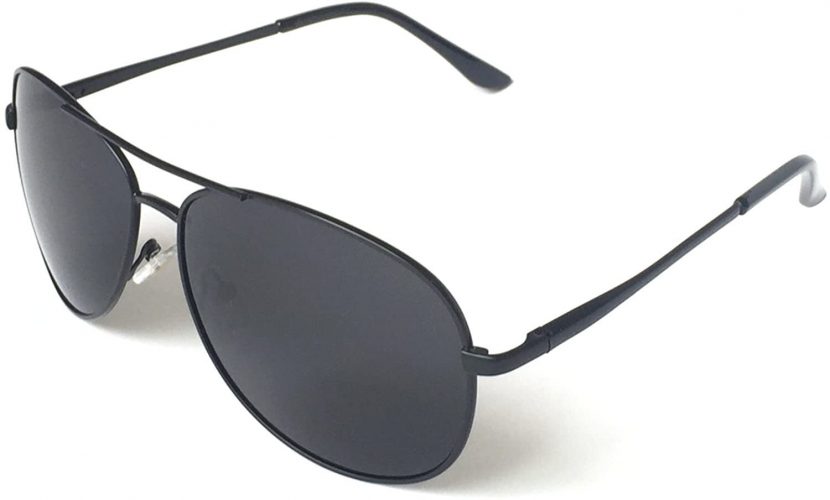 Best Under $20: J + S Classic Aviators
If you enjoy the classic look of aviators but don't love the price tag attached to some of the more high-end brands, then you can't go wrong with the J + S Classic Aviator Sunglasses. Also featured on our Best Men's Sunglasses Under $100, these aviator glasses are polarized, offer 100% UV protection, and won't even set you back $20. They're also tough, lightweight and scratch-resistant.
If you're like us and constantly either lose or destroy your glasses, these might be your best option, giving you great bang-for-your-buck. 
UV Protection + Polarized
Best Folding Pair: Ray-Ban Wayfarer
Speaking of destroying your glasses, there is almost nothing worse than buying a perfect pair of elegant new sunglasses, enjoying them for a few days … and then crushing them by sitting on them in the car, or by storing them improperly in your bag. It happens to everyone – but it doesn't have to be that way!
Keep your style game on point while avoiding crushing or breaking your glasses with a pair of Ray-Ban Wayfarer folding aviators. Not only will they last longer, but they look great too. Of course, you can never be too careful — the glasses come with a case to keep them safe in your bag or glove box. At the end of the day, these are Ray-Bans, so you know you can expect quality craftsmanship. 
UV Protection + Polarized
Best Pilot Aviators: Randolph Aviator
Handmade in the USA in over 200 steps, Randolph aviator sunglasses are some of the best aviator sunglasses for men on the market, and what's more, they're guaranteed for life.
The Aviator, here in Matte Black, is designed with pilots in mind with its non-polarized lenses (no issues reading LCD screens with these bad boys) and Anti-Reflective & Blue Wave lens technology. The Bayonet Temples are specially designed to fit comfortably under headgear, and the signature grey-tint lens maintains contrast distribution no matter the light and terrain conditions.
Complete the look with a Stowa Flieger GMT pilot watch and you'll be all set to take to the skies.
UV Protection
Best Mirrored Aviator Sunglasses: Oakley Contrail
It would hardly be a best-of round-up of sunglasses without an Oakley option. Founded in 1975, Oakley has been making huge strides in the sports equipment and active lifestyle industries. The company currently holds over 600 patents in the eyewear and performance gear sectors, even providing eyewear for the US military and law enforcement. 
The Oakley Contrail Aviators with Prizm Sapphire lenses are both practical and stylish, and deserve a nod as one of the best mirrored aviator sunglasses out there.  Constructed of lightweight C-5™ metal material, these Oakley aviators boast an adjustable fit and all-day comfort. And as with all Oakley sunglasses, they're prescription-ready if you need the option.
If you want a pair that is sure to stay put on your face no matter what you're doing, Oakleys are a fantastic option and some of the best aviator sunglasses out there.
UV Protection
Best Square Aviator Sunglasses: Moscot Shtarker
We can't get enough of these handcrafted Moscot Shtarker beauties. Featuring a comfortable double-bar nose bridge and silicone nose pads for extra comfort, Moscot has taken the familiar aviator shape and put their own spin on it, making these some of the best square aviator sunglasses out there.
Created by Doctor of Optometry Harvey Moscot, a man that represents the fifth (yes, fifth!) generation of his family to sell eyeglasses, these shades are some of the best aviators for men, and stylish to boot. While a little on the pricey side, the quality and style of these glasses is unmistakable. Often sold out, if you see a pair available for sale, jump on it!
UV Protection
Best Vintage Look: Tom Ford Huck Aviators
Tom Ford is a fashion design icon, so when he sells a pair of aviator-esque sunglasses for men, they automatically go on our list.
Thanks in part to his previous experience at Gucci, YSL and Marc Jacobs, Ford is no slouch when it comes to elegance and high fashion. With a stylish double-bridge and Ford's "T" logo on the temples, Tom Ford Huck sunglasses are made in Italy and would be an excellent addition to any man's collection.
UV Protection
Biggest Statement: Gucci Gold Metal Aviators
The Gucci Aviators are, like most things Gucci, a thing of beauty. One of the world's leading luxury lifestyle brands, it's not surprising to see that Gucci brings the same level of creativity, craftsmanship and innovation to their glasses as they do their other apparel and accessories.
Boasting golden metal frames with red and green detailing, green shaded lenses, and subtle bumble bee stamp on the tips to represent the House, these glasses come with some luxurious extras. An added bonus of buying these men's aviator sunglasses is that they come in a velvet hard case (available in 6 colors), a matching satin lining, a matching satin flannel pouch, and ivory microfiber cloth to make sure you keep these babies nice and clean.
Pair these with a Gucci Marmont Thin Belt for an ultra lux yet subtle level-up to pretty much any outfit.
UV Protection
Most Playful: Westward Leaning Malcolm No Middle 07
We'll admit that when we first came across the Malcolm No Middle 07 glasses, the first thing we thought of was Frankie Muniz, the star of Fox's Malcolm in the Middle. But that was the past, and these glasses represent the future.
The navy gradient-tinted lenses, polished rose gold frame and matte black acetate temples create a luxurious look, but at a lower price point than some of the other glasses in this list. The sleek and squared-off interpretation of the classic aviator look does a lot to bring the classic look into the 21st century, and has the added benefit of being more accessible to more face shapes.
Featuring 100% UV protection, these aviator sunglasses for men are super durable, lightweight, and yet remain flexible enough to withstand a little punishment. The lenses are also shatterproof, although we don't recommend you try to test it out. Treat them nicely!
UV Protection
Best Oversized Aviator Sunglasses: Carrera Hot65
Carerra's aviators have a distinct frame shape, and a bold, retro style that evokes the spirit of the 1970s and 80s. These lightweight aviators for men look and feel great, and we can just imagine popping them on after a long day of golf with the boys, or a hard fought battle with the Cali cartel.
Something we like the most about these Carrera aviator sunglasses are the acetate frames, which make them a little bit more durable than metal ones, less vulnerable to twisting and snapping. However, with a lens width of 64mm, these glasses are a little on the large side, and their slightly oversized silhouette might not work as well with certain face shapes. You might want to try these on for fit before adding them to your collection, but rest assured that these are some of the best oversized aviator sunglasses out there.
UV Protection + Polarized
Biggest Splurge: Jacques Marie Mage Peyote Antique
We may have saved the best for last with Jacques Marie Mage's jaw-dropping Peyote Antique sunglasses. They are part of a limited production batch of only 400, and part of their charm relates to the fact that they were inspired by Gonzo journalist Hunter S. Thompson.
Handcrafted in Japan, we love the vintage blue lenses, complimented nicely with the 100% Beta silver titanium frame and the unmistakably cool black tortoise matte acetate top bar. These iconic glasses may help you get in touch with your inner party animal, but keep you safe with standard UV protections and anti-reflective treatments. Along with a burgundy hard case and microfiber cleaning cloth, this pair comes with a   custom press certificate with limited edition serial number.
As Hunter once famously said: "A man who procrastinates in his choosing will inevitably have his choice made for him by circumstance." So don't let fate choose for you – pick up a pair of these today, you won't regret it.
UV Protection
Especially useful in bright sunlight, glasses with polarized lenses are treated with a special chemical that filters incoming light so that wearers can see more clearly. Polarized lenses will make images appear slightly darker overall, but greatly reduce both glare and eye strain, making it easier to see details that would otherwise be washed out in the sun.
As it is with most fashion choices, "looking good" is a subjective measure. That said, aviators have been a stylish choice of sunglasses for almost a century for a good reason: they look good on most people! To find out if aviators look good on you, try to choose a pair that are proportionate to your face, fit you well, and balance your features. Aviators are wide at the top and taper towards the bottom, so they often work well with faces that are heart-shaped, oval or square.
With strong, durable frames and made of the highest quality materials, Ray-Bans are some of the most popular and iconic designer sunglasses on the market today. Currently owned by Italian eyewear conglomerate Luxottica Group, they also have a rich history, adorning the faces of the biggest entertainers and celebrities since they were first created by Bausch & Lomb in 1936.
Yes, they are some of the best aviator sunglasses, but the best is in some ways subjective. Randolph aviator sunglasses are also excellent, as are Oakley, Moscot and more.