Best Whiskey: Drink Up with Our Spirit Reviews
Whiskey is magic. There is no other way to describe its ability to bring humans together, for generations, regardless of cultural differences. No one is quite sure where the 'water of life' originated, but many believe it was either in Scotland or Ireland. While there is no definitive proof confirming either country, they have both embraced it — each promoting their respective distilling method as superior.
So what is the best whiskey out there?  To answer that, we dive into the different categories of whiskey, from Scotch to bourbon, and detail our favorites in each.
Whiskey Types & Their Origins
 Today, many countries are distilling their own whiskey and although similarities are apparent, no two countries share the same distilling method. In fact, you can enjoy a world tour by simply sipping drams of whiskey.
Irish Whiskey: Once the most popular spirit in the world, this whiskey is triple distilled using pure malt barley as the grain. Irish whiskey is unpeated, unlike scotch, giving a smoother more distinctive taste — it's always neat, clean, and crisp.
Scotch Whisky (or Scotch): Made in Scotland (obviously), which has extremely strict laws for distillers, this whisky must sit in casks for at least three years before it can even be called Scotch. With over 100 distilleries spread across five regions of the country, Scotland exports over 1 billion bottles of this sweet, peaty nectar.
Japanese Whisky: Scottish inspired, Japanese whisky is made of malted barley, that is mashed and distilled twice. In true Japanese fashion, this elegantly crafted spirit keeps a focus on finesse and elegance.
Canadian Whisky: The number one imported spirit to the United States, this whisky is also the best-selling in North America. Canadian distillers generally use malted rye for grain, which means that every bottle of Canadian whisky can also bear the name "rye whisky".
Rye Whiskey: Real American rye whiskey is with at least 51% rye (the rest is usually corn, malted barley, or wheat) and aged in newly charred oak barrels for a minimum of 2 years. Not to be mistaken with Canadian rye whisky, which is mainly corn-based and by law must be mashed, distilled, and aged for 3 years in the Great White North.
Bourbon Whiskey: Originating in Kentucky and proprietary to the United States, Bourbon must be crafted with at least 51% corn, making it sweeter than other whiskeys. It's only produced in brand new barrels, so it's probably not surprising that there are now more barrels of bourbon in Kentucky than there are humans.
Tennessee Whiskey: Smooth, sweet and warm (just like the song goes), Tennessee whiskey is technically a bourbon, but don't tell anyone that. Distilleries are required by law to be in the state of Tennessee and use a filtering step known as Lincoln County Process — which involves charcoal filtering (or steeping), before completing the aging process.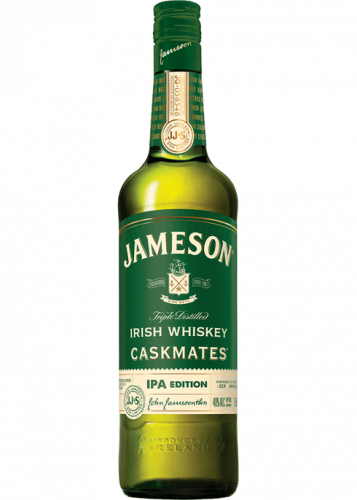 Best Irish Whiskey: Jameson Caskmates Whiskey IPA Edition
Jameson has long been a staple in bars across the world, and this Irish whiskey has branched out from its classic "speed rail" edition while remaining true to its roots. In a collaboration with craft breweries, Jameson Caskmates IPA Edition finishes the aging process in whiskey barrels once used by Cork's Eight Degrees Brewing. The additional flavor from the India Pale Ale produces a sweet, relaxed, and rounded taste – making this whiskey a serious upgrade from the classic Irish version. The first batch of Caskmates yielded a mere 2000 bottles, before hitting the United States nationwide with this second edition.
Best Rye Whiskey: Woodford Reserve Kentucky Straight Rye Whiskey
Woodford Reserve Kentucky Straight Rye Whiskey is made with (at least) 53% rye and aged in new charred American oak barrels. While the use of charred oak barrels is standard across American distilleries, Woodford is the only facility to produce, toast, and char its own barrels. The Woodford Reserve Distillery, now a national historic landmark in Kentucky, is known for its classic taste brought on by only five sources of flavor.  Its proprietary toasting process brings out notes of vanilla and orange — while the distiller's charring technique encourages the aroma of chocolate and spices, with a peppery finish. This Kentucky Straight Rye was the result of multiple requests made by many enthusiastic fans and has found a sweet (and rich) spot, that won't knock your socks off.
Best Japanese Whisky: Suntory Toki Whisky
The popularity of Japanese whiskies has grown in the last decade, and Suntory has found a way to surf that wave. Suntory Toki was created for the modern-day whisky drinker, it challenges tradition by using new methods of blending and the result is one delicious blended whisky.  Brought to us by three different distilleries under Suntory's umbrella, the refreshing blend is made of selected barrels: Yamazaki (malt), Hakushu (malt), and Chita (heavy-type grain whisky). This fresh new flavor has a subtle floral aroma, tastes light and smooth –with hints of honey-dipped apples – and is best served with a splash of something fizzy.
Best Scotch Whiskey: Lagavulin 16 Years Old
Lagavulin is a traditional Scottish whiskey with a lot of history, this single malt delight hails from the charming island of Islay, Scotland. The best way to describe drinking a dram of Lagavulin 16, is simply 'wafts of peat smoke', but it's not just for older men wearing flat caps and sitting at the bar. This whisky is distilled traditionally using 100% malted barley and aged for 16 years — it's full-bodied boasting fruit, tobacco, and seaweed flavors. It also offers a uniquely dry and rich taste, ready to transport you to the coasts of Scotland at the touch of your lips.  
Best Bourbon Whiskey: Maker's Mark
Maker's is arguably the distillery that revolutionized bourbon to be what we taste today — the flavor is best-described as notes of vanilla and creme brulee, finished with a hint of oaky spice. The mash bill is made of 70% Kentucky grown corn, 16% red wheat, and 14% malted barley – giving us a bourbon whiskey that is 100% American. To this day, each bottle is still hand-dipped, sealing it with the "Maker's Mark". This bottle tastes expensive but is accessible to everyone, and no one will judge you for using it to make an Old Fashion (add orange zest for a game-changer).
Best Tennessee Whiskey: George Dickel Barrel Select
Seeing the words 'Barrel Select' on a bottle might make you think it was just a way to catch your eye when browsing the shelves at the liquor store, but the craft masters from the George Dickel distillery are true to their word. Each year, they carefully handpick 10 of their finest barrels, to be sent to age for 10 to 12 years. This whiskey is made mostly of corn, and the addition of rye and malted barley —  it has a  bouquet of aromas, including caramel, toffee, and corn, with hints of cherry and touches of vanilla. This George Dickel Barrel Select delivers a taste true to its nose, a forthright palate of caramel and corn notes, accompanied by a clear oak char, and some herbal impressions of fennel and mint. Considering the steady stream of awards attributed to George Dickel's team for their Barrel Select, it's a must-have for your Tennessee whiskey collection.
Best Canadian Whiskey: Pike Creek
Pike Creek is a distillery that believes that whiskey distills best when left to its own devices. These casks are left in a warehouse that has no electricity — meaning it's not climate controlled. If there's one thing to know about Canada it's that the weather is somewhat unpredictable — the people of Pike Creek credit their whiskey's full robust body flavor to these unpredictable temperatures of the North. We wouldn't expect anything less, considering the master blender has a PhD in wood science. This Whiskey has notes of dried fruit, rum-like aromas brought on by the repurposed rum barrels, and a full-bodied woody peppery touch — Pike Creek is a uniqueness we can all enjoy.
Best Rare Whiskey: Johnnie Walker Blue Label Ghost and Rare
Known for its iconic color-coordinated bottles, and the taste of dried peat, Johnnie Walker is surely a household name in the scotch world. While other distilleries have tried to compete, many have failed, creating 'Ghost Distilleries' (or warehouses) that are no longer open, yet stocked with unopened casks of aging scotches with no one to mind them. Enter Johnnie Walker, and the idea to one-up its already top-shelf Blue Label using these abandoned casks. Dr. Jim Beveridge is the master blender and genius behind hand-selecting each barrel to make a blend with these limited quantities — to date, Johnnie Walker is on its third run of Blue Label Ghost and Rare.