Best Golf Clubs to Feel Like a Pro
Those who don't golf might never understand how hard golf really is. I mean, from the outsider's perspective it seems simple: just hit the ball, walk to where it landed, and hit it again. How hard can it be, right? The truth is, hitting a golf ball well might just be one of the one of the toughest feats in sports.
The legendary late Robin Williams summarized it best in a stand-up skit. Throwing a football, hitting a tennis ball, or taking a shot with a hockey stick kind of just happens. You can most likely do it your first time trying. Golf is a whole other situation. It may take you hours to get that first shot in the air, never mind aiming it towards your target — that tiny little hole way down there.
Once you do get it up in the air, you're an addict. You will lose sleep thinking about the next time you get to play and what you will do differently. You will pour over hundreds of Youtube tutorials just to find a better way. And you will most likely never reach the consistency you crave. Follow the PGA tour to see just how hard it is to stay consistent. Even the best players in the world miss shots, and they miss a lot. The winner is usually the player who has the best recovery game.
What we need to do is to minimize our misses. Lucky for us all, our favorite golf brands understand this and are constantly improving clubs to make them easier to hit, and to make them more forgiving.
There is a variety of clubs available on the market, and it's important to find the right one for you. Not every club is good for every golfer. Depending on your swing speed, your handicap and even your physical makeup, there is a set of clubs out there that is just perfect for your game.
If you can afford to buy new, you should also get fitted for your clubs. When you get fitted you go through a few swings with different club set-ups in front of a simulator. This collects data on your swing to determine what kind of shaft, grips and angles are best for you, and how tall your clubs should be. They also make numerous small adjustments designed to compensate for the way you hit the ball so that the face of the club at contact is exactly as it should be. If this is not a financial option for you, you can use this guide to buy the right clubs for you.
Your iron set is a crucial purchase as these are the clubs you hit the most and take up the most real estate in your bag. There's a lot of them, and you hit them all. There are two categories of irons to choose from: muscle back irons (also known as blades) and improvement irons. Improvement Irons are easier to hit and are more forgiving. They are engineered to correct common mistakes. Blades have a slimmer profile and allow more control of the club to help you shape your shot, but they can get you in more trouble. Unless you are a low handicap of 9 or less, you should be looking for a good set of game improvement irons. Here are a few great ones to choose from.
TaylorMade SIM 2 Max and SIM 2 OS
TaylorMade has used advanced AI technology to help design the most forgiving set of irons ever offered. The Sim2 irons are engineered to help you hit better shots more often. This is achieved with the all-new Cap Back and Thru-Slot Speed Pocket technology combined with an intelligently-positioned sweet spot that spans the most common impact spots on the club. The multi-material construction promotes better forgiveness, distance and feel. The ECHO® Dampening System, fully enclosed by the Cap Back Design, stretches from heel to toe and absorbs unwanted vibrations, improving feel and maximizing face flexibility.
The oversized construction delivers stability at impact. Combined with the larger sweet spot, this construction promotes forgiveness across the entire face of the club. Each iron face has also been engineered to encourage a neutral ball flight and counteract tight misses — the most common miss.
If you don't have time to go try a bunch of clubs and weigh out the difference, this is the one for you. Across all swings, nothing will give you a better shot and nothing will forgive the way the SIM2 forgives.
The SIM2 irons are available with steel or graphite shafts; the set is offered as 5-PW with an AW, or upgrade to the combo set to add the 3 and 4 Hybrids.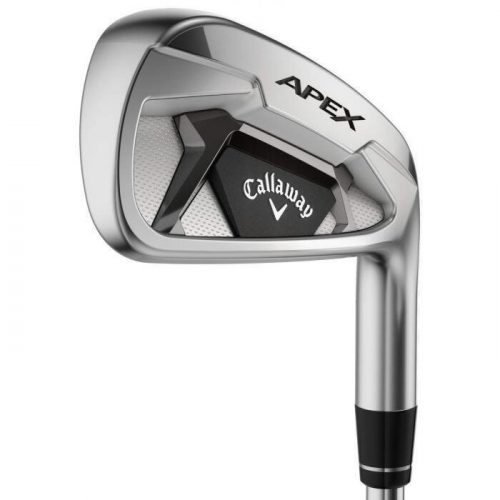 Not to be outdone, Callaway has also updated their hugely popular Apex DCB club this season. Callaway also used extensive AI data to design an uber-forgiving set of irons. The clubs are fabricated using Tungsten encased urethane microspheres, creating tiny bubbles of air within the urethane. This construction not only helps to foster trajectory control but allows for more flex at impact as well. Callaway has designed a face for each individual iron in the set to optimize performance. With up to five times the tungsten material, the face recovers spin rate in ways unachievable until now, especially with shots hit low on the face. The sole has also been beefed up to help the club move through rough more easily. This is a great set for those looking for more feel and shape to their golf shots.
The Apex series is available in three different sets. For those with higher handicaps, we suggest the Apex DCB featuring a slightly deeper cavity-back for added forgiveness. Callaway has also redesigned two sets of hybrids to go with your new irons. The Apex Pro is the slimmer of the two and plays with a lower loft and slightly more spin. The Apex is adjustable so you can tweak your launch angle and has tungsten in the back to add forgiveness while promoting lower spin to minimize mishits.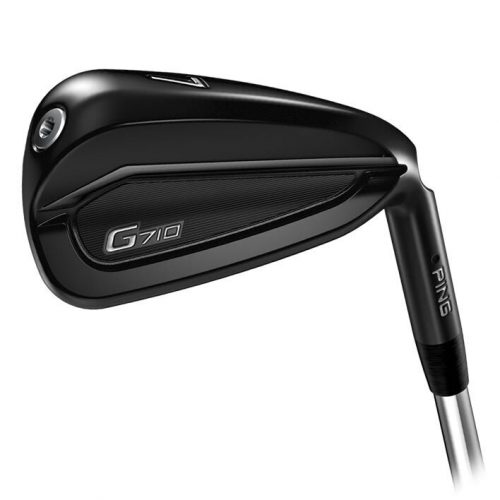 The Ping G710 is Ping's longest and most forgiving set of irons to date.  The G710 irons use a maraging steel face insert that's surrounded by a 431 stainless-steel body. The maraging steel face provides metal wood-like face flex that launches the ball higher, allowing for slightly stronger lofts for more distance without sacrificing the shot-stopping ability that comes with height on iron shots.
The clubs feature tungsten weights in the toe and heel to provide more stability on off axis hits. The club's wide sole also makes it easier to hit through the ground helping eliminate the dreaded "skulled" shot.
Each iron is also equipped with an embedded sensor in the grip to automatically record and analyze every shot taken during a round which can then be paired with the Arccos Caddie app to study the data and get your club selections right. The clubs are forged in a beautiful stealth black colorway and also have color indicators so you can quickly choose the right club at game time. The clubs are offered in an array of no upcharge shaft options as well as a few upcharge choices including the ultra-light Alta Distanza Black 40 graphite shaft with a more flexible tip section for improve trajectories and faster swing speed.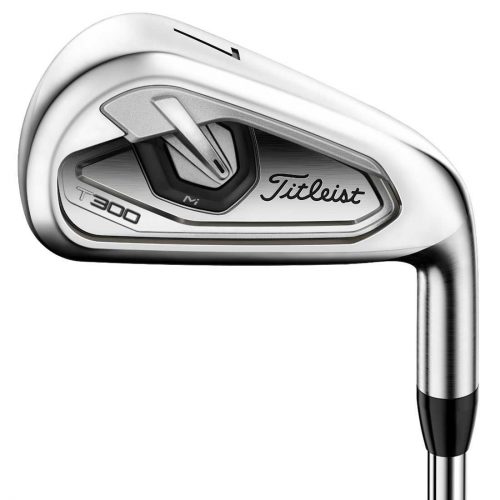 Titleist is the number one ball in golf. More than half the pros on tour use Titleist.
The T300, easily the company's most inventive design to date. The key lies in Max Impact, a spherical structure made of a lightweight silicone polymer that sits directly behind the face's impact area. This material allows for a thin face with centralized support improving the way the face gives across a broader area. The face produces incredible consistency and great feel on every shot. While this in not a material found in golf balls, the company's golf ball division R&D department's knowledge base was instrumental in finding the right polymer to achieve this technology. The T300 also features a Silicone core allowing for a more precise sweet spot which helps the club return more energy on off center shots, producing more consistent distances. The large cavity design also utilizes Tungsten wights in the heel and toe. The set uses progressive blade lengths, sole widths and Hosel lengths for a more natural flow through the set.
Hopefully these irons will help us break a new score, but It's not just about winning, is it? it's also about having a monster drive, right? Sometimes it seems we'd rather look good off the tee than play boring and finish with a great score. We want a little drama in our game, and nothing does it quite like a drive. So go ahead, reach for one of these driver's and get some cheers.
TaylorMade M6 and SIM2 Max Drivers
One of the most forgiving drivers on the market today. The driver features Twist Face Technology which is anew curvature on the face which helps produce more consistent spin in the areas we seem to miss the most. The M6 is one of golf's longest drivers, so it's comforting to know it will still hit long when we shank it off the heel.
If you have a little more bucks to splurge, the TaylorMade SIM2 Max Driver will offer a little more Distance and a much fresher aerodynamic design. It also adds an inertia generator which is constructed to increase clubhead speed, ball speed and ultimately add distance to your drive.
The SIM2 Max Driver can be adjusted in a variety of ways which include, Lie, Loft and weight. The sliding weight track is the best on the market.
Both are available in 9 and 10.5 loft options.
Buy 1 or 2 matching woods for a consistent approach to all your big clubs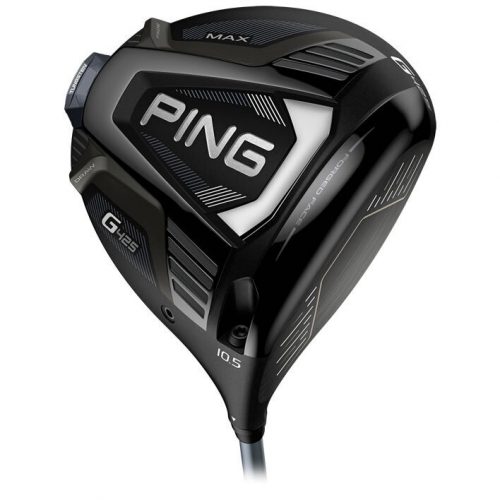 The G425 Max Driver boasts the highest MOI (Moment of Inertia) in Ping's history and provides golfers the most forgiving driver in golf. The added speed at impact is due to a 26-gram tungsten weight, and what's even better is that its adjustable to fix the center of gravity lower or further back without affecting the Drivers performance. 3 positions are available, neutral, draw or fade. All this added weight is possible thanks to the Dragonfly crown technology which greatly reduces weight. The club also features turbulators for reduced aerodynamic drag, and the T9S+ forged face to accelerate face flexing to give you more distance. And if that wasn't enough, the internal rib structure improves a acoustics for a solid and pleasing "ping" sound.
You can choose between the LST for lower flight or the SFT for a straighter flight.
Buy the 3 wood, if your more comfortable of the fairway with a wood in your hands.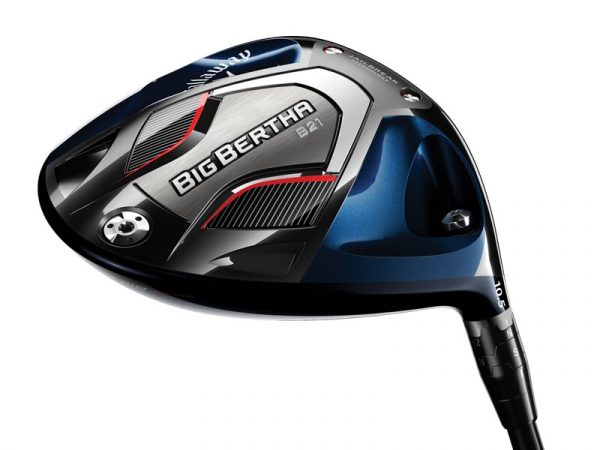 Another AI designer wonder, the B21 Driver is built to hit it long and straight every time.  Callaway's first driver built to deliver the unique combination of high launch, low spin and significant draw bias. It's a new formula built for distance while taking out your big misses.
The head is constructed with 2 internal jailbreak bars to connect the sole and crown giving an elevated ball speed. The lightweight carbon crown gives way for added weight at the sole, all built for a higher MOI. Not to be overlooked, this driver also comes equipped with a Pride Tour Velvet Soft grip. This club is built to deliver long fairways with ease, and it truly delivers.
Available in 9.0, 10.5 and 12.5 lofts with light, regular and stiff flex options.
The accuracy of your play near the green is the most crucial of all your swings. A mishit here will most likely cost you an extra point, even just 8 feet of the mark means 8 feet more of pouts or another swing all together, so it's crucial to have 2 if not 3 wedges in your bag.
Here are a couple of great choices.
Titleist Vokey SM8 Jet Black Wedge With Steel Shaft
Master Craftsman Bob Vokey has spent years crafting, developing, and improving his Tour-proven sole grinds to fit players of all levels. They are the best wedges in golf. The SM8 has been re-imagined improving distance control, shot versatility and spin to offer their best wedges to date. This is the most used sand wedge on tour.
Choose from a huge selection of grinds and angles.
Taylormade MyHi-Toe Wedges
These wedges are the latest addition to the #MytaylorMade program of personalized wedges. You can choose the finish of your choice from Bronze, Black, Chrome or RAW, you choose your bounce, you can choose you paint fill color and finish with the shaft and grip combo of your choice.
The standard Sole is available in 50, 52, and 54 degrees. The 4way sole option is great for players with a steeper swing and are offered in 56, 58 and 60 degrees and the ATV grind with a higher bounce is available in 58, 60 and 64 degree options. Go ahead, treat yourself.
These wedges have been completely redesigned in close collaboration with PING pros and company advisors to offer a premium quality compact wedge design with soft feel, high spin and shot making versatility. Engineered for forgiving shots every time you hit the ball. The precision wheel-cut grooves add extra feel and control around the greens.
Available in 54, 56, 58 and 60 degree lofts. I would buy all 4.
Perhaps the most important club in your bag, the putter is the club that finishes the hole. It's the club that finishes a birdie, or turns that little bird into a bogie, or worse. A missed putt is a point, there is no chance to make up for it, it's a point. Find the right one for you and practice at home, practice at the office and practice before every game. Here's a couple of tour favorites.
Ping Sigma 2 Anser Platinum Putter
The Answer is the winningest Putter in PGA tour history but that wasn't enough for Ping. They've improved it. The newest iteration has a traditional heel-toe ballast for better MOI and has a simple clean top rail alignment bar. The mid hang balance targets players with moderate rotation in their stroke making it perfect for most pros and amateur golfers alike.
Cleveland Frontline Collection Putter
The Frontline is a newly designed putter delivering tungsten forward weights and a center of gravity closer to the face creating a extra stability at impact for straighter more consistent putts.
Cleveland's proprietary Speed Optimized Face Technology normalizes ball speed across the face so even with a slight mis hit you should be rewarded with consistent distance.
Now that you're feeling like a pro, get out there and go play. Hopefully these clubs will have you hitting long and straight all day long.