Best Outdoor Heaters For Year-Round Open-Air Enjoyment
After being shut in for so long, we want to be able to spend as much time as possible outdoors – BBQing, lounging, and spending time with loved ones. We did just that for most of the spring and summer, but as the leaves start to fall and temperatures cool, we're all feeling a little anxiety. Are we going into another lockdown? Will indoor gatherings be safe during the fall and winter months? I'm sure I speak for all of us when I say we might not survive another lockdown without company and gatherings.
So why not let the open-air activities continue when summer comes to an end? Invest in the one of the best outdoor heaters and you can do just that. There are so many options available to heat up a small gathering area, or even a larger one if you have the space. From tabletop heaters to restaurant-style stand up heaters, fire pits and even outdoor fireplaces, there is surely one that suits your style and budget.
Propane and electric heaters are convenient, easy to use, and won't leave everyone smelling like they just came back from camp. The propane gas heaters will give better heat, while a small electric option might be better suited for balconies or smaller areas. If your city does allow wood burning, this is a great natural option that provides heat as well as the ambiance of crackling wood and flickering flames, just be sure to check the bylaws in your city before purchase as most major cities do not allow these types of heaters.
We've compiled a list of some of the best outdoor heaters for every situation to help you choose the one that'll keep your outdoor entertaining dreams alive for the next few months as you dream of summer and ask yourself why you don't live on a Caribbean island already.
The 8 Best Outdoor Heaters in 2022
AZ Highland Patio Heater with Table
This restaurant-style heater will be the envy of all your guests. The heat is powered by propane, the same you use for your BBQ, and with 41, 000 BTUs, it gives off a lot of heat. It's enough for 10-12 people to easily gather around with enough space to feel the heat. The heater itself is over six feet high and shoots the heat down so you won't feel like you're about to light on fire. A hammered bronze powder-coated finish adds a touch of design to your patio or backyard, and it's on wheels so it's super easy to move around. The propane tank is nicely hidden inside the base, which is equipped with a large weight underneath to stop it from tipping. The small adjustable table on the stem is a great feature.
AZ Patio Heaters include a one-year warranty against manufacturer defects, and they are one of the only suppliers to maintain a complete line of replacement parts and a full-service repair center. With today's shortage of everything, this is a great feature. It's available on Amazon, so ordering is easy, and shipping is free. What more could you want?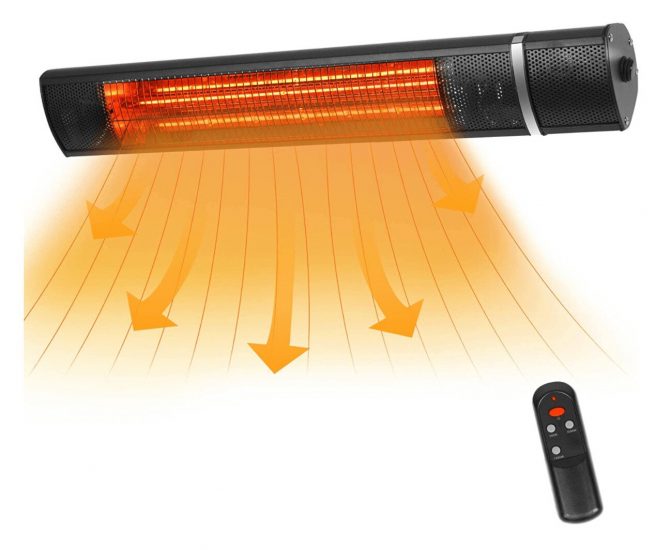 VQVG Infared Heater With Remote
Although this heater won't give you the power of a propane heater, the 1500 W provides a great source of heat at a fraction of the operating price and the design is sleek and takes very little room. The infrared technology delivers radiant heat to the surrounding area, giving an even heat across a medium-sized space so everyone can be comfortable. The heater emits no sound or smell and is rated for indoor or outdoor use. The heater is easily mounted on the wall or ceiling and plugs into a regular outlet. Zero hassle. 
The unit comes with a remote control that not only turns the unit on or off, but also allows you to choose from three different heat settings. The casing is constructed of durable aluminum in silver finish with stainless steel screws, giving it an IP65 waterproof rating for added ease of mind. Swivel design adds convenience as you can direct the heat as needed. The unit comes with a one-year warranty. This is a great choice for a smaller space and can easily be grouped for a larger space.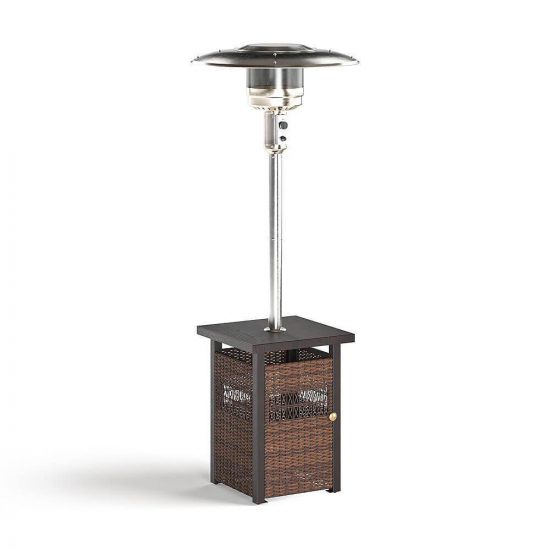 Hampton Bay All Weather Gas Patio Heater in Wicker
The Hampton Bay All Weather Heater is the perfect heater for your backyard entertaining. At 48,000 BTU power, this puppy really heats. If it were any hotter it would be a BBQ. The cone-shaped burners and stainless-steel reflectors give a nice even heat and reach a larger area. The design is very nice and includes an all-weather resin wicker casing which covers your propane tank for a less industrial look. There is also a large table around the pole so the party can stay close and have somewhere to put their drinks. The unit has an easy light button as well as a safety shut off in case the party gets too rowdy. Assembles in minutes and comes with a one-year manufacturer's warranty. Pick one up and extend your BBQ season.
Hampton Bay Outdoor Bronze Pyramid
The Pyramid Heater would make a stylish addition to any patio. The bronze pyramid base gives the 42,000 BTU heater a stable balance.  The 360-degree heating design allows it to reach a larger area — an impressive 112 square feet — and can accommodate a lot of people. The stainless-steel reflector on top also helps keep the heat low and prevents it from escaping. All in all, this is a great heater which easily fits in any space and requires very little assembly. As a bonus, the heater looks exceptionally nice when lit up and provides just enough light for your get-together. The heater has a convenient, electronic ignition feature as well as an automatic shut-off function and comes with a one-year warranty.
Aegean Large Rectangle LP Fire Table
If you're serious about your outdoor space and you have plenty of room, this fire table is just what the doctor ordered. The simple design will appeal to your minimalist modern taste. The Weathered Slate incasing looks like something out of the latest architecture magazine and fits right in with modern home design. The whole thing is powder coated for added weatherproofing as well as scratch resistance. The flickering flames are created with red lava rocks, and 50,000 BTUs of powered propane gas adda a great ambiance to your party. The unit comes with a stainless-steel cover for increased functionality. Other sizes and shapes are available depending on your needs and space. Whichever one you choose, this is sure to be the centerpiece of your patio or yard design, and promises to keep everyone huddled around for hours of entertaining. The heat is adjustable and can last for 7-20 hours depending on which setting you choose.
Napoleon Kensington Round Patioflame Table
The round shape of this table is perfect for family and friends to gather around and works especially great if everyone is seated. The lightweight and rust-resistant aluminum body is easy to move around. Rustic bronze finish and a woven pattern adds a little backyard luxury and blends well with wicker furniture or rustic themed patios. The propane tank fits nicely underneath the unit and can be accessed via an access door so it's out of the way. The flames add a wonderful ambiance while also adding just enough light for your entertainment needs. What's more, the table also comes with a matching burner cover available in different glass colors for added convenience. This is a great option from a trusted name that's been in the BBQ and patio game for a long time.
Outdoor Accents Vanderbilt 28 in Gas Fire Pit
Here's another great gas-powered fire pit that's sure to add ambiance to your next get-together. The table features a brown tile top and black base with hidden control panel, making it an attractive centerpiece for your outdoor living space. The stainless-steel burner produces 50,000 BTUs and gives a great flickering flame while giving off a great deal of heat. The unit has an easy push and turn electronic ignition for adjustable heat levels, as well as an automatic shutoff safety device. This is the best Fire Table under $500 that will leave your friends wondering how you could afford such a stunning unit. 
Uniflame Firehouse with Chimney
If your neighborhood allows it, there's nothing quite like a wood burning fire table to up the ambiance and give you that log cabin feel. The Uniflame Firehouse fire pit does just that. The vintage wood burning stove design adds a touch of class to your patio and creates a wonderful heat while keeping you safe from flying sparks. The design offers 360-degree views of the fire, so you all sit around keeping warm and enjoying the dim lighting for hours. The frame is constructed of enamel painted steel, which can resist high temperatures and will stay looking new for a long time.  The chimney not only adds to the nostalgia of the design but is fully functioning and will help direct the smoke away from your party. As a bonus, the fire table comes equipped with a slide-out cooking grill with enough room to cook up 6-8 burgers with that authentic wood fire taste.