the Best Men's Skincare: A Man's Manual
Men's skincare used to be pretty straightforward. As long as we showered daily and kept our faces clean, we thought we were good to go. However, in recent years, proper skincare has taken on greater importance for many men. 
Clean and fresh-looking skin can essentially turn back the clock and make you look (and feel) younger than your years. There are also medical benefits to maintaining a daily men's skincare routine, especially if you include a sunscreen product to help combat the harmful effects of the sun.
While many men now recognize the importance of a daily skincare regimen, knowing where to start can be quite intimidating. How many products do you really need? When do you apply them, and in what order? What are AHAs and BHAs? It's enough to make you long for the days of your solitary bottle of Neutrogena acne-fighting face wash.
With that in mind, we're here to help guide you on the path to establishing your best men's skincare routine. Your skin will look and feel refreshed, and you'll be setting yourself up for the future by combating the effects of aging early (or at least putting them off for a few more years).
Selecting the right facial cleanser is the first step in establishing a men's skincare routine that you'll actually want to stick with. As the name implies, facial cleansers deliver a deep cleaning that rids your face of dirt, oil, and anything else that can nefariously work its way into your pores. Before you do anything else, you want to start with a clean base. 
You can use a facial cleanser in the morning or at night. In fact, a good facial cleanser is also an important part of a shaving routine, as it softens up your hair and skin beforehand so you'll be less likely to nick yourself. There are also face washes best suited for dry or oily skin, so there is a product out there tailor-made for your exact skin situation.
Best for all skin types: Kiehl's Facial Fuel Energizing Face Wash
Kiehl's is one of the most respected names in skincare, and this energizing face wash is sure to become as central to your morning routine as your daily cup of coffee. This gel-based wash is meant to give your face a fresh appearance, while removing dirt and oil that can work its way into your skin. Kiehl's packs this face wash with natural ingredients including vitamin E, menthol, and even caffeine (we said this would be a great fit for your morning routine). Start your day off with this as part of your daily men's skincare routine and you'll look and feel completely refreshed before you even leave the front door.
Best for dry skin: Brickell Purifying Charcoal Face Wash for Men
Granted, washing your face with charcoal sounds like a medieval punishment, but charcoal is actually a great way to give your skin a deep-clean by removing dirt, oil, bacteria, and any other unwanted build-up from your face. Best of all, this charcoal face wash from Brickell will leave you fresh and clean without causing irritation, making this a great choice for those with sensitive skin. This wash not only gives your face a thorough cleaning, but also moisturizes your skin at the same time. Brickell packs this wash with natural moisturizers including olive oil, jojoba oil, and aloe vera, and tops it off with a masculine scent made up of essential oils including lemongrass and peppermint.
Best for combination skin: Aesop In Two Minds Facial Cleanser
For those with combination skin, Aesop has developed a product that moisturizes your skin without removing your skin's natural oils. This gel-based facial cleanser is made with witch hazel, salicylic acid, and sage leaf, for a clean and smooth finish that won't irritate your skin. If some of your face needs more moisture or attention than others, Aesop's cleanser is a safe choice that will leave you feeling your best without worrying about unwanted irritation or dryness.
If there's one product on this list most men routinely ignore, it's likely a facial toner. Toners may seem mysterious and needlessly complex, but their benefits are straight-forward; a good toner primes your face for the rest of your skincare routine by balancing your pH levels. Toners reduce oil levels in the skin, which can help fight acne and ward off unsightly and painful ingrown hairs. A good toner also prepares your face for your moisturizing regimen and any other treatments you may be using, ensuring deep absorption for the best possible results. 
Best for all skin types: Thayers Witch Hazel Unscented Face Toner
While some enjoy the masculine scent of men's skincare products, added scents can also cause irritation, which makes this scent-free toner from Thayers a great natural choice. In addition to being scent-free, this toner is also alcohol-free, and is made up of certified organic aloe and witch hazel. Daily use will help moisturize and clean your skin, and leave you with a glowing refreshed look that only the best natural products can deliver. Thayers has been in business for nearly two centuries at this point, so you're in good hands with any of their men's skincare products.
Best for sensitive skin: Burt's Bees Sensitive Toner with Aloe & Witch Hazel
You don't have to break the bank to find the right toner for your skin type. For those with dry or sensitive skin, this affordable option from Burt's Bees helps to naturally moisturize your skin with aloe vera and witch hazel. This toner helps eliminate oils that can be damaging for the skin, leaving your face ready for the rest of your skincare routine. Made without alcohol, which can cause dryness and irritation for those with sensitive skin, this men's skincare go-to is also free of parabens, ensuring an ultra-clean look you can feel good about.
The concept of a moisturizer is fairly self-explanatory; a daily moisturizer will add moisture to your face and alleviate dryness and irritation. Using the right moisturizer will also help replenish your skin's natural moisture, which can dry up throughout the day due to weather, sun, and even showering. If you don't want to end up looking like an aging Clint Eastwood decades too soon, make using a moisturizer part of your daily men's skincare routine. Many moisturizers are also available with SFP protection from sunrays, which is a great way to also add in a daily sunscreen routine at the same time.
Best for all skin types: CeraVe AM Facial Moisturizing Lotion
CeraVe has a reputation for producing some of the best moisturizers on the market, a claim that comes backed with their dermatologist recommended products. This CeraVe moisturizer includes SPF 30, which will protect your skin from the harmful effects of the sun while also moisturizing your face throughout the day. This lotion contains three essential ceramides, which work to fill in the gaps between skin cells to retain moisture and repel dirt and oil from sneaking their way in. Best of all, this moisturizer is fragrance-free to avoid irritation, a refreshing change from most sunscreen formulas that you can smell from a block away. As the name implies, this moisturizer is best-suited for daytime use, before you head out for the day.
Best anti-aging: Clinique For Men Anti-Age Moisturizer
For those who want the benefits of a daily moisturizer while also looking to stave off the effects of old-age for as long as possible, Clinique's anti-age formula is a great addition to your men's skincare routine arsenal. You'll get the all-day moisturizing protection you need for a clean and refreshed look, along with anti-aging properties meant to prevent wrinkles and lines from taking hold. Unlike many moisturizers, Clinique advises to use this twice a day, in the morning and before bed, for optimal results. You can also pair this with Clinique's anti-age eye cream to fully tackle wrinkles on all fronts.
Best for Black skin: Ceylon Facial Moisturizer
This Black-owned men's skincare company has been making waves for their line of products specially designed for Black skin. Their facial moisturizer features Alpha Hydroxy Acids (AHAs) to gently exfoliate the skin, along with Niacinamide to reduce irritation and dark spotting. This moisturizer is flexible enough to be used in the morning or evening, depending on your routine. You can grab the Ceylon moisturizer separately, or as part of the company's skincare set, which sets you up with everything you need for your new routine in one shot.
A good exfoliator is one of the most important aspects of a thorough men's skincare routine. An exfoliator provides a deep facial clean and is specifically geared to remove dead skin, leaving you with a fresh and clean slate for whatever treatment you plan to apply next. There are two types of exfoliators you can choose from: a physical exfoliant (a scrub), or a chemical exfoliant.
A scrub is made from small granules (often made with apricot) that you use to rub your face clean of dry skin cells. A chemical exfoliant works by breaking down the layers of dead skin without the friction required from a scrub. A chemical exfoliant is often made with AHAs and BHAs (Alpha-and Beta-Hydroxy Acids), which can be found in a wide array of products. Whichever type of exfoliant you choose, unlike most products on this list, you don't want to use an exfoliator every day. Two or three times a week should be more than enough to remove any impurities. Anything more than that and you'll likely be applying an exfoliant to an already-clean face, which will irritate your skin for no reason.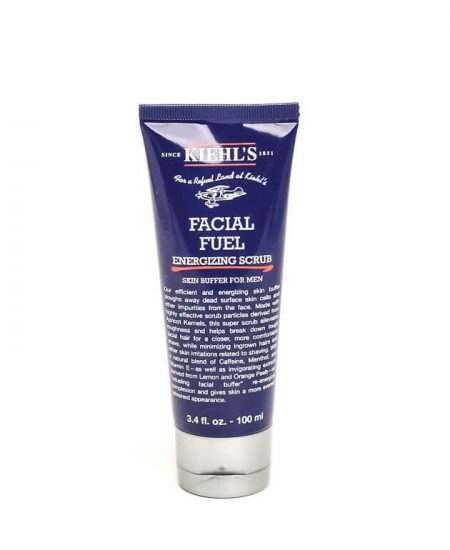 Best scrub exfoliant: Kiehl's Facial Fuel Energizing Scrub
Discover why Kiehl's is one of the best men's skincare companies with this rapturously-reviewed facial scrub. Made with bits of apricot and infused with menthol, citrus, and caffeine, this scrub will clear your face of impurities while leaving you feeling fresh and invigorated (and with that ingredient list, likely craving brunch). This exfoliant will leave your skin soft and clean, and will also soften tough facial hair, another welcome benefit that will help with shaving. Kiehl's recommends using this scrub up to a maximum of 3 times a week, which will be easier to keep track of after it becomes a permanent fixture of your men's skincare routine.
Best chemical exfoliant: The Ordinary Lactic Acid + HA Exfoliating Serum
While shopping for products from The Ordinary may make you feel like you're re-taking your high school science exam, their men's skincare products are some of the best reviewed on the market. This exfoliating serum is made with Lactic Acid to exfoliate your skin, along with Tasmanian Pepperberry, which helps to reduce inflammation. This peeling formula is specifically designed to combat wrinkles and fine lines, and contains no alcohol, oils, or added fragrances. This serum is suitable for most skin types, and is one of the best men's skincare products for those looking to introduce a chemical exfoliant into their skincare routine.
Why not simplify your daily routine by looking into a subscription service for men's skincare? Many of us have heard of Harry's and Dollar Shave Club in the razor world, but less are aware that there are great options for men's skincare as well. 
Best subscription service: Lumin
We get it; if you're new to a daily men's skincare routine, there can be a lot to absorb at once. Lumin recognized that steep learning curve and found a clever solution with their subscription service that will mail you everything you need to kick-start your best men's skincare routine in one handy and customizable box. Their products have received rave reviews, and Lumin offers a free trial of any of their skin set routines, which is a great way to try out a whole line of products without even leaving your home. If you know what you're looking for, you can also shop a-la-carte and grab just what you need from their product line.
If you've spent any time on Instagram recently, you've more than likely stumbled across videos of people doing their best Hannibal Lector impersonations by affixing face masks to their skin. While they may look creepy, regularly using a face mask can do wonders for your skin, and should be a part of any men's skincare routine. There are peeling face masks that help remove dead skin, hydrating face masks to add moisture to your skin, masks to soften your skin for shaving, and countless others. Here are a couple of recommendations to get you started.
Jaxon Lane gets right to the point with their Bro Mask. This is a face mask designed for men, and even comes in two parts so guys with beards can simply apply the top half. Designed to give your face a refreshed and healthy look, this gel mask is made from 3% Niacinamide, Collagen, Hyaluronic Acid, and ingredients you'll actually recognize including green tea, licorice, and ginger.
Kiehl's Avocado Nourishing Hydration Mask
Don't break out the tortilla chips just yet. While it may look like a jar of guacamole, this avocado hydrating mask from Kiehl's is a great way to naturally moisturize your skin by using one of nature's most versatile fruits. Made from avocado fruit extract, avocado oil and evening primrose, this rich mask works to lock in moisture to keep your face replenished and clean after just 15 minutes.