Best Men's Socks: Give Your Fashion Game a Leg Up
Socks rarely get the respect they deserve. As children, socks were often viewed by most of us as either filler material for holiday stockings, or as a wildly disappointing birthday gift from an out-of-touch relative. Relegated to their own unloved drawer, most of our socks have seen better days, yet they're still one of the last clothing items most men regularly refresh.
As adults, it's time to put our best foot forward and embrace the underrated sock as a vital component of our wardrobe. The mundane gym socks of the past have given way to a whole new world of designs and materials that can elevate any outfit, from a casual summer look to your next wedding ensemble.
Below we've highlighted 10 of the best socks for men, from the popular summer "no-show" models to the colorful statement pattern socks that are sure to help you stand out from the crowd.
If you want to emphasize your latest sneaker acquisitions, you don't want bulky socks getting in the way. No-show socks (sometimes referred to as "invisible socks") fit snugly along your foot and don't extend past your ankle, creating the impression that you're out and about sock-free. They're perfect for trainers, Vans slip-ons, and even boat shoes. (Though the latter are traditionally worn sans socks, we won't tell if you won't.)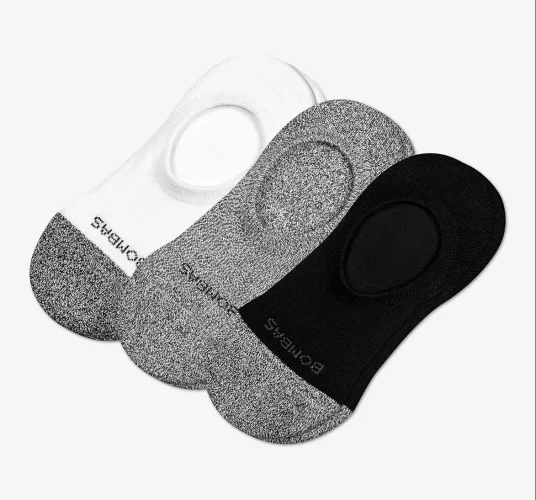 As seen on Shark Tank, the cushioned Bombas no-show socks are a comfortable way to maintain the sock-free look. A bit bulkier than other no-show models, they're also slip-free, so they won't end up annoyingly bunched up around your toes when you're in the middle of strolling around the neighborhood. Bombas are made from a stretchy blend of cotton, polyester, spandex, and nylon, for a breathable sock that will keep your feet nice and cool. In a welcome move, for every pair sold, Bombas will donate a pair of socks to a Covenant House, a non-profit group helping youth facing homelessness. Bombas start from $12 a pair, and are also available in a number of bundle options.
No-show; slip-free; "buy one, give one" charitable model; starting at $12.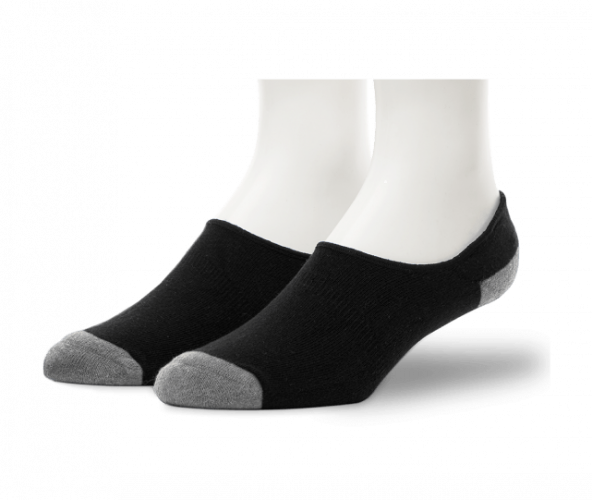 Mack Weldon's no-show socks will actually stay on your foot throughout the day thanks to their no-slip heel grip (there's nothing worse than a no-show sock sliding halfway down your foot). These also offer a cushioned footbed to relieve stress from your feet, a welcome addition for long summer walks. These socks are made from a mix of combed cotton with a hint of stretch, for a breathable and light fabric. Available at an $18 price point for a 2-pack, Mack Weldon offers their no-show socks in a number of stylish patterns. Only you will see them, but knowing they're there will give you some extra swagger as you head out into the world.
No-show; slip-free; cushioned; $18 per 2-pack.
Falling right above your ankle, ankle socks are a great option for the gym and lie somewhere between the heavier and longer mid-calf socks and the ultra-short no-show sock.


COOVAN Cushion Ankle Socks
Available online in a 10-pack for about the cost of seeing a movie, COOVAN's ankle socks are a great bargain. In addition to their low cost, they feature a moisture wicking performance that will keep your feet nice and dry and odor-free. Slightly on the thicker side for ankle socks, COOVAN's contain a reinforced heel and toe for comfort and durability, so they should last quite a while. Available in white, black, and grey, these reliable socks will be your go-to throughout the summer months.
Ankle; moisture-wicking; cushioned; under $20 for a 10-pack.
Hanes Men's X-Temp Ankle Socks
These Hanes socks might not win any style awards, but they're a sure-fire way to keep your feet cool and dry in any season. Hanes' "X-Temp technology" includes soft, breathable ring-spun cotton and mesh panel ventilation to keep your feet from overheating and getting sweaty. They feature a reinforced heel and toe to keep you comfortable through your workout, along with a comfort toe seam to keep you cozy when you're lounging around the house. Sometimes you can't beat the basics, and these are some of the best socks for men.
Ankle; breathable cotton; reinforced heel/toe; $12.99 per 6-pack.
The most ubiquitous socks in most people's drawers, mid-calf socks (also known as "crew socks") go up past your ankles but stop well beneath your knee. They are generally made from 100% cotton or a blend, and are perfectly suited for everyday wear.
Available in 20 colors and retailing for just $4 a pair, Uniqlo's stylish mid-calf men's socks are indispensable. Whether you're going for a striking red pair or stocking up on classic white socks, these rib knit socks pair well with any wardrobe choice. They earn high praise for their durability, and even the flashiest color choices hold up well over repeated washings (one glance at the dull-looking socks piling up in your drawer and you'll see that's a rarity). These staples are made with a blend of cotton, polyester, nylon, acrylic, and spandex.
Mid-calf; self-deodorizing; fine rib knit; $4 per pair.
Pembrook Wool Sport Socks
Made with merino wool for maximum comfort and durability, these Pembrook wool socks are tough enough to withstand a day-long hike and are soft enough for everyday wear in the cooler months of the year. Reinforced toes and insoles ensure that these won't be filled with holes and tears, so you're guaranteed to keep these in constant rotation for years to come. Constructed with 60% merino wool, 10% elastic, 15% acrylic, and 15% nylon (if the wool content is too high they would quickly lose their shape), these are warm and fluffy socks that can still take a beating.
Mid-calf; wool blend for warmth; reinforced toes; $27 per 4-pack.
If you want something a little flashier than your average gym sock, there are countless statement socks available now, offering up a splash of unexpected color or an intricate design. Get creative!
Statement Sockwear Argyle Pattern
As the name implies, Statement Sockwear is a leader in statement stocks, offering a huge array of socks featuring a myriad of colors and patterns. While many of their products are much flashier, these argyle pattern socks add a welcome splash of color and design without going overboard. Available in dozens of argyle color combinations, from "Cornflower Blue" to "Tangerine Orange Grey," there's a color choice to match any outfit or mood you can think of. 
Designed in the USA, Statement Sockwear socks are ethically manufactured in Colombia, so you can rest easy knowing that you are supporting a worthwhile company. In addition, for every pair sold, 100 days of clean drinking water is provided for an individual in Africa. Can those socks you purchased from the supermarket say the same?
Over-the-calf; ethically-manufactured; "buy one, give one" charitable model; $16 per pair.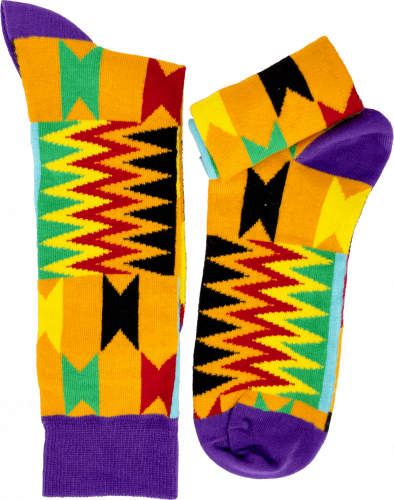 Afrisocks are simply some of the most stunning socks money can buy and some of the best socks for men. Inspired by traditional Ghanaian Kente patterns, the multi-colored cloths woven by African tribes and worn by chiefs and royal families, these wildly colorful and intricately-designed socks are sure to make a lasting impression on anyone who sees them. 
Made from 90% Cotton, 8% Polyamide, and 2% Elastan, Afrisocks not only look incredible, but are made from premium fabrics to ensure they last as long as their timeless designs. While Afrisocks are kente-inspired, they are not direct reproductions, and have been reimagined by the designers in Ghana — If there are any concerns over cultural appropriation, the company assures potential buyers that if you "feel like you need our permission, you absolutely got it."
Over-the-calf; cotton blend; free world-wide shipping; $12 per pair.
If the idea of winter socks still brings to mind the sandpaper-like quality of the wool socks your grandparents got you when you were a kid, it's time to invest in some proper winter-ready socks to keep you comfortably warm and dry.
Darn Tough Hiker Micro Crew Cushion Sock
While these are technically hiking socks, and will pair perfectly with any of our favorite hiking shoes, they will keep you warm and snug regardless of the physical activity (or lack thereof). Made from high quality merino wool (61%), nylon (36%), and spandex (3%), the Darn Tough Hiker socks have earned rave reviews for their warmth, comfort and durability. These are billed as "micro crew" height, and extend to just over the top of your average boot. The socks are designed to pull moisture away from your feet and will dry quickly, perfect for hiking or long walks. The Darn Tough Hiker socks are available starting from $22, and come with a lifetime guarantee, making these a sound investment for the long and cold winter months.
Insulated; merino wool blend; moisture-wicking; starting at $22 per pair.
Carhartt Arctic Wool Heavyweight Boot Sock
Made to keep you warm in the coldest of conditions, the Carhartt Arctic Wool socks are a great addition to your winter wardrobe. Retailing for $18 and available in brown, grey, and "moss" colorways, they are stylish yet unobtrusive enough to match any type of winter boot. Made from 68% wool, 24% nylon, 1% spandex, and 7% other fiber, they are made to absorb sweat away from your feet, and feature "abrasion-resistant reinforcement" to keep them in top-shape regardless of what you put them through. Durable and warm enough for winter trekking, these are also perfect for your next Netflix binge while you watch the snow piling up outside from the comfort of your couch.
Insulated; wool blend; moisture-wicking; "abrasion-resistant reinforcement"; $18 per pair.
This will vary depending on the type of activity and personal preference, but in most circumstances, cotton is the best sock material. Cotton is a lightweight fabric that absorbs moisture well, ensuring your feet stay dry and odor-free. It's durable, and also breathes well, keeping your feet cool. The main downside is that it can shrink when washed or dried at high temperatures, so it's best to wash and dry them separately.
This really depends on the type of outfit you have on and your personal style choices. A general rule is that your socks should match your pants and not your shoes. However, with the popularity of wildly colorful statement socks, that rule goes out the window – the purpose of statement socks is to stand out, which means they likely won't match your shows or your pants. Apart from that, most style gurus maintain that white socks should be left at the gym, and never worn with jeans or slacks.
The Bombas team recommends a cold-water gentle cycle with a mild detergent for your Bombas, and then tumble drying on low. Bonus: With their "Laundry Back Guarantee," the company pledges that if you lose part of your pair in that weird laundry vortex that eats socks, they'll replace it, no questions asked.