Best Watches Under $200 For Men to Consider this Year
Watches are often considered a status symbol—a luxury among the finest things in life. Watches are usually seen as an elite purchase that signifies a milestone or an account balance, similar to that of a car, a boat, or even an engagement ring. But what about those of us who don't have that kind of cash in the bank and aren't quite ready to sell a kidney?
Thanks to the variety in options and price tags when it comes to today's watches, you can keep all your organs and still sport a stylish and high-quality watch. Just because a watch is being sold at a low price, doesn't mean it's bad quality.
Many watch brands are currently offering watches that sit comfortably within your budget, all while maintaining that expensive look and feel that you've come to love in their pricey counterparts. Most of these affordable options can be found for $200 or less—a great price point for a starter watch or a new addition to a collection. Let this list serve as your ultimate guide to the best watches under $200 for men.
The 10 Best Watches For Men Under $200
Most Durable: Casio G-SHOCK GBA800-1A
G-SHOCK is one of the more well-known brands when it comes to durable watches at low prices. The GBA800 is particularly popular with those who tend towards sporty and sturdy models and is definitely one of the best watches under $200 available on the market today. With Bluetooth connectivity and the G-SHOCK Connected app, this watch is compatible with many a smartphone. 
Designed to last through your active adventures and your everyday life, the GBA800 will support your workouts with its accelerometer and stopwatch functions. It can even help you keep track of your calorie and step counts! This watch's dial features several LED light capabilities to carry you through early morning and late night light.  Its soft urethane band and mid-size case make it comfortable to wear through any activity. Plus, if you didn't already catch on from the brand name, it's obviously shock-resistant!
Quartz movement; shock resistant; Bluetooth connectivity; water resistance 200 m; $120.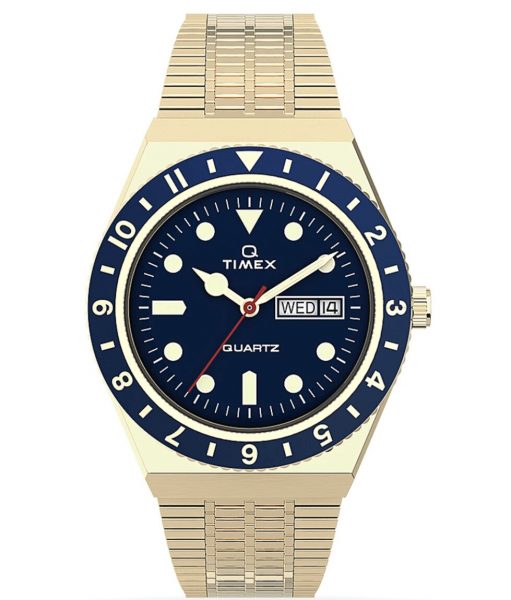 Best Throwback: Q Timex Reissue 38m Stainless Steel Bracelet Watch
This snazzy Timex number is great if you're looking for an affordable throwback. Originally developed in the 1970s, the original Q Timex model has changed over the years into this incredible reissue version. Using classic quartz movement, this watch is a modern, updated take on your grandfather's watch. Not only does it feature a domed acrylic lens, a detailed, rotating bezel, and a woven, mesh-style bracelet, but it's sleek as can be in its gold-tone package. It even has a functional battery hatch and a self-adjusting clasp that make this timepiece extra user-friendly.
One of the coolest complications on this Q Timex is its day and date window—a function normally only seen on high-end watches. Reminiscent of a dive watch (except less bulky and not as water-resistant), this is the perfect watch to add some flare to an everyday t-shirt and jeans combo.
Quartz movement; date/time window; water resistance 50 m; $179.
Best Statement: Swatch Big Bold Chrono Checkpoint
Swatch has been around for a while, and even though their new Big Bold Chrono hasn't, its distinct design is sure to go down in history. This affordable quartz-movement chronograph is anything but boring thanks to its unique signature dial featuring a checked pattern, multiple complications, and a 3D sculpted bezel to frame it. Its design definitely gives off the feel of an edgy racing watch. 
Matte yet eye-catching, this watch includes contrasting colors to highlight its two o'clock seconds counter, and date window. The Big Bold Chrono keeps the classic features of a chronograph, such as slightly larger crown, all while spicing things up with special accents like its silicone strap and aluminum clasp. It even comes with a two-year warranty, but with a watch this good, you probably won't even need it!
Quartz movement; chronograph; silicone; water resistance 30 m; $195.
Best Dress Option: Seiko 5 SNK355 Automatic Stainless Steel Dress Watch
With its iconic Japanese automatic movement, this model from Seiko is a no-brainer when it comes to inexpensive watches—or just watches in general. Likely found at the top of most "best watch brands under $200" lists, Seiko offers up a winner with this stainless steel dress watch. Sleek and sophisticated, it's is a great option for someone looking for a good-quality lux-looking watch at a low price. The dial holds a day and date window as well as luminous hands and markers for easy viewing. The Seiko 5 would be a handsome addition to any business or formal attire. 
Due to its automatic movement, there's no need to stress about battery life, which is rare for a watch on the cheaper side. Why would you miss out on the opportunity to have an authentic, smoothly-functioning, automatic watch on your wrist for under $200? Reliable and irresistible, masculine yet elegant, this watch is versatile enough to take you from day to night, or even to the gym! You can't say that about many dress watches.
Automatic movement; date window; luminous hands; water resistance 30 m; $114.
Best Preppy Look: Orient 2nd Gen Bambino Version 1
This second-generation Bambino model from Orient is also hailed for its Japanese automatic movement. If you're not a big fan of metal bracelets, this dress watch comes with a substantial leather strap. Its 40.5mm stainless steel case and domed mineral crystal and dial make it one of the larger and slightly different dress watch options at this price point. It is also impressively long-lasting with a power reserve of approximately 40 hours. 
While it is water-resistant, the Bambino can only withstand small amounts of water, so it's unfortunately not suitable for keeping on in the shower or taking a dip in the pool. This watch features a stationary bezel and a date window at the three o'clock marker. When it comes to the best men's watches under $200, this one is one of the highest value options at an entry-level price.
Automatic movement; domed mineral crystal; date window; water resistance 30 m; $169.
Best Tech Option: Nokia Steel Activity & Sleep Watch
Acting as both a sleep-tracker and a silent, vibrating alarm, the Nokia Steel is the perfect combination of a smartwatch with an analog display. As far as smartwatches go, it can be hard to find any that cost less than several hundred dollars, but this one is both effective and inexpensive. If you're looking for something that has iOS and Android capability, Bluetooth connection, and syncs automatically, but you don't want to stray from the tried and true look of a basic watch, this is the choice for you. This watch encapsulates the best of both worlds.
Despite its silicone black band and simple face, this bad boy flawlessly tracks your sleep cycle and fitness activity 24/7. By connecting to the free health mate app on your smartphone, this watch can count calories and recognizes more than 10 sports activities, including walking, running, and swimming, making it the perfect watch to calculate your intake and output. The alarm itself features smart-wake technology that only rings at the optimal point in your sleep cycle to avoid grogginess and make your early rises easier. The best part about the Nokia Steel? It holds up to eight months of battery life, so unlike most smartwatches, you never have to charge it!
Quartz movement; fitness tracker; sleep monitor; water resistance 50 m; $150.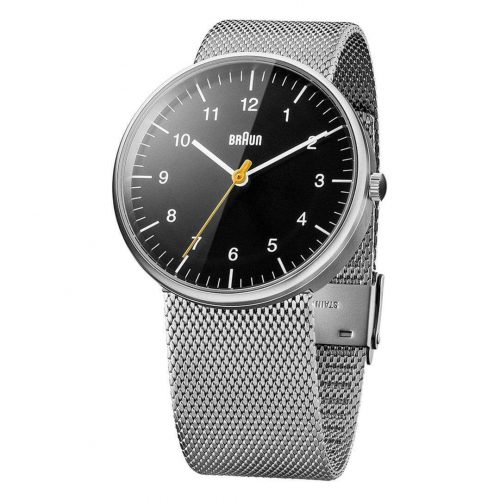 Best No-Frills Option: Braun Gents BN0021 Classic Watch with Mesh Strap
Braun has one of the most distinct aesthetics in the watch world to begin with, but this particular model is one of the most true-to-Braun watches you can get. The BN0021 uses quartz movement, and its 38mm black dial embodies everything you could want in a traditional watch, but, this time, with a chic, stainless steel mesh strap. If that's not your thing, it's also available with a leather strap. While it's not the sturdiest, sportiest option, it's still very well-built. Its brushed stainless steel case and scratch-resistant mineral glass ensure that this watch will hold up over time.
Quartz movement; scratch resistant; stainless steel; water resistance 50 m; $179.
Best Pilot Option: Citizen Avion
Looking for a pilot watch? Or at least something that makes you look the part? The Avion model from Citizen looks like it was made for a dashing pilot and Old Hollywood star alike. According to Citizen, this vintage-inspired watch was inspired by transatlantic flights from the 1950s, which makes it the perfect choice for someone seeking something a little more debonair. Its dial is a deep shade of grey spotted with large, luminous markers. The highly-visible face sits under mineral crystal in a stainless steel case secured by a stitched leather strap. The watch's main complication is a day and date window, and the watch itself is water-resistant enough to survive through swimming and other marine sports.
Quartz movement; eco-drive; no battery; world time zones; water resistance 200 m; $198.
Best Sport Brand Option: Adidas Cypher_M1 Watch
Who knew Adidas made watches? We did! This model is especially cool and sporty, entirely made up of stainless steel and metallic detailing. This watch is no joke—it was certainly built with utility in mind. Structured and strong in appearance and function, this watch's youthful and modern 44mm case is rimmed by a unidirectional, rotating, indexed bezel. This wristwatch cuts to the chase and meets your expectations every time. Its Japanese quartz movement and single-curve, hardened mineral crystal are probably to thank for that!
Quartz movement; scratch resistant; stainless steel; water resistance 100 m; $162.
Best Luxury Look-Alike: Fossil Garrett Chronograph Stainless Steel Watch
If one of the things you like about expensive watches is the variety of multi-colored precious metals, but you're not exactly in a position to splurge, this two-toned chronograph from Garrett is one of the best watches under $200 for men and will suit your craving. The contrasting shades of silver and gold stainless steel paired with a detailed bezel make this timepiece a Rolex lookalike at a non-Rolex price. This watch offers a variety of timekeeping functions and features three different complications on the face. The gold and white details on the dial are only enhanced by the black base, and the durable clasp provides the safety you require from any high-quality watch.
Quartz movement; chronograph; stainless steel; water resistance 100 m; $139.
Best Watches Under $200 Comparison Chart
Shock Resistant; Bluetooth
Swatch Big Bold Chrono Checkpoint
Date window; luminous hands
Domed mineral crystal; date window
Nokia Steel Activity & Sleep
Fitness tracker; sleep monitor
Braun Gents BN0021 Classic
Scratch-resistant; stainless steel
Eco-Drive; no battery; world times zones
Scratch-resistant; stainless steel
Fossil Garrett Chronograph
With all of the incredible options available in the watch market today, a high-quality watch is accessible to anyone, no matter your budget. While you won't be able to score a Rolex or anything diamond-encrusted, a smaller budget can definitely still afford you a long-lasting, multi-functional, stylish watch.
As seen above, there are numerous brands out there that offer high-quality options at a low price. For example, Seiko and Orient are renowned for their less expensive, high performing Japanese movement watch options because they are extremely durable and offer both sturdy and sleek-looking watches at a very affordable price point.
Even low-priced watches can come with genuine leather straps, shiny materials, and classic dial designs to take you through your business meetings and special events alike. Thanks to many of the brands listed here, you no longer have to be rich to look expensive!