Best Beard Grooming Products
While men across the globe last year began letting their beards grow out (there's only so much maintaining you need to do for a Zoom call, after all), there's much more to achieving a sharp beard than simply not shaving for a few weeks.
Apart from growing the beard itself, what makes a beard stand out is the personal care that goes into it, including using the best beard grooming products. A proper beard should be well-sculpted, moisturized, and brushed, resulting in a clean and healthy look that both you and your partner will appreciate. (No one wants to get too close to a dry and scraggly beard).
Beard grooming will not only make your beard look and smell better, but will actually be beneficial for your skin and hair. Using beard oils, wax, scrubs, and proper brushes will nourish and exfoliate your skin, making your facial hair softer and lusher. A proper beard grooming routine will also help avoid pesky beard dandruff (especially in the dry winter months) and painful ingrown hairs.
Check out our product picks below, which will help you narrow down the best grooming products for men.
Growing a beard isn't that difficult for most men, but properly caring for one is an entirely different ballgame. An essential element of keeping your beard looking healthy and orderly is the frequent application of beard oil, a product meant to moisturize tough facial hair while adding a welcome scent that both you and your partner can enjoy. While a huge industry has grown for beard care products in recent years, we've selected a pair of our favorite beard oils below to help you maintain a stylish and healthy beard all year round.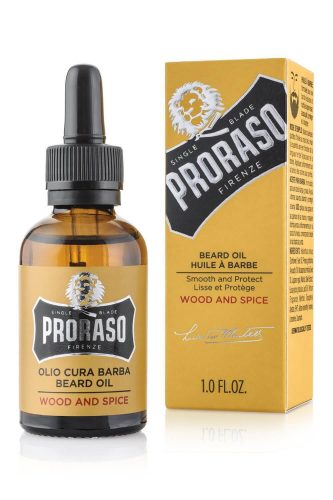 Proraso is one of the most-trusted names in men's grooming products, and their beard oil is a great starting-off point if you're new to using beard products. Infused with avocado and sunflower seed oil, menthol, and eucalyptus, this "Wood and Spice" oil will help keep your beard moisturized and exfoliated. With a manly scent of cedarwood combined with notes of spicy cumin and sweet vanilla, you'll smell as great as you look. Other scent offerings include Refresh, Cypress & Vetyver, and Azur Lime.  Proraso Beard Oil is best for long, thick beards, and can be used on a daily basis following your morning shower.  
Baxter of California Beard Oil
If you're prone to dry and itchy facial hair, this beard oil from Baxter of California might be just what you need to maintain a lush and silky-smooth beard. This oil includes Vitamin E, which moisturizes your skin and hair, helping avoid dryness, irritation, flakiness, and brittle hair. Enriched with squalene and avocado oil, this formula is packed with natural ingredients to give your beard a healthy glow, while ensuring your entire face is kept clean and scrubbed. With a scent blend of sandalwood, jasmine, and cedarwood, you'll smell as fresh as an early morning walk through the woods.
If you're lucky enough to be able to grow a nice thick beard, you'll need a strong product to help mold it and keep it in place. Think of beard wax like hair gel – it's the final step in your routine that ensures your beard will hold its style and shape all day long. A good beard wax will also condition your facial hair, leaving it moisturized and shiny. Below are two of our favorite beard wax products on the market.
Honest Amish Original Beard Wax
As one would expect from a brand named "Honest Amish," this is a no-nonsense beard wax made from entirely natural and organic products. With ingredients including locally-harvested beeswax and organic oils and butters, this wax provides great shaping to help tame those wild stray hairs, and will also protect and condition your beard, leaving it shiny and clean. The Amish know a thing or two about maintaining a serious beard, and you'll be able to get a similarly great looking beard with this wax (without the whole having to give up on technology bit). 
The Bearded Goon's RIDICULOUSLY STRONG Beard & Moustache Wax
Aimed at men with serious beards, this wax will also sculpt and shape your handlebar mustache if need be. This is not for those with two days of scruff on their face. The Bearded Goon's wax is built to tame the sort of massive unruly beards that were in fashion long before fancy well-coiffed beards became commonplace. Made with all-natural ingredients in the U.S., this wax has a very faint smell, perfect for those who are sensitive to heavily-scented products. Constructed from natural oils and beeswax, this wax packs a sculpting punch and won't leave your beard and hand greasy or sticky, making this one of the best overall beard grooming products.
Beard balms are very similar to beard wax, and contain many of the same ingredients. The emphasis, however, is on conditioning and moisturizing, rather than elaborate styling. Beard balms are best-suited for shorter beards that don't require too much sculpting.
Rocky Mountain Barber Company Beard Balm
Made with all-natural ingredients and featuring over eight essential oils, this beard balm from Rocky Mountain Barber Company will leave your beard looking and feeling completely refreshed. Designed for ultimate sculpting and holding strength, this balm will keep your beard looking sharp and in line throughout the day. Best of all, it won't leave your beard or your hands with any greasy residue. With a scent that includes eucalyptus and cedar, this balm has a masculine and woodsy smell that perfectly complements your beard's lumberjack look.
Viking Revolution Beard Balm
This 100% natural beard balm from Viking Revolution is made from argan oil, jojoba oil, mango butter, and beeswax, ensuring your beard remains fresh and clean without any gunky residue. Just rub a pea-sized amount of wax into the roots of your beard to prevent embarrassing flaking and skin irritation, and then sculpt and mold your beard in your preferred style. Available in a number of scents including Sandalwood, Pine & Cedar, Bay Rum, and Clary Sage, this balm will have you looking and smelling like a modern-day Viking in no time.
A beard scrub removes impurities like dead skin from your face, softening the skin and leaving it looking clean and refreshed. This is particularly important for those with thick beards, since it can be difficult to properly exfoliate the skin under your beard without some added scrubbing power.
Brickell Renewing Face Scrub
Brickell's face scrub is designed to clear your face of impurities like dead skin and blackheads, which, if left to their own devices, will clog up your pores and leave you with dry itchy skin and ingrown hairs. Made from natural and predominately organic materials including aloe vera, avocado butter, vitamin E, pumice, and jojoba beads, this scrub will leave your skin moisturized and clean, allowing your beard to truly shine. This is one of the essential beard grooming products on the market today.
While beard wax and beard balms help condition and soften your beard hair, adding a dedicated beard wash to your grooming routine will keep your beard hair clean and will also open up your pores, helping to avoid irritation and ingrown hairs.
While we're sad to report this beard wash does not appear to have been developed by the star of Nacho Libre, the Jack Black Beard Wash will at least keep your beard free from dirt and oil, which is the next best thing. Made from natural ingredients including jojoba protein to help moisture your hair and skin, B5 provitamin panthenol to strengthen hair, aloe leaf juice powder to soothe dryness and irritation, organic sea kelp to maintain your skin's moisture content, and shea butter to moisturize and hydrate dry hair and skin with fatty acids, this beard wash should become an essential component of your daily grooming routine, and is one of the best beard grooming products out there.
A beard brush is an essential tool in any man's beard grooming arsenal. Even if you have an array of hair brushes or combs, you'll still need a proper beard brush to ensure your mane stays nice and orderly. A proper beard brush also exfoliates the hard-to-reach skin concealed by your beard, which helps ensure a smooth and clean look. Be sure to look out for a boar hair brush, the style unanimously preferred by barbers and stylists (we've also highlighted a vegan option below).
ZilberHaar Boar Hair Beard Brush
Made in Germany with pure stiff boar bristles and pear wood, the ZilberHaar beard brush is a great choice to keep your beard looking tidy and clean. The naturally stiff boar bristles will keep your beard hair from tangling up while also exfoliating the skin underneath, clearing out unsightly dandruff and helping avoid pesky ingrown hairs. Regularly using a boar hair brush will also cut down on itchiness and irritation by keeping the hair straight and tangle-free. You can also add in your favorite beard oil and run it through your beard with the brush, ensuring even distribution and keeping your hands oil-free.
ZilberHaar Vegan Beard Brush
If you're vegan and looking for a great quality beard brush not made with any animal products, ZilberHaar also offers up a vegan alternative that doesn't skimp on quality. In place of boar hair, this model uses Tampico fibers, stiff cactus fibers taken from the Agave and Yucca plants. The handle is made from walnut wood, an extremely strong and striking variety of wood that looks as great on your bathroom shelf as it feels in the palm of your hand. Since Tampico fibers naturally absorb and release water, they're a great match for moisturizing your beard with your preferred product. These natural bristles are strong enough to untangle even the mightiest of beards, so get brushing!
There's no firm rule on this – the answer will vary based on the brand of beard oil you use and your personal preferences. That said, there is no reason you can't use beard oil every day if you feel your beard needs it. Before making it a daily habit, start by using beard oil every other day and monitor the results. You're looking for your beard to be smooth and moisturized, without any flakiness.
A solid beard grooming technique (as discussed above) will contribute to you growing a fuller and thicker beard. Well-moisturized hair and clean skin free of impurities will all help with beard growth. Finally, you'll need a little patience and discipline – many experts recommend a 4-week growth to start, so don't start shaving too soon!
This is entirely up to you (and your partner). Some men prefer a slightly scruffy 2-3-day beard growth, while others elect to go full lumberjack-style. Many men claim they want a fuller beard but often end up shaving too soon before they've given the hair a chance to truly grow in. The best bet is to experiment with different styles until you find a stylish (and comfortable) beard growth you're happy with.