Weather any storm with the Best Men's Rain Jackets
When it comes to rain gear, it's all about the jacket. If you don't have a good one, there's a real sense of dread waking up in the morning and seeing rain clouds. As the Scandinavian saying goes, "There's no such thing as bad weather, only bad clothing," so for many of us, our rain jacket is one of the most treasured pieces in our closet. It lets us carry on in comfort, no matter the forecast.
A great men's rain jacket is a big-ticket item, so we tend to shop around for the perfect one. So, what's the best men's raincoat on the market? Well, that depends on exactly what you're looking for. But don't worry, we've got you covered with a look at our favorites.
What to look for in a rain jacket
If you live in Vancouver or Portland, your rain jacket is necessary almost 200 days of the year, so you'll probably want something extremely waterproof and a little more breathable. A packable option with a great waterproof bag to go with it is ideal. If you live on the east coast, you're dealing with less rain, but also need something a little bit more substantial to get you through the colder transitional months.
Raincoats don't all serve the same function. Some are better for torrential rains, some are better for light drizzles, some for a mad dash to that dinner reservation, some for your daily commute, and some are just perfect for your 5K evening run. No single model is perfect for everyone, but with so much choice out there, one of them is perfect for you. Once you find it, you'll wonder how you ever lived without. We've compiled a list of brands you can trust to protect you from getting wet so you can be ready for whatever mother nature throws at you.
The best waterproofing is achieved by laminating a membrane to the backside of the shell fabric. A cheaper option is to treat the back of the fabric with a polyurethane coating, but this option will not achieve the same breathability as the lamination. In order to really waterproof the jacket, the seams must also be taped or welded.
Waterproof ratings are measured using a test which determines how much water can sit on a fabric for 24hrs before it seeps through. The results read as follows:
1500mm – 3000mm: considered water resistant and suitable for light rain.
3000mm – 5000mm: waterproof and suitable for light to average rain.
5000mm – 10000mm: suitable for heavier rains.
10000mm+: suitable for heavier rains and longer exposure to storms.
Water Repellent: What is WR/DWR?
Water Repellent (WR) is a coating applied to the face of the shell fabric to repel water off the jacket. Durable Water Repellent (DWR) is a higher-quality water repellent which will stay on the jacket for a longer period of time.
There are dozens of waterproof/breathable fabric technologies out there. One of the best known, Gore-Tex is a waterproof, breathable fabric membrane and a registered trademark. Gore-Tex can repel liquid water while allowing water vapor to pass through and is designed to be a lightweight, waterproof fabric for all-weather use. It is composed of stretched polytetrafluoroethylene (PTFE), which is more commonly known by the generic trademark Teflon. Gore-Tex is regarded as the best waterproofing option on the market by most consumers and developers alike, so keep an eye out during your search!
The Best Men's Raincoat Options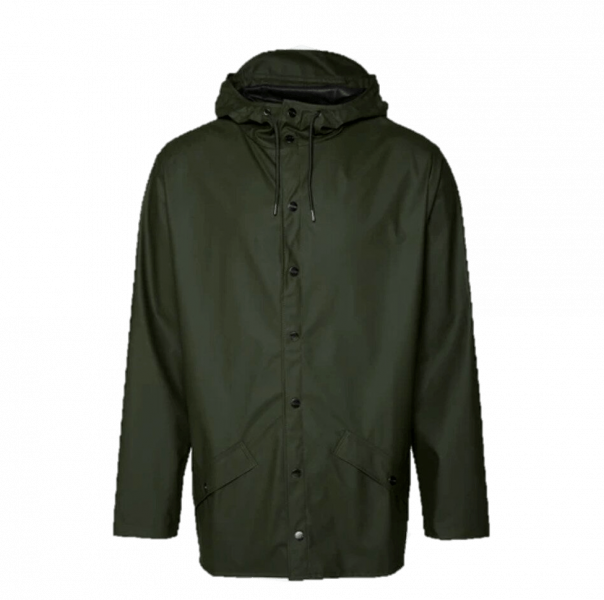 Rains is exactly what you would expect from Scandinavian rainwear. Like the name already suggests, Rains delivers uncompromised simplicity rooted in functionality. Everything they do has one purpose, keeping dry. With meticulous attention to detail, everything Rains does is understated and easy. Even shopping the collection on their website is simplified. They offer less styles and more colors, and with names like Jacket, Long Jacket and Longer Jacket, you always know exactly where to look. We love all their product offerings, but our favorite is the Jacket in Green. 
Made from polyurethane and constructed with welded seams, this men's raincoat with hood offers ultimate rain protection. Built-in chest vents keep the air circulating for added breathability. The hood also has an incorporated visor in case the sun decides to peak out. It's easy to wear and goes with absolutely everything. Check out the website to see all the other beautiful rain products available from Rains. We also love the simplicity of the Tote bag for everyday shopping excursions.
Weight: n/a
Material: 64% polyester, 36% polyurethane
Price: $110
Best Men's Yellow Raincoat: Helly Hansen Moss Jacket
Inspired by the original Helly Hansen fisherman's raincoat, this front-zip Moss Jacket with two hand pockets looks up to the task… and it is. Made with the company's waterproof Helox+® fabric technology, this windproof and waterproof classic yellow raincoat will keep you dry even in downpour conditions.
Weight: 630 g
Material: 100% Polyurethane
Price: $65
Most Versatile: Arc'teryx Fraser Gore-Tex Jacket
Founded by local climbers in the Canadian Coast Mountain wilderness, Arc'teryx is built on obsessive, precise design and production. The Coast Mountains serve as a constant source of inspiration and testing grounds for the products they design and produce less than an hour away. Their offices feature a state-of-the-art in-house manufacturing and design center which allow the brand to constantly evolve and build products the right way. This commitment to design and manufacturing with expert material specialists, pattern-makers and product developers give them an edge in the crowded outdoor space. 
Every Arc'teryx product is meticulously designed, allowing its users to immerse themselves in the harshest weather conditions in the world. Lucky for us, they also design products refined for the urban landscape. The Frazer Gore-Tex Jacket is just that and quite possibly the best men's rain jacket on the market. The Gore-Tex C-Knit backer technology not only offers the best waterproofing, wind proofing and breathability available but also has a soft-knit finishing so all you need to wear underneath is a thin layer. This jacket is definitely worth the splurge.
Weight: 375 g
Material: 100% Gore-Tex with DWR treatment
Price: $499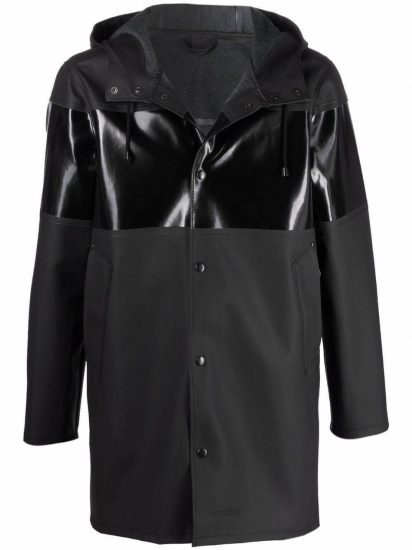 Best Statement: Stutterheim Stockholm Stripe Black
When it comes to iconic raincoats, Stutterheim is as authentic as they come. They've kept the Swedish population dry for years, not to mention the North American fashion set who have adored the brand's no-nonsense rain jackets for the past decade. All of Stutterheim's jackets pride themselves on the core values of Swedish design: practical, made to last, and minimalistic. Most of the jackets are constructed from their signature rubberized-cotton and feature fully-welded seams, offering 100% water and wind protection. 
In the past few years, the brand has expanded to wet-weather bags and an impressive boot collection. The Stockholm Stripe Black Jacket offers a minimalist design while adding a subtle touch of pop with the shiny black stripe. If this is the jacket you choose, don't hesitate to throw a duffle or new backpack in your cart. They're worth every penny – as are the boots, which may just be the best rubber boots for men.
Weight: n/a
Material: 530gsm rubberized-cotton
Price: $325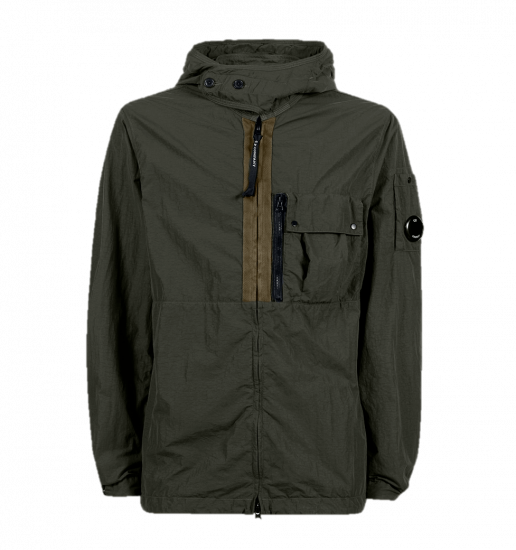 Best Pullover: CP Company Flatt Nylon Hooded Overshirt
One of the most innovative brands to merge fashion and functionality with special attention to fabric finishes and dying, CP Company was the first company to garment-dye outerwear, giving it a softer, worn-in look on day one. This innovation, among many other fabric treatments, helped CP Company explode onto the Italian fashion market over 45 years ago, and it still stands nearly alone at the top today. I say "nearly" because CP's little brother, Stone Island, created by the same mastermind, Massimo Osti, has been on every designer's mood board for the past decade.  This is the one that will turn heads wherever your journey takes you.
Made from water-resistant Flatt Nylon, this Hooded Overshirt has a great fit and the fabric has been painstakingly sanded to give it an amazing worn-in look. This pullover jacket is weather resistant, breathable and quick drying. The Iconic Lens logo detail lets everyone know it's a CP Company.
Weight: n/a
Material: 100% Polyamide / Nylon
Price: $399.70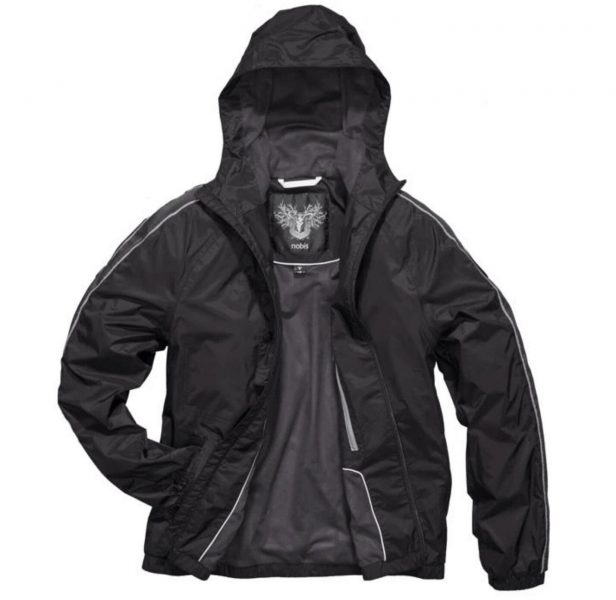 Best For Jogging: Nobis Sawyer Windbreaker
Nobis is relatively new to the market but, with 10 years under their belt, the Canadian brand is now available in over 40 countries. Nobis is known for its technical fabrics and innovations, and every piece they design is developed to be equally at home on the mountain as on the street. Never sacrificing style for functionality and vice versa, Nobis focuses on meticulous tailoring and invested details. Using the ever-changing weather patterns of the eastern Canadian climate, Nobis creates pieces perfect for transitional weather. 
The Sawyer Windbreaker claims to be a jogging jacket, but with all the pockets and tailored fit, it's obviously made for everyday use. The featherweight nylon jacket is equipped with a mesh lining and under-arm gromets for enhanced breathability and has a two-way zipper and a DWR finish to repel water. Visit one of their stores or browse the site for more weather-eccentric apparel, outerwear and accessories.
Weight: n/a
Material: 100% DP Nylon with DWR finish
Price: $450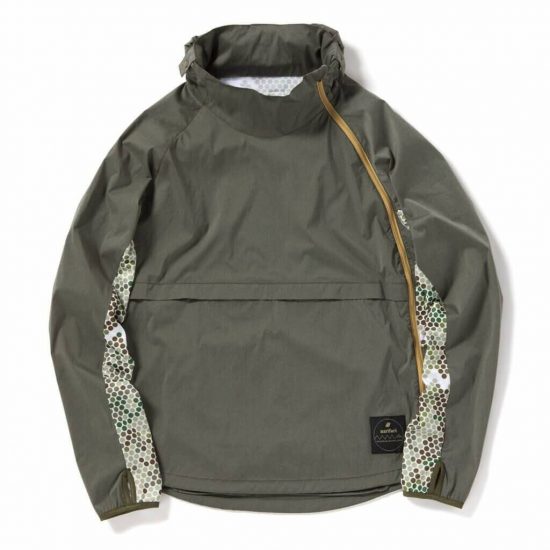 Best Packable: Narifuri Pocketable Pullbreaker
Narifuri is a Japanese brand specializing in technical wears built for the daily commute. The newly-released packable waterproof pullbreaker is one of our favorites. It's everything you would expect from Japanese outerwear: great design, considered details, and, of course, durability. Constructed of high-density nylon tasser fabric with a Teflon coating, this jacket is water and oil repellent so it's dirt proof. Our favorite feature, though, is the way it packs into itself so you can throw it in your bag and always be prepared. Browse the site for more unique rain gear, but be warned, you will fall in love with everything!
Weight: 380 g
Material: 100% Nylon; Gelanots rip stop fabric
Price: $295
Best Poncho: Canada Goose Field Poncho
Canada Goose has carved out a reputation as the warmest winter jacket on the planet. They have been copied by practically every other outerwear brand out there, but they always stay one step ahead of the game. But did you know they also develop rain wear? The field poncho is the best poncho we've ever seen, and we've searched for a long time. 
When it comes to rain protection, a poncho makes perfect sense. The functional design allows you to use a completely waterproof fabric without having to worry so much about breathability. With fully sealed seams and Aquaguard zippers, that's exactly what this is – complete water protection with ease of movement and ample breathability. The utilitarian pattern offers an ultra-clean design that's easy to wear and even easier to stow away in the cinched hood.
Weight: n/a
Material: 18% Nylon / 14% Spandex; Tri-durance 197gsm material
Price: $650
Best Budget: Uniqlo Blocktech Parka
Windproof, water-resistant and moisture permeable at half the cost of any competitor. Like most Uniqlo products, The Blocktech Parka starts with the fabric. Years of research and development went into developing the 2-layer laminated stretch fabric, and the result is nothing short of excellence. The parka features critical sealed seams (shoulder and hood) as well as a durable water-repellent finish to help bead away rain drops. Not as technical as some of the offerings on this list but a perfect option for daily commuters on a limited budget.
Weight: n/a
Material: 100% Polyester
Price: $59.90
While it might be impossible to declare a definitive champion, there are a few companies that definitely stand out. Rains, Stutterheim and Arc'teryx, for example, are all excellent brands that specialize in outerwear for challenging weather conditions.
Look for Gore-Tex. One of the best rain jacket materials, it can repel liquid water while allowing water vapor to pass through and is designed to be a lightweight, waterproof fabric for all-weather use.
For a casual yet fashionable travel option that can fit in a small back pocket or tucked away in an overnight bag, check out the Narifuri pocketable pullbreaker. It's windproof, water repellent and super lightweight.