Best Smoker For Ultimate BBQ Flavor
If you love Southern-style flavor palettes, you probably already own a smoker. And if you don't, what are you waiting for? You might think investing in the best smoker is only for serious outdoor chefs, or you may be dissuaded by the price tags. Maybe you just never got around to doing the research and buying one of these amazing cooking apparatuses. Well, let me tell you: you need one of these in your life.
If you want authentic Southern BBQ flavors, a smoker is the only option. You need that long, slow, even heat to get those perfect fall-off-the-bone ribs, and the smoker is how you achieve it.
With Covid-19 keeping us at home and keeping our gatherings outdoors for as long as possible, this might just be the best time to invest in a smoker. We've compiled a list of great options for every type of BBQ grill master out there.
There are handful of different types of smokers on the market, as well as different fuels. All have different advantages and disadvantages, and all are offered in a range of price and quality options. We've broken down the three main types of smoker, and the different smoker fuel options available, to get you started on your quest for the perfect BBQ flavor.
When it comes to smoking meat, the most authentic option is an offset, Texas-style smoker. This model has been the standard for ages, and gives the most authentic taste.  Offset smokers have two compartments. Wood and/or charcoal is stored in the smaller compartment, while the grill vents the smoke and heat to the large compartment where the food is contained. These smokers require more learning and practice as you need to constantly manage the fire and airflow. However, new digital and smart heat control systems make it a lot easier, so if you really want the best smoke taste, this is your best bet. 
Another option is a vertical smoker, sometimes called "bullet smokers" due to their shape. These smokers feature a heating unit at the bottom, which can host a charcoal fire, a propane burner, or an electric element. The food compartment is generally accessed by lifting the lid off the top to reach the food rack. When in action, the heat rises through vents to reach the top compartment where the food sits. Wood chips go directly on or above the heat source, and some might even opt to have a pan filled with water to help even out the heat for a perfect slow smoke. The size of the fire or heat setting controls the heat and smoke, limiting airflow and heat exhaust. This type of smoker also requires some practice but is well worth the results. 
Box or cabinet smokers look a little bit like a… well, cabinet, with front loading doors for both the food and fire box. Similar to the other two types, the heat source on these units is at the bottom, followed by a wood box, a water pan or bowl, and then the racks for your food are on top. These smokers are easier to load and unload and usually have more racks to separate food items.
So what are the different fuels for smokers? There are a few, and each has its pros and cons. 
Wood is the traditional smoker fuel that gives food that smoky Southern flavor we're all after. Different types of wood will give different flavors as well as various degrees of smokiness. You can easily find and purchase wood chips or pellets with specific notes, like old whiskey barrel wood chips or apple wood smoking chips.
Lump charcoal produces very little smoke and burns without flames at a higher temperature than wood. The charcoal also produces less ash so it's easier to manage. You won't achieve the same smoke flavor notes with charcoal, so it's recommended to add wood chips throughout the smoke to get more smokiness.
Propane makes it easy to manage the heat and produces no ash. You will still need to place wood chips near the propane burners to burn slowly and provide smoke. Some propane systems work with pellets, which replace wood chips and produce even less ash.
Electric smokers have heating elements which provide heat to cook food and or burn wood chips to provide smoke. Electric smokers generate very little ash and require almost no maintenance but might not reach the same temperatures and lack some smoke flavor.
The 7 Best Smokers in 2022
Best Combo Grill and Smoker: Masterbuilt Gravity Series 560 Smoker
Want something easy that delivers authentic wood smoke taste? This Masterbuilt smoker is really the best of both worlds. You get all the benefits of an offset smoker but with digital heat control via the temperature panel or your phone or tablet. This helps you achieve perfect temperatures without having too much learning curve. The gravity-fed hopper holds 10 lbs of lump charcoal or even more briquets for an amazing 12-15 hours of smoke time without refilling or managing your fuel. 
The iron grates allow for great reverse searing so you can quickly pump the heat up after a nice long smoke and give your meat a final sear for a perfect char every time. Plus, the two porcelain-coated warming/smoking racks add up to a total of 560 square inches of cooking space. Whether this is your first smoker or you're a seasoned professional, this is an amazing model that looks great, is easy to use, and delivers authentic wood smoke flavors. The under $500 price tag makes this an easy choice.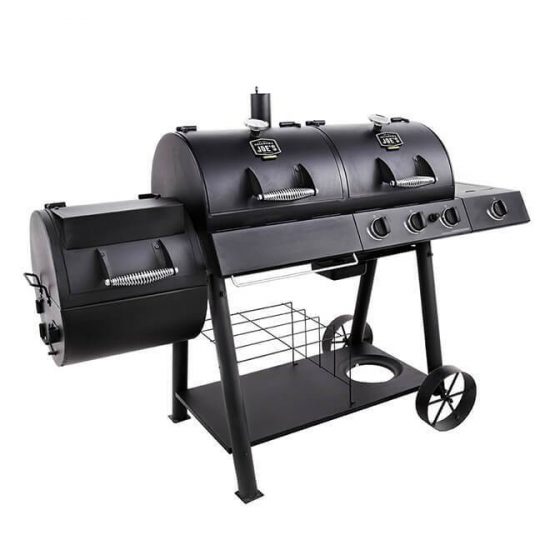 Best Propane Combo Grill and Smoker: Oklahoma Joe's Longhorn Combo Smoker
This is the closest thing you can get to an all-in-one outdoor kitchen. The three-in-one combo grill and smoker combines the convenience of a propane BBQ with electronic starter with the rugged offset firebox and smoker chamber. Not only that, but they've also thrown in a side burner. This allows you to cook multiple courses at different temperatures and levels of direct heat all at the same time. 
With an astonishing 1060 square inches of total cooking area, the three compartments ensure durability and quality with enamelled cast iron cooking grates and stainless-steel burners. The three main burners emit 36,000 BTUs while the side burner gives 12,000 BTUs of power. To ensure you always have optimized temperatures for that perfect slow smoke or high-heat searing, both compartment lids feature a high-quality temperature gauge. Oversized stay-cool handles and large caster wheels finish off the utilitarian design. If you want an authentic combo smoker with the added convenience of propane and all the bells and whistles, this is the one for you.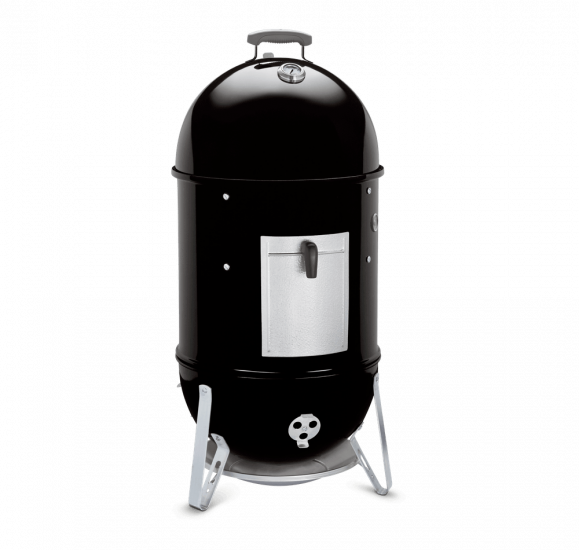 Best Value Smoker: Weber Smokey Mountain Cooker Smoker
You've probably owned a Weber kettle charcoal BBQ at one point in your life. Well, wouldn't you know it, he has a big brother and he's exactly what you'd expect him to be. The Weber Mountain Cooker Smoker features the same hallmark utilitarian design principles as his little brother, only this one is made to smoke your food all day long. 
The value smoker includes two cooking grates so you can smoke different items at the same time. Plus, the familiar porcelain-enamelled lid and bowl with the large handle retain heat and won't rust or peel. Silicone temperature grommets monitor the internal temperature while offering airflow dampeners for easy adjustments. A large removable fuel door comes right off to make adding charcoal and wood mid smoke easy and safe. The top load is not ideal, but it comes in three different sizes — 14, 18, or 22-inch diameter — and you can't find a better smoker at this price. This is a great choice for beginners seeking authentic wood smoke flavor.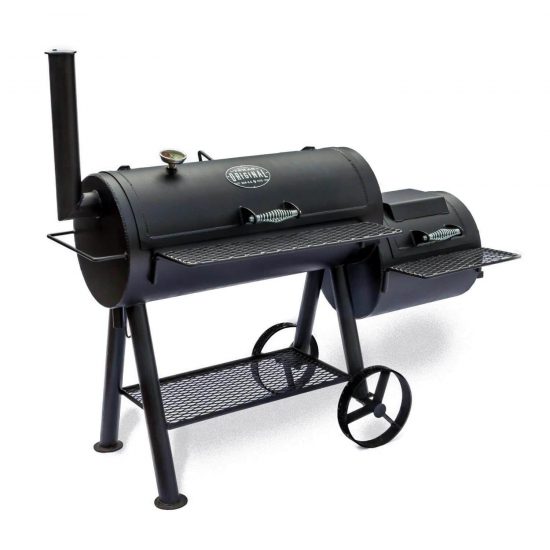 Best Offset Smoker: Texas Original Pits Luling Single Lid Offset
This smoker is as authentic as it gets. Everything about the design and construction is pure. The main smoker mimics a vintage DIY southern BBQ, only this one is constructed from ¼ inch steel hand forged in the USA. The completely flat cooking surface spans 864 square inches. The leak-free double-weld construction ensures maximum airflow efficiency and heat retention, meaning you'll burn less wood for longer. Each Texas Original Pits smoker has hand-welded flanges on the doors to form a seal to keep in the heat and smoke. 
This smoker has 16-inch diameter chambers, a 36-inch-long main chamber, and an 18-inch long firebox. The main cooking chamber comes equipped with two 16 3/4 x 15-inch cooking grates while the offset firebox contains one 13 3/4 x 15-inch cooking grate and a heavy-duty log grate. If you need even more space — because, why not? — other sizes are also available. The offset firebox's design allows you to cook directly over the flame if you want a nice sear, or to close the lid and use as a pot warmer. 
Dual airflow dampers facilitate temperature management, and stay-cool spring handles add a level of safety and convenience. If you're looking for a built-to-last, rugged smoker and you're willing to spend a little more, look no further. This smoker not only has all the bells and whistles — the craftsmanship and fabrication ensure it will smoke your meat better than any other smoker out there.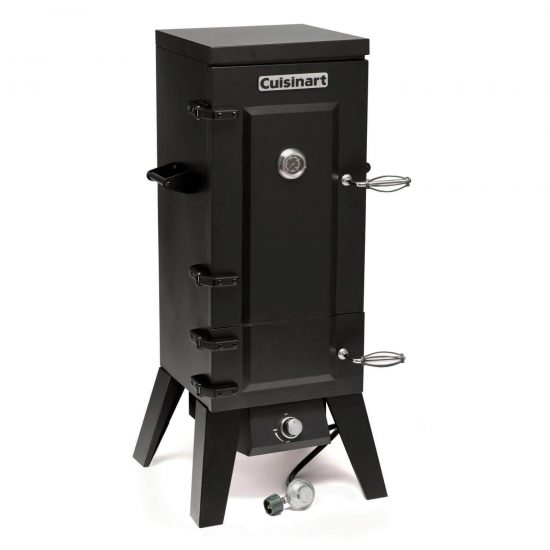 Most Convenient Smoker: Cuisinart 36" Propane Smoker
Cuisinart has built a reputation as a leader in household appliances. Most kitchens feature at least one, if not two or three small appliances made by this beloved brand. It was only a matter of time before they lent their expertise to the outdoor grill market, and they hit a home run with this cabinet smoker.
The focus on this unit is convenience and practicality; all you need to do to get this thing started is turn on the propane gas. The main cabinet features four stainless steel racks for a total of 784 square inches of cooking surface. Both the main door and the fire pit door are tightly sealed to keep heat from escaping, while the back vent adjusts the temperature as desired. The fire pit features a combination porcelain-enamelled steel wood/water tray, and the stay-cool handles make it easy to periodically check your goods. If that isn't enough, the top of the unit can even be used as a food-warmer tabletop. This is a great choice for those of us who like things a little simpler and easier.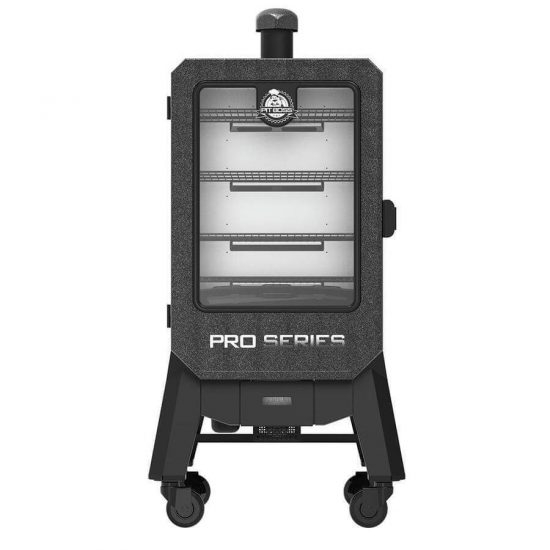 Best Pellet Smoker: Pit Boss Pro Series Pellet Smoker
It's never been this easy, it's never been this smart, and it's certainly never looked so good. The Pit Boss Pro Series Vertical Wood Pellet Smoker is bigger, hotter, and heavier than ever before, but that's only the beginning. The grills are now equipped with Wi-Fi and Bluetooth technology to be used with the Pit Boss app to control temperature settings, monitor your smoker's meat probes, and much more. Even your nephew will be able to run this thing.
Although compact on the outside, this unit's smart design, with adjustable shelves and meat hanger hooks, is anything but compact on the inside — this model boasts over 1,075 square inches of cooking space. This is also one of the few units to feature four wheels, so moving around the 65-pound hopper is super easy. With an easy-clean pull-out tray, ash management is a breeze, and this technological wonder even comes equipped with an automatic startup and cool-down function. If you've ever wished there was an app to help you with all your BBQ needs, look no further, the BBQ gods have answered.
Best Digital Electric Smoker: Masterbuilt 30-inch Digital Electric Smoker
The Masterbuilt 30-inch Digital Electrical Smoker is one of the easiest to use. Of course, you won't get the same results from this little guy as you would from one of the others on this list, but if you're looking for something to start with, and you want to test out the waters without dealing with charcoal fire or propane, this is a great starter unit. Simply plug it in, set your desired temperature on the digital control, and let it go to work. If you can use your toaster, you can use this smoker. 
The electric device has four chrome-coated racks to provide enough room for large meats and accompanying vegetables. The patented side wood chip loading system lets you add wood chips without opening the main door and letting the heat escape. A water bowl adds moisture and flavor to whatever you decide to smoke, and there are air dampeners to control the overall smokiness. Plus, a removable drip pan makes for easy cleaning, and the wood chip tray is also removable for no-hassle ash management. This is a great little starter unit without the intimidation of big, rugged fire pits.