The Best Luggage Brands to Travel in Style
When the COVID-19 pandemic really started to spread across the world, many of us had to put our big travel plans on hold. Between border closures and stay-at-home orders, a lot of people haven't had much of an excuse to get their suitcase out of the closet.
However, with vaccine optimism, looser restrictions, and dreams of late summer getaways and trips down south this winter, now might be the perfect time to prep for future excursions by researching the best luggage brands on the market today.
Whether you're traveling for business, heading out to the cottage for a mini-break, or planning a much-needed vacation abroad, the suitcase you bring can influence your trip in a big way.
Luggage has come a long way in the past decade, and with multiple new brands on the market, the industry keeps innovating. Whether you're looking for a classic spinner carry-on or a bag that can charge your tablet, we explore the best travel bags and review all of our favorites below.
The 9 Best Luggage Brands of 2022
Best Overall: Away the Medium
Established in 2015, this luggage brand has gained a massive following for its affordable, durable, and stylish spinner luggage sets. Away is on a mission to promote safe and seamless travel, and if you are taking a trip abroad the Medium might be your best companion. This suitcase has a hard polycarbonate shell and features a built-in TSA approved combination lock, keeping your belongings safe and secure. The 360* spinner wheels make it easy to keep in tow, whether you're running to catch a plane or taking a leisurely walk down cobblestone streets. The interior equally thought out, it features two compartments to separate clothing from harder items (like a pair of shoes), it also includes a hidden laundry bag for soiled clothes.
Additionally, all Away suitcases have a limited warranty (which covers damage to shell, wheels, etc.), as well as a 100-day return policy – so you can even test it out on a trip to see if it's the right luggage for you.  
Best Personalized Hardcase: Roam
This travel brand offers customizable pieces of luggage that are USA-made with quality materials. The polycarbonate suitcases are available in four different sizes, ranging from carry-on and wide carry-on, to medium and large check-in. Customers have the option of designing a fully personalized suitcase: selecting size, front and back case colors, accent colors, and even adding a monogram.
Roam offers plenty of ready to order designs, like the sleek Montenegro or Bandon Dunes, or you can take a bit of time to customize yourself. Each Roam model comes with a durable 100% virgin polycarbonate exterior, TSA-approved lock, ball bearing wheels, and telescoping handle system – ensuring safe and easy travel. Additionally, the interior features washable fabric lining, and has a compression system on both sides, helping to maximize luggage capacity. There is also the option to add a monogram for free so you can still add a personal touch to the ready-made designs.  Best of all, Roam Luggage offers a lifetime warranty, a 100-day risk-free trial, and free shipping.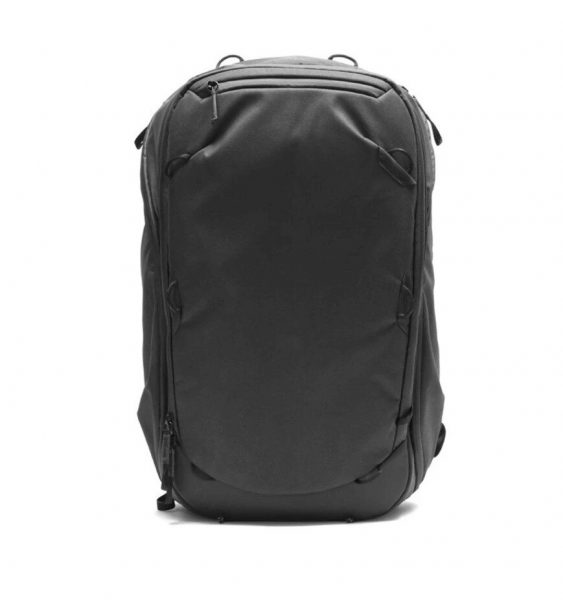 Best Travel Backpack: Peak Design Travel Backpack 45L
Peak Design is one of the best luggage brands to tailor to explorers and photographers alike, offering everything from camera gear to travel backpacks. The Travel Backpack 45L is a perfect example of Peak's innovative designs. This versatile backpack is as functional as it is good looking – it features easy access from the top, rear and sides zippers, 360-degree grab handles, and tuck away shoulder straps (that stay in place via magnets). The interior of the bag is equally thought out and features multiple zippered pockets and compartments to keep belongings organized.
What really makes the Travel Backpack 45L an adventurer's dream is its ability to expand. At its default the bag is 35L – meeting international carry on standards. However, the bag is able to expand an additional 10L – adding a significant amount of space for longer trips, photography gear, or souvenirs.
Best Lightweight Luggage: Samsonite Black Label Cosmolite 3.0 Carry-On Spinner
Samsonite has been around for over 100 years, allowing plenty of time to perfect its craft and become one of the most popular luggage brands. Known for making the best luggage sets, the innovative designer has a bag for any (and every) occasion. The Black Label Cosmolite 3.0 Carry-On Spinner is a great choice for shorter trips, it comes in 3 color options, and has a durable scratch-resistant case. It's made with Curv ™ – a material comprised of layers of polypropylene that are woven into a self-reinforcing structure – for super strength and durability. The interior features elastic cross-ribbons in the bottom compartment to keep things neat and organized.
Also, this bag is extremely lightweight (weighing only 3.7lbs), which makes it easy to tow through airports and down crowded plane aisles. Every Samsonite bag comes with a 10-year Global warranty, all the more reason to give this established brand a try.
Best Duffel Bag: Eagle Creek Migrate Duffel 90L
Eagle Creek prides itself on making durable, practical, and sustainable luggage that's designed to last a lifetime, and the Migrant Duffle 90L is no exception. This sturdy bag is made for adventure, its rather large at 90L and has the capability to expand to 98L (just unlock the side buckles) – it also converts to a backpack for easier carry when needed.
That's not all this duffle has to offer, it's engineered to weather a storm and take a beating or two. It features a water repellent exterior, made of repurposed windshield plastics staying true to the brand's sustainable mission. It also has a seamless bottom and an internal storm flap to prevent water (or any liquid) from leaking in, handles on the top, side, and bottom that can be used to tie the bag down, and lockable zippers to keep it secure. When not in use the bag collapses flat, for easy storage.
Best Luxury Wheeled Carry-On: Tumi Small Compact 4 Wheeled Brief
Tumi is a trusted name in travel accessories, and for good reason – the luxury brand has gained its reputation by manufacturing superior quality luggage and providing concierge-level customer service. The luggage brand's obsession with innovation goes beyond the designs — although those are impressive as well — all Tumi products are put through at least 30 different tests (including mileage cycle, cleanability, and tumble test)  before being released on the market.
Tumi offers a piece of luggage for every occasion, whether that be a long vacation or a quick business trip, and the Small Compact 4 Wheeled Brief is the perfect companion for the latter. Designed with business travelers in mind, this compact brief is spacious enough to carry a laptop and overnight essentials, yet still fits conveniently under the seat of most planes. Additionally, it's sustainably made, comes with the option to add a monogram, and is backed by a 1-year worry-free warranty.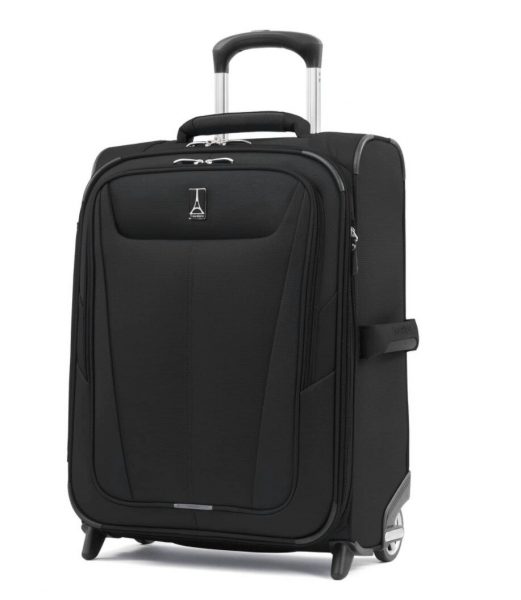 Best Budget Option: Travelpro Maxlite 5
Travelpro was founded by a pilot who wanted to offer a solution to the baggage transportation struggles he observed in airports on the daily – so it's no surprise this luggage company is also the creator of the first rolling suitcase. Since its inception, Travelpro has offered a variety of affordable and innovative options to accommodate travelers around the world.
The Maxlite 5 20" International Carry-On Expandable Rollaboard is one of the best lightweight luggage designs from Travelpro because it's so sturdy and easy to handle. This suitcase is compact enough to bring as a carry-on for most international flights but features a zippered extension to allow more space if needed. Additionally, the Maxlite is built to last — it's made with durable polyester fabric and comes with a lifetime limited warranty.
Best Garment Bag: Briggs & Riley Carry-On Wheeled Garment Bag
Founded in 1993, Briggs and Riley is a luxury luggage brand that takes the consumer experience very seriously and is on a mission to make packing and traveling easy and worry-free. In fact, it changed the industry with its lifetime guarantee which includes damage inflicted by airlines, further proving its commitment to customer satisfaction.
In addition to providing quality service, Briggs and Riley is continuously innovating and designing luggage, like the Carry-On Wheeled Garment Bag, to optimize packing. This bag is perfect for any trip that requires formal wear because of its compact size and wrinkle-proof design; it can comfortably hang 2-3 suits, has additional compartments for undergarments, and even features a shoe pocket. Test this bag out on a business trip or weekend away and you will likely be hooked. 
Best Luxury Duffle Carry-On: Louis Vuitton Keepall Bandoulière 55
Louis Vuitton is a luxury brand that needs no introduction. The popular high-end retailer makes everything from handbags and clothing to jewelry and luggage. The Keepall Bandouliere 55 is the perfect leather duffle carry-on — this stylish bag is as functional as it is fashionable. It's available in 7 different prints including the classic "LV" monogram and Damier canvas. The round handles and adjustable (and removable) shoulder strap make it easy to carry in a variety of ways.
Although Louis Vuitton is the most expensive on our list of the best luggage brands, its bags and suitcases are made with only top-quality materials and intended to be passed down through generations. In fact, a well-maintained vintage LV bag is a much sought-after accessory because of its iconic, timeless look.