Best Men's Body Wash: Support Your Skin While You Cleanse
We know some men still prefer traditional bar soap; however, many are converting to body wash and not looking back. Whether you are considering making the switch or are just looking for the best men's body wash, the number of options available can be daunting.
Depending on your skin type you will want to look for a body wash that is hydrating, exfoliating, formulated for sensitive skin, or a combination of the three. The next thing to consider is the scent. Some smell strong and can almost double as cologne. Others are more subtle and might use essential oils for aromatherapy. It's all a matter of preference.
We've reviewed our favorite men's body washes to provide you with some additional insight, so let's dive right in! 
8 Best Body Washes For Men
Kiehl's Body Fuel Body Wash
Established in 1851, Kiehl's takes pride in crafting quality skincare products, and this energizing Body Fuel body wash will have your skin smelling good and looking great. The all-in-one cleanser is made with caffeine, vitamin C, and menthol, giving your skin a tingly wake-up. It also includes zinc, which is a soothing and cleansing mineral.
This body wash also doubles as a shampoo. Simply lather and apply from your head to your toes – you will hop out of the shower feeling clean and rejuvenated! Heck, you might be so awake that you skip your morning coffee altogether. We love this product because it feels great, uses natural ingredients, and is a high-quality cleanser at such a reasonable price point. If you love this body wash, be sure to try Kiehl's Body Fuel deodorant as well!
Dr. Bronner's Pure-Castile Soap
Dr. Bronner's boasts that this cruelty-free soap is an everything-in-one cleanser, and we mean everything! The 18-in-1 pure castile soap is formulated using natural ingredients and is free of synthetic detergents and foaming agents, so is safe to use on just about anything. Use it to wash your body and hair, clean the dog, mop the floor, or do the dishes. If this sounds too good to be true, we assure you, it's not. It really works!
This body wash will not only leave your skin feeling clean — the added essential oils will have your shower feeling like a spa. Dr. Bronner's Pure-Castile Soap is available in 8 different scents: including eucalyptus, lavender, tea tree oil, and (our favorite) hemp peppermint. We recommend giving this natural body wash a try. Besides, if for some reason you don't love it, you can always use it to wash your pet!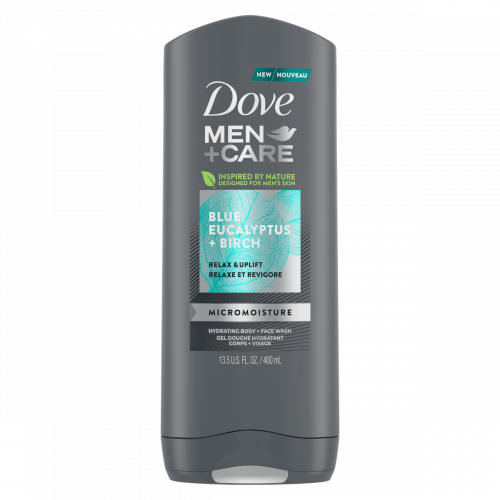 Feeling nostalgic for the smell of bar soap? No worries, Dove is here to ease your woes. The readily available (and affordable) brand created a line of body wash for men available in all the same scents as its body and face bars.
But wait, it gets even better. The Dove Men + Care body wash has micro grains that exfoliate away dead skin cells while you cleanse, so you get all the moisture perks of the original soap formula, with the added benefit of even smoother skin. We love this no-hassle moisturizing body wash and recommend it for normal skin types. It comes in a variety of scents: try Clean Comfort or Extra Fresh the next time you're ready to lather up.
Nivea Men Maximum Hydration
This popular brand takes moisturizing seriously and claims to make the best body wash for men. While we don't know if it's really the all-time "best", this Nivea Men Maximum Hydration Body Wash is exceptionally hydrating, and the effects are long-lasting. It harnesses the soothing power of aloe vera to leave your skin feeling soft and clean.
Additionally, this 3-in-1 body wash has enough cleaning and conditioning properties to replace your entire shower routine. The scent is also really pleasant — it's a masculine balance of citrus and woody amber that will last the whole day through. We love this product for the gym or traveling because it is so versatile – eliminating the need to pack multiple toiletries.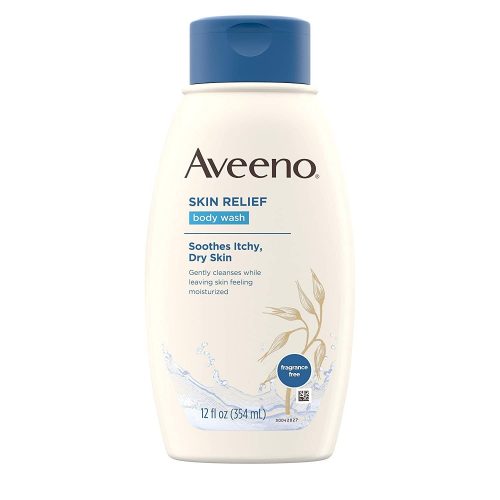 If you have sensitive skin, Aveeno Skin Relief is one of the best men's body wash options on the market. This fragrance-free cleanser is designed to gently wash the day away without over-drying, it has a rich, creamy texture, and is made with moisturizing ingredients like oats.
Since this soothing body wash contains no harsh dyes or parabens, it's perfect for daily use and is suggested for sensitive, dry, or combination skin. We love the comfort that a warm, relaxing shower with Aveeno Skin Relief can help provide. This dermatologist-recommended brand gets our vote for the best body wash for sensitive skin.
Harry's Redwood Body Wash
A staple in men's grooming, Harry's specializes in everything from shaving and hair to products for showering. Lather on this Redwood-scented body wash and you will likely notice its ability to wash away any and all filth, without stripping your skin of its natural oils. Its strong but balanced formula is also sulfate-free, dye-free, and cruelty-free.
We love the smell of redwood — it's earthy like the coastal woodlands, and has notes of sea salt, evergreens, and sandalwood. This body wash is also available in three other scents including fig, shisho, and stone, so you can pick your favorite or sample all four. We recommend these affordable suds if you're looking for a soap that's gentle but provides a deep clean.
Aesop Coriander Seed Body Cleanser
We couldn't curate a list of the best men's body wash without including Aesop's Coriander Seed Body Cleanser. The reputable brand is known for its thoughtfully-crafted skincare and this high-quality soap is no exception. It's made with patchouli, coriander seeds, and black pepper — three ingredients that provide aromatherapy as they cleanse. Massage this body wash into your skin and you will immediately notice a subtle warming sensation, promoting further relaxation.
Although Aesop has slightly higher price points, we think it's well worth the splurge! We recommend this spa in a bottle if you are looking for a body wash to help you unwind and make your skin feel great. If you love this body wash, be sure to try Aesop's deodorant as well!
Huron Men's Invigorating Daily Body Wash
The bottle reads "cleanse and recharge" — and that's exactly what Huron Men's Invigorating Body Wash does! Formulated with energizing scents like menthol and eucalyptus, this heavy-duty cleanser will leave you feeling new again. All it takes is a quarter-size amount in the palm of your hand (or on a loofa), and it will form a nice conditioning lather as you rub it onto your wet skin. 
In addition to providing a deep clean, this body wash is made with key ingredients that are moisturizing like coconut oil and vitamin E. All Huron products are USA-made, follow strict guidelines, and are cruelty-free, which provides some peace of mind.
We love the scent and efficiency of this high-quality body wash — it definitely leaves you feeling (and smelling) fresh!
Both bar soap and body wash are equally effective when it comes to cleaning your skin. However, there are other factors to consider when deciding which to use. We recommend a body wash if you're prone to dry skin, and also if you have a communal shower, since sharing a bar of soap can be gross.
Shower gel and body wash are two different things. Shower gel tends to be more fragrant and have a thicker "gel-like" consistency. While this is great for lathering up, it's not as hydrating as body wash.
Although some body washes can provide enough of a lather to shave with in a pinch, we recommend sticking to shaving cream. We know it might be tempting to use them interchangeably out of sheer convenience, but shaving cream is formulated to provide a layer of moisture and protection that is more suitable when using a razor blade.