Cook Like a Pro with the Best Cast Iron Skillets
If you've never cooked with a cast iron skillet, you're not alone. The lore behind the cast iron pan has made it an intimidating piece of cooking equipment. Overwhelmed by the maintenance and the "rules" associated with cooking with cast iron, it took me years before I worked up the courage to buy one. But once I bought a cast iron skillet, I felt silly for not getting one sooner.
Cast iron skillets really are far superior to regular non-stick pans. For one, you can cook virtually anything on one. It's basically the Swiss Army Knife of pans. Whether you're searing steak, stove-top frying some chicken, or making cornbread, the cast iron skillet has got you covered. Not only can it be used on the stove top, but cast irons can also be put on the grill, in the oven (even on broil), and over the campfire.
Cast iron cookware can withstand high temperatures that most other pans can't. They're heavy – typically around five pounds – and dense, which allows the heat to be retained in the pan. This makes for a thick sear on steaks, perfectly caramelized vegetables and extra crispy fish skin. Basically, cast irons are tough Mother F-ers. Cast iron pans can last a lifetime with the right care. With really good care, they can even last beyond your lifetime and be handed down generations.
Not sure which cast iron skillet to buy? We rounded up the most popular options on the market to help guide you towards the best cast iron skillet for your needs. To get you started, we've even put together a how-to for seasoning and washing cast iron skillets. Consider this your guide for getting started with cast iron cookware. 
How to Season a Cast Iron Skillet
The term "seasoning," simply means to build up enough of a coating on the outside of the cast iron pan to create a non-stick surface. There are some cast iron skillets on our list that come pre-seasoned, so please note that when purchasing. Seasoning a cast iron is something any cast iron owner should know how to do, as you'll want to season it again over the course of owning the pan for best results.
Scrub cast iron skillet in hot, soapy water
Dry thoroughly with paper towel or kitchen towel
Apply a thin layer of melted shortening or any variety of vegetable oil over the skillet. Make sure to apply evenly.
Place the pan upside down on a middle oven rack at 400° F. Place foil on a lower rack to catch any drippings.
Bake for 1 hour.
Allow to cool.
How to Clean a Cast Iron Skillet
Cast iron pans might have a reputation for being high-maintenance, but it's actually the opposite. When it comes to cleaning cast iron pans, less is more! Follow these simple steps, and you'll keep your skillet sparkling and well-seasoned.
Immediately after using, and once cool to touch, hand wash with water with a cloth or sponge.
If there are tough bits stuck on: try a pan scraper (but not when the pan is hot or it'll melt the plastic). Or, use a cast-iron scrub brush to scrub the pan with a paste of coarse kosher salt and water.
Rinse and towel dry thoroughly, or, better yet, put the cast iron pan on the stove top over low heat for five minutes to heat dry and prevent any rusting.
Using a paper towel, rub a small amount of vegetable oil all over the pan, inside and out, leaving a thin layer of oil. We suggest flaxseed oil, but grapeseed or any vegetable oil will do.
Use a separate paper towel to wipe off the excess oil.
When it comes to cleaning your cast iron skillet, remember the following. First, don't use soap. Overall, you should not need to use any soap to get your cast iron clean. That said, most experts say that washing cast iron with a little bit of soap will not ruin it, as long as it is properly seasoned. Second, don't put it in the dishwasher (unless noted). Some modern cast irons tout being dishwasher safe, but the majority of vintage style (used cast iron skillets or ones meant to replicate that feel) will not be dishwasher safe.
The 6 Best Cast Iron Skillets in 2022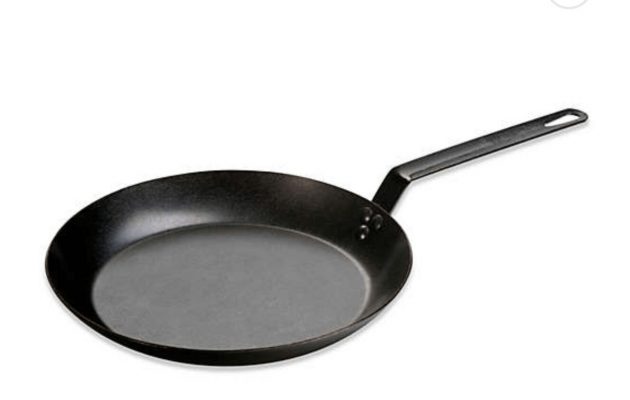 All of the other cast iron pans on our list are single cast irons, but this Lodge Chef Cookware Set boasts seven pieces. At only around $60 for the entire set, this is by-far the Best Value out of all the cast iron skillets we reviewed. The Lodge set includes not only a 10.25 inch skillet, but also a 10.5 inch griddle, and a 10.25 inch grill pan. Plus, it comes with all the accessories you need to dive right into using cast iron — a silicone pot holder, silicone handle mitt, a pan scraper and a grill pan scraper. It's basically a starter kit for anyone starting to cook with cast iron.
Lodge has been around since 1910 and is the standard in cast iron cookware, so this is not some cheap pan that you'll regret buying. Plus, the pans come pre-seasoned, so you can skip that step and just get to cooking. There are few negatives to the Lodge set, but they should be noted. At 5.5 pounds each, the Lodge pans are pretty heavy, and the pour spouts are small and shallow which results in more spills. And of course, some people really don't need three cast iron skillets and just want one. But for the price and quality, we say why not just get three instead of spending three times as much for one pan?
The 10 ¼ inch Field #8 skillet was the lightest cast iron we reviewed at 4.3 pounds. Field is one of the newer brands in the cast iron game and they aim to create lighter, smoother, American-made cast iron. Field purposefully brought back the smooth cooking surface found in prized vintage-cast iron pans. It comes pre-seasoned with grapeseed oil, so you can skip that step unless you are inclined to add seasoning yourself. There's no pour spout, though it wasn't too difficult to pour hot grease over the edge without it dripping. Overall, we were left thinking that this pan is less about function and more about appearance. It's not a bad cast iron by any means, but we just aren't sure it's worth spending over $100 when there are better options available for cheaper.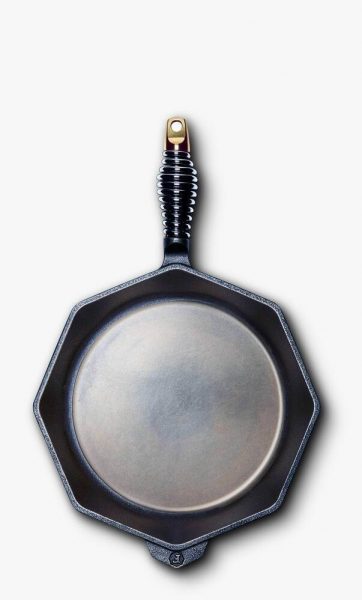 The 12-inch Finex is the most expensive cast iron on our list, currently listed at over $200. Each Finex is one-of-a-kind, handmade in Portland, Oregon and has an artisanal feel, if you're into that sort of thing. Finex is all about its patented octagonal "multi-pour" design that is supposed to provide convenient, mess-free pouring. The octagon shape does look really cool, but sadly, we found it still created a mess. The Finex skillet also has a smooth, vintage-style surface, but for this type of pan, we still prefer the Field skillet. Another trait the Finex brand is proud of is the "speed cool" handle which stays cool longer and cools off quicker. We found the handle strangely cumbersome to hold, especially for a six-pound pan, so it inevitably didn't matter if the handle was cool or not.
There were some positives to the Finex — it's pre-seasoned with flax seed oil, which most agree is the best oil to pre-season cast iron with. It also comes with a lid, which gives the skillet the ability to steam, simmer, braise and poach, unlike other skillets we reviewed. The Finex is the fancypants pan for those serious about cast iron cooking who have some extra cash to spend, but it's not for the cast iron beginner.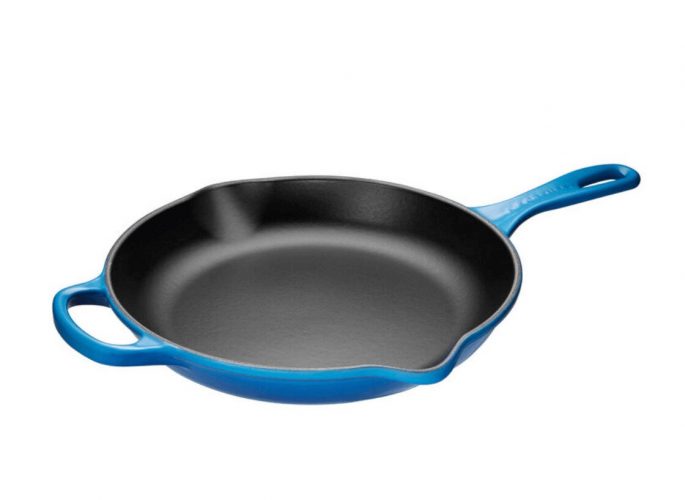 Le Creuset Signature Cast Iron Fry Pan
French-made brand, Le Creuset, is one of the world's most acclaimed cookware brands, so it's no surprise that their Signature Cast Iron Fry Pan has good reviews. At 10 ¼ inches and five pounds, the Le Creuset has an interior surface finished with black satin enamel that eliminates much of the upkeep of traditional cast iron skillets. The fry pan does not need to be seasoned and is dishwasher safe, two things most cast iron skillets will never be. It still fits the checklist for most of cast iron's perks though, including the ability to withstand high surface temperature cooking and heat retention. The pour spout
 did not create a mess like some of the other options we reviewed, and the looped handle helps lift the pan with a better grip. We also loved the ability to choose from over 10 different colors to personalize your skillet. The only negative we could find about this fry pan is that the handle is short compared to other pans, forcing the pan to be held closer to the body when lifting. Overall, we think this is the cast iron skillet to go with for those who want the results of cast iron cooking, but without all the maintenance. Yes, it's on the pricier side ($180), but we think it's worth it.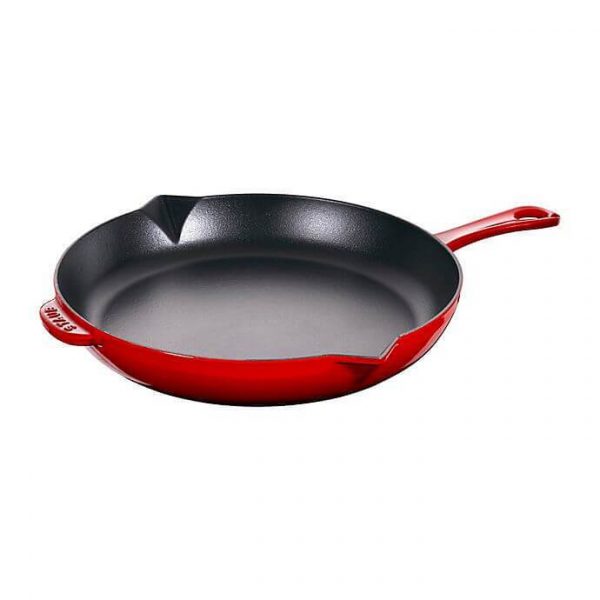 This 10" skillet is made in France, like Le Creuset. Staub and Le Creuset are ultimately each other's biggest direct competitors and it shows when comparing the two cast iron skillets. Both come pre- seasoned and are dishwasher safe. Both have a pour spout to ensure mess-free pouring of liquids, and both come in a number of color options (though Le Creuset has more colors to choose from). They're even priced at around the same cost. The only differences we could find were the Staub skillet's specifically-formulated, black matte interior enamel that contains traces of quartz, which provides additional heat resistance and a rougher surface which creates better browning. They both have helper handles, but we prefer the Le Creuset's easier-to-grip looped handle to the Staub's flat one. Ultimately, if you're looking for a cast iron skillet without the upkeep, both the Le Creuset and Staub should satisfy you. We suggest making your decision based on what color you want, and if one of the brands is having a sale.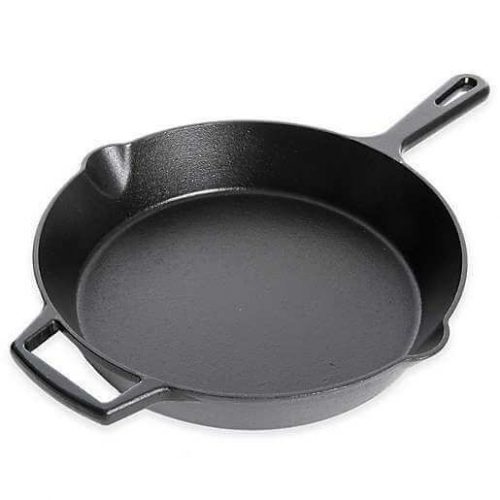 The pre-seasoned Artisanal Kitchen Supply 10 inch cast iron skillet is the cheapest option we reviewed. While it may not have the name recognition you get from a Lodge product, this option is still a solid one and will do everything a cast iron skillet should do. Think of this as your standard cast iron skillet, free of any bells and whistles. We found that this is the best cast iron skillet for first-timers who may not want to make the commitment necessary for the other options on our list.
A cast iron skillet needs to be washed immediately after each use. The majority of cast iron skillets are not dishwasher safe, so we recommend erring on the side of hand-washing. Depending on what you cooked in the skillet, that will affect how thoroughly it needs to be washed. Be sure to go through the cleaning process of drying and oiling right away to ensure your cast iron stays in tip-top condition.
As long as you follow these simple rules, the answer is no. Don't leave a cast iron skillet in a sinkful of water for an extended period of time. We suggest rinsing and going through the entire washing process as soon as you finish cooking. Don't put cast iron cookware in the dishwasher (with the exception of some newer products that are dishwasher safe). Don't run a hot pan under cold water. Cast iron is very durable, but drastic temperature changes can cause it to crack.
A Dutch oven is a large pot with a tight-fitting lid that is typically used for cooking soups, stews and sauces, boiling water for pasta and braising meat. While both Dutch ovens and cast iron skillets can be used for baking bread and frying chicken, the latter is more often used for searing. Think of a cast iron skillet as most similar to a traditional skillet or frying pan, and the Dutch oven as akin to a pot.