the Best Watches Under $500: A time for style
Fortunately, the way we tell time has evolved over centuries. Imagine imagine still relying on a sundial! Thanks to the advent of watches, tracking the time is not only more convenient – it has become a way to make a statement.
When selecting affordable watches for men the price tag isn't the only thing to keep in mind, you will also want to consider lifestyle, comfort, and versatility. There is a common misconception that one must sacrifice class, style, or functionality for an affordable timepiece. That's simply not true.
We've compiled a list of the best watches under $500 to prove you can have it all without breaking the bank.
Fossil Men's FS4487 Black Silicone Bracelet Black Analog Dial Chronograph Watch
Seemingly designed for the adventurous kind, this Fossil watch features a black silicone strap and a 45MM black ion-plated stainless steel case, giving it a bit of edge.
Operating on quartz movement, this pick for top watches under $500 has three hands, a date display, and three subdials (making it a chronograph). The chronograph has an individual subdial for seconds, minutes, and hours – which is ideal for tracking intervals during a workout or for measuring distance and speed. Although it's not a dive watch, it can handle up to 50 meters of water – perfect for a competitive swim and safe for the shower. 
Q Timex Reissue Falcon Eye 38mm
When Timex decided to reissue their classic Q Timex 1970 masterpiece, they carefully recreated every detail from the stainless-steel bracelet to the two-toned case. This stunning watch is everything a vintage timepiece should be and the contrast between the blue dial, gold top ring, and woven stainless-steel band adds to its versatility. Designed to still be functional for the modern-day this watch features a battery hatch, day and date window display, and is water-resistant up to 50 meters. Ultimately, this watch is a must if you are looking for something truly timeless. 
Citizen Men's Eco-Drive Watch (Chandler)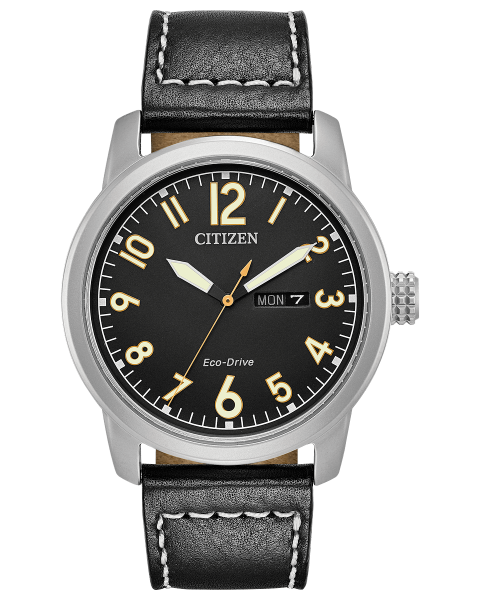 One of the best watches under $500, this timepiece runs on Citizen's patented Eco-Drive, meaning it sources its power purely from light (even dim light) – so you won't ever have to worry about swapping out a dead watch battery. It has a cool rugged aesthetic and features a green canvas strap that is clearly inspired by the military, but this field watch is not just for show – a stainless steel case and mineral crystal face make it quite durable. Additionally, the luminous hands and markers against the black dial make telling time possible wherever you are, even if it's dark.
This particular watch is water-resistant for up to 100 meters, so it is safe for swimming but not advisable for diving. However, Citizen does offer a line of Eco-Drive diving watches with higher water resistance thresholds if more is necessary for your lifestyle needs. Lastly, all Citizen watches are backed with a 5-year limited warranty so you can take your eco-drive exploring worry-free.
Seiko 5 Automatic Stainless-Steel Men's Watch
The black canvas strap is a nice contrast to the stainless-steel case (and fixed bezel) of this causal automatic watch.  The Arabic numeral hour markers make it easy to read – the day of the week and date are also displayed very clearly. This watch is a perfect staple for any wardrobe and the removable canvas strap makes it quick and easy to clean. It is water-resistant up to 30 meters (or 100 ft) so it can handle snorkeling but not diving. Overall, this watch is a great timepiece to wear at the beach, during a game of golf, or to a casual work environment – or these days, a WFH environment.
Invicta Pro Diver Collection Silver-Tone Men's Watch
This versatile watch has a sophisticated look and is water-resistant up to 200M (or 660ft) making it more than functional for an active lifestyle or recreational diving. The 37.5mm case, flame-fusion crystal face, and magnifier over the date window keep it looking sleek but easy to read. At first glance, this cheap watch is easily mistaken for a more luxurious designer brand adding to the many reasons it makes our list of best affordable watches.
Victorinox Swiss Army Alliance Watch
This elegant watch from Swiss Army pairs perfectly with a suit and tie but can also easily be dressed down – which is why we love it and put it on our list of the best watches under $500. The popular knife and watch brand designed the Victorinox Alliance Watch to be boldly eye-catching but still affordable. The case and bracelet are made of high-grade stainless steel and there are a variety of different colors available for the dial. There are variations of straps as well so you can tailor your watch to your individual style. While this watch is operated by battery, Swiss Army backs all watches with a 5-year warranty which includes 1 year for the battery.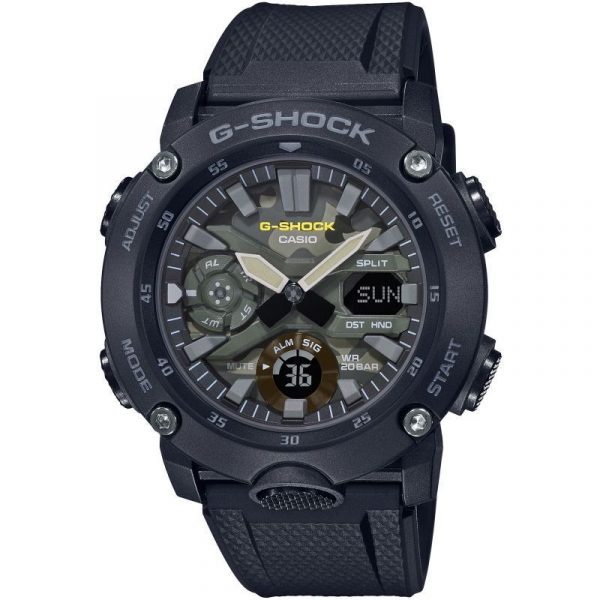 Our list of best watches for under $500 wouldn't be complete without including the innovative, and allegedly indestructible, Casio G-Shock. Not only is this watch modern and tough, but it's also comfortable, and more importantly, functional.
Known for its key features which include electric shock resistance, gravity resistance, low-temperature resistance, and water resistance (up to 200 meters) – this analog-digital watch also includes a double LED light display, an interchangeable resin band, and multidimensional face. The constantly evolving Casio G-shock boasts being the creator of the toughest sport watches and quite frankly we agree.
Undone Vintage Tuxedo Herringbone
Vintage-inspired and customizable, this mechanical watch from Undone might make you the coolest guy on the block. The 40mm case features a two-toned brushed dial giving the "tuxedo" effect. There are 8 additional options to make this watch truly custom, including the dial print, hands, movement, case color, and case back. Another huge stand out feature is the straps, which are available in everything from leather, alligator, designer fabrics, to vintage prints. A perfect gift for a loved one, or an amazing way to treat yourself, there are numerous combinations for this watch making it special and unique. 
Bulova 98C135 Men's Computron
Originally released in the 1970s the Bulova Computron isn't just a watch, it's a conversation piece. This futuristic yet retro watch is, simply put, iconic. Bulova knew exactly what they were doing when they brought back this nostalgic timepiece.
The updated digital LED display offers dual time zone capabilities, adding to its functionality. The unique rectangular stainless-steel case and band are available in three different tones: silver, gold, and black – each offering a different degree of cool. One glance and it's obvious why the Bulova Computron is one of the best watches under $500.
Swatch has made a name for itself as a manufacturer of quality Swiss-made watches and the Sistem Bau is no exception. Inspired by the Bauhaus movement, this watch is both simple and a work of art. A black dial, colorfully fun hands, automatic movement, and an exposed mechanical back will make watching time pass a mesmerizing experience. The 42mm round white case and matching white silicone strap give the Sistem Bau a refined clean look, making the contrasting dial, hands, and visible mechanics really pop. Additionally, Swatch stands behind its reputable name offering warranties and a satisfaction guarantee.
Dan Henry 1972 Top Gun Chronograph
This Pilot watch is inspired by the '70s during a time of extreme innovation and as Dan Henry himself puts it, "…watches became super-watches, with intense emphasis on their engineering. It was a time when engineers became designers, as they created watches born for measurement with craftsmanship and precision".
This limited-edition watch features a 41 mm case, a Chrono alarm, and a stainless-steel band made of solid links. Available in black or silver, additional qualities include a beautiful dial, anti-reflective sapphire crystal face, Japanese quartz movement, and water resistance in up to 165 feet. Masculine and stylish the 1972 Top Gun Chronograph is perfect for the workplace, a night on the town, or if you really want to dress the part, aviation class. Maverick and Goose wish they had this watch.
Undone Vintage Tuxedo Herringbone
Dan Henry 1972 Top Gun Chronograph
Frequently Asked
Questions
The Citizen Men's Eco-Drive watch is a great starter watch – it's affordable, comes with a 5-year warranty and since it gets its energy to operate via light, there's no worrying about a dead battery.
The main distinguishing factor between a men's watch and a women's watch is size. A women's watch will typically have a smaller face and slimmer band. Whereas, a men's watch will have a larger face and bulkier band. However, there are also unisex options available in neutral colors, styles, and sizes that comfortably fit most wrist sizes.
Affordable watches can last for years with proper care, some even come with a 5-year warranty to ensure longevity.  Regular battery changes and strap changes (if they are made of leather or another non-stainless-steel material) can also help to extend your watch's life.