The Best Straight Razors: Barbershop Closeness At Home
Everyone loves a trip to the barber shop. A hot towel, a luxurious shave… Wouldn't it be ideal if you could bring that special indulgence home with you? Thanks to the recent resurgence of the straight razor trend, you totally can. 
Many of us associate straight razors with our fathers, or maybe even our fathers' fathers. This traditional method of shaving your face has been around for ages, and while it has waxed and waned in popularity over the years, it's a classic staple in men's grooming. If you're looking to take your grooming routine to the next level, switching over to a straight razor can give you the super close shave you've been searching for. 
There's a good chance you're interested, but you're intimidated by all the tools and terminology, or you're scared you won't be as skilled as your barber. If you're going for a little more Don Draper and a little less Sweeney Todd, read on! With our guidance through the best straight razors, you'll be a straight razor pro in no time.
Learning the Ropes: Straight Razor Key Words & How-Tos
Before you purchase the perfect straight razor, it's important to do your research and learn about the ins and outs of wet shaving and the razors themselves. Here's a quick lesson in straight razor fundamentals!
Open razor / Cut-throat razor
Each of these terms are simply other names for a straight razor, which is essentially just a razor with an open blade that can be folded into its handle. Unlike safety razors or electric razors, straight razors have been around for centuries, and they still provide the closest shave of all. They're also often regarded as the most sustainable shaving tool, as they usually don't require constant blade replacement. Within the last decade, straight razor sales sky-rocketed as they came back into fashion thanks to influences like the 2012 James Bond film Skyfall. After all, who doesn't want the same shave as Daniel Craig?
The pivot is the narrow end of a straight razor's blade that rotates on a pin, allowing the blade to fold into and unfold from the handle. The tang is the small piece of metal that extends beyond the pivot and curves upwards, which acts as a lever the user pushes to release the blade from the handle and uses to stabilize the blade while shaving. The point that sits on the opposite end of the blade is often called the nose. There are many different point types, such as square, spike, sharp, barber's notch, round (or Dutch), French (or oblique), and Spanish.
The spine, the cutting edge, & the scales
When it comes to the actual blade itself, the non-cutting top part is usually referred to as the back or spine, whereas the sharp part of the blade is known as the cutting edge. It's quite literally the edge that cuts, so, makes sense! Colloquially, the handle is mostly called just that, but you will often hear experts refer to it as "the scales".
When shopping for straight razors, you will often see numbers such as 5/8", 6/8", or 7/8". At first glance you might be confused, but these numbers simply indicate the blade width of the razor. The blade width is the distance between the spine and the cutting edge of the blade, and it is measured in units of an eighth of an inch. A wider blade allows for longer shaving strokes and less rinsing, whereas a smaller blade is more nimble.
Stropping is the act of using a razor strop—a strip of malleable fabric, often leather—to straighten or polish the blade of a straight razor. Straight razors often require frequent stropping as they usually have extremely thin blades that get easily bent out of shape.
If you hear someone talking about "honing" a straight razor's blade and feel a little lost, remember it's basically just another word for sharpening. When a straight razor is made in a factory, it usually isn't fully sharpened by the manufacturer. Usually the blade is originally sharpened on a grinding wheel and finished using a strop. Once the razor is in your possession, it can be honed either by you or a professional, which often entails dragging the blade across stone.
How to shave using a straight razor
Before shaving with a straight razor, many people choose to steam their face with a hot towel or in the shower to open their pores and allow their skin and hair follicles to soften. Next, lathering up with a good shaving soap or cream is key. All of these steps protect your skin and result in a smoother, closer shave. When you're ready to use the razor, it's important to hold it at an angle almost parallel to your skin and to pull your skin taut with your opposite hand to avoid injury. Don't forget to shave with the grain to avoid razor burn or any other unsightly mishaps, and to rinse your razor between every stroke.
How to take care of your straight razor
When you've finished your shave, either remove the blade or rinse it if it's reusable. Be sure to wipe the razor down thoroughly so that it's no longer wet and store it in a dry environment until your next shave.
The 8 Best Straight Razors in 2022
Feather SS Japanese Straight Razor
This is a great example of a traditional straight razor. This Feather SS Japanese model uses replaceable blades, which ensures you're getting the smoothest and closest shave possible every time. It features a rounded ridge that moves your skin out of the way and delicately raises the hair follicles. This makes it the best straight razor for sensitive skin—no dullness, and no complicated after-shave routine required! With a heat-resistant resin handle that provides an extra solid grip and a high quality, stainless steel, extra sharp blade, this is undoubtedly one of this best straight razors available on the market today. Don't let shaving with a straight freak you out—this razor will provide you with the ultimate shave experience.
Parker SRX Straight Razor
The Parker SRX is certainly a "bang for your buck" kind of product. On the less expensive end of the spectrum, this is still an award-winning model in the world of straight razor shaving. Standing at only $25, this is one of the best straight razors you can get in that price range. It differs from most shavette straight razors in its blade width, its heavyweight blade arm, and its stainless steel handle. This razor is as sturdy and easy to maneuver as can be, and it doesn't require any honing or sharpening, which makes it a top contender when considering the best straight razors for beginners. Plus, it's so affordable that if you end up deciding razor blades aren't your thing, you don't have to agonize over all the money you spent on it (because you didn't)!
Murdock Barbers of London Kingsley Shavette
Another reasonably priced option for those on a tighter budget is the Kinsgley Shavette from Murdock London. However, this model might not be the most beginner-friendly. While the Kingsley is still among the best straight edge razors, a shavette can be a little more complicated to handle than a modern bladed option. If you're familiar and comfortable with a straight razor blade—or you're willing to put in the practice—this shavette will give you an unbeatable barber-like shave. It also uses disposable blades, which lets you switch up your shave whenever you feel the need to.
Baxter of California Blue Steel "Not A Replica" Straight Razor
This "cut-throat" men's razor from Baxter of California is one of the pricier and more luxurious options the straight shaving market offers as it's handmade by skilled artisans in the USA. Recommended for barbers and experienced shavers alike, the water-resistant Blue Steel model has an extremely sharp and long-lasting blade, a matte black handle, and a blue steel blade. Upon purchase, it even comes with a deerskin sleeve, storage box, and a hex wrench for tightening the pin. Now that's a shaving kit if I've ever seen one! All that's missing is your favorite shaving cream and you're basically an expert.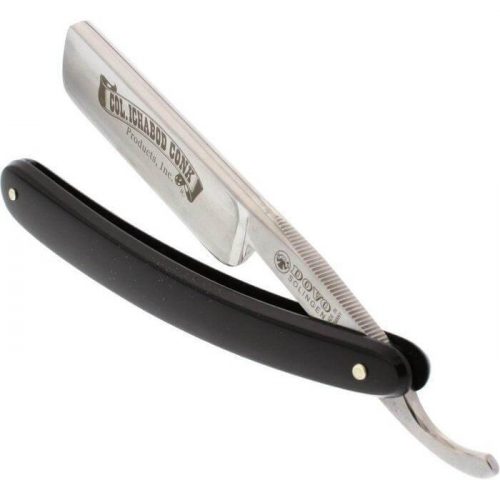 This simple yet stylish Dovo model is a classic straight razor with a black acrylic handle, featuring a 6/8" half hollow grind carbon blade. Embossed with a "Col Conk" logo—which references the world-famous Colonel Ichabod Conk shave soap company Dovo teamed up with for the creation of this razor—this blade originates from the Solingen region of Germany, a locale known for their iconic blades. Dovo's master craftsmen have honed all sorts of blades for over a century, so it's guaranteed that this straight razor is built to last.
Boker 5/8" Edelweiss Faux Ivory Straight Razor
You can't go wrong with a straight razor from Boker. This razor in particular is a true beauty. With an Elforyn Ivory handle that mimics the look of traditional, authentic ivory handles and a real, historic blade etching from the 1920s, the Edelweiss is an instant style icon while still being practical enough for daily use. Also originating in Solingen, Boker did not mess around making this one. While most straight razors don't come pre-sharpened by the factory, you can still opt to have your Edelweiss razor honed upon purchase so that it's ready for your first shave when it arrives!
Sigma Grooming Straight Razor
If you're not prepared to commit financially to something expensive and hand-crafted, there are still a bunch of razors out there you can try on for size. One of the best beginner straight razors available for those on a budget is this one from Sigma. Easy to use, this $25 number gives you all the perks of a straight razor without any of the hassle. For anyone looking for a close shave but wanting to avoid the honing and sharpening process, this is your best bet. It comes with 50 disposable blades so you can change them up often, and its unique closing clip keeps the blade perfectly aligned for you, so you don't have to stress about any mistakes you might make as a beginner! Affordable and straight to the point, this is a great baby step up from a safety razor on your path to shaving mastery.
Fendrihan Thiers Issard Inclined Nose 7/8" Straight Razor
Last but certainly not least, this model from Theirs Issard is la crème de la (shaving) crème. The Fendrihan Inclined Nose 7/8" straight razor was, like all Thiers Issard blades have been since 1884, handcrafted by the esteemed French razor maker. While this straight razor is as classic as it gets, its ebony wood handle gives it a special edge. Not only is the handle aesthetically appealing, but it also offers the full hollow grind that many experienced wet shavers favor. The blade features a highly polished mirror finish that is engraved with the Fendrihan name and—as if it wasn't already luxurious enough—it comes with its own leather carrying case. With this straight razor, you'll be treating yourself to the best shave of your life, for the rest of your life!
A straight razor is a razor with an open blade that can be folded into its handle. Straight razors are a more challenging and, in many ways, preferred alternative to other shaving tools, such as safety razors or electric razors. They are known for providing users with extremely smooth, close shaves, and are often used by barbers.
When it comes down to it, shaving with a straight razor is as easy as 1-2-3. Simply steam, lather, and shave! Maintaining proper pre-shave and after-shave care is also extremely important when it comes to wet shaving. To avoid cuts, ingrown hairs, and razor burn, among other things, be sure to find a routine that works and stick to it.
Because straight razor blades often aren't sharpened completely by their manufacturers, many people take their straight razors to a professional to be sharpened or "honed". Usually, professionals will hone the blade using a grinding wheel, a round rotating stone, or a flat stone, and then finish the job with the use of a strop.
The short answer is, you can buy a straight razor almost anywhere! Today, the straight razor market is very vast due to a recent resurgence in their popularity. There are both high-end and budget versions of straight razors available to be purchased from a variety of luxury manufacturers and small businesses alike.