Zen and the Art of Sneaker Maintenance: How to Clean White Shoes
As we pack away our winter scarves and boots into the deep recesses of our closets, it's almost hard to believe, but it's true: winter is over! It's time for some summer fun, and people all over the world are swapping lockdowns and curfews for afternoon picnics and socially-distant outdoor drinks. And as the season changes, so do our fashion and footwear choices. Ain't nobody got time for salt-stained boots — it's sneaker season, y'all!
However, just because the sun is shining and birds are chirping doesn't mean you can just run willy-nilly into the great outdoors without any prep or forethought. Whether you're rocking some classic Nike Air Force Ones ($90) or some upscale Givenchy White Urban Knots Sneaker ($495), you need to make sure your kicks are as clean as they can be before you hit the streets.
So before you break out that picnic blanket and grab your frisbee, prep those not-so-white shoes of yours with some tips from QMan.
If You Want to Dress to Impress, You've Got Take Care of Your Sneakers
Part of the job of a Quintessential Man is to make sure he always comes correct from a fashion standpoint. From that perspective, sneaker maintenance is an essential summer responsibility.
In fact, in "How to Be Stylish: 6 Habits of a Fashionable Man," we discussed how quality always trumps quantity when it comes to clothing and footwear. One of the lessons from that article was that it is extra important to not only buy quality materials, but also to ensure you're performing proper maintenance and care for your duds, especially your clean white sneakers.
This is especially true if you've got a pair of expensive designer sneakers, but still holds true even if all you want is to spruce up your old canvas tennis shoes. For summer sartorial success and the freshest kicks this side of the Mississippi, check out our tips and advice on how to get your white shoes their absolute whitest.
Win the Battle Before It Is Fought
Chinese military strategist Sun Tzu, famous for his work The Art of War, once opined that every battle is won before it's fought. While victory dependx in part on ferocious fighting, Sun Tzu knew that it's also important to destabilize and deplete the strength of the enemy.
Accordingly, a sneakerhead devoted to cleanliness will defeat dirt and grime before it has a chance to strike. Who needs scrubbing when you've prevented the dirt from ever reaching the shoe fabric in the first place?
If you've just bought some new shoes – and especially if they're expensive like these Alexander McQueen White & Black Oversized Sneakers ($515) or these Jimmy Choo HAWAII/M White Trainers ($650) — do yourself a favor and protect them using stain and water repellent before you ever put them on.
Try Jason Markk Repel Spray for leather or suede, or Scotchgard Water Shield for shoes made of canvas. We recommend giving your shoes a little love with these products once every couple of months. After all, what's the point of cleaning shoes if you don't have to?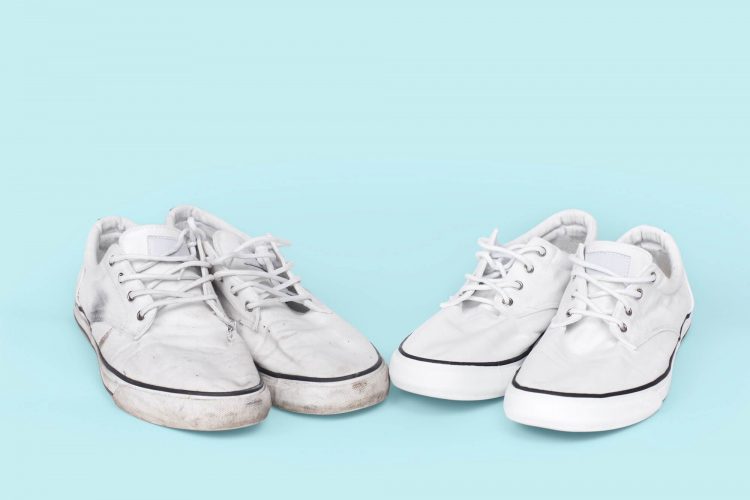 How Do I Get My White Shoes White Again?
As we alluded to above, proper sneaker care includes knowing what cleaning products to use on what materials. There are specific chemicals that should be used on canvas, and others better suited to leather or suede. It's important to know what is going to be effective, and what might ruin your shoe.
Also, while certain products and kits are great to keep your shoes clean, there are a number of effective DIY techniques you can try using ingredients and tools you might find around the house. In some cases you'll want to work by hand, and in other cases you can simply throw the shoes in the washing machine.
What's important is knowing when to do it yourself, and when you're going to need to go to the store to get specialty items.
Useful DIY Products to Clean White Shoes
These are some products you're going to want to have access to if you're going to make an effort to keep your kicks fresh. They're not all necessary for every shoe, but the ones at the top of the list are very common elements that you should definitely consider buying if you don't already have them around your home.
Baking Soda
Hydrogen Peroxide
Mr. Clean Magic Eraser (or any brand of melamine sponge)
Toothbrush
Bleach
Vinegar
Shoe Trees
Mesh Laundry Bags
Horse or Hog Hair Brush
OxiClean
Dishwashing Sponge
Copper Cleaning Brush
Let's get into it with some advice for canvas shoes.
What is the Best Way to Clean White Canvas Shoes?
Iconic canvas shoes, like Converse Chuck 70 High Tops, are super common, and luckily, you can use some pretty common household ingredients and tools to clean them up too.
To get rid of stains from ground-in dirt, grass or even some spilled wine, you're going to want to start with some baking soda and hydrogen peroxide to get things looking as good as new. One thing to note here: do not throw your Chucks into the washer / dryer.
By throwing these bad boys in the washer and dryer, you're running the risk of fraying fibres, separating the soles from the uppers, or otherwise damaging the shoe. Do yourself a favor and clean canvas shoes by hand.
How to Mix the Ingredients
First put a tablespoon of baking soda in a non-metal bowl. Next, mix in a half tablespoon of hydrogen peroxide. If you don't have any hydrogen peroxide on hand, you either walk to the store and buy some or you can substitute it with a full tablespoon of water.
By mixing these together, you'll end up with a white, goopy paste. Apply the paste with a toothbrush to the stained areas of the canvas, and gently scrub it in using circular motions. Let the paste dry on your shoes for 30 minutes.
Once that's done, get rid of any excess, dried paste, and wash the shoes thoroughly with warm water. Feel free to use a nice clean sponge or towel while rinsing the canvas in the water.
How Do You Get *Really Tough* Stains Out of Canvas Shoes?
Any time the method described above doesn't totally work, simply repeat the steps. Note that using hydrogen peroxide instead of water is going to be more effective.
However, there is also the option to use bleach. The one thing you must remember is that bleach must be diluted. By mixing one part bleach for every five parts water, the solution will be gentle enough to whiten your shoes without turning them a gross yellowish color.
When cleaning with bleach, make sure to be safe, protect your eyes, and open a window. This is a great time to use a toothbrush (not one you intend on putting back in your mouth). Just dip the toothbrush in the diluted solution, scrub gently, and make sure to wash the shoes with warm water afterwards, allowing the shoes several hours to dry.
Speaking of toothbrushes, you can clean white shoes with toothpaste as well. However, make sure it's a baking-soda based toothpaste, and that it's both non-gel and non-colored.  Another good tip for particularly tough stains is to use OxiClean as a part of the process.
How Do You Clean White Canvas Shoes With Baking Soda and Vinegar?
Very similar to the description above regarding baking soda and hydrogen peroxide, it's also possible to switch out the hydrogen peroxide for common household product white vinegar.
Say you've just copped a pair of crisp white Adidas Superstars ($90). To get rid of a pesky stain on any of the canvas areas, simply mix equal parts warm water, vinegar and baking soda into a small bowl, stir until the mixture turns into a paste, and then apply using a toothbrush.
Once the shoes are covered in the mix, put them in bright sunlight (a windowsill will work just fine) and let your shoes air dry for three or four hours. Once they're dry, bang off the dried paste, scrub the rest of it off gently with a brush, and voilà — super white shoes only using a couple of teaspoons of baking soda and white vinegar!
What is Best For Cleaning Leather & Suede Shoes?
Whether you've got yourself some affordable and stylish Nike Air Force Ones or the more expensive Common Projects' 'Bball' Leather Sneakers ($460), you'll need to know how to put together the right cleaning solution for leather.
But before you even THINK about the leather, it's time to break out that Mr. Clean Magic Eraser you've been saving. First, brush off any loose dirt and wipe the shoes down with a damp cloth. Now get the Magic Eraser, get it wet and squeeze it out, and then start by scrubbing the rubber soles.
This usually gets out any scuff marks and does a remarkable job of whitening up the rubber sole before you move onto the leather part of the shoe. For the white leather, your best bet is to start off with some liquid dish soap or laundry detergent, mixed with water.
Remove the shoelaces, and use a soft cloth or some paper towels to gently rub the outside, and if you have to put a little bit of effort into your scrubbing, this is where those shoe trees might come in handy, helping the shoes keep their shape while you take care of business.
When in doubt about DIY products, don't hesitate to grab some Jason Markk Repel Spray, Reshoevn8r cleaning solution, or a proper shoe cleaning kit to get the job done.
Can You Put Shoes In The Washer & Dryer?
By hand is ideal, but in some cases, yes, you can put your shoes in the washer at home. For example, canvas, fake leather, mesh and rubber shoes can go in. However, according to the internet hive mind, you should never put leather shoes in the washing machine, and there is rarely an occasion in which you should put any shoes in the dryer afterwards.
The danger is that the extreme heat in the dryer (along with all the bouncing around in there) will damage the structure of the shoe. Instead, air drying them in the sun seems to be the best bet. Stuff paper towel into the insides as well in order to absorb any excess moisture.
For the washing machine part of it, we recommend that you put your laces and insoles into a separate pillowcase or mesh bag, and wash them in cold water with a delicate wash cycle. Throw the shoes in, but make sure to also include a couple of clean towels as well in order to protect the shoes while they bang around inside the machine.