Best Face Masks for Men: Look Sharp, Stay Safe
By now, we all have a love/hate relationship with our masks. Until March, 2020, most of us had never worn a mask for any extended period of time. Sure, we may have worn one for a hospital visit or a little demo work for our new kitchen, when a disposable mask did the job. Then COVID hit, and just like that, face masks became a mandatory part of our daily lives. Many of us were left scrambling to find a decent one, let alone a fashionable one.  
At first, this mass mask-wearing was kind of novel, and most of us embraced the idea, knowing that wearing one protected not just ourselves but the ones we love as well. But cut to a year later and we're still fighting this pandemic. Masks are no longer novel, we've all had some sort of pandemic burn-out, and we all want nothing more right now than normalcy.
With vaccinations rolling out globally, we are seeing the light at the end of the tunnel, but we're not quite there yet. The third wave comes equipped with new, stronger variants and we have to remain vigilant. Scientists all agree wearing masks is imperative to returning to normal life one day in the near future. So, it's pretty safe to say we'll be wearing masks daily for quite some time. And after what we've all been through for the last year, it's safe to assume that a lot of us will continue to wear masks in a more limited capacity long after this pandemic is under control.
Now that masks are such a must-have item, how do we choose the right one? What should we be looking for in a mask? What makes one better than another? There is so much to consider here. How long will you be wearing it? Will you be indoors or outdoors while wearing the mask? Are your ears sensitive? Do you wear glasses? These are all important factors in choosing a mask and, lucky for us, there are plenty of brands now making masks that will answer all of these needs. Here, we've compiled a list of some of the best functional and fashionable masks on the market today so you can find the one that's perfect for you.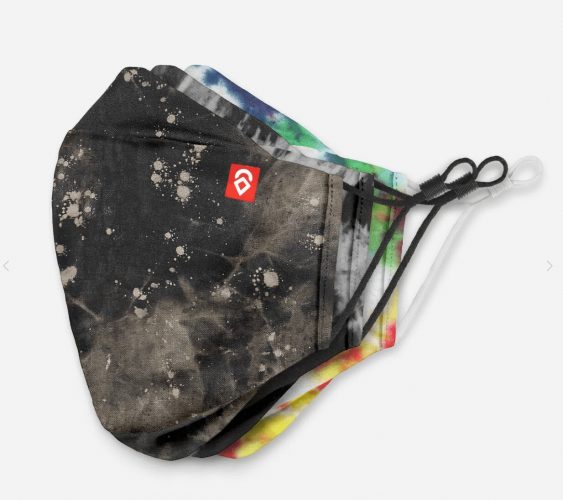 Airhole Advanced Face Mask
Airhole, a Canadian snowboard face mask brand, jumped right into the daily face mask game as soon as COVID hit. With years of mask development already behind them, Airhole was able to adapt their designs to focus on everyday protection and deliver masks with a great fit and top-notch craftsmanship before most brands had even figured out where to start. All Airhole masks are constructed using premium fabrics and offered in a multitude of colors and prints. If you're looking for novelty prints, Airhole has you covered. If neutral, solid colors are more your cup of tea, Airhole has a mask for you as well. The Advanced Mask features two layers of 400 denier weaved cotton with a melt-blown non-woven polypropylene layer in between. This combination offers great protection while still enabling breathability. The mask is constructed with a nose and chin panel for a closer fit, and the ear loops feature an adjustable toggle for greater comfort.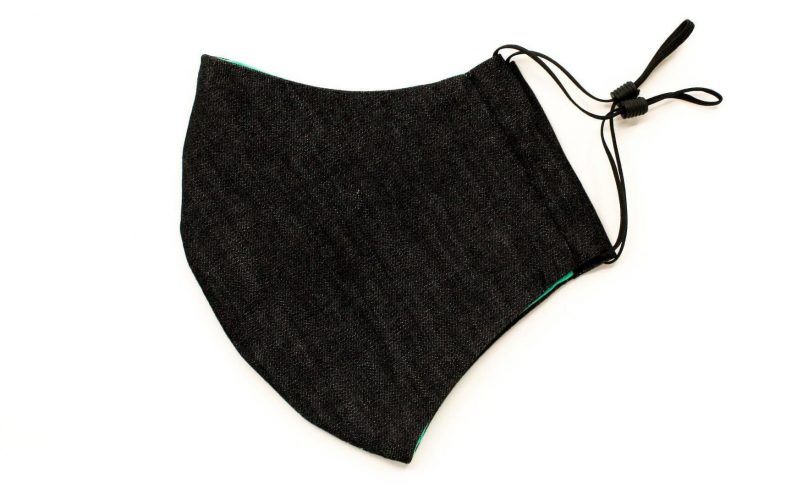 AtelierXIX 2-ply Contour Mask with Premium Bungee + Toggle
The duo behind AtelierXIX have been designing and developing technical apparel, streetwear, and accessories for over 20 years. When COVID hit they decided to start a new mask brand,  and their expertise and sourcing experience have helped them create unique designs that fit just right. With a focus on premium fabrics and beautiful colors and patterns, AtelierXIX approaches mask design with the same approach that helped them gain a solid reputation amongst streetwear and action sports enthusiasts – by putting the focus on fabrics, details, and trend relevance. 
The premium bungee and toggle system is one of the best systems we've seen as it not only allows a perfect fit but also takes all the pressure off your ears. Like all of their masks, this model features tightly woven cotton fabrics and ships with a five-layer carbon filter for added protection. The summer denim is perfect when you're dressed to impress and might just be the best fashion mask available. For added protection, look for the styles offered with Filti Backing, which claims 95% protection against airborne particles. With the clean finishing and all the small details, it's hard to believe that all AtelierXIX masks are made in small batches in their boutique Montreal studio.
The G-Star Mask is constructed of soft, organic cotton outer and inner layers with a polyester middle layer. The mask is also treated with Biocide AEGIS Microbe Shield, and G-Star claims the mask filters out over 90% of all bacteria, which is a pretty bold statement. Although we can't corroborate those claims ourselves, we can tell you it's as good as any 3-layer mask we've seen. The fabric is super soft, the design is exactly what you'd expect from a premium denim brand, and the deep navy is perfect. Opting to use self-binding, G-Star has created a unique ear loops system which eliminates pressure on the ears. The gold label lets everyone know you've got great style and taste.
Herschel Classic Fitted Face Mask
This is the one the cool kids wear. Seriously, since the very beginning of the pandemic Herschel has been struggling to make these fast enough. These masks sell out faster than a hyped sneaker drop, and it's no surprise. It is Herschel after all, and everything they touch seems to turn to gold. The Classic Fitted Face Mask is made with three breathable layers and features a pocket for standard air filter. The mask fits close to the face with its sleek sporty design and has an adjustable nose bridge and adjustable ear loops. As you'd expect, all the prints and colors are on point and perfect for the new spring season.
Everlane 100% Human Face Mask
This knit cotton face mask is simple and elegant. It's our favorite knit mask because it looks great, feels great, and because, well…..Everlane. Everlane is a completely transparent company. They source the best fabrics from the best suppliers and then they display all that information for you to see. They also share their costing information and stories about the people and the processes that have helped make them everyone's favorite brand. And if that's not enough to convince you, maybe Everlane's 100% human project will do the trick. As a way to bring people together amid the civil divisions following the 2016 US presential election, Everlane is donating 10% of all 100% Human sales to the ACLU. They have already donated over $1 million. And then there's the actual masks themselves. Obviously, the soft, washable masks come in beautiful hues and patterns. The washed-out earthy tones and pastel tie-dyes are perfect for spring.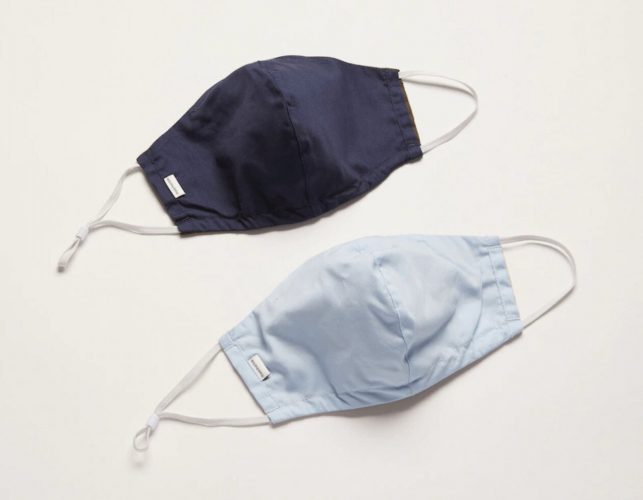 Frank and Oak has created a unique fitting system that works via an elastic tunnel which lets you adjust the fit at the chin and ears. Rather than include a built-in nose bridge, Frank and Oak have opted to construct a channel so the consumer can insert their nose bridge of choice (tie wraps work really well). Since many of the nose bridges either don't hold shape well or break easily, this is a great option if you wear glasses. The masks feature Organic cotton and are offered in split-color two packs.
Banana Republic Flyweight Face Mask
The Banana Republic multi-layered stretch microfiber fabric is original and sporty. The tailored shape fits very close to the face and includes a nose bridge and adjustable ear loops. The design also includes an inside sleeve that fits standard filters. The 3-pack includes all neutral colors as you might expect from the staple brand. These masks are really comfortable and stylish.
There are so many mask options on Etsy so it's only fair that we include them on the list. When you buy a mask on Etsy, you're supporting an independent designer, which means your purchase has a direct impact on someone's livelihood. How good does that feel? Etsy has a lot of organic options like this one, a ton of traditional pleated styles in a ton of colors and prints, and even some with cats on them. So if you're looking for something really specific or that one mask you need for a wedding or a special occasion, Etsy is a fantastic place to start.
You'd be hard-pressed to find a health care professional or scientist who could tell you otherwise. Here is a good place to get the science on masks and COVID. This is also a good place to learn about best practices concerning usage of masks.
Like all clothing and accessories, face masks should always have a care and content label. It's important to read these instructions as each item is constructed differently using different fabrics and components. If unsure, we recommend washing by hand and drying your mask on a hang line or lying flat.
With so many different cottons and polyesters available, there is no blanket answer to this question. In general, cotton retains moisture more than polyester, which can work both ways. Knits will be slightly more breathable than woven fabrics, and of course a higher stitch count (denier) will create more of a barrier but might be less breathable. Fit also plays a big role in effectiveness.