Best Laptop Bags For Home To Office To Absolutely Anywhere
With more people working from home than ever before, it's almost easy to forget that laptops are designed to be portable (meaning further than your coffee table to your couch). Whether you're commuting back and forth to an office or want to get in some distraction-free work at a local café, a proper laptop bag is essential. 
That may seem obvious, but anyone that's ever had to lug a laptop across town in an ill-fitting bag will appreciate the support and convenience of a properly-designed laptop bag.
With that in mind, we're here to help you navigate through the endless options available and help you narrow down the best laptop bags for men. Before we highlight our favorite models, here are a few factors to keep in mind before whipping out your credit card.
Getting Around. Where will you be traveling with your laptop bag? Do you have a long commute via public transit, or will your bag be safely stashed away in the trunk of your car? Frequent flyers will also have their own set of needs to factor in, including the ability to stow a bag safely under the seat during a flight, or a quick opening pouch for navigating briskly through security. Narrowing down where and how you will be traveling with your laptop bag will help determine the type of bag that works best for you.
Size & Shape. Laptop bags are available in a wide array of models and designs, from luxurious leather-clad briefcases to traditional backpacks. Apart from the style of your laptop bag, the size is also an important factor. In addition to your laptop and accessories, what else will you be filling up your bag with? Books and other heavy objects will add a great deal of weight and strain to your bag, so you'll want to be sure you purchase something durable and comfortable.
Material. The material of your laptop bag shouldn't be overlooked. It's best to think about when and how you will most often use your laptop bag, which will help you determine the material that makes the most sense for your needs. A striking leather bag has its uses but might leave you a sweaty mess in the summer months. If you live in an area with heavy rainfall or long winter months, it's worth investing in a water-resistant material to avoid any potential leaks.
Strap. The straps on a laptop bag are extremely important. Proper fitting straps will evenly distribute the weight of the bag across your body to avoid extra pressure, which is crucial for those with long commutes. If you have a lightweight laptop you may want to go with a messenger bag with a thinner strap, but if you're packing an older laptop model and a number of books, a thick padded strap is essential.
Smart Tech. For those seeking out a laptop bag with the tech to match, there are a number of smart options out there, including bags that can power your laptop and phone during your commute via included battery packs or USB. These tend to be on the pricier end, but you can't beat the convenience of charging your laptop right in your bag while riding the subway.
Warranty. If you put your bag through the paces, you'll want to be sure it comes with a solid warranty for replacement or repairs. The ideal is to purchase a laptop bag with a lifetime warranty – for example, backpack leaders Jansport will replace your damaged bag free of charge even years after your initial purchase.
With the above criteria in mind, here are some of our favorite laptop bags for men. If you want to narrow the field down to our favorite messenger bags for men, our comprehensive list is here.
Best known for their laptop and phone cases, Incase also produces a variety of laptop bags, including the streamlined and dependable Icon. Available in black or navy, this sleek bag has a dedicated laptop pouch (up to 16"), handy slots to keep your charger and cables organized and accessible, the ability to run cables via a hip pocket for audio devices, and much more. Constructed in nylon, the Icon features adjustable padded shoulder straps for comfort and ergonomic support. With its elegantly simple design and rapturous reviews, the Incase Icon is a sure bet if you're looking for a roomy backpack laptop bag that can fit everything but the kitchen sink.
Timbuk2 Expandable Backpack
Trusted by bike messengers around the world, Timbuk2 makes incredibly durable bags that also happen to be some of the most stylish models you'll find on the shelf. This expandable backpack is great for work and travel, with the option of the extra space if you need it. If you're carrying less, you can also cinch the backpack with the included magnetic buckle compression straps. This model is highly recommended for those who spend a lot of time outdoors. The Timbuk2 Expandable Backpack is weather-resistant and features water-repellent zippered pockets to ensure your laptop and anything else you're packing stays dry, despite what the elements throw your way. All things considered, this one of the best laptop bags we've found.
Kenneth Cole Reaction Risky Business Messenger Bag
For something on the sleeker side, it's hard to go wrong with the elevated "Risky Business" messenger bag from Kenneth Cole. With an exterior made of full grain Colombian leather, this eye-catching bag is sure to turn heads at the office without looking out of place during your commute. The main compartment should fit most modern laptops, and there are pockets for smaller items like your cell phone and chargers. There is an adjustable padded shoulder strap to avoid extra strain and a convenient back pocket for quick access to the items you need most often. Available in black or in a creamy brown "Cognac" version, the Risky Business bag should make you feel as jacked-up as Tom Cruise dancing across the furniture in the movie it takes its name from.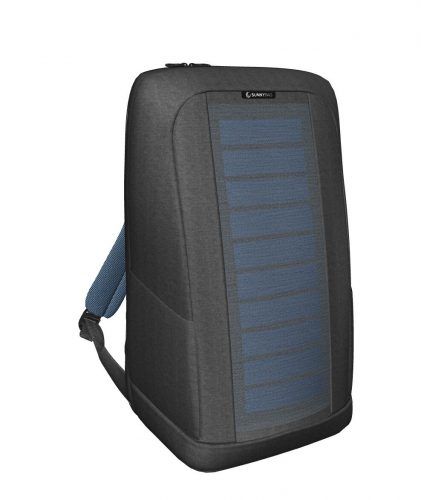 The Sunnybag ICONIC is a smart laptop bag that can charge your devices mid-commute, but what really makes this bag stand out is that it does it via solar power. Featuring a 7-Watt solar panel, the company boasts that the ICONIC can fully charge a cell phone in 2-3 hours (depending on the model), and larger devices like tablets in 5-7 hours. There is a dedicated laptop sleeve (up to 17"), and all the smaller pouches you'll need to get organized. The ICONIC is made from 50% recycled materials and is constructed with water-resistant fabrics, so your gear will be safe from the elements. If you're looking for a snazzy laptop bag that also serves as an immediate conversation starter, look no further than the ICONIC.
Fjällräven Räven 28 Backpack
If every other bag you spot is a Fjällräven, there's a good reason – they are the perfect middle-ground between fashion and comfort. This model is ideal for those who travel frequently – quick-release pouches allow you to grab your laptop and any other devices for your TFSA walk-through in seconds. It sports two side pouches for water bottles or anything else you need to grab in a hurry and is deep enough to store a weekend's worth of clothes along with your laptop (up to 15"). Available in nearly a dozen colorways, you can choose to make a statement with this bag or go for a more neutral color that wouldn't look out of place in an office setting.
Jansport Super Lite Backpack
The undisputed king of the backpack, Jansport is the most popular and dependable purveyor of backpacks, many of which are also great for laptops. Their new Super Lite model is a great choice for those who like the style of a traditional backpack, but don't want all the bulk. The Super Lite weighs in at just 10 ounces and has enough space for a 15" laptop and room for a few other accessories. You'll also get a pair of comfortable padded straps so you can easily walk around throughout the day. Available in several attention-grabbing colors, the Super Lite is the perfect summer laptop bag. (And don't forget about the lifetime warranty.)
The North Face Recon Backpack
The North Face is renowned for making strong and stylish bags that hold up just as well on the trail as they do on your morning commute, but they have an important added bonus that many people may not even be aware of. North Face bags are endorsed by the American Chiropractic Association for their design and build, making these among the best laptop bags for men to avoid back injuries or pain. That endorsement is worth keeping in mind if you plan on carrying an extra full backpack around for hours a day. The Recon bag is an update on a North Face classic and features two stretchable side pouches for water bottles, and plenty of pouch space for your laptop (up to 15"). If you want a well-designed laptop bag that you can also use for weekend getaways or long hikes, set your sights on the Recon, one of the best laptop bags on the market.