Best Massage Guns For Tackling Tense Muscles
As a skateboarder and snowboarder, I know all about pain. I've spent most of my life throwing my body against pavement, metal rails, solid ice, and endless other hard surfaces. Like most of my friends, I am now starting to pay the price for all the abuse I put my body through. 
You might be feeling the same pains too. Maybe yours stem from different pastimes, whether it's football, rugby, soccer, biking, lacrosse, running, or golf — or maybe it's not even hobbies, but work-related. From hard labor to sitting hunched over a computer all day, most of us have pushed our bodies to the limit at one point or another.
Once you hit your mid-thirties you start to feel the pains and aches. Of course, you're not going to stop doing what you love, whatever that may be, but what if there was a way you could get immediate relief from muscle knots and soreness whenever you need it? 
Massaging those muscles is key. When you loosen them up, you not only experience immediate tension relief, but the next time you decide to push yourself, muscle tension will minimized. Even if you don't suffer from chronic pain, proper recovery after any strenuous activity is great for your body's perseverance.
I know what you're thinking: massages are expensive, and between scheduling an appointment, travel and wait time, and the actual massage, they can sometimes add to the stress you're trying to alleviate. While they're a fantastic way to treat yourself, what if you need frequent relief from your intense training session or strenuous work days?
Well, I've got great news for you. There is an even better solution out there and it takes very little time and effort on your part. I'm talking about massage guns.
What to Look For in a Massage Gun
Massage guns have grown so much in popularity, pushing companies to research and develop better and better models. Today, there are some amazing options out there.  Of course, with such popularity and success, there are also a lot of copycat brands out there. I've tried a bunch and I can tell you that the difference between a good quality massage gun and a bad imitation is monumental.
It's important to find a massage gun with enough power to keep working when applied with a bit of force. It's also important to find one that is quiet enough so you can use it just about anytime and anywhere. And of course, battery life, portability, and price also play an important role when choosing a massager.
We've compiled a list of reputable brands and devices that really work. Follow this guide to help you find the best massage gun for your needs.
The 6 Best Massage Guns in 2022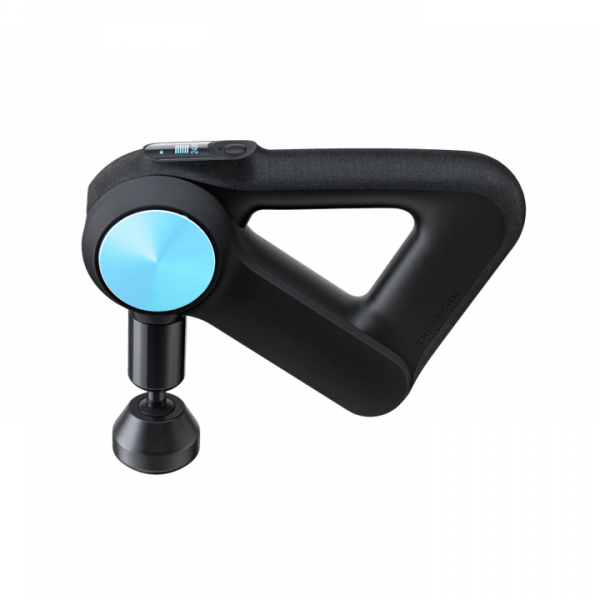 The Theragun Pro, now in its 13th version, redefines what a percussive massage gun can do. The newly re-designed massager delivers unrivaled power while remaining remarkably quiet. The engineers at Therabody couldn't find a quiet enough motor that could deliver the required power, so they set out to create their own. 
The motor uses commercial-grade technology to quietly deliver 60 lbs of "no stall" force. The Active Torque Control delivers that power without compromising speed or quality. The Pro also comes with two removable batteries, so you never run out. The ergonomic casing design offers four unique arm positions ensuring you can always reach your desired spot with maximum angle and pressure. The key to Theragun's power lies not only in the motor, but the precise amplitude, or how far the shaft of the device extends and reacts to reach deeper into the muscle. Theragun claims that the Pro, with its 16mm amplitude, reaches 60% deeper than average massagers. The motor's high speed output allows the unit to leave the surface of the skin at a rate of 40 times per second.
The six easy-to-clean attachments are made of non-porous closed-cell and offer different densities and treatments for different areas and desired effect. Of course, the unit is also equipped with customizable multi speed range and an OLED screen display with force meter.
For an even more precise and personalized experience, Theragun offers a free Bluetooth enabled app featuring workout routines and treatments customizable to all needs. If money is not an object and you need a serious massager, the choice is easy. The Theragun Pro is the best personal massage gun on the market. For a compact, more affordable option, be sure to check out the Theragun Mini, designed for portability and on-the-go relief.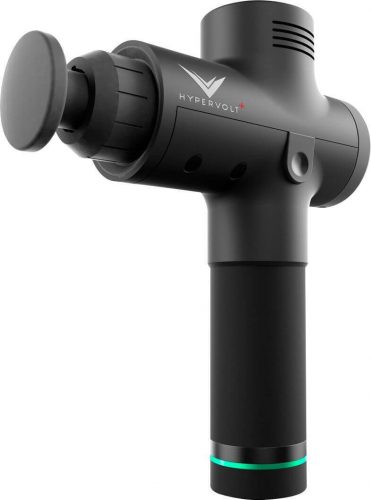 The Hyperice Hypervolt Plus claims to be the most powerful and most advanced percussion massage device in the world. That's a big statement. While we're not here to either deny or back that claim, we can tell you that this massager delivers deep muscle massages. The gun delivers three speeds starting at 2,000 to 3,200 RPM, and a stall force of 50lbs. The HyperVolt comes equipped with five massage heads designed to target various parts of the body.
The Massager features Quiet Glide technology, utilizing a brushless motor, so you can use it pretty much anywhere you want. In fact, the gun is TSA approved for carry-on so you could even use it on your next flight. Weighing in at 2.5 lbs, it's one of the lighter units at this performance level.
The device has up to 3 hours of battery life so you shouldn't have to worry about running out mid-session. The latest version is equipped with Bluetooth and comes with an interactive smartphone app. This is extremely useful as it provides timed routines that adjust your speed settings automatically throughout the session. All in all, this is a great product certified by some world class athletes, including the number one women's tennis player, Naomi Osaka. That alone should convince you.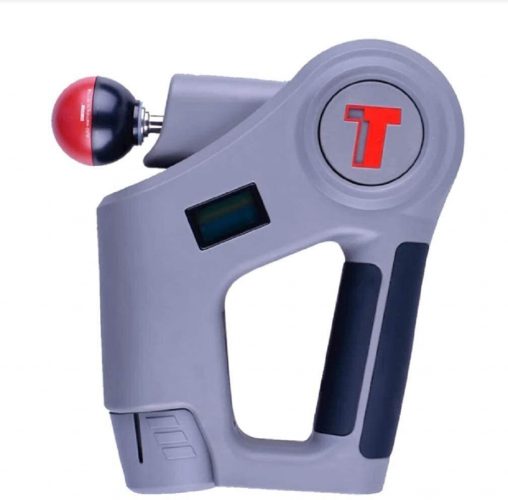 TimTam Power Massager Pro
Although it might not have the design qualities as the Theragun Pro, make no mistake about it, this massager is serious. The TimTam Power Massage Pro is the most powerful one available. Not only does it deliver up to 2800 RPM, but the unit also has an adjustable stopping force of 5-75 lbs. The stroke length on this massager is 20mm giving it a deeper massage than any other massager on this list, possibly in existence. All that makes for a nice deep massage, but this gun has something else that really got our attention.
This massager has a heated tip that, with a built-in sensor, helps achieve and maintain optimal heating during your complete session.  It also has five preset settings, including warm up, recovery with lumbar, and back specific. Although the unit lacks the elegance of the Theragun and feels a little more like an office electronic device, the whole thing weighs a mere 2.2 lbs, and all the attachments are antibacterial. The "arm" also has seven available positions for precise angles of attack, and the one-touch trigger is easier to operate while in position.  This is a very quiet unit compared to the other powerful units out there. If you don't mind giving up a little bit of design sophistication in return for a powerful deep massager, this is the one for you.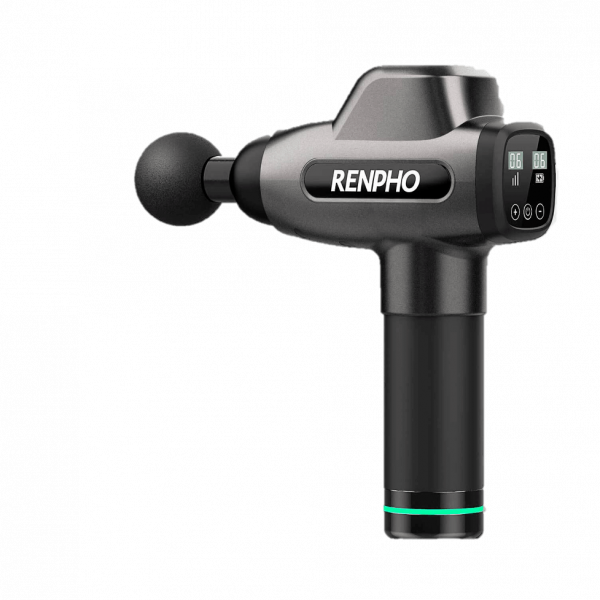 The C3 is the best value of any gun we tested. Coming in at a price well below all the other ones on this list, the C3 delivers a lot of punch for your dollar (pun intended). Like all the other top massage guns, it delivers a high vibration speed of 3200 RPM with 20 adjustments via its digital display at the butt of the unit. The Stem is a respectable 10mm long to ensure a deep tissue massage, and the brushless motor stays relatively quiet — even at its highest speed setting. The massager comes equipped with a great carrying case and six separate tips with specific muscle groups ranging from small areas of the back and waist to deep tissue precise massage.
The C3 has a slick design appearance with a nice stainless-steel casing. It looks far more expensive than a lot of cheap massagers on the market today. This one features an 8-hour battery life, which is the best we tested by far. You can run multiple massage sessions on one charge. And if that wasn't enough, the whole thing weighs-in under two lbs. At this price point, the Renpho C3 is a clear winner. If portability is a big factor for you, be sure to also check out the Renpho Pocket Gun. The Pocket Gun delivers a little less power and battery life, but at under one lb, it's the lightest gun available.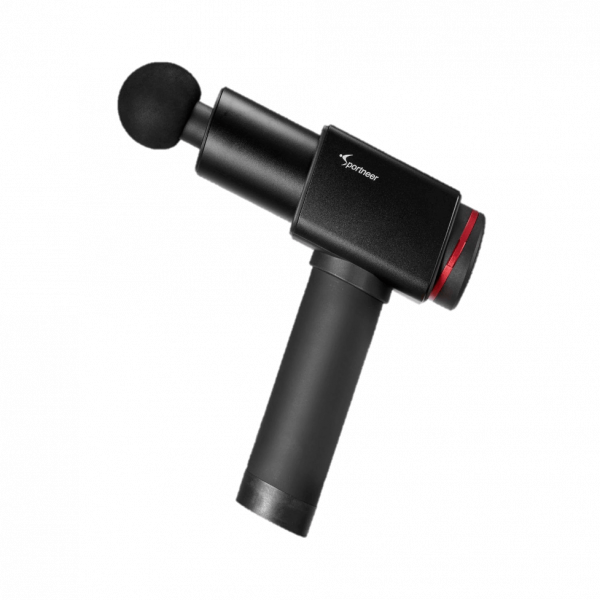 Another affordable option with a lot of power is the Sportsneer massage gun. This massager features the latest noise reduction technology. The Sportneer only reaches 45 decibels at its highest setting, well below other more expensive options on the market. The battery life tops eight hours on full charge and conveniently turns off after ten minutes to protect you and your device.
The gun boasts five speed levels from 1200 to 3200 RPM via a high-torque brushless motor and dual bearing structure. The stem also moves 11mm with high pounds of pressure delivering a deep tissue massage. The complete package includes six specific massage heads to help relax different parts of your body from neck to shoulder, to back, legs, arms, and thighs.
This compact design weighs a respectable 1.75 lbs and has a great case, making it super easy to take with you anywhere you'd like. This is a great all-around option.
Whatever your criteria, all of these choices are winners. Any of the products included above are sure to provide you with instant relief from muscle pain, tension and tightness. And who couldn't use a little of that magic these days?