Best Home Gym Equipment: Pumping Up Post Pandemic
For better or for worse, working out at home became a lifestyle necessity during the global pandemic. Gyms around the world struggled to stay open amid recurring health order restrictions, causing more and more people to add home gym workouts to their routine.
While we are now in the process of getting reacquainted with the outside world, we're still not fully back to normal. In fact, for many of us, a new normal has been born out of the need to adapt to this global situation. Many continue to work from home, shop from home, eat at home, and — you guessed it — work out at home.
QMan's spotlight on the best home gym equipment will take your workouts to a whole new level. The regular exercise (and subsequent flow of endorphins) will help you maintain peak mental and physical health, allowing you to live your best life in the current circumstances. 
To optimize the best home gym equipment in your household, let's first consider what your needs are. Do you want to focus on cardiovascular fitness to stay lean? Or bulk up your figure with strength and endurance? Each of these goals (or a combination of the two) will dictate what pieces of at-home gym equipment will serve you best.  The second consideration is the amount of space you have to use for your exercise routine. Do you live in an apartment or house? Is there a spare room or garage that you can dedicate to workouts or will you need to keep the home gym footprint to a minimum? Whatever your situation, there is a setup that will work for your fitness goals ranging from compact and affordable at-home gym equipment (that can slide under your bed when not in use) to stationary bikes, weight benches, and multi-gyms that can stack into a corner of your living room. The third consideration is how much you are willing to spend. The great news is that there are plenty of options at every price point. Let's take a look at some of the best home gym equipment to get you started.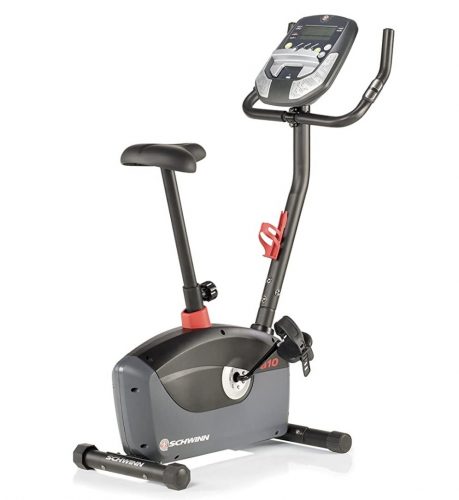 Compact, functional and a great value, the Schwinn A10 Upright Bike has everything you need to get in daily cardio workouts. The perimeter weighted flywheel offers a true and consistent "road" feel with eight levels of magnetic resistance, allowing a wide range of workout intensity options. You can log all your exercise data through the on-board computer, which features a large multi-function LCD, seven preset programs, heart rate sensors on the grips, and all the usual workout data such as cadence, speed, distance, and calories burned.  On the ergonomic side, the Schwinn A10 Upright Bike has an adjustable and padded seat, adjustable handlebar height, and comfortable pedals with straps for optimal pedal efficiency. A water bottle cage is conveniently located to stay hydrated during your workout. Once set up, the Schwinn A10 occupies a 16.5" x 27.5" footprint and stands at a height of 47.5", making it an unobtrusive addition to your at-home gym equipment. Weighing at just under 50 lbs, this stationary bike is easily moved into storage with the attached transport wheels. Perfect for those looking to try indoor cycling without a massive investment.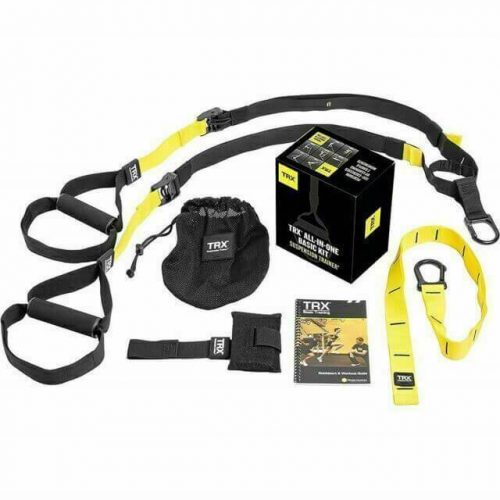 TRX All-In-One Suspension Training
One of the most versatile and efficient pieces of home workout equipment is the TRX All-in-one Suspension Training system. It's light and compact enough to throw into an overnight bag or store in a drawer. It can be set up in your home, office, hotel room, or even outside. TRX is a bestseller not only for its convenience but for the range of exercises you can do to achieve a full-body workout. By utilizing your own body weight as resistance, you can be feeling the burn in as little as 15 minutes. TRX was developed by former Navy SEAL Squadron Commander Randy Hetrick. When deployed overseas without access to any gym equipment, he looked for a way to stay in shape using parachute webbing, a jiu-jitsu belt and his body weight. TRX is now found in gyms and fitness centers around the world and has become one of the most popular pieces of home gym equipment. While you can train almost every muscle group with the TRX, where it shines the most is with core/ balance-focused programs such as push, pull, plank, squat, lunge, hinge, and rotate. With the included 35-page workout guide you'll have everything to build your custom routine.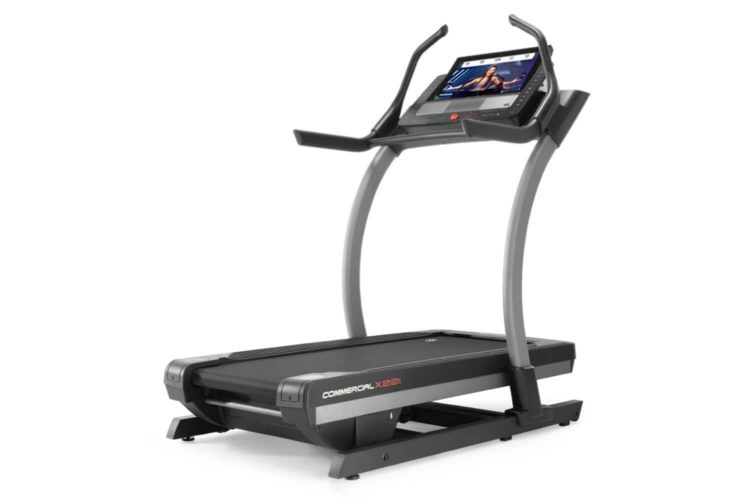 Nordic Track X22i Incline Trainer
The Nordic Track X22i Incline Trainer can achieve so much more than your cardio fitness goals. The 22-inch touch screen is a portal to training with professional fitness coaches, whether on-demand studio workouts or exploring geolocales across the world as you match their speed and incline. You can even access cross-training workouts such as strength training, yoga/mindfulness and more with over 50 onboard workout programs. Listen to trainers via two digitally amplified 3" speakers or your favorite set of Bluetooth fitness headphones. Mechanically, the best part of the Nordic Track X22i is the Reflex Cushioning, allowing users to run faster and further with far less impact on their joints. The immersive experience of interactive coaching sessions is enhanced with live incline adjustment, which stretches up to a 40-degree ramp angle.  While not cheap, the Nordic Track X22i Incline Trainer allows a generous variety of home workout options for so much more than cardio fitness. For those who miss their group studio classes, the interactive technology that ships with this trainer will have you feeling like you're pushing yourself at the gym, all while in the comfort of your own home.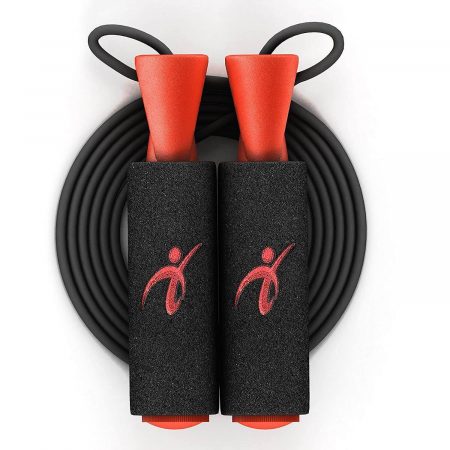 Fitness Factor Adjustable Jump Rope
For the best pound-for-pound cardio equipment, you can't beat a jumping rope. It's light, inexpensive, and able to be used anywhere outdoors or inside with a high ceiling. As well as burning a massive number of calories, working out with a jump rope can also improve strength, balance, agility and overall endurance. There isn't much to this handy piece of cardio equipment, but the Fitness Factor Adjustable Jump Rope gets the basics right: adjustable length, comfortable foam grips, ergonomic design, and durable ball bearings to allow tangle-free spinning. This jump rope is suited for nearly everyone. As long as you measure between 4 ft 9" and 6 ft 6," the Fitness Factor will give you all the cardio workout you need on a daily basis.
PowerBlock Sport 24 Adjustable Dumbbells
When space is a concern, a full rack of weights is pretty much a no-go for any home gym. The answer? A set of adjustable dumbbells.  A set of PowerBlock Sport 24 adjustable dumbbells takes the space of just one pair but offers a weight range of eight, adjustable to 3-24 lbs per hand in 3 lb increments. The compact design allows for easy storage and adjusting the weight is as easy as moving the pin on a weight stack machine. Contoured handles ensure a firm, comfortable grip when lifting. For those focusing on strength and muscle definition, having a dumbbell set and exercise bench is key. From basic weight training to full-blown CrossFit workouts, the PowerBlock Sport 24 will give you all the options you need for your weight routine while keeping clutter to a minimum.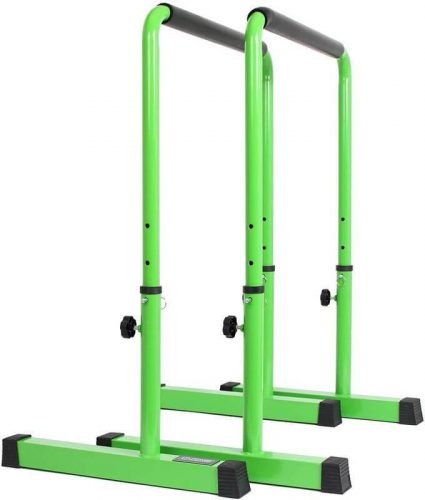 Gaining popularity as one of the more versatile pieces of home gym equipment, dip bars allow users to target multiple muscle groups and parts of the body in one movement. The Power Guidance Dip Bar lets you use your full bodyweight resistance for exercises such as dips, push/pull-ups, L-sits, knee, and leg raises, as well as movements to work your abs, chest, shoulders and back. With four adjustable workout heights (from 30 to 39 inches) and a stable platform for a safe workout experience, you can build up your strength and endurance while keeping the equipment footprint to a minimum. The Power Guidance Dip Bar easily dismantles for storage and is built to handle years of home workouts.
BTFING Adjustable Weight Bench Press
If you're looking to make the most of your weight training, then a bench press is a worthy addition to the home gym setup. What sets the BTFING Adjustable Weight Bench Press apart from the competition is its burly, reinforced design. It has a 650 lb capacity, a 10.6″ wide backrest for broad shoulders, and fast adjustments for a full-body workout. When you're done for the day, the bench folds down to 30" x 16" x 9" to easily stow in the corner of the room, under the bed or in a closet. The BTFING Adjustable Weight Bench Press isn't just a place to press, fly and curl. It can also be used for cross-training with your own bodyweight. A proper weight bench is essential to take your home workouts to the next level.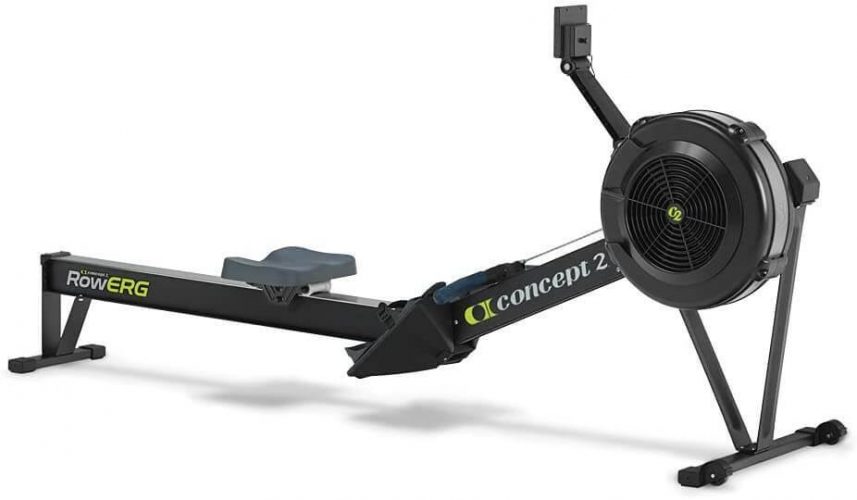 One of the silver bullets of at-home gym equipment is the rowing machine. Working out on a rower is incredibly efficient; it quickly raises heart rate and builds aerobic endurance while training muscle strength in the upper body, lower body, and core, all at the same time.  A big factor to consider with adding a rower to your home gym setup is space. The Concept2 Model D Rowing Machine occupies an 8 ft x 2 ft footprint with a 9 ft x 4 ft space needed for clearance when in use. However, it can be rolled out of the way on its caster wheels and can separate into two pieces for storage.  But the biggest selling point of The Concept2 Model D Rowing Machine is its reliability and durability. Considered by competitive rowers as the standard for indoor training, the Model D is engineered to last a lifetime of regular use. The PM5 Performance Monitor has a simple, easy-to-use interface to compare your exercise stats and comes with Bluetooth and ANT+ wireless connectivity. See for yourself what makes this one of the best-selling rowing machines in the world.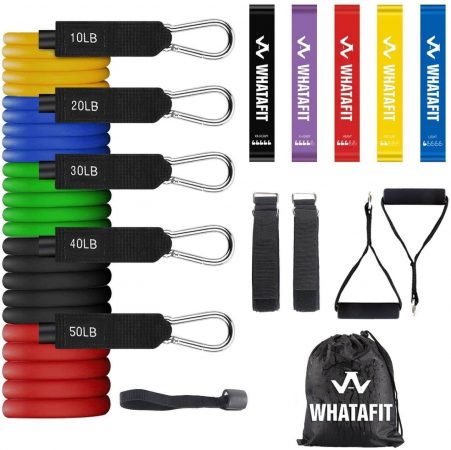 Whatafit Resistance Bands
If you're looking for the cheapest way to get in shape at home without any bulky equipment, Whatafit Resistance Bands are a great option. Featuring five different resistance bands from 10 to 50 lbs (in 10-lb increments), two handles, two leg straps, and a door anchor, you have everything you need to get started with your home exercise routine. Incredibly light and portable, these resistance bands can easily be brought along when traveling or exercising in the outdoors. Made from 100% latex, the Whatafit Resistance Bands are resistant to wear and tear allowing daily intense workout sessions. Choose from dozens of different exercises to tone and strengthen your back and shoulders, chest, abs, arms and legs. Utilize the different resistances or combine two or more to feel the burn!
Perfect Fitness Multi-Gym Doorway Pull Up Bar and Portable Gym System
Pull-ups are hard. Really hard. But they're also great for intense upper body and core workouts. The issue with a lot of at-home pull-up bars is that they:
restrict movement in the confines of your door frame
damage the door frame over time
The Perfect Fitness Multi-Gym Doorway Pull Up Bar and Portable Gym System has neither of these drawbacks. The patented door frame guard allows up to a 300 lb weight capacity (great if using a weight vest) and positions the user in front of the doorway rather than inside it. This allows a greater range of motion and different grip variations. The unit can also be taken down from the doorway and used for push-ups, sit-ups and dips. The two-way adjustable design fits door frames up to 33 inches wide and up to 6 inches deep. The Perfect Fitness Multi-Gym Doorway Pull Up Bar and Portable Gym System is a cost-effective and versatile addition to your home gym.