The Best Watches Under $1000
Let's be honest—in today's world, most of us don't feel the need to wear a watch when we can tell time by picking up our smartphones or asking a virtual assistant. While the idea of glancing at your wrist might feel dated, the addition of a classic watch to your wardrobe can give you an effortlessly chic look that is anything but. A good watch is a timeless staple that completes the look of any stylish man, but is it possible to achieve the "red carpet" illusion without going into debt?
While $1000 won't buy you a Rolex, it can still afford you an excellent timepiece. With the right guide, it's easy as can be to find a perfect watch within your budget without sacrificing a shred of quality or sophistication. Here are our top picks for some of the best watches under $1000 that will give you the lavish look for a low price.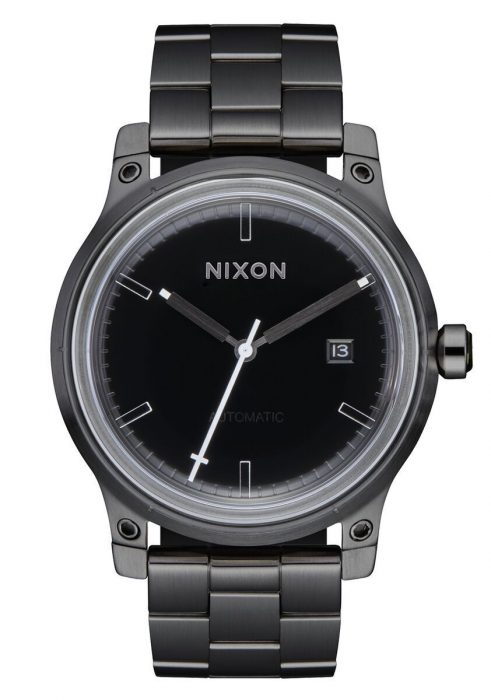 This so-called "Fifth Element" watch would be fit for Bruce Willis himself! Wearable by cosmic taxicab drivers and award-winning actors alike, this automatic timepiece leaves basic behind with its novel and daring design. Its tasteful yet practical build is only enhanced by the bold features featured in its dark physique, such as the Nixon trademark "LUME" markers that brighten up its face. Flip over the 42mm case and you'll be treated with a glance at the inner-machinations of the watch, on display for you to examine whenever you want thanks to the clear caseback. Available in two equally sleek colours, this stainless-steel pick seamlessly blends the expected and the unconventional, making it a no-brainer in terms of best watches under $1000. It manages to be sturdy enough for your day-to-day hustle and bustle all while acting as a perfect accent piece for the modern man. In the case of this forward-looking number, versatility and ease is anything but boring!
Thomas Sabo Rebel At Heart Chronograph
Everyone is a little bit of a "rebel at heart", and with this luxurious-looking chronographic watch, you can wear your heart on your sleeve for all to see. This fine, vintage-inspired wristwatch will help you channel your inner James Dean, whether you have a cause or not. Sporty and trendy, yet handsomely retro, this well-crafted gold and black pick is more than just your everyday timepiece. Its face features two counters for minutes and 24-hour display, as well as a speed-measuring tachymeter, which all allow you to explore several of its uses beyond telling time. Matte, side-brushed stainless steel elegantly envelops the 40mm case and bracelet on this watch, leaving you with a polished look that has lasted through the ages. For only a smidge over $500, it would be a shame to miss out on this more affordable take on an expensive style.
MKII Cruxible Type A-11, Non-date
Available for purchase with the selection of either a black strap or a sand-colored one, the Cruxible A-11 watch from MKII offers today's man a more traditional, American option. Featuring a 39mm case and double-domed sapphire crystal, this watch is functional, but maintains a more refined aesthetic for those seeking something a little less flashy. It's also the perfect option for you if you're not a fan of a luminous dial and hands because it includes MKII's "SuperLumiNova" effect, which keeps things simple by only lighting things up when you need to. With its laid-back feel, this pick has one of the more subdued designs on this list. It doesn't so much scream "look at me" as it does whisper "guy-next-door", but that's what gives it its charm. This watch comes in at just under $650, so you still get to reap the benefits of its more low-key appeal without feeling like you're wearing an antique. Your dad's watch—but elevated.
Hamilton American Classic Intra-Matic Auto
True to its name, this is a classy timepiece for an even classier gentleman. This automatic wristwatch is a great choice for someone who is looking to tow the line between old and new, enduring and contemporary. The Intra-Matic was made for all the minimalists out there, as it packs a fashionable American feel into a modern package. Though simple, this watch is worth every penny and more than earns its place as one of the best watches under $1000. The 38mm silver-hued stainless steel case paired with the black strap made from real goat leather is a smart combination suited for any man, in any outfit, at any event, making this pick a worthwhile investment. This versatility paired with its classic design also deems it a super thoughtful gift for any man in your life, no matter his age. Listed at only $845 with the benefit of a two-year warranty, this watch is not only special, but a safe bet that you won't regret.
Tissot Heritage Visodate Powermatic 80
Tissot is a widely renowned luxury brand that curates some of the best pieces Swiss watchmakers have to offer. The Visodate Powermatic 80 is definitely a top choice when it comes to the best automatic watches under $1000. It is a highly fashionable choice that upholds Tissot's reputation and doesn't disappoint. The date sits front and centre on this piece from the brand's Heritage collection, inside a case that measures a sizeable 42mm and features domed, scratch-resistant sapphire crystal. From its face fonts to the strap's motif, this pick is definitely the "coolest" on the list. Think Ryan Gosling in Drive. With its uniquely designed stainless steel strap, completely see-through caseback, and silver opaline dial, this watch oozes a quiet confidence. If you're aiming for suave, but don't want to cross over into gaudy, this is the watch for you.
Marathon Medium Diver's Quartz
If you're a man looking for something more practical than pretty, look no further than Marathon's Medium Diver's Quartz. While it's still a highly stylish product, this wristwatch doesn't compromise when it comes to function and utility. Always reliable, this pick may very well be right at the top of the list when it comes to the best dive watches under $1000. Manufactured with things like military troops and search and rescue missions in mind, this watch is intense, to say the least. Handmade in Switzerland, it uses high-torque quartz movement and features an end-of-life indicator that let's you know before the battery kicks the bucket. This bad boy is made to last, with a rubber strap and a face that promises up to 25 years of constant illumination for infallible low-light visibility. This Diver's Quartz is significantly smaller than many of its counterparts with a 36mm case, but it's every bit as durable. It may not be for the weak of heart, but retailing at just over $900, this watch will last lifetime for even the toughest of men.
Frederique Constant Classics Quartz Chronograph
This chronographic quartz timepiece is unlike the others on this list for many reasons. First, the dial is rimmed by roman numerals, which gives it a flare that will almost certainly make people do a double-take. Another notable feature is that this watch's eye-catching face also includes three separate counters to support you in all your time-keeping needs. The black hands make for a beautiful contrast against the paler setting. The 40mm convex case is part stainless steel, part sapphire crystal, and you can never go wrong with the textbook, black leather strap like the kind you'd sport with this one. Each of this watch's carefully selected parts set this piece at the top of this list price-wise, as it retails for $995. At that price, this Frederique Constant watch gives you everything you'd expect and more from one of the best watches under $1000.
Automatic, mechanical, and quartz are each a different type of watch movement. The "movement" of a watch is the way the mechanism that makes it tick works. Quartz watches are powered by a battery, whereas mechanical watches need to be wound manually, and automatic watches use an internal rotor and kinetic energy.
A watch can be a great investment if you do your research and purchase one that best suits your personal needs. Spending a little extra for high quality craftsmanship on something you'll wear every day—and possibly forever—is definitely worth it!
A dive watch is essentially exactly what it sounds like—a watch designed for diving underwater! Typically, to be considered a dive watch, a watch should have a minimum water resistance of around 100 meters, but most today have a resistance of about 300 meters or more. Many non-divers still opt for dive watches due to their distinct, hardwearing appearance.