The Best Grills For Barbecue Perfection
There are a few different theories on where the term "barbecue" (barbeque? BBQ?) comes from. I've always believed it's from the French phrase barbe a queue, which loosely translates to "beard to tail." However, the predominent theory is that the term originated from the Taíno Indians of the Caribbean, who slow-cooked meat on barbacoas — high wooden racks above burning wood.
Whatever you believe, one thing is certain, barbecuing is as much a part of North American culture as apple pie, and almost every summer gathering features a good ol' BBQ. Although primitive in nature, the art of grilling meats and/or vegetables takes patience and knowledge. The secret is in finding that smokey flavor and displaying just enough char without burning everything to a crisp. 
A perfectly blackened fish or grilled steak is so much better than anything you could cook in your stove or on a pan, but beware, you will need the best grills to get the job done right.
What to Look For in a Grill
Today, it seems like there are endless options available, so where do you start? From gas and charcoal grills, to kamado and wood pellet models, there are many choices — each with their own level of maintenance, practicability, and, of course, taste. 
Gas. Gas barbecues offer the most convenience. They allow you to adjust the heat effortlessly and precisely with the turn of a knob. Plus, they are easy to clean and maintain. The most inconvenient aspect of a gas grill is refilling your gas tanks. This hassle can be avoided with a direct gas line, but if that's not an option for you, refilling your tanks every so often is unavoidable.
Charcoal. Charcoal barbecues will give the most authentic taste but require more patience and time. They are a little bit harder to manage as you have less control of heat levels, so you need to get the timing just right.
Kamado. Kamado grills also heat with charcoal but have ceramic walls that get the temperatures higher (like a pizza oven) and keep the heat for longer periods. This is great for low and slow smokes for that extra Southern taste. 
Pellet. Pellet grills offer a convenient electric option with an authentic taste, but the pellets are harder to come by than the other options, and can be costly.
Whichever heat method you choose, it's still easy to feel bombarded by brands and models to choose from. Use this guide to find the best grill option for you and enjoy some great BBQ this season. If you're looking for a more in-depth look at smokers, check out our round-up of the best smokers this year!
The 8 Best Grills in 2022
Best Under $200: Weber Original Kettle Charcoal
You can't go wrong with this one. The Weber Original Kettle Charcoal features a porcelain-enameled bowl and lid to retain heat for long periods of time. The lid features a no-rust aluminum vent to help you control the flame and heat, and is equipped with a heat shield handle, so you won't burn your hands while checking on your food. This grill features a cooking surface of 365 square inches, so there's plenty of room for a family gathering.
The two glass-reinforced nylon handles and large durable all-weather wheels make it easy to move around and stow away. Plus, the convenient ash bucket and one-touch cleaning system makes cleaning and maintenance easy. This tested and true Weber classic delivers the best value under $200, and is one of the best grills out there.
Best Smoker/Grill Combo: Broil King Regal Pellet 500 Pro
The Mack-Daddy of outdoor grills, the Broil King Regal Pellet 500 Pro is a sexy beast. The all-black design lets everyone know just how seriously you take your BBQing. Constructed of 2 / 14mm gauge steel and boasting a 625-square-inch primary cooking surface, the Regal also has heavy-duty 9mm stainless steel cooking grids. With a secondary 240-square-inch stainless steel cooking surface, you'll never run out of space. The Wi-Fi and Bluetooth-enabled digital display provides enhanced temperature control to smoke, roast, or sear to perfection, and the 22-lb. capacity pellet hopper adds that authentic smokey flavor usually missing from gas grills.
A powerful auger and deluxe rotisserie kit is also included, along with two electronic meat probes to ensure precise cooking temperatures are achieved. An enclosed grease management system, agitator and ash clean-out system make cleaning and maintenance easy.  The large bottom shelf, stainless steel side shelf and front-mounted collapsible shelf give plenty of extra storage and prep space, making the Regal truly an all-in-one outdoor set-up. All of these features in one of the best-looking designs we've ever seen makes this the runaway winner in a smoker/grill combo.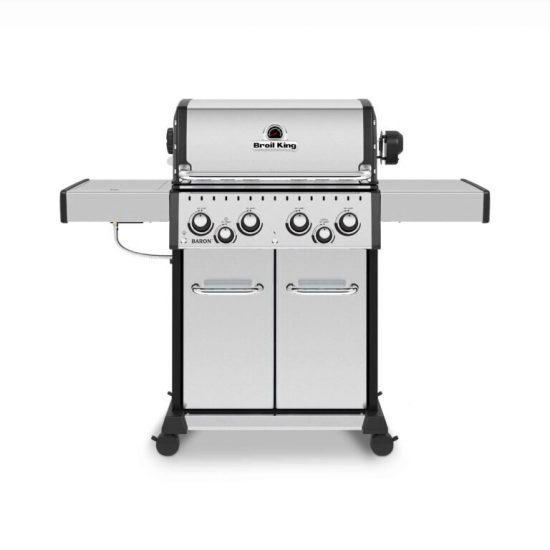 Best Under $500: Broil-Mate 4-Burner Stainless Steel Propane BBQ
Broil-Mate has been delivering perfectly seared meats for ages with their propane grills. Chances are you or one of your friends has one of these in their backyard, or at the very least has owned one of these at one point or another. These puppies are built to last. This one features a 40,000 BTU stainless-steel burner system with a 10,000 BTU powerful side burner for cooking corn or steaming veggies. The 644-square-inch cooking surface features a warming rack — perfect for managing a large cookout. Four stainless steel tube burners and the Flav-R-Wave cooking system ensure even heat distribution while eliminating unwanted flare ups as well as cold and hot spots. 
Hungry for those classic grill marks? The cast iron cooking grids add perfect char marks to your meats. And with the Sure0Lite electronic lighting system, Linea Flow Infinitely adjustable burner valves, and Deluxe Acu-Temp Thermometer, you won't be constantly searching for that lighter or stressing about fluctuating temperatures. The stainless-steel cook box with cast aluminum end caps is easy to maintain, and the overall design is clean and modern with plenty of storage space. If you're looking for an affordable grill with all the fixings, this is a great choice. We've crowned it the best family-sized grill under $500.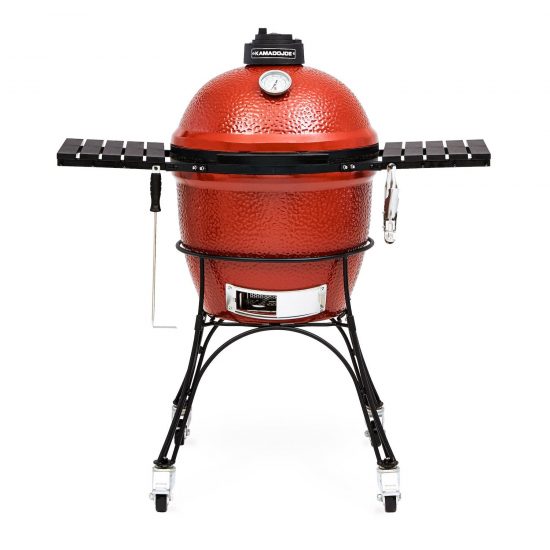 Best Kamado: Kamado Joe Classi II Charcoal Grill
Kamado's have grown in popularity in the last few years due to their ability to slow cook with authentic flavors. This model features an insulating ceramic shell to keep moisture and smoke inside for exceptionally flavorful results. The grill features an 18-inch cooking surface with two-tier Divide & Conquer flexible cooking system, enabling you to cook different foods in different styles at different temperatures — all at the same time. The patented Air Lift Hinge makes opening and closing your grill a breeze and reduces dome weight by 96%. 
To make sure you achieve the perfect cook every time, the wire mesh gasket seal is made with fiberglass for a superior air-tight seal. The grill can reach and retain a heat level of 225°F to 750°F while the mold and water-resistant Kontrol Tower Top Vent maintains precise airflow for consistent temperatures every time. Housed on a cast-iron cart with rugged, locking castor wheels, the unit features a patented slide-out ash drawer, built-in thermometer, folding side shelves with large handles, and a grill gripper and ash tool. This is a great option for someone looking to try out the benefits of Kamodo grilling.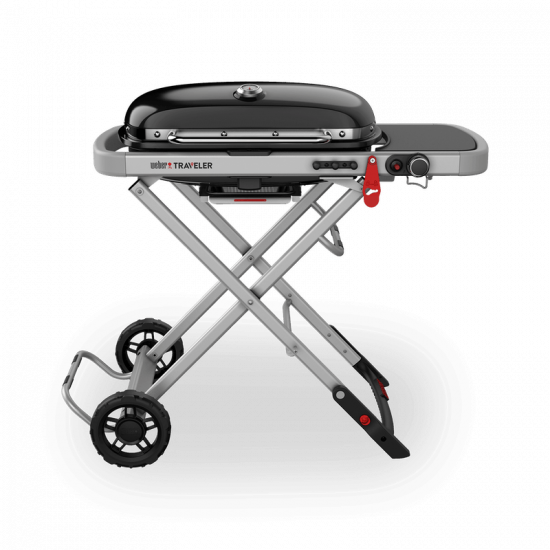 Best Portable: Weber Traveler Portable Gas Grill
We include this one on the list because, although marketed as a travelling grill, it's also perfect for condos and other living spaces with small outdoor areas. The small unit folds up, making storage simple, and it's also optimized to use less gas. The large grilling area is perfect for a couple or smaller gathering, and the low-to-high temperature range works for just about anything you want to grill or sear. 
The Traveler boasts all the craftsmanship and details you would expect from a Weber, including a porcelain-enamelled lid and cook box as well as cast iron cooking grates. The 13,000 BTU, 320-square-inch grill fits 20 burgers and has a large side table to fit all the extras. This grill and stand weighs a cool 62 lbs. and is a great choice for a hassle-free balcony grilling experience. Plus, you can take it with you on a camping weekend or day at beach.
Best Splurge: Napoleon Prestige Pro 665 RSIB
With its infrared side and rear burners, the Prestige Pro series offers professional grade backyard grilling at a reasonable price. Premium quality burners and superior heat retention provide oven-like performance and great searing. The unit's 18 x 37 inches of grilling space with 99,000 BTUs of power can grill over 40 burgers at a time, while the infrared rotisserie burner can sear a steak in seconds or slow cook a spit roast to perfection. The innovative and easy-to-use ignition system shoots a jet of flame to each burner individually for a quick start, and cross lighting brackets automatically re-ignite any burner that might go out. 
The Prestige series also features an integrated smoke tray with designated burner to add an authentic smoke to all your meals. And if the beautiful shining stainless-steel body and chrome details weren't impressive enough, the LED Spectrum Night Light control knobs, interior grill lighting, Acu-Probe temperature gauge, and integrated ice bucket will probably do the trick. If you love outdoor entertaining and you're willing to pay the price, the Prestige Pro series is seriously worth every penny. It also comes with a lifetime limited warranty.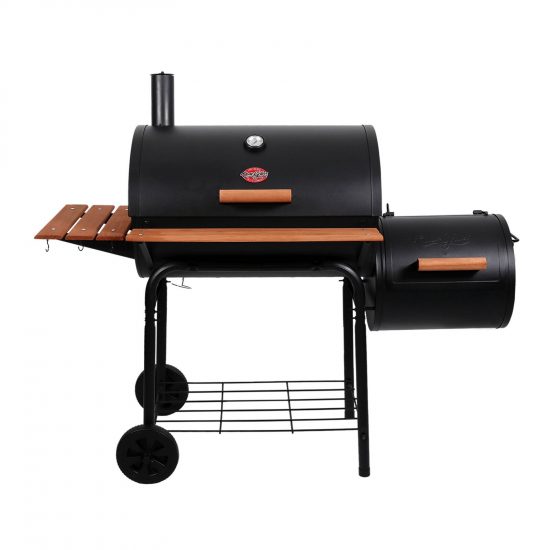 Best Bang For Your Buck: Char Griller Smokin' Pro Charcoal Grill
The barrel-style Char Griller Smoking Pro charcoal grill and smoker not only looks great but delivers a great smoke flavor for an authentic BBQ taste. The adjustable fire grate and double bottom are key to managing heat levels and distribution for a slow, even cook. Cast-iron cooking grates keep flare-ups to a minimum and the Easy Dump ash pan makes clean-up and maintenance a breeze. 
The unit delivers 830-square-inches of grill space, so space shouldn't be an issue for large families or entertaining, and the side firebox lets you smoke your food for that amazing smoky wood taste. The heavy steel trolley with large lockable wheels features a side table so you have plenty of room for prep. This is a great choice for a combo grill/smoker at an amazing price.
Best Outdoor Griddle: Char Griller Flat Iron Premium Gas Griddle
We just had to include this gas griddle on the list for all of those who prefer to cook outside and keep their kitchen clean but need more than a grill. You can literally cook anything you want on this griddle. With a combined output of 50,000 BTUs, the four independent gas burners allow you to heat the different sides of the cook space to different temperatures, and the patent wind guards ensure consistent heat. 
The trolley features two folding side shelves as well as a paper towel holder and utensil hooks for even more added convenience. Plus, 775-square-inch griddle and grease bucket are easy to remove and clean, so maintenance is totally stress-free. This Griddle is a perfect addition to your outdoor grilling arsenal.