The 8 Best Golf Balls to Perfect Your Game
As any experienced golfer knows, the golf ball you use drastically affects your game. It's hard to believe how much R&D goes into designing and manufacturing these little balls. Unlike a tennis ball, football, basketball or a ping pong ball, golf balls are very complicated to manufacture. 
Whether you prefer a 2-, 3-, or 4-piece golf ball, you can be assured that everything that goes into constructing the final product is researched and considered with a specific reaction in mind.
The golf ball will affect trajectory, speed, distance, spin and roll. One might think, "Yes, okay, give me the best one, I want all those things," but be careful. Before throwing your money at the most expensive ball on the shelf, consider what kind of golfer you are.
Not all golf balls are created equal, and they are not all created for the same golfer. High spin rate, while great for the low handicap golfer who needs that spin control, can be detrimental to the high handicapper who has more trouble keeping it straight.
Like most golf equipment purchases, it's important to do your research with honesty about your skill level. Buy the right ball and it will help improve your game. Buy the wrong ball and it will keep you frustrated and broke. We've put together a little guide to help you choose some of the best balls available for different levels to get you started.
Best for Experienced Golfers (3-Piece): Titleist Pro V1
The Titleist Pro V1 is the most coveted ball in golf. They set the benchmark of what a great golf ball should do and haven't stopped improving it since. The 3-piece ball features one of the softest cast urethane cover systems on earth, a faster low-spin casing layer, and a reformulated core. The benefits are longer distances with consistent flight, very long game spin and amazing drop-and-stop short game control. The new spherically tiled 388 Tetrahedral dimple design is the best in class and improves distances.
For experienced players, the Titleist Pro V1 is hands down the number one ball in golf. The only drawback is the price, because this ball is also one of the most expensive balls in all of golf. Most low handicappers will agree it's worth every penny. But beware, if you're a beginner, or a high handicapper with a slow swing, this might not be the best ball for you.
Best For Experienced Golfers (5-Piece): TaylorMade TP5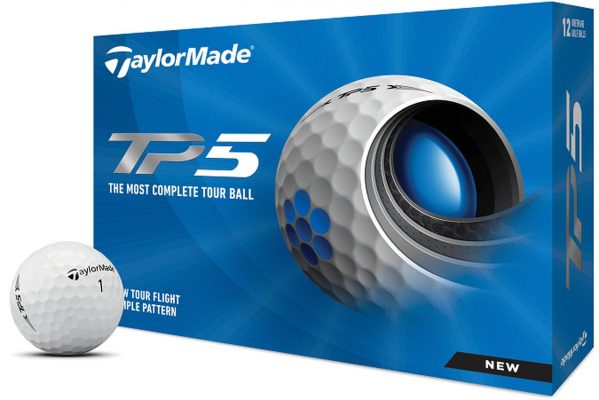 The TP5 is the only 5-layer construction ball available. And, boy, does this ball deliver. The new and improved 322-dimple pattern engineered with improved aerodynamics delivers explosive carry distances. The shallow dimples reduce drag during ascent, while the steep walls trap air to keep the ball airborne longer. The 5-layer design promotes enhanced speeds without compromising spin performance around the greens. The five layers include a larger, more reactive Tri-Fast Core, which delivers maximum carry and low drag, as well as a dual-spin cover featuring an ultra-soft urethane cover. The ultimate result is a fast launch, maximum carry distances, and a steep angle of descent for extra stopping power. The TP5 also features HFM (High Flex Material), delivering higher balls speeds and great rebound effect. The HFM acts like tightly wound springs; it builds energy that is unleashed at contact, generating higher ball speeds.
This is a great ball for low handicappers looking for a little extra distance and a little help sticking those greens.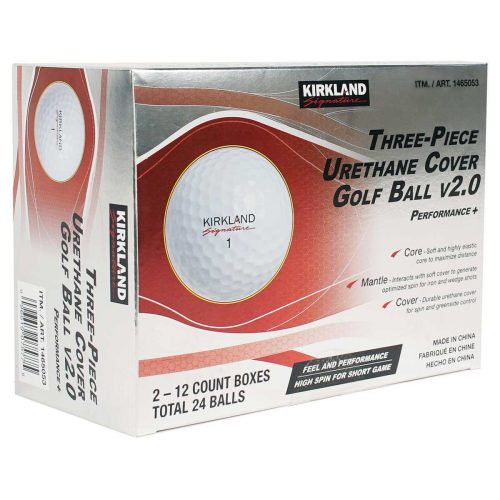 Best Value: Kirkland Signature Performance Plus Golf Ball V2.0
For those who don't know, most Costco products are made from the best makers in every category. Unlike other retailers who might cut corners in manufacturing, Costco only delivers the best. Their formula is based on the fact that they make a quarter of the margins most retailers make. Costco can do this because their real profitability comes from investing membership dollars. It's almost an unfair advantage. And their golf balls are no different.
No one knows for sure who makes the Kirkland golf balls but most of us speculate that they are made by Titleist. The Kirkland Signature Performance Plus is a 3-piece ball encased in a soft urethane cover, which provides responsive putting feel and excellent greenside control. The low compression rubber core provides soft feel with high speed for that extra distance, and the 338-dimple pattern provides great trajectory on every shot. From driver to putter and everything in between, the Kirkland Signature Performance Plus is the best value of any golf ball on the market. If you see them, grab three boxes because they never stay on the shelves very long.
Interested in other affordable options? Check out our look at the Best Cheap Golf Balls on the market today.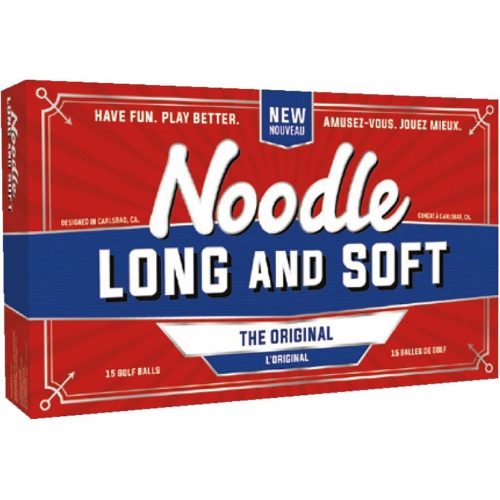 Best For All Skill Levels: Noodle Long and Soft
There is something special about the Noodle. This ball is a 2-piece ball that performs amazingly well. The ball delivers consistently long drives with a nice high trajectory, and has a very predictable feel around the greens as well. I see a lot of golfers hitting this ball. It's a great ball for beginners, but at the same time it delivers for players looking for a little more performance out of their golf ball. 
The proprietary aerodynamic 342-dimple pattern just works. If you're looking for great performance at a price that won't break the bank, this is the ball for you. This is a great choice for mid to high handicappers, enough performance to help you improve your game, and affordable enough that you don't have to dive into the pond to retrieve it. The Noodle also makes out list of the Best Cheap Golf Balls on the market today.
Best For Distance: Callaway Chrome Soft
The redesigned Callaway Chrome Soft has been gaining a very strong reputation amongst golfers at all levels. The 4-piece construction begins with a larger graphene-infused dual soft core featuring a larger inner core for higher launch and lower spin. The thinner, firmer outer core layer's graphene re-enforcements ensure the ball will last longer while giving your wedges maximum spin. The proprietary Ionomer blend creates a more efficient energy transfer for fast ball recovery, improving consistency. The thinner urethane cover helps maintain minimal speed on full shots while promoting high spin rates and soft feels around the greens.
This ball will improve your distance and trajectory even with slight mishits. This ball carries a high price similar to the Pro V1 but many players will love the lower ball speed on the long drives, helping them stay in the fairway and not spinning out of control. Great ball for all levels.
Best For Beginners: Srixon Q-Star Tour Divide
This ball stands out as the only two-color ball in golf. The 50/50 matte urethane cover creates a strobe effect while spinning, revealing the speed and direction of spin on each of your shots. It's a powerful tool for tracking and improving your game.  The two-tone design is also great for aligning your putts. And if that's not enough, these balls have all the same qualities as the regular Q-Star Tour balls.
Unlike painted balls, the Divide's entire thermoplastic urethane cover is infused with bright pigments, so the color won't scratch. The premium urethane adds spin for extra control around the greens, and the resilient mid-layer increases speed of the tee for longer distances. The core is gradual, starting soft at the center and becoming firmer around the edges, providing the feel of a much more expensive ball. This is a great game improvement ball for mid to high handicappers.
Best to Feel Like a Pro: Bridgestone Tour BX
This is the ball Tiger uses. I could probably stop right there. There is so much to say about this ball I don't even know where to start. So much research and development goes into producing these little golf balls, and no one does it quite like Bridgestone. What makes these balls so special is the REACTIV cover. The smart urethane cover acts as an impact modifier, to deliver shock absorbing cover on slow-impact shots for more spin and control while lending high resilience on high-impact shots for added power and distance. So, the cover acts differently for your drives as it does for your wedges. The gradational core promotes higher initial ball speed while minimizing side spin to keep your shots straighter. The perfectly balanced seamless dual-dimple pattern enhances trajectory for a great-looking shot that travels a little longer in the air and gives you a little more roll.
Best Newcomer Brand: Vice Golf
Vice is new to the golf world and have carved out a great reputation amongst amateur golfers. They offer a variety of balls designed for different levels of play. They offer 2-piece, 3-piece and 4-piece constructions, all with their own advantages. Whether you are looking for more distance, more feels around the green, or a higher trajectory, they have a ball for you. We love that all models are offered in a multitude of colors. Another great thing Vice offers is a price break after five dozen, so once you find the right ball for you, order a whole bunch for yourself, split with a friend, or finish your holiday shopping early.
Head over to the ball recommender and find out which is best for you. Whatever ball you choose, you will get more value for your buck when you choose Vice.
They really do. When we start out, we lose a lot of balls, and it can get expensive, so we go for the cheapest ball or hit balls we find in the forest while looking for the one we lost. While this is not so bad at the very beginning, once you can start to be have a tiny little bit of consistency it becomes important to be consistent about your golf balls. Golf balls are all designed with specific distance, spin, trajectory, compression in mind, and it's important to find the one that suits your game today. As your game improves you may look at upgrading to a ball which will help you achieve new goals but do this in increments. There are so many uncertainties in golf, so anytime you can add consistency, you should do it, and using the same balls every time you play will help you do this.
The Noodles offers the best balance at an amazing value. This ball gives you distance off the tee with good feels in your shorter irons and wedges, so it's a great game improvement ball. Noodles are also very easy to find at all retailers, and always at a great price.  which is also important as high handicappers tend to go through a lot of balls. These are also available in an array of colors which is great when spending a lot of time searching in the rough.
Although there are a few premium golf ball makers, there is not one brand which could be called the best. Titleist claims to be the #1 ball in golf, it's their tag line, and yes, they did set a new benchmark years ago when they delivered the Pro V1, but today many brands have caught up and are offering products just as good as the Pro V1. Bridgestone, Srixon, Tailormade, Callaway, Noodle, Vice and even Kirkland are all respectful golf ball brands creating excellent products. Any Golf ball sold in a golf specialty or general sports store is reputable and fit for the course.