Best Smart Watches for Men: 10 Ways to Enhance Your Wrist
Technology is continuously evolving, and the world of watches is no exception. Innovation has ushered forth a variety of high-tech timepieces that do more than tick. Smartwatches don't just tell the time; they play music, navigate outdoor runs, track our daily activities, and make it possible to receive important notifications without being tethered to a smartphone. 
When shopping for a smartwatch you'll want to consider your daily life, activity level, and if the watch is compatible with your smartphone (or another device). If this seems like a lot to digest, don't worry! We've compiled a list of the best smart watches for men that will enhance your life and your wrist.
Tag Heuer is known for having sophisticated sporty designs, and the touch screen Connected smartwatch is a perfect example. Engineered with multiple sensors on its back, this watch has a heart rate monitor as well as an exclusive fitness app – making it possible to track your performance in a variety of activities, including cycling, running, golf, general fitness, and even sleep. Additionally, it offers a stainless steel case, sapphire crystal scratch-resistant face, and is water-resistant (up to 50 meters), making it a durable sports watch.
However, these are only a few of the reasons this versatile chronograph makes our list of best smart watches for men.  The overall aesthetic is in a category of its own. It features a variety of beautiful dials and changeable straps, making it customizable to your personal style.
Samsung Galaxy Watch Active 2
This upgraded version of the Samsung Galaxy Watch has a sleek design and offers all the bells and whistles of an active smartwatch. Designed with health goals in mind, the advanced sensors track an array of activities from golfing to running and provide actionable feedback. This smartwatch also has a heart rate monitor and can give additional insights on multiple facets, like how to manage stress levels (with the integrated Calm app), or how to improve sleep. 
Available in stainless steel or aluminum with a variety of finishes and colorful bands, this watch has a cool circular case, a digital bezel, Bluetooth connectivity, Samsung Pay, and comes with multiple digital faces.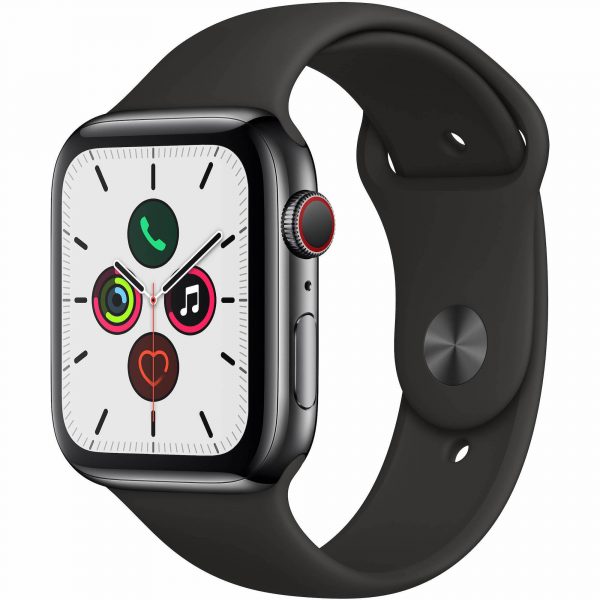 Apple is probably the most popular name in the smartwatch game and for good reason – they set the industry standard for innovation when they rolled out the first Apple Watch in 2015. Since, they have made huge strides in design and technology, all of which came together perfectly for the release of their newest model, the Series 5.
This latest rendition is completely customizable – you decide the case material, color, and band that best suits your individual taste. Additionally, it features "always-on" display, meaning there is no need to wave your wrist or push a button to see the watch face as the information is always visibly displayed. This watch also includes a speaker, built-in compass, Bluetooth 5.0, multiple sensors (including heart rate monitor), and many more high-tech features. Whether you are looking for a fitness tracker or a way to stay connected when you don't have your iPhone – this smartwatch does it all.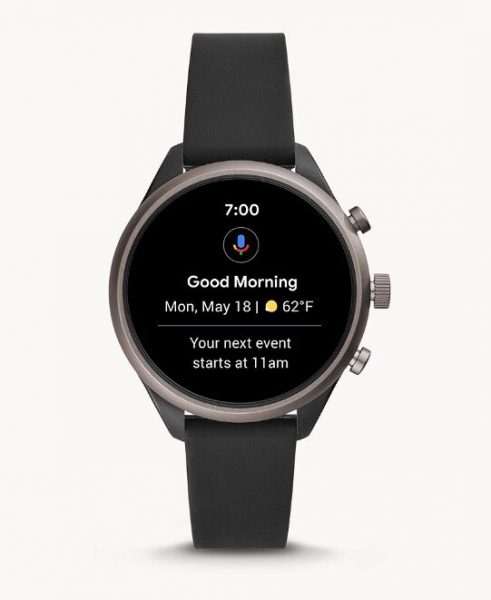 This affordable smartwatch is appealing to iPhone and Android users alike because the Wear OS by Google technology makes it compatible with both. This lightweight watch has all the basics a smartwatch should have, including Google Pay, GPS, activity tracker, heart rate monitor, and personalized dial options.
 The Fossil Sport smartwatch features a Qualcomm Snapdragon processor which makes receiving notifications like texts and emails a breeze. The only downside is that the battery only lasts an average of two days, so you may want to keep your charger nearby. Otherwise, we think this sporty smartwatch for men is a great all-around pick – especially when you consider the price point.
Fitbit's best watch yet! The Fitbit Versa 2 comes with Amazon Alexa built-in – you can use your voice to check the weather, control smart home devices, set alarms, or get the news. Additionally, it's both Android and IOS compatible, has a six-day battery life, and lets you personalize your reminders.
However, the biggest stand-out feature is the Fitbit's activity tracker. This smartwatch was designed for a fit lifestyle (hence the name), and that's where it really shines. In addition to tracking heart rate, calories burned, and hourly activity level to help you reach your fitness goals – it also assesses your sleep quality by monitoring time asleep and restlessness. Fitbit Versa 2 is the perfect smartwatch whether you live an active lifestyle or are just starting your fitness journey.
This magically sleek smartwatch has personalized faces, a two-week battery life, and multiple fitness modes. The 15 different goal-based fitness modes – including a swimming heart rate monitor, running courses, a SpO2 (oxygen saturation) monitor, and real-time feedback – will make you feel like you have a personal health coach on your wrist.
The Honor Magic Watch 2 also has many features of most popular smart watches for men, like Bluetooth, GPS, text and email notifications, and 24 hours of music playback. The 45.9mm case features a 1.30-inch touch screen, and similar to the new Apple Watch it features "always-on" display. Overall, this is a great watch for tracking activities or just for daily wear.
The TicWatch E2 is the latest in wearables from Mobvoi, a voice-based artificial intelligence company. And while their smartwatch line might be flying under the radar currently, we don't anticipate it staying that way for long. Marketed to use during swimming and fitness, this AI embedded smartwatch tracks and provides performance updates immediately.
This smartwatch is lightweight, customizable, operates on Wear OS by Google, is iPhone and Android compatible, and uses the efficient Qualcomm Snapdragon wear platform. Additionally, it's backed by a 30-day money-back guarantee and one-year warranty, making it worth your while to give this lesser-known smartwatch brand a test drive.
This high-quality watch from Garmin tracks everything from hydration to backcountry skiing. Known for being a leader in navigation, it's no wonder this GPS sport watch features round-trip routing, turn by turn navigation, and is preloaded with maps for ski resorts worldwide. Moreover, the Fenix 6 Pro has access to multiple satellite navigation systems, so in addition to GPS (American), you have access to GLONASS (Russian), and Galileo (European).
This watch is extremely durable and made for intense activity and tough terrain – it is even outfitted with a safety feature that can alert your contacts in the event of an emergency. The price point is on the higher end, but well worth it when you consider it has all the perks of most smart watches for men as well as all the exclusive Garmin navigation features. This smartwatch is truly an adventurer's dream.
With its stainless steel case and black leather strap, this stunning timepiece by Montblanc doesn't even look like a smartwatch at first glance, but the Summit 2 is as high-tech as it is fashionable. This luxury smartwatch features a chronograph default dial with quartz movement that looks just like a regular watch, but when you touch the center of the dial it will expose the home screen.
The Montblanc Summit 2 operates on Google's Wear OS, so you have access to everything from Google Pay to the Google Fit App. The watch is also outfitted with a sensor on the back to monitor heart rate and track your activity level. If you are in the market for a high-end smartwatch that looks like a traditional timepiece, the Montblanc Summit 2 is the perfect choice for you.
The inexpensive Amazfit Bip makes our list of best smartwatches for men because it's so reasonably priced for all that it offers. The battery life alone outshines a majority of smartwatches; enjoy up to 30 days charger free, or if you set your watch to "minimal notifications" that can increase to 45 days. Packed with all the hottest technology, it features always-on display, Bluetooth, GPS, barometer (to help gauge elevation), heart rate monitor, fitness monitor, and sleep tracking. 
Additionally, the lightweight design has a reflective face, is available in four different colors, and the Mi Fit App allows you to pair the Amazfit Bip with Android or iOS. If you are looking for all the perks of a smartwatch at a fraction of the cost, we recommend this sporty activity tracker.
Unlike a traditional watch that has a mechanical operating system, a smartwatch is essentially a small computer. In addition to telling time, a smartwatch has the ability to receive notifications, track physical exercise, and monitor heart rate. These are all things a regular watch does not have the capacity to do.
There have been many advances in technology over the years and cheap smartwatches can offer a lot of the same features as higher-end competitors. Depending on your activity level and needs, a less expensive smartwatch can be a great option. If you are concerned about quality, we recommend purchasing one with a warranty.
Apple watches are only compatible with Apple devices. However, there are a number of smartwatches that are compatible with both Android devices and iOS (iPhone operating system). Therefore, if you are an iPhone user you have a little more flexibility when it comes to selecting a smartwatch.