Best Beers to Try Even if You're Not a Brew Guy
In its pursuit of hoppiness, beer has accomplished an image change that can only be comparable to the American Dream. Having been around for hundreds of years, and going through the waves of ups and downs (thanks, Prohibition!), brewage has finally come out on top. No longer defined by keg parties or the working class, whether it is sitting amongst friends in a garage bending elbows, or at your local watering hole, drinking a few pints has brought people together from many different backgrounds and cultures.
According to the most recent census, the United States is home to over 7,450 breweries, including brewpubs and craft brewers. The modern science of brewing has tapped into old-school methods from original brewers and making every glass taste like home — wherever home is. With so much selection on the market, knowing how to pick the best beer can feel overwhelming without being a master cicerone. Our goal is to help you explore different tastes while understanding the culture that comes with it.
 Out of the four main ingredients – water, hops, yeast, and malt – hops dominates the flavor profile of most beers. Rumored to be related to cannabis, this summer flower develops papery cones which are harvested and dried to conserve their natural aromas. Back in the days of sailors' long boat voyages to India, hops were originally added to beer as a preservative, extending its barrel-life. Today, with the growth of modern brewing techniques we now know hops to be the provider of flavor profiles bitterness and citrus.
In other words, it's gone from playing a supporting role to being the star of the show. With about eighty strains of hops commercially available, brewers now have the freedom to create their own versions of already existing styles of beer on the markets. Some abbreviations you may see when exploring different beers are  'ABV' and 'IBU', usually these would be found listed on bottles or cans.
Alcohol & Bitterness Levels
Alcohol By Volume (ABV) is a worldwide standard measuring the alcohol content of a particular beer. Pretty straightforward, lighter beers will fall around 4.5% ABV, where heavier styles of beers will have a higher percentage. International Bittering Unit (IBU) measures the bitterness level in each beer, based on the amounts of hops added. The taste of high IBU beers may be an acquired taste to some, but remember that no two beers will ever taste the same thanks to the ever growing multitude of varieties. Hops breeders around different parts of the globe are always creating new strains and flavor palates. This fact alone may explain why there was a surge in craft beer starting back in 2003. The most popular variety of choice being the world famous India Pale Ale; a golden amber color, full of hoppy aroma, and bittery goodness.
Tackling Taste & the Perfect Pour
If you are just jumping into this world of beer, it's recommended to start with an India Pale Ale (IPA) so your palate can not only learn what you like and don't like, but you will become acquainted with the popular flavor profiles, enough to pick up similarities regardless of beer type.
Beers, even ones from the same brand and type, are available in so many varieties that it's difficult to generalize, but the classic IPA is described to be bitter and high in booze. Generally speaking, that is no longer the case. Today's IPAs do not always result in a high ABV and are often found to explore earthy hop flavors, which surprisingly to most, includes notes of fruitiness.  American craft breweries went ham in the 1990's experimenting by adding so much bitterness it initiated a hops-race, consequently formulating so many new versions of India Pale Ale styles. Now, there is something for everyone! Still a little anxious or debating between a few options? Don't be afraid to talk it over with a bartender, they will gladly talk shop and help figure out which brew suits you best.
For the full connoisseur experience try pouring the beer into a pint glass! Drinking straight out of a bottle, or can, restricts the aromas from reaching your nose. A perfect pour will break up the tiny carbonation bubbles, creating a foamy head and emitting tiny aromas explosions. Truth is, 75-90% of what you think you are tasting, you are actually smelling. If it helps: lagers are served colder than ales and darker beers are served warmer than lighter beers. Science states taste buds do not work as well when too cold; ideal suds should be served between 33-55 degrees to bring each essence to the forefront.
The 12 Best Beers to Try in 2022
Here is a list of twelve of the best beer varieties, from lagers to stouts, with some craft beers in between. This selection is sure to win over even the biggest beer critics in your circle.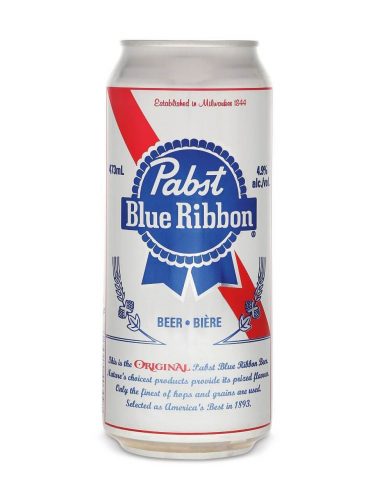 This American Premium lager dates back to 1844. The name stems back from when it was brewed by the second largest brewery in the United States, called Best & Company. Their Best Select was claimed to be the winner of so many awards, tiny blue ribbons were tied around each bottle's necks making it stand out. This beer's history is as American as Apple Pie: the Milwaukee based company managed to survive Prohibition by years of making cheese (eventually being purchased by Kraft) and is now named after a ship captain, after he married into the family in 1889. This light lager is full bodied, goes down smooth, and has a crisp finish with a noticeable hop aroma in the nose.
When Pabst closed the doors after 152 years in 1996, the nostalgia about the sweet amber nectar set in. A beer entrepreneur, Eugene Kashper, acquired the company branding it towards a younger market. The newly revived company embraced the new hip(ster) demographic by sponsoring Indie music, sports teams, facial hair clubs, and dive bars. Their website proves love for their clientele by showcasing fan art, sometimes printing it on their trendy merchandise. Easy to consume on the daily with a 4.74% ABV, there is no surprise why this American Lager is one of the fastest growing domestic beer brands.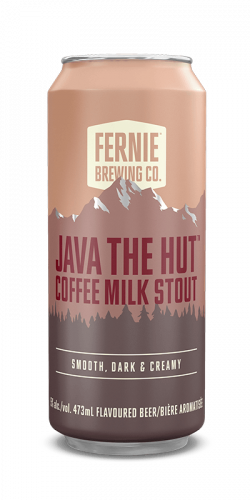 Coffee: Java The Hut Coffee Milk Stout
Brewed in a small historic Canadian mountain town, the Fernie Brewing Co. embraces the Rocky Mountains, and the beer-loving community that comes with it. Taking advantage of the ever changing seasons of the Great White North, Java the Hut Coffee Milk Stout is only available during cooler months of October to March. This stout is perfectly brewed with a decadent amount of chocolate, with roasted and black malts, sprinkled with a touch of lactose powder. 
The coffee blend used to infuse this smooth stout comes from their local bean roasters, Crowsnest Coffee Roaster. Their signature bean is added directly into the mash helping the flavors hit the palate just right without being overpowering, satisfying for any occasion or time of day. Poured out of a 650ml bottle, the beer comes out creamy with a thick tan head – like drinking a caffe latte that won't keep you up during the night.
Stout: Goose Island Bourbon County Brand Stout
Goose Island has become one of America's most trusted names in beer over the past decade. They are always a safe choice with their signature goose tap head sitting prominently among draft options at most bars. Finding out they also have a Barrel House, it's hard not to want to taste what they are aging in bourbon barrels. Goose Island was an early trailblazer in creating small stout batches, aged in barrels that once housed some of America's best whiskeys, beginning back in 1992. 
Never repeating the exact same recipe, this Chicago brewing company cultivated an intense following, and began releasing a limited line up every Black Friday since 2010.  Celebrating the tenth anniversary this year's original blend was aged in some of Kentucky's finest bourbons: Wild Turkey, Buffalo Trace, and Heaven Hill. A perfect blend of bourbon and stout, it goes down smooth and silky, don't let this beer's 14.7% ABV fool you. Each sip has tasting notes which include chocolate, vanilla and caramel.
The brewery has always used this stout to experiment with different flavor profiles, and celebrating their brewers' ideas. This year, the line-up will include six variants of bourbon aged stouts.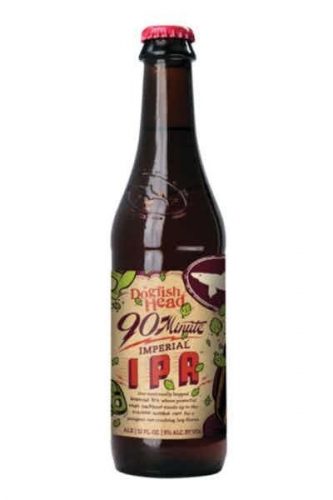 IPA: Dogfish Head 90 Minute
Starting off as a small brewpub in Delaware back in 1995, Dogfish Head is now probably considered the most important American craft beer. This brewery markets itself as offcentered, with good reason as they always venture off course from the status quo. Most famously, their Imperial IPA, 90 Minute, which is brewed using a unique continual hopping method over a 90 minute boil. This method was inspired by a home cooking tv show, and a vibrating football game found at a vintage store.
Traditionally, brewers add hops in one to two batches which result in an overly bitter flavor. With Dogfish Head's founder, Sam Calagione, innovative method of adding small amounts of hops at a time, it allowed the final product to taste intensely hoppy without a seriously bitter aftertaste. The end result has notes of woodsy, pine notes from the hops, but also carries a nice balance of sweet citrusy preserve. Subtly, this strong beer carries a heavy 9% ABV, and has 90 IBU.  Available year round, this IPA pairs well with anything from cheese to escargot.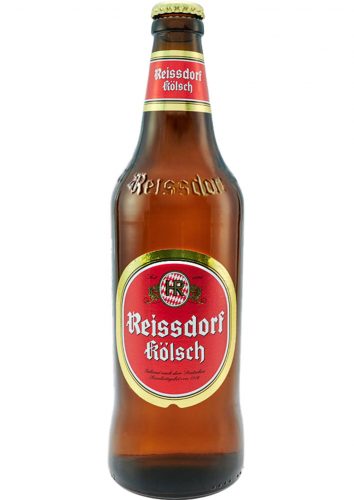 Famously from Cologne, Germany, Kölsch is a type of beer that Reissdorf has not stopped brewing using traditions since 1894. Similar to, but not quite, a pilsner Reissdorf Kölsch ferments its flagship beer with an ale yeast, developing it at cool lager temperatures. This method results in minimal hop bitterness, some spice notes, but most importantly a crisp and dry finish.  When poured into a glass, the golden color is described as 'straw yellow' and the carbonation should boast quick rising bubbles, forming a hard foam head.
At first taste, notes of crisp dry grainy aroma followed by the refreshing clean backbone of minor bitterness. This kölsch is an easy to go down blonde ale with a light 4.84% ABV. This hidden gem has been a well kept secret for too long, no use changing  what has been working for hundreds of years. The perfect beer to enjoy after a long day of work, Reissdorf's brewing method is right as rain!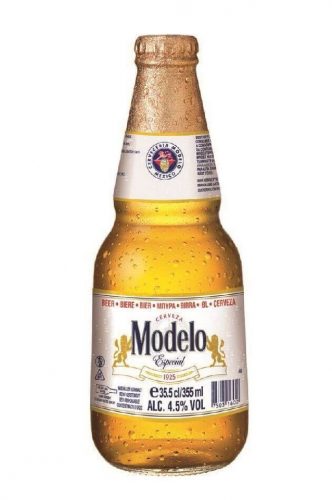 An ideal hot summer day is always paired with a cold Modelo in hand. Exported directly from Mexico, Modelo Especial is brewed perfectly to deliver a light, crisp pilsner taste.  It's hard to tell if their growing popularity is due to brand's broadening their targeted demographic, or if it's due to their effective marketing campaigns,  but what's important is that it is widely available across the country due to the high demand. 
Don't let the oddly shaped stubby bottles fool you, this thirst quenching lager pairs perfectly with backyard barbeques, and won't break the bank when you decide to crush it in a game of flip-cup on the beach. These brews are made to be consumed quickly, as the clear bottles do not protect the beer from the harsh sunlight. It is recommended that unopened beers be stored in the fridge, or a cool dry area. Leaving the bottles in the sun can result in some skunky tasting beer. Having been brewing beer in Mexico City for roughly 95 years, the brewery doesn't see a reason to change, and they clearly know what they are doing. Characterized by an orange honey blossom aroma, and notes of herbs, Modelo creates an atmosphere with each sip.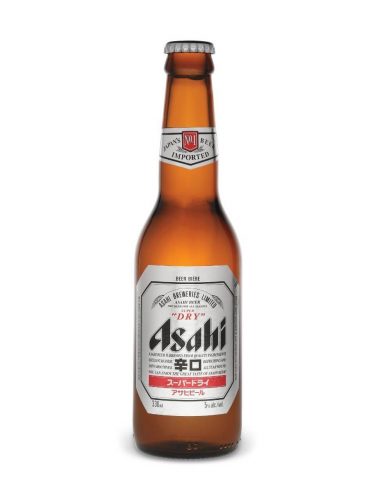 Japanese: Asahi Super Dry
Japan has a rich drinking culture, where beer is king. It is no surprise how Asahi Super Dry has become their number selling one beer since its creation in 1987. This beer comes in direct response to an extended consumer survey, which specified the desire for a maltless taste. Formulating a beer that carried a crisp taste, had a decent alcohol content, and mild aftertaste was not easy, but this brewery did not disappoint. Exhibiting high quality standards, precision brewing methods, and formulating a recipe which complimented Japan's changing diet, Asahi created a new dry genre of beer.
The bread-like notes come from the selected grains and hops sourced around the world in order to maintain the brewery's integrity.  The balance of sweet, carbonated, and mild bitter flavors compliment each Asian inspired dish, including sushi. There is a reason that Asahi Super Dry is a staple in all Japanese restaurants.
White: Allagash White Ale
For those who are convinced the taste of beer is not for them, please give this white ale a chance before giving up. Maine-based brewery Allagash creates a traditional Belgian-style witbier that has notes for everyone. Whether you are a fan of IPAs, or prefer less hoppy beers, there is a chance this White Ale is for you. There is no question this is one of the best wheat ales in the country. 
At a glance, it is easy to notice the cloudy aroma, smell the malt, or take in the warm flowery spice aromas. Brewing with generous amounts of wheat adds to the silky feel once it touches your lips, releasing the notable spice and fruit characteristics.  This light bodied beer is meant to be sipped, there is no shame in savoring each pint. It is a great choice for enjoy while sitting at the bar catching up with old friends, or on the beach celebrating some warm weather.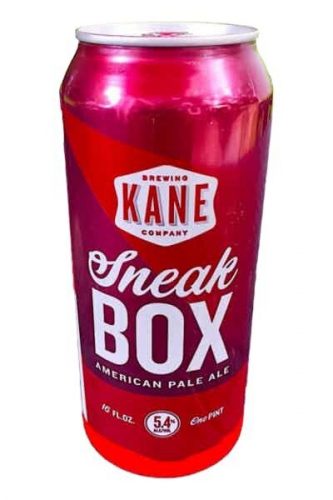 This American Pale Ale is home to New Jersey's Kane Brewing Co., one of the state's best craft brewers. This craft brewery is proof that dreams do come true. After working on Wall Street, the founder and master brewer, Michael Kane, decided to follow his true passion, quitting his stable career path to self fund his own proper craft brewery. From day one, the hustle of selling to restaurants door to door paid off, from one day to the next he noticed a change from a small loyal following to line-ups out the door.
At first pour, Sneakbox is noticeably a hazy amber colour, creating a thick fluffy head. The nose quickly catches up to you by releasing aromas of warm, citrus-forward, earthiness. The taste hits similar with a light bitter taste and silky mouthful. Each sip is reminiscent of the citra hops as they allow citrus flavors out on when each aromatic bubble bursts. At only 5.4% ABV, this is the creamiest pale ale, easily the most crushable.
Sour: Nickel Brook Raspberry Uber Sour Beer
This Canadian brewery was founded by two self-proclaimed mad scientists who have been pushing boundaries in the craft beer world for fifteen years. A great example of their scientific approach is aging their Raspberry Uber Sour beer with loads of real Canadian raspberries. The inspiration for this sour beer is a variation of a Berliner-style Weisse, a cloudy sour wheat beer stemming from Northern Germany, which also happens to be light in alcohol. Nickel Brook's wheat sour pours a hazy reddish colour, with a nice pink layered foam head. The complex duality of sweet and tart flavors compliment each other on the palate. A refreshing beverage for any time of the year, with a 3.8% ABV it is easy to forget there is any alcohol at all.
Classic: Miller High Life
A true classic in American history, this lager has been the image of luxury since first brewed in 1903. Dating back to the days of saloons, the Brewers at Miller draughted a crisp, refreshing beer that quickly got nicknamed, The Champagne of Bottle Beer. Founder Frederick Miller believed that the best things in life should not be hard to come by, which is why this lager was accessible to anyone regardless of job title; whether a banker or a factory worker.  
Not only do those values ring true today, the simple recipe has not been altered since the beginning of the twentieth century. Using a proprietary blend of malted barley, the Miller brewing company began growing their own hops ensuring a fresh consistency. Always keeping their hard working customers in mind, a 4.6% ABV makes each pint as thirst-quenching as the last.
Gluten Free: Glutenberg Blonde
Who knew that the original brewery to successfully accomplish the unthinkable, was a small microbrewery based out of Montreal, Quebec, Canada. Those who suffer from gluten intolerances can now enjoy a nice cold brewski after a long hard day of work, or while sunbathing on the beach. Celebrating the ten year mark of Glutenberg broke barriers, making the world of beer more inclusive. The initial success was a gluten-free ale made from millet simply called Blonde. Carrying notes of white pepper, pear, and fennel, on the nose, it is easy to taste the glutinous difference when the golden ale reaches the lips. The flavors exude white pepper, green tea and lemon peel. This beer is certified one hundred percent gluten free. 
The simplest answer is that IPA, or India Pale Ale, is a hop heavy type of beer that any brewery - big or small - can make. Craft beer, also called a microbrew, is small batches of beer created by independently owned breweries. So technically, a craft beer can be an IPA, but an IPA is not always a craft beer.
Farting when drinking beer is just a rite of passage, gluten-free or not. If you want to avoid passing gas as much as possible, always pour your beer into a glass pint. That way, you break up the carbonation before the CO2 is released into your stomach giving your body the false impression that you are full.
Supporting local businesses strengthens your local economy, bringing the community closer together. Reviving old industrial areas, and breathing new life in old buildings, local breweries often support local farms, considering ethical consumption and greenhouse emissions. An added bonus is that small breweries have the freedom to experiment with new variations on already existing recipes.