Brewing a delicious cup of joe at home has never been easier, all it takes is your favorite coffee beans and the right grind to match your ideal brewing method.  With the proper equipment, anyone can make a delicious cup of coffee, but it all starts with a quality grinder. Coffee is only considered fresh for up to 30 minutes after its ground, meaning pre-packaged ground coffee will often be stale and lack flavor. However, whole beans remain fresh for a minimum of two weeks after roasting which is why it's better to grind your coffee right before you brew it.
Another huge factor to consider when brewing the best cup of coffee is ground size. Yes, this is one of the few situations where size does matter! To brew a consistently delicious cup of coffee, it does not matter if you have the top of the line coffee maker or beans sourced from the best farms in the world – it's all about finding the right grind. As coffee culture expands, grinders have become more accessible for any household kitchen. Here is a list of our favorites:
Oxo Brew Conical Burr Grinder
Oxo products have grown into a home staple with their simple, easy to use designs. Thankfully, the Brew Conical Burr Grinder follows that model — its sleek, can compliant any kitchen counter, and (most importantly) it's easy to clean. The hopper holds one pound of beans, is UV protected (for optimal freshness), and has a mechanism that won't let the machine start unless it is locked in place. 
This grinder also has a single button design that allows you to choose from 15 ground sizes settings and there is even a strength adjuster — ensuring consistency while grinding the beans. However, the real stand out feature is the built-in scale. As a default, it is set to weigh out grounds based on the number of cups being brewed, which is clutch for beginners. For expert baristas, the scale can be toggled to either measure out grounds by the gram, or it can be canceled out completely. The options on this versatile machine are intuitive, the grind size is consistent, and the price is on par for what is being offered.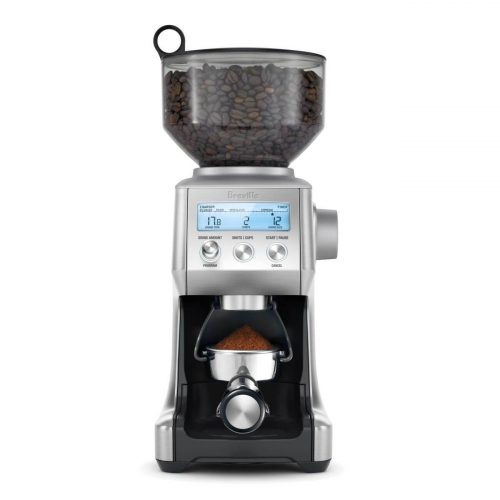 Breville Smart Grinder Pro
The Smart Grinder™ Pro is like a love letter to any coffee connoisseur — this beautiful stainless-steel model is one of the most efficient, powerful, and smart conical burr grinders on the market. The large hopper holds 18 ounces of coffee beans and is easy to remove for cleaning. While admiring its beauty you'll notice it has an LCD panel displaying ground setting, grind time, and the number of cups (or espresso 'shots') selected.
The technology on this home coffee grinder may seem overwhelming in theory, but in reality, it's a great tool to find your favorite way to make coffee from pour-over to percolator. With 60 grind settings to choose from, the Smart Grinder™Pro adds potential to any brew – including its Dosing IQ, which digitally measures grounds by 0.2-second increments, instead of by weight. Meaning, the beans can be ground directly into anything, such as portafilter for your espresso machine – giving you complete control over your coffee brewing process. This model is a beast, and there is no surprise it has been voted top in its class.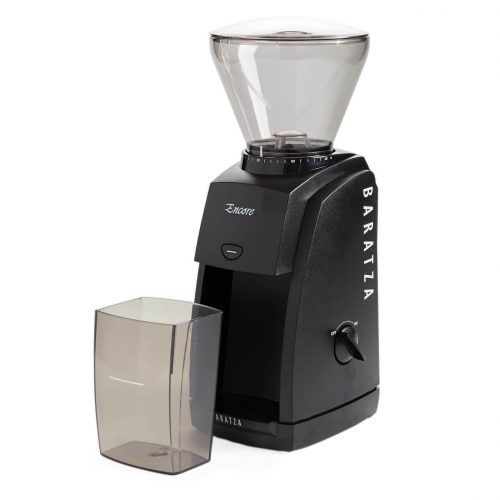 Baratza Encore Conical Burr Coffee Grinder
If you are in the market for an affordable and simple burr grinder — the Encore Conical Burr Grinder is the one you are looking for. US-based Baratza manufactures grinders for both professional coffee shops and homebrewers. Beginners will appreciate the classic aesthetic, even though it is made of high-quality plastic — the bean hopper holds 8oz of coffee beans, and the grinds bin has a capacity of 5oz.
This grinder has over 40 different grind settings to accommodate most brew methods and is pretty simple to operate, unless you are grinding beans for espresso. What we like most about Baratza is the unbelievable customer service, each appliance is built to last, or at least be repaired. Additionally, its kind team is always present and ready to support you and your machine. While Baratza products tend to be more expensive than the average beginner grinder, they will last for years to come.
Porlex Mini Stainless Steel Coffee Grinder
 In the hand grinder category, Porlex is doing everything right! Perfect for travel, the Mini Stainless Steel Coffee Grinder is lightweight, and ideal for coffee fanatics to pack in their suitcase. It holds about 20oz of grounds, perfect for brewing one to two cups of java at a time – and the grind consistency is unbelievable!  The spring-loaded burrs ensure the ceramic grinding mechanism rotates smoothly, making it comfortable to hold in your hand, and the newly patented connector is designed for a solid non-slip grip.
Additionally, the Porlex Mini is faster than most hand grinders on the market, and the dial to switch up the coarseness is simple to operate. Maintenance on the Mini is easy, removing leftover coffee grounds requires nothing more than a soft brush. All in all, this mini stainless steel grinder is a dream for those who enjoy multiple brew methods.
Bodum Bistro Electric Coffee Grinder
For over 70 years Bodum has had a reputation of creating aesthetically pleasing, quality kitchen products, including their famous french press. Enter the Bistro Electric Coffee grinder, a compact design that's ideal for smaller kitchens — it even has convenient cord storage in the base.
The Bistro is straight forward, with one (easy to push) button. This grinder can accommodate up to 60oz of coffee beans, and the button can either pulsate or be held down consistently to spin the blades for up to 60 seconds. Lastly, this entry-level grinder will last a long time if properly taken care of – its recommended to brush out the excess grounds after each use.  
Krups GX5000 Professional Electric Coffee
Designed with coffee lovers in mind, the Krups Professional Electric Grinder promises consistency in every grind. The machine's look will complement any kitchen counter, the easy to use knob allows you to choose between 9 different grind settings, with 5 intermediary steps each — for a consistent and reliable grind each use. There are a whopping 45 different brewing options for any possible brew method, and the cup selector paired with the auto-stop feature will safely grind the proper amount of coffee beans (for 2-12 cups).  Minimal maintenance required, and the top burr is easily removable for cleaning, similar to most grinders.
This modern design is made of high-quality black plastic and stainless steel — and houses a 7oz coffee bean hopper. It also includes a 15oz anti-static container (with lid) for grounds to be stored for optimal freshness.
Handground Precision Manual Coffee Grinder
Handground is a community of coffee enthusiasts from around the world who have come together to create the perfect bean grinding machine. The goal was to create a design by crowdsourcing all the desired features of the everyday grinder and crowdfund the final product. The simplistically well-designed grind dial was inspired by a camera lens — by twisting the dotted ring, the 38mm conical ceramic burrs will adjust higher or lower, offering access to 20 different settings.
It's no surprise this project received funding well over its campaigning goal! Other features worth mentioning include the side-mounted handle, promoting a comfortable ergonomic grip — the wide base for stability – and the borosilicate glass catcher (which prevents static and sticky grounds).
Eparé Manual Coffee Grinder
Eparé's goal seems to be for everyone to enjoy their kitchen while showing off cool gadgets, and the Manual Grinder is a quality product for just that. The wide bean hopper holds 60g of your favorite coffee, and the intuitive grinding dial has 15 precise grind settings — while the bottom of the glass grind catcher has a gripping pad for slippery countertops. The gears rotate so smoothly that the grinding beans feels effortless!
Prepping to make a delicious cup of joe using your go-to brew method has never been easier. This conical burr grinder takes up little to no kitchen space and the price is on point for the actual product.
There are two different burr grinders, conical or flat plate. Conical Burr Grinders have two round shaped abrasive surfaces with ridges that grind the coffee. Flat Plate Burr Grinders have two identical and parallel rings that are serrated on the side and face each other. Both types give the brewer more control in creating consistently sized grinds.
Maintaining coffee grinders is not difficult but leftover grinds should be brushed off after each use, and a deep clean should be completed every 3 to 6 months. Most coffee home brewing grinders come with easy to follow cleaning instructions.
Affordable watches can last for years with proper care, some even come with a 5-year warranty to ensure longevity.  Regular battery changes and strap changes (if they are made of leather or another non-stainless-steel material) can also help to extend your watch's life.