Best Men's Deodorant For A+ Underarm Protection
Worried about body odor or excessive sweat? Don't fret! We're here to help you find the best men's deodorant and ease your mind.
First, you'll want to take into account your lifestyle and perspiration level. Are you super active or do you sweat a lot? If you answered, "yes" – you probably need an antiperspirant. Now you might be wondering: what's the difference between deodorant and antiperspirant? Antiperspirants block sweat glands, reducing their ability to produced sweat. Deodorants, on the other hand, mask odor and keep you smelling fresh. So, if odor is your primary concern a deodorant should suffice.
Now that you have an understanding of the basics, we'll guide you through some of the most popular options on the market – providing you with all the information you need to select the best option for your armpits.
8 Best Men's Deodorant & Antiperspirant in 2022
Baxter of California Deodorant
This deodorant by Baxter of California is aluminum-free, alcohol-free, and designed for those with sensitive armpits. The special clear gel is formulated to fight odor with natural ingredients like tea tree and witch hazel. It also dries super quick, so you don't have to worry about it ending up all over your clothes.
The best part? The citrus and herbal musk scent! In addition to preventing odor and wetness, it smells amazing, which is one of the many reasons it makes our list. Whether you have sensitive skin or are just looking for a natural alternative, we recommend this award-winning deodorant.
Kiehl's Body Fuel Antiperspirant + Deodorant
Kiehl's started out as an apothecary and evolved into its own brand making products people love and trust, including our pick the best men's antiperspirant. This roll-on is formulated to combat odor and excessive sweating. It's even powerful enough to last up to 48 hours.
Perfect for the gym or a long flight, this quick-dry deodorant will keep you feeling fresh. It's made with ingredients like caffeine, vitamin C, and zinc, which are all known to have an energizing effect. If you enjoy the fresh scent of Body Fuel Antiperspirant & Deodorant, we recommend trying the matching Kiehl's Body Fuel body wash.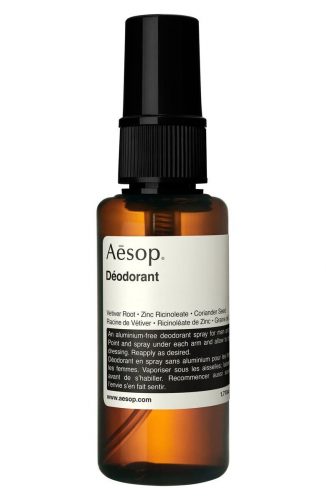 This fancy option from Australian brand Aesop comes in the form of an evaporative mist. The luxury brand formulated this aluminum-free deodorant to reduce underarm odor. While the spray is not an antiperspirant, meaning it does not prevent sweat, it does do a good job of masking unpleasant scents. Simply spritz a little under each armpit and allow it to dry. You may need to reapply throughout the day depending on how active (or sweaty) you are.
While Aesop is probably more expensive than any of the other deodorants on our list, as the saying goes, you get what you pay for. We love the earthy smell and the fact that it's made with quality ingredients, including essential oils like tea tree, thyme, and lavender. Love this deodorant? Be sure to try Aesop's Coriander Seed body wash as well!
Old Spice Original High Endurance Deodorant
It would be impossible to compile a list of the best deodorants and antiperspirants without mentioning Old Spice — this iconic hygiene brand is popular with men, young and old. If you are looking for a nostalgic scent, you will probably find it in this "Original" deodorant stick. The High Endurance formula still smells like citrus and clove, and its odor protection lasts for around 24 hours, depending on your level of activity.
While there are certainly higher-quality deodorants on the market, we love that Old Spice is cheap, effective, and you can find it just about everywhere.
Speed Stick Power Fresh Antiperspirant + Deodorant
Another old school pick, this classic deodorant rivals Old Spice in price and availability but comes in a variety of strengths and scents. The Speed Stick Power is one popular variation. It offers 24-hour protection from odor and sweat, and it comes in the form of a roll-on antiperspirant or clear gel, if that's your preference.
We love the sporty, masculine smell of "Power Fresh," but it's also available unscented if you're sensitive to scents. Please note: the active ingredient is aluminum chloride, so if you prefer your deodorant to be aluminum-free, you'll want to skip this stick.
Nubian Heritage Deodorant
Nubian Heritage is our pick for the best men's deodorant for sensitive skin. The brand uses a variety of natural ingredients, omitting anything it thinks might be a skin irritant. (That means it's aluminum-free and doesn't even use baking soda.) It offers odor protection for up to 24 hours and is formulated with organic shea butter, corn starch, and sandalwood to keep you smelling fresh.
While we love this product for its natural, odor-masking properties, keep in mind that it's a deodorant, not an antiperspirant. So if sweat is your primary concern, this might not be the right fit.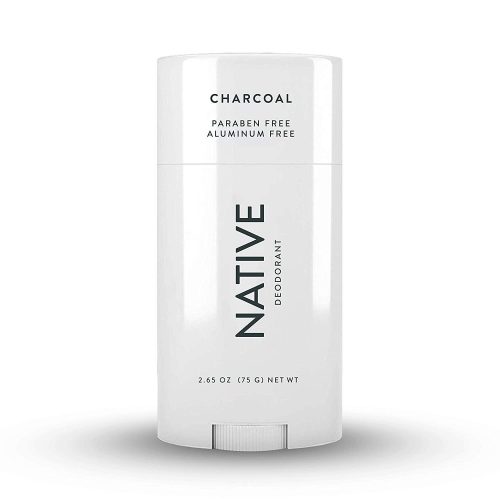 Native gets our vote for best men's deodorant in the natural category for a number of reasons, the first being the brands' "no compromises" pledge. This natural deodorant company is committed to only using ingredients it deems safe – meaning no aluminum, parabens, or sulfates of any kind. You might be wondering: so, how is this roll-on effective? Native uses natural active ingredients like baking soda and magnesium hydroxide as odor neutralizers. It's also formulated with coconut oil, shea butter, and probiotic – each serving a special purpose.
This deodorant is available in six classic scents including eucalyptus, citrus, charcoal, and unscented. The company also offers free shipping directly to your door, and you can return the product if you're not satisfied. It's a great way to try a natural alternative with no risk. 
Certain Dri Antiperspirant
Looking for the best men's antiperspirant that offers prescription-grade protection? Look no further than Certain Dri. This clinical formula is available over the counter and is extremely effective when it comes to stopping excessive sweat.  
This powerful roll-on antiperspirant lasts for a whopping 72 hours, so you can go about your day (or days) without worrying about pit stains. It's made with 12% aluminum chloride, which is the active ingredient that helps combat sweat, and Certain Dri recommends applying it at night (right before bed) for the best results. We love this prescription-strength pick because it's affordable, accessible, and it works!
Antiperspirants (or "anti-perspirant") are often made with active ingredients like aluminum chloride, which block sweat glands and reduce your ability to perspire. Deodorants, on the other hand, reduce odor -- often through the use of antibacterial ingredients and scents that mask unpleasant smells.
It depends on the deodorant you use, your activity level, and how much you sweat. Today, many deodorants last 24 – 48 hours, so you don't actually need to reapply as often as you would think. However, if you are especially active (or smelly) you may want to apply it more frequently.
In short, yes. This is because natural deodorants don't contain the same active ingredients (or chemical scents) that traditional deodorants have, which might be the cause of irritation. Some natural alternatives also include ingredients that are soothing (like aloe) and typically offer fragrance-free options.