Best Razor For Barbershop Quality Shaves At Home
While many men have been letting their pandemic beards grow to hermit-like proportions, a nice and tidy shave will not only make your partner breathe a sigh of relief, but will also ensure you look sharp for your next round of endless Zoom calls.
That said, the razor industry has exploded in recent years, and there have never been so many options for those seeking the best razor for men. From cheap disposable razors to the timeless straight razor, there is a razor out there for every budget and preferred shaving style.
But before you start shopping, it's important to narrow down the type of razor you're looking for. While multi-blade razors have become commonplace, they can also cause skin irritation and nicking for those with sensitive skin. A straight razor provides an incredibly close shave, but there can be a steep learning curve, and one false move can leave you with a bloody mess.
Below we've highlighted ten of the best razors for men, incorporating a variety of styles for every budget, that will keep you looking fresh and clean in the months ahead.
Cartridge razors are so ubiquitous because they're cheap and convenient. Simply discard the blade once it has run its course, pop a new one onto the handle, and you're good to go. While there are dozens of varieties of cartridge razors lining the shelves at every pharmacy, below are our favorites.
The workhorse three-blade razor, the Gillette Mach 3 system is one of the most popular razors on the market, and for good reason. The Mach 3 provides a nice balance between the cutting style of a safety razor with the ease-of-use of a disposable razor. Made up of three blades along with skin guards and a lubrication strip to avoid irritation, the Mach 3 consistently delivers a great close shave, and is one of the best razors for men. The Mach 3 blades are so strong that Gillette promises each blade is good for "15 comfortable shaves," a remarkable amount compared to most cheap disposable razors that often conk out after one use.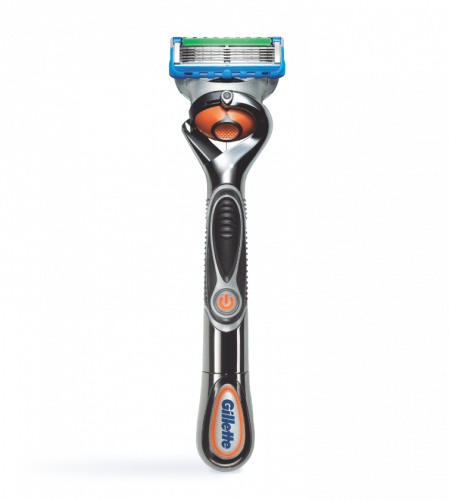 Think of the Gillette ProGlide Power as a souped-up version of the Mach 3. The ProGlide Power features five anti-friction blades to help prevent skin irritation, a flexible neck to ensure a smooth all-around shave, a precision trimmer on the back to create nice clean lines, and a battery-powered vibration feature to give your shave an extra boost. Gillette has even included a microchip feature that claims to regulate the battery power so you get the same voltage for each use, eliminating any fears of a potentially disastrous power surge suddenly kicking in mid-shave. Clocking in at $13 with one blade refill, the ProGlide Power is on the pricier end for cartridge razors, but the thousands of nearly unanimously positive reviews online make it clear that this is one of the best men's razors out there.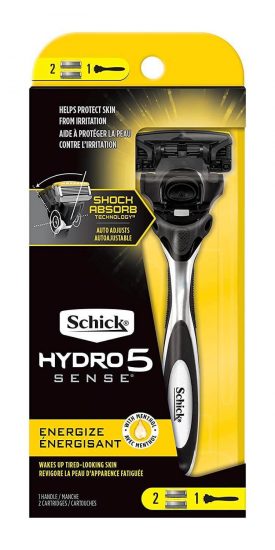 If you have sensitive skin, the Schick Hydro 5 Sense might be your next favorite razor. This model comes with five "ultra-glide" blades, which are meant to ease the friction between the blades and your face as you shave, thereby reducing skin irritation. The sharp blades also reduce the need to pass over the same area multiple times, which often causes irritation and needless nicks and cuts. The Schick Hydro 5 Sense includes a unique lubrication system, which the company calls a "Hydrating Gel Reservoir," meant to deliver 40% less friction than a traditional lube strip found on most cartridge razors. Available for as low as $10 with two blade refills, saving your skin has never been such a bargain.
Bulldog Men's Original Bamboo Razor
With its natural bamboo handle, this Bulldog razor is a refreshing change of pace from all the plastic disposable razors likely cluttering up your bathroom cabinets. In addition to its eco-friendly design (all of the packaging is recyclable as well), Bulldog doesn't skimp on the features with this model. The bamboo razor comes equipped with five tempered steel blades, a moisturizing aloe strip, a precision trimmer, and a durable brushed metal head. Often available for under $10 with two replacement blades, this is a cost-efficient way to get a great shave while also brightening up your bathroom with Bulldog's eye-catching bamboo design.
A safety razor is a nice median between cartridge razors and traditional straight razors. The "safety" aspect refers to a protective enclosure around the razor blade meant to reduce accidents. A safety razor offers the convenience of a cartridge razor, without the steep learning curve required to use a straight razor.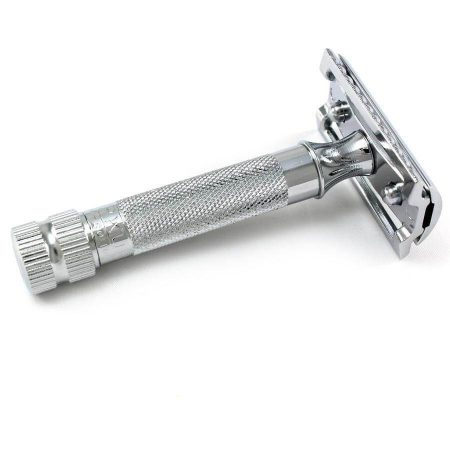 This German-made heavy duty safety razor is a great entry into the world of safety razors for wet shaving. Made from Solingen steel, the Merkur razor offers a super close shave without the irritation that many multi-blade razors provide. Simply pop in any inexpensive double-edge razor blade into the slot and you're good to go. The 34C model has a weighted head that contributes to a closer and more comfortable shave by pulling the blade down close towards your face. Available in a striking stainless steel handle, this is a perfect starter model for those dipping their feet into the world of safety razors. If you're looking for a dependable, no-nonsense, high-performance razor, this might be the one for you. It certainly makes the cut as one of the best safety razors for men on the market today.
Parker 96R Butterfly Safety Razor
This Parker model offers all of the benefits of a safety razor, but includes a "butterfly" one-piece head that makes swapping the blades in and out incredibly easy. The head mechanism opens up (like a butterfly's wings) allowing for a quick replacement that takes much less time than the cumbersome screw tops included with most safety razors. In addition to the head design, the Parker 96R weighs in at a relatively hefty 4 ounces, which allows you to get a close shave without having to apply excess pressure. With its five included blades, this is another great option for anyone looking for a dependable and inexpensive safety razor.
Best Traditional Straight Razor
Any barber will tell you that nothing beats shaving with a straight razor, but it requires a great deal of practice to be able to safely sweep a razor-sharp blade across your throat. Once you master the technique, here is one of our favorite models.
Feather SS Japanese Straight Razor
For the absolute closest shave, it's hard to beat a traditional straight razor. You'll need to be extremely careful (especially at first, until you get the hang of it), but your results with the Feather SS Japanese straight razor will be worth the effort. This model uses replaceable blades, which provide the super-close shave you want from a straight razor, while eliminating the rigorous after-shave care most straight razors require. The blade head features a spring-mounted, one-touch opening mechanism, which makes cleaning and replacing the blades a cinch. With a silicone resin handle that can withstand heat up to 135 degrees (if your bathroom is hotter than that, something has gone very wrong), the Feather SS Japanese straight razor is simply one of the best razors for men on the market.
Let's face it, in many ways razor blades haven't changed dramatically in the past 100 years, but an electric heated razor is truly a giant leap forward in shaving technology.
Gillette Labs Heated Razor
If you want a high-tech version of the classic hot-towel shave from your favourite barber, seek out this heated razor from Gillette, which was recognized as one of Time Magazine's Best Inventions of 2019. The unit comes complete with a charging doc and stand, a flexible swivel head, and an adjustable heating control right on the handle. The heating from the razor not only feels a relaxing spa treatment but also opens up your pores, allowing for a smooth shave that should reduce irritation and painful nicks. With its $200 price tag, this is by far the most expensive option on our list, but this might just be a game-changer for those with sensitive skin.
Best Shaving Subscriptions
While many men still pick up razors at the pharmacy, razor subscription services have really taken off in recent years, offering the handy ability to receive monthly blade replacements right in your mailbox. Here's a look at two of the most popular and well-reviewed razor blade subscription services offered today.
Featuring the company's German-engineered blades, the Harry's razor delivers a dependable and steady shave that won't break the bank. The company's blades can be had for less than $2 apiece using the company's popular subscription service, which ensures you'll never run out of blades when you need them the most. Each razor head is made up of five blades, along with a lubrication strip and a precision trimmer for sideburns and detailing. You can pick from two stylish weighted handles, each of which allow for a deeper and more controlled cut as opposed to many of the flimsy lightweight disposable razors on the market.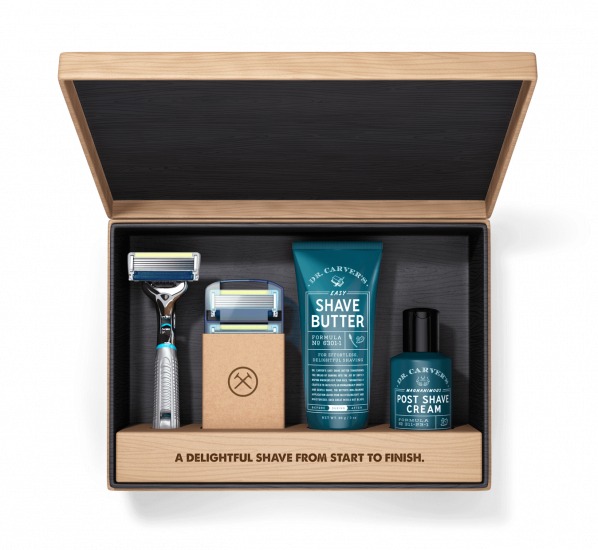 If you're looking for a no-frills basic razor that won't break the bank, the Dollar Shave Club razor subscription service is a great bet. The blades are available in two models: The All-Terrain ($8 a month for four blades) features four blades and is designed for longer and thicker hair, while the company's six-blade Extra-Close model ($10 a month for four blades) is suited for shorter hair and daily showering clean-up. Pair the blades with any one of Dollar Shave Club's four stylish metal handles (complete with rubber grip) and you have yourself a solid affordable shaving option.
Wet shaving and dry shaving each have their benefits. Wet shaving is the process of shaving with a razor blade with the addition of shaving cream or gel. Shaving cream allows the razor to move across your face with less friction, and provides extra protection. When wet shaving, the razor picks up the hair before the blade (or one of the numerous blades) cuts it. Dry shaving is done with an electric razor and does not require adding water or shaving cream to your face. An electric razor presses down on your face, allowing the hair to be exposed and then cut by the razor. Try each method to see what works best for you.
Ingrown hairs (a.k.a. razor bumps) are a painful and unsightly by-product of shaving, but there are a few tricks you can employ to stop them from ruining your clean-shaven face. Be sure to wet your face with warm water (if you're doing a wet shave) before you begin shaving. While shaving, pull the skin tight and try to use as few strokes as possible – you want to avoid going over the same areas repeatedly. Rinse your razor after each stroke, and continue shaving in the direction the hair is growing (this may take some practice, but it's worth the effort). Finally, place a cool cloth against your face after your shave to close your pores back up. Check out our full guide to prevent ingrown hairs here.
This really depends on the type of razor (and blade) you are using. Gillette claims that their popular Mach 3 blades each last for a whopping fifteen shaves – many cartridge blades will become dull after a couple of uses. Determining when to replace cartridge blades will take some trial and error experimentation on your part. If you're using a safety razor, you should replace the blades after each use – on the plus side, replacement blades should only cost about 10 cents each.