Pot-ay-to, Pot-ah-to, We Say Best Vodka
Drinking vodka may bring back memories of foul-tasting shots at university parties, but there are plenty of high-quality, well-made vodka brands that are worth giving a try.
Vodka can be served neat or with ice and/or a mixer, but we suggest sticking to premium vodkas to avoid some of the less-desirable flavors that some brands have. If you invest in a premium vodka, like one from our selection below, you'd be doing yourself a disservice drinking it right out of the freezer. You want to be tasting the nuance of flavor in our picks for the best vodka in 2022, so keep these bad boys in your liquor cabinet instead.
If you do happen to have a bottle of lesser quality, storing it in the freezer is actually a good idea. Many people store vodka in the freezer, but not everyone knows why. Yes, the reason is to keep it cold, but keeping it at such low temperatures actually subdues the nuance of flavor in vodkas. If you have a lower-quality vodka, the freezer temps will hide some of the negative attributes in the vodka that you don't really want to be tasting anyway.
We've compiled a list of our favorite vodkas on the market to get you started, whether you want to sip it, mix it with club soda, or put it in a Caesar or Cosmo. (Not sure about "girlie drinks"? Click here for our piece on why you should stop gendering cocktails.)
Best Quality Vodka to Sip: Crystal Head
Crystal Head is not your average, run-of-the-mill vodka. It's most commonly known for its owner, one of your all-time favorite Canadian actors, Dan Ackroyd. The vodka is actually Canadian too, made at one of the last government-owned distilleries in the world — in St. John's, Newfoundland, an island located off the Canadian coast. You can't mistake the bottle in the store either. Probably one of the best vodka bottles, it's in the shape —  you guessed it —  of a crystal skull. The bottles actually contain bits of crystal melted into the glass too.
If you still don't think these guys love crystal enough, Crystal Head filters its vodka seven times, with three of these passes done through semi-precious crystals called Herkimer diamonds. We're guessing this might have something to do with the price of a bottle coming out at close to $100. Crystal Head claims that filtering with the Herkimer diamonds is the secret to making its vodka oh so smooth.
The distilling process, using the "pristine" water of Newfoundland, produces a clean vodka that has notes of citrus and a hint of vanilla. The finish is sweet and creamy, making it the best vodka for sipping rather than masking with mixers. We reviewed the original Crystal Head vodka, but the brand also offers a variety of other vodkas, including a Pride vodka in a rainbow-colored skull bottle and an Onyx vodka made in Mexico in a black crystal skull.
Canada; 40% ABV

Best for Vodka Soda: Grey Goose
Grey Goose has become one of the most popular vodkas since it came out in the 90s and can be found at most bars. This makes it easy, then, to order it in a simple mixed drink like a vodka soda. Made in France with soft winter wheat and spring water, Grey Goose's clean, smooth finish allows it to pair well with soda water. Just add a lime or lemon wedge (or lemon juice or lime juice) and you're set. It's an accessible vodka choice that may not be as unique as some of the others on our list, but it by no means offends anyone with a negative flavor. It's clean, straightforward, and a good option to have on-hand in your home bar. Bonus points for being gluten free.
Pretty much any brand of soda water at your liquor store will pair well with vodka. Schweppes and Canada Dry are probably the most common soda waters on the market, or if you want to get fancier and spend a little more, we recommend Fever Tree club soda or Q Tonic club soda.
France; 40% ABV
Best Botanicals: Ketel One Botanical
Flavored vodkas recently got an upgrade by adding botanicals made with real fruit essences and no artificial flavors or sweeteners. The best botanical vodka we've found is Ketel One's botanical line which comes in three options: Cucumber & Mint, Peach & Orange Blossom, and Grapefruit & Rose. This is also a lower ABV spirit (30%) and has 40% fewer calories than a glass of wine, appealing to the health-conscious. We recommend adding any of the Ketel One Botanical flavors to club soda or tonic water for a light, simple vodka drink, or you can get creative and add it to a cocktail.
Holland; 30% ABV
Best Polish Vodka: Chopin Potato
Spirit connoisseurs have always argued over whether Russian vodka or Polish vodka reigns supreme. If you're looking to try a Polish vodka, we are partial to Chopin Potato. Potato has long been one of the classic styles of vodka and provides a sweeter and earthier flavor than those made with grain spirits. Chopin Potato vodka has a creamy and full-bodied mouthfeel that really shows off the nuance of potato vodka.
Poland; 40% ABV
Best for Martinis: Belvedere
Whether you like your martinis dirty or with a twist of lemon, Belvedere vodka is a solid choice for every martini. It is known as one of the smoothest vodkas, which can make a martini go down extra easy. Belvedere prides itself for being "made with nature" with its Polska rye, purified water, and distillation process using fire. This vodka gives flavors of white pepper and spice on the palate along with a nutty, almond finish.
Poland; 40% ABV
Best Celeb Brand: King St. Vodka
There's no shortage of celebrity spirit lines out there, and some are better than others. Actress Kate Hudson got into the vodka game in 2019 with King St. Vodka, which is essentially the essence of the California-bred, blonde actress in a bottle. The non-GMO, gluten-free vodka is distilled seven times in small batches using alkaline water and is made in Santa Barbara, California. The bottle, adorned with pink and florals, certainly stands out on the shelf amongst other vodka options. According to Hudson, she wanted to create a vodka that represented quality and fun, and King St. does just that.
USA; 43% ABV
Best Splurge: Beluga Noble Gold
It's quite fitting that our best vodka to splurge on has the word "gold" in its name. Beluga Noble Gold is made with the purest artesian water in an environmentally pure, untouched corner of Siberia. It's made with extreme quality control and is both "calmed" and "rested," giving it a balanced structure and resulting in clean, pure vodka with hints of vanilla.
At nearly $150 per bottle, the Beluga Noble Gold's packaging just screams "expensive." It comes in a fancy leather box and includes a shot glass along with a mini hammer and brush to break the bottle's wax seal. As the name suggests, it is actually designed to be paired with caviar, making it the perfect splurge vodka for an extravagant night.
Russia; 40% ABV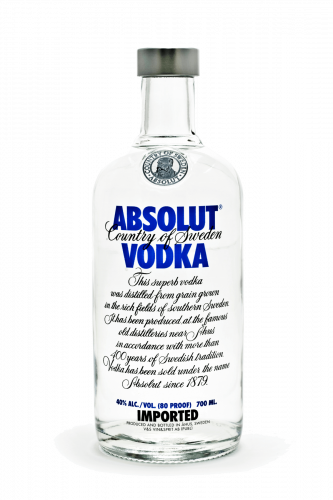 Absolut may be known for its advertising, but that doesn't mean it's not a good product. In fact, we think it's still the best classic vodka out there. Created in New York City in 1979, Absolut is a Swedish vodka distilled from winter wheat and bottled at 80 proof. Absolut is always a solid bet in cocktails, and its line of endless products, most notably its flavored varieties, provides something for everyone. One potential downside, though, is it's not gluten free.
Sweden; 40% ABV
Best for Bloody Marys: Square One Basil
In a Bloody Mary rut? To upgrade the traditional Bloody Mary, we recommend trying Square One Basil vodka for something different. It's infused with the essence of four basil varieties (Genovese, Thai, lemon, and sweet), giving it that extra depth of flavor. Ingredients also include coriander, honeysuckle, and lemongrass to soften the vodka. It's like a garden in your glass! Square One makes 100% organic vodkas for the eco-conscious.
USA; 40% ABV
Best for Caesars: Lucky Bastard Dill Pickle
Dill pickle vodka may not sound good to everyone, but if you're a pickle lover, we suggest this vodka from Lucky Bastard. The Lucky Bastard dill pickle vodka is naturally infused with real dill pickle flavor made from Elman's award-winning dill pickles in brine.
After tasting this vodka mixed with a few other things (unsurprisingly, not everything tasted good!), we found that the Lucky Bastard Dill Pickle is the best vodka for Caesars. This shouldn't really come as a surprise since pickles are already a stellar Caesar topping. The only problem is that they taste so good, the vodka will creep up on you after a couple of Caesars.
Canada; 40% ABV