Best Tracksuits For Men: Where Style and Comfort Collide
If the last couple of years have taught us anything, it's that comfort is king. Whether you've been working hard or hardly working, laptop warriors around the globe have traded their work pants for sweatpants, and they don't want to go back. But as the great sage Mick Jagger once said, you can't always get what you want.
As the pandemic slowly begins to fade from our memories and we collectively face the reality of dressing for strangers again, a quintessential man is faced with a choice.  Should he bite the bullet and break out a pair of pants designed to be worn with (shudder) a belt? Or is there some middle ground between fashion and relaxin'?
It turns out that yes, there is indeed a magical in-between area in which a man can satisfy both his inner fashionisto and his deep-seated need for an elastic waistband. It's called leisurewear.
If you're ready to visit the land of the brave and the home of the tracksuit, read on for our QMan review of the best tracksuits for men in 2022.
The Best Tracksuits for Men in 2022
If you're like me, the most recent reference you thought of when you read the word "tracksuit" was Colin Farrell's character, Coach, from Guy Ritchie's recent movie The Gentlemen. But while this blue cotton checkered masterpiece looked great on Colin, you could be forgiven for wondering if you could really pull off something like this in real life. After all, most people don't live in a British gangster film.
Fear not! There are actually quite a number of great options to choose from in the world of tracksuits, and you don't even need to be a famous actor, athlete, or gangster to do it.
Best Overall Classic: Adidas Black 3-Stripes Tracksuit
If you're going to start somewhere, it may as well be with the iconic black Adidas tracksuit perhaps made most famous by hip hop trio Run DMC. Made of a Cotton / Polyester blend, this sporty little zip-up features a nice balance between loose and snug, and has the ribbed cuffs to keep everything in place.
This legendary sportswear combo has been rocked in a number of different colors by all the greats, both real and fictional, including the likes of Henry Hill, Chas Tennenbaum, and Floyd Mayweather, just to name a few.
You can cop the Adidas 3-Stripes Tricot Jacket for $50 and the matching pants for $65. It can be a very affordable addition to your closet, and is a fashion classic that's now entering its fifth decade in widespread use, so you know it won't go out of style
Best for Lounging: Needles Purple Velour Tracksuit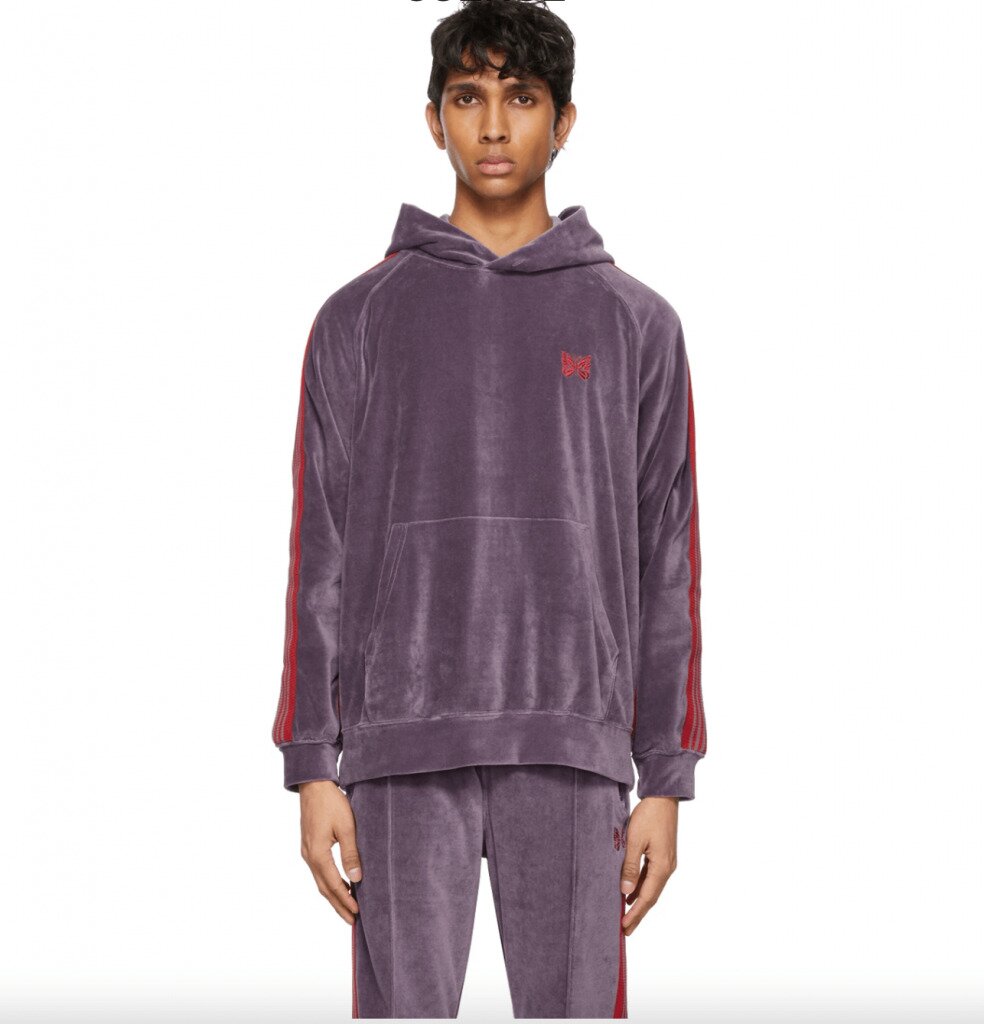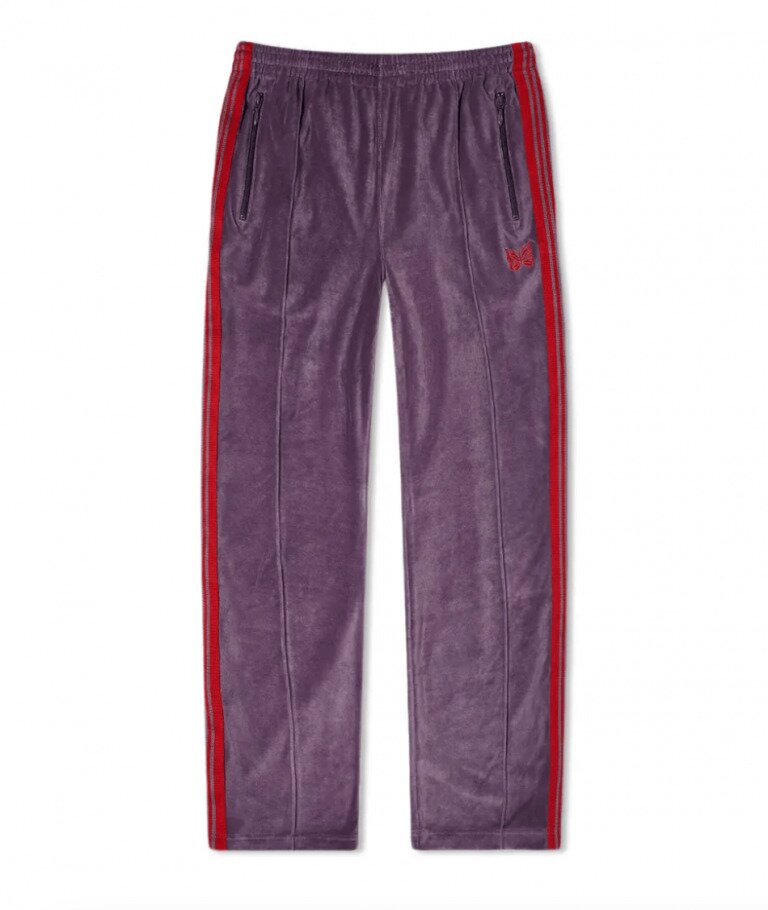 Next up is a fashionable fabric that was actually mostly used as furniture upholstery until the 1960s, a point at which it emerged almost as a rebellion against the stiffer, tailored clothing of the era. Velour was also an essential piece for celebrities at the turn of the millennium, and could be about to make a comeback.
The word "velour" is actually the French word for velvet, which is a super-soft and comfortable silk woven fabric that traces its luxurious origins as far back as 2000 B.C. In the age of mass manufacturing, velour (authentic velvet's more affordable cousin) is actually made of a mix of cotton and synthetics, and the silky smooth texture everybody knows and loves is called "pile," itself the result of cutting across looped threads after a special weaving process.
This could be just the ticket for a man in need of one of the softest and best tracksuits this year. Try out a piece from Needles, a Japanese sportswear outfit, which sells for $335. Their long sleeve purple velour track hoodie and pant set is a cotton/poly blend with red stripes, elasticized cuffs and a handy kangaroo pocket in the front. It's a little more expensive, but as they say, you get what you pay for.
Most Versatile: Lacoste Sport Colorblock Lightweight Tracksuit
Moving from the velvety past straight into a more modern present, you'll find a fantastic option in this Lacoste SPORT Colorblock tracksuit. The combination of navy blue, yellow and white on the pullover top looks really stylish, and because it's made from the lightweight taffeta fabric, this $250 beauty also provides some great freedom of movement.
The solid navy bottoms have contrasting yellow piping down the sides, and feature an elasticized waist and ankles. The classic green crocodile logo appears on the jacket's chest, and a large croc design on the back leaves no doubt that you're rocking this iconic luxury brand.
Biggest Statement: G-Style USA Stripe Tiger Tracksuit
Moving beyond classic, velvet and high-end fashion, we come to the much more affordable but still amazing G-Style USA Stripe Tiger Tracksuit. For less than $50 you can have your very own tiger print sports tracksuit. Who doesn't need that in their lives?
It's great for a busy day on the town or more casual occasions – just be prepared to stand out. Are you ready for some compliments? This zip-up dandy features two pockets in the jacket and three in the pants, is machine washable, and has accent bands on the waist, collar, arm and leg cuffs. Super comfortable and breathable, it's a design that is sure to catch the eye.
Best 90's Classic: Fred Perry Taped Track Jacket
There's nothing we don't love about this Fred Perry Taped Track Jacket. This item from Fred Perry is pure 90s, and comes in eight different bold colors. And because it's only the jacket, it provides an opportunity to break out of the matchy-match vibe in the tracksuits we've featured above. (But if you DO want the full look, we recommend their Loop-Back Sweatpants!)
Sometimes a man needs to mix and match colors and even brand names, so depending on what color you choose on top, pairing it with something that contrasts down below can add a great deal of texture and visual interest to your style.
Sportiest Option: Nike Throwback Jacket + SB Skate Track Pants
The Nike Throwback Jacket is much more sporty than our other options on the list, and evokes the spirit of the early 1990s with panache. A pastiche of designs and colors inspired by 90's hip hop, this fireberry, white and black mashup is made from lightweight Polyester. 
With contrast piping that creates a distinct and eye-catching look, this jacket is a lightweight and durable piece of clothing that is ideal for a jog, tennis on a breezy day, or winning the Olympic gold medal for basketball. Complete with mesh lining and sweat-wicking fabrics, you'll stay cool, comfortable and dry in this relaxed-fit nylon piece, all for around $100.
For an amazing pair of Nike pants to go with, check out the classic and affordable Nike SB Skate Track Pants in black.
The Gentlemen Look: Lonsdale Gentlemen Tracksuit
Thought we were gonna leave you hanging by not telling you how to get that perfect Gentlemen style?  (Not to be confused with Perfect Gentlemen style, which is totally different, but also awesome.) 
The eye-catching checked Gentlemen Tracksuit is brought to you by beloved English boxing/sports equipment company Lonsdale. This sharp set comes in four different colorways — beige, navy, green, and sky — with Lonsdale lion logo on chest and thigh.
As with any great tracksuit, if you're not feeling the uniform look, just rock the pants and jacket separately. They would look fantastic and a bit more subtle with a solid-color sweater or jeans, respectively.
Best Luxury Option: Gucci Jersey Zip Jacket & Jogging Pant
Although in some quarters the tracksuit is associated with the working class, a generation of wealthy consumers also have a taste for this garment choice.
The phrase "man of leisure" denotes a man of independent means after all, so a Gucci Jersey Zip Jacket with Web could be the perfect choice for a dilettante free of duties and responsibilities – as long as he has an extra $2,100 burning a hole in his pocket.
Part of the Ouverture Collection, this Italian-made jacket has a Web detail on the sleeves, a high neck, ivory contrast details, and evokes an expensive but retro feel. This beautiful piece would look great with almost any pants, but if you really want to turn heads, check out the matching Gucci jogging pant!
Best Streetwear Option: Palm Angels Yellow Track Star
This yellow tracksuit from Palm Angels is truly a sight to behold. Perhaps our favorite of the bunch, this is one of the best tracksuits for men we could find, and is guaranteed to turn heads.
The Yellow Track Jacket has zippered pockets, ribbed knit cuffs, green stripes on the sleeves and the Palm Angels logo printed on the chest. Palm Angels' Yellow Track Pants complete the outfit, with the pair selling for around $430 and $355 apiece.
While they're a little on the expensive side, they certainly do help the wearer make an entrance. Could you strut into work wearing this and casually take a seat at the conference table for a big meeting with clients? Perhaps not – unless you own your own business.
Regardless, if you're going to take this summer by storm, why not start out with a bright yellow that makes you look and feel like a million bucks?