The Best Knife Set For Chef-Quality Cuts
If you're cooking a meal at home, chances are you're going to use a knife to cut at least one thing. It's surprising, then, that for a kitchen tool used so frequently, many haven't invested in buying a kitchen knife set. 
The better-quality knife you use, the easier it will be to cut ingredients, which affects both the time you put into cooking and the quality of your food. Plus, there are a number of different types of knives for specific functions that make your life easier when used correctly.
Unsure of which knife set is best for you? Here are some things to consider:
Individual knives vs. a knife set
Block vs. no block
Sharpener included?
Country of origin preference
Budget
If you have a few high-quality knives already, there might not be a need to buy a full set. More isn't necessarily better. Also, many sets come with steak knives, but if you already have those, you can bypass those sets and focus just on what you need. How much space do you have for storage? Knife blocks are convenient but take up more counter space. Do you have a way to sharpen or hone your knives? If not, you may want to purchase a set that includes these extra tools.
Both Japan and Germany have been renowned for their knife-making for hundreds or years. Do you have a preference?  The difference between German and Japanese knives comes down to the steel hardness and the edge angle. A Japanese blade is generally slim and lightweight. It's ideal for precise work and the steel is harder, which means you can get a very sharp edge that can go longer between sharpenings. However, the delicacy of the blade and the hardness of the steel make it more prone to chipping and cracking. Japanese kitchen knives are precision cutting tools, designed to slice first and foremost, but not great for heavy-duty work. German knives, on the other hand, are curved and have more weight, making them excellent for the rocking style of chopping.
Overall, when shopping for the best knife set you'll want to look for knives that are durable, comfortable to hold, and do not rust or corrode. Whether you're a knife novice or master, we have compiled the best kitchen knife sets for your needs.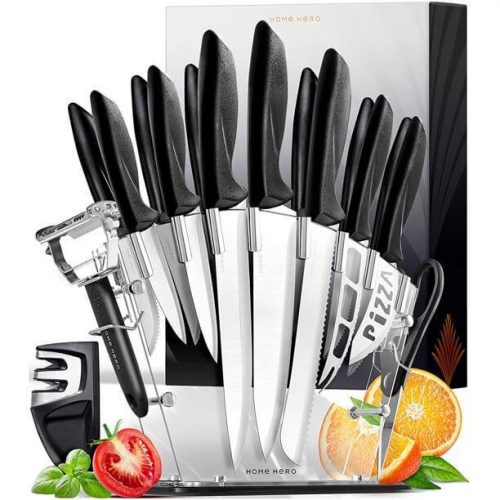 Home Hero 17-Piece Knife Set
The Home Hero Stainless Steel Knife Set is a steal for the price (just around $50). The 17-piece set boasts thirteen professional knives including a chef, utility, paring, carving and bread knife. There's even one designated just for pizza and one for cheese, which made me question if Home Hero has been spying on me while I eat. Many people just use the same knife for everything, but when you have the specific knives for each function, cutting and chopping become more precise.
The set is rounded out with six steak knives, kitchen scissors, a peeler and a knife sharpener, so you never have to worry about dull knives. The stainless steel is coated so it's non-stick and is touted as rust-free. The clear plastic stand displays the knives in a fanned out fashion, so we imagine this "modern" look might not be for everyone. It's certainly different from the typical wooden knife blocks that are the norm. Overall, this is the best knife set for those on a budget who want a solid set of knives for their money, but aren't necessarily looking for something that will last a lifetime.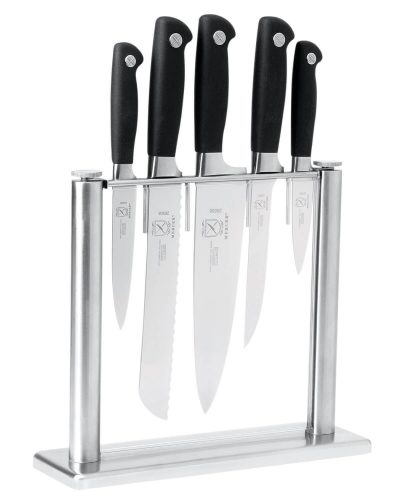 Mercer Culinary Genesis 6-Piece Forged Knife Block Set
Mercer is a supplier to many cooking academies, so you know they're legit. This kitchen knife set comes with five German-style knives — paring, utility, chef's, bread, and boning. The knives feature fully forged, single-piece blades made from high-carbon, no-stain German steel. This high-quality steel prevents rust and corrosion, as well as stains. These are full tang knives, with the back portion of the blade component running the entire length of the handle. The clear knife block is made from tempered glass and the knives are displayed similarly as they would be on a magnetic strip, but without exposed blades. The screws on the block can easily be removed, making it easier to clean;  just don't put wet knives in or it will cloud the glass. This is a more modern take on the knife block so it isn't for someone looking for the traditional wooden block. This set comes with a one-year warranty, which is better than nothing, but you're out of luck if you have issues after the first year. Two other things to consider: the set does not come with steak knives and does not include a sharpener, so these items must be purchased separately if you don't have them already.
Calphalon Classic Self-Sharpening Stainless 15-piece Knife Block Set
The Calphalon Classic knife set comes with five stainless steel knives — a chef's, bread, utility, santoku and paring knife. Eight steak knives and a set of kitchen shears are included as well. Made from high-carbon, no-stain steel, each knife has a full tang extending down the handle and is designed for durability. The handle's contoured design is meant for ease of use, which Calphalon claims reduces hand fatigue. The coolest thing about this kitchen knife set is probably the self-sharpening wooden block. The angled sharpeners automatically sharpen knives when they are removed or placed in the block. Knives are also labeled on the end which is visible when inserted in the knife block, so you'll always pull out the correct knife for any slicing, cutting or dicing task. With a lifetime warranty, this is the best full chef's knife set in the middle price range.
Cuisinart 12-Piece Color Knife Set with Blade Guards
This is the cheapest knife set on our list at around $25. The bright colors make them a fun gift for college students or those who are moving into their first place on their own. It's worth noting that this set only comes with six knives; don't be fooled by the tag that it's a 12-piece set. The other six pieces are blade guards and the set does not come with any sort of block for storage.
The set includes a chef's, slicing, santoku, utility, paring, and serrated bread knife. The santoku knife is a plus, especially for this price, since it's an excellent tool that's not always included in sets. For the unfamiliar, Japanese-style santoku knives have a blade that is better suited to precision cutting and thin cuts.
All knives in the set are stainless steel with a ceramic non-stick coating. They are conveniently colored, allowing you to easily color-code during food prep to avoid cross-contamination. The non-stick coating also makes them easy to clean. Just because these are on the affordable side and come in fun colors doesn't mean they are a shoddy product — they're actually quite sharp and are a solid set of knives that get the job done.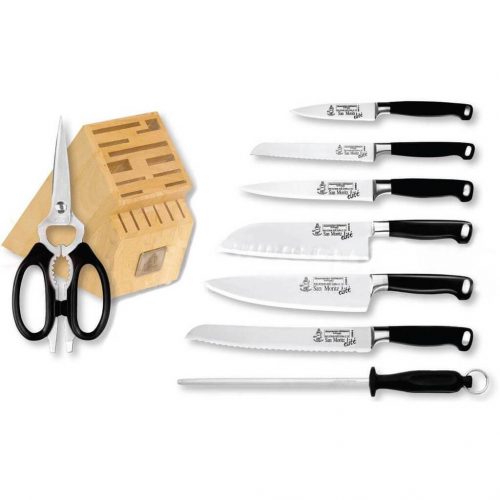 Messermeister San Moritz Elite 9-Piece Knife Block Set
The Messermeister San Moritz Elite is the most expensive German-style knife set on our list. It comes with a chef's, utility, paring, bread and scalloped utility knife. The coolest piece in the set is a Kullenschliff santoku knife. If you're wondering what the hell a Kullenschliff is, it's a hollow-edged knife that prevents food from sticking to the blade by creating air bubbles into the hollow grooves between the food and the blade. 
The "elite" feature in this set means that every knife has a hand-polished edge that will slice through anything on your cutting board. Ground to a tight 15° angle, the knives provide the cutting ability of Japanese blades with robust German steel construction, offering the best of both worlds.
Although this set does not come with steak knives, the knives included are more specific and high-quality than other sets that may come with more pieces. The Messermeister kitchen knife set also comes with some other essentials — take-apart kitchen scissors, a wooden knife block, and a 10" steel sharpener for honing your knives. Oh, and if you're fancy, the San Moritz Elite line comes with the name plate at the butt end of each handle so you can personalize your set with etched initials.
The German knives are made from stainless steel carbon alloy which, like other stainless steel knives, resists stains. They're extremely durable knives, but in the event that they aren't, Messermeister offers a lifetime warranty that even includes free lifetime sharpening and refurbishing.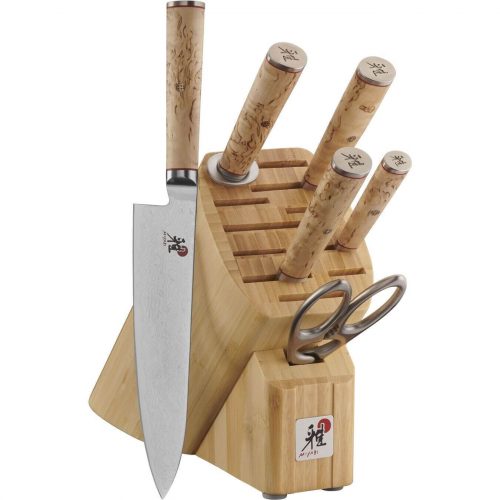 Miyabi GS2 Birchwood 7-Piece Block Set
Oooh, finally a Japanese knife set! Japanese knives have become very popular in recent years for their precision, but they do tend to be on the pricier side. This Miyabi set is no exception at close to $1800 for the seven-piece set. This is our pick for the best knife set for someone who cooks frequently and will nerd out about the intricacies of a Japanese knife.
Miyabi knives are really a work of culinary art and are steeped in history. Their knives are handmade in Seki, Japan's sword-making capital since the 14th century. According to their website, it takes more than 100 steps and 42 days to make one knife worthy of the Miyabi brand.
The set includes a paring, santoku, chef's, and bread knife, plus a 9-inch tungsten sharpening steel, twin stainless steel kitchen shears and a bamboo block for storage. The Miyabi knives have a potent core of SG2 micro-carbide powder steel that is protected by 100 layers of steel for durability. These knives provide the best of both worlds – German engineering and Japanese craftsmanship – for long-lasting durability and scalpel-like sharpness. If you're into precision cuts, these are your knives. The blade is complemented by a beautiful Karelian Birch handle, which is also the only wood ever used in a Faberge egg. Okay, now this is fancy! At this price, you'd better bet it comes with a lifetime warranty.
How Often Should You Sharpen Your Knives?
It's important to clarify the difference between sharpening and honing. Sharpening means grinding the metal blade down, which removes tiny bits of the metal. Honing, on the other hand, is done with a tool called a "steel," which simply moves the almost microscopic tines of metal to be more in alignment so the V shape of the knife is more at a perfect angle.
That said, a  good chef's knife with average home use shouldn't need sharpening more than 2-3 times per year. However, you should hone your chef knife with a steel once or twice a week. Also important — only hone the knife if it is sharp. If you're wondering how to know if it needs to be sharpened, try the 'ol paper test! If your knife slices the paper fairly effortlessly,  then, then it's sharp. If not, you'll need to sharpen it before you hone it.