The Best Men's Leather Backpack Options For Style & Comfort
The backpack has evolved greatly from the days when we all had to lug a massive bag to school, the straps painfully cutting into our shoulders from the weight of too many textbooks (and a peanut butter sandwich for lunch). 
Thankfully, today's backpacks are carefully designed to be sturdy, ergonomic, and stylish, none more so than the best men's leather backpacks.
If you're heading out for your daily commute, why not do it in style? The best men's leather backpack options feature luxurious black or brown leather, and are designed to meet all of today's office or school needs, with dedicated protective pockets for laptops, tablets, and anything else you might need for the day. 
They offer a timeless sense of style and cool that's miles away from the grungy backpacks we all had as kids.
What to Look For in a Leather Backpack
Once you've set your mind on acquiring a men's leather backpack, here are a few things to look out for when browsing the physical (or virtual) shopping aisles.
Not all leather is created equal. The best leather for backpacks is full grain cowhide leather, made from the outermost part of cowhide. It's also the most expensive, but if your budget allows for it, a full grain leather backpack is sure to turn heads and last you for years.
Top grain leather is the most common type of leather; it's thinner than full grain leather, but still provides the look and feel you want from a leather product. It's also cheaper than top grain leather.
Somewhat surprisingly, "genuine leather" is actually on the bottom scale of the leather chain. Made from the leftovers of full and top grain leather products, genuine leather is flimsier than full or top grain leather, but is much more affordable.
A leather backpack should look great, but it also has to provide enough space to carry your virtual office for the day.
If you plan on using your leather backpack as a laptop bag, be sure to check the size of your laptop before you start shopping. Most of the newer leather backpacks are designed to fit laptops from 13-16 inches, with dedicated protective interior sleeves to keep them snug and safe. Many options also include sleeves to protect your tablet and phone, along with all the accessories and chargers you'll need for the day.
Zippered exterior pockets are also a great feature if you want to quickly access certain items without having to dig through your entire bag. If you have a long commute, be sure to look for a leather backpack that includes side pockets to keep a water bottle or a reusable coffee mug (or both).
Many of the best men's leather backpacks are now designed with the frequent flier in mind. These models feature TFSA-friendly laptop pouches so you can scan your bag through security easily without having to remove your laptop from your bag, as well as handles that allow them to slide right on top of your luggage for easy transport even through the busiest of airports.
Men's leather backpacks are available in a number of styles, from the classic oval backpack shape with a single zipper pouch to elaborate multi-pocketed designs to meet the needs of even the most rugged commuter. Many companies are also designing new men's leather backpacks with a vintage look, complete with antique metal components for a timeless bag that will never go out of fashion.
The Best Men's Leather Backpacks
Below you'll find a list of some of our favorite men's leather backpacks for 2022, with something for every taste and budget.
Most versatile: Kodiak Katmai Leather Backpack
If you want the comfort and accessibility of a classic backpack with a true high-quality leather exterior, Kodiak's Katmai bag is an excellent choice. 
Made from top grain cowhide leather, this luxurious men's backpack features three zippered pockets, side pockets for carrying a water bottle or any accessories, and a strap to attach to your luggage when you're heading out of town. The inside pockets include dedicated areas for your cards, phone and pen, and an interior zippered pocket for your laptop or anything else that needs extra safekeeping. 
A perfect bag to turn heads at work, this is also a great option for day trips or even for weekends if you pack smartly. With a classic leather design and the functionality you need from a backpack, this is one of the best men's leather backpacks on the market.
Best full grain leather option: Polare Vintage Laptop Backpack
This full grain leather men's backpack may look like something you'd take on a safari, but still offers everything you'll need for your daily commute to work or school. Polare has taken pains to elevate every aspect of this bag, from the full grain cowhide to the strong metal zippers. 
The inner sleeve pocket can fit a laptop up to 16", while the main pocket has room for another computer if needed, a tablet, and anything else you might need when you head out the door for the day. There are zippered pockets on the front face to stash accessories, chargers, or anything you need in a flash, as well as two side pockets for water bottles or a reusable coffee mug. 
The bag is topped off with a sturdy carry handle for when you don't want to wear it on your back (although with a bag this stylish it'll be hard to take off). If you're in the market for a high-quality leather bag option, this is one of the best men's leather backpacks for the money.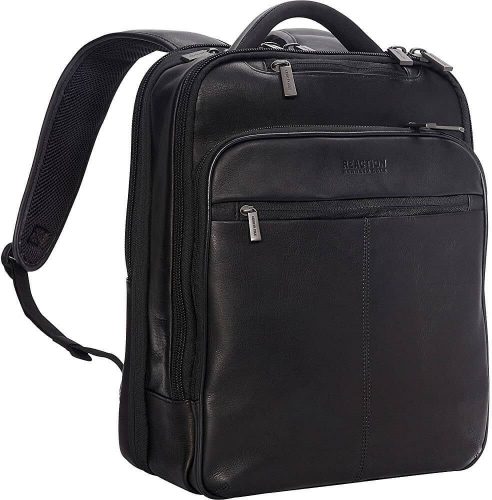 Best commute option: Kenneth Cole Reaction Manhattan Commuter Slim Backpack
A perfect melding of style and function, this elegant men's black leather backpack from Kenneth Cole is destined to elevate your daily commute. This genuine leather backpack has a laptop compartment that can fit a screen up to 16 inches, along with a separate compartment for tablets (up to 12 inches). This laptop also comes complete with built-in RFID blocking technology to help protect your valuable information from being swiped while in-transit.
While this is a great bag for day to day use, it also excels as a travel bag. The Manhattan Commuter model features a TFSA-friendly laptop pocket design to save you time (and stress) pre-flight. In addition to the tech features, this bag is designed to be extremely comfortable throughout your commute. You'll get extra padded arm straps, along with an air vent system in the back of the bag to keep you cool and dry even on your most hectic travel days.
Best vegan leather option: Matt & Nat DWELL Brave Vegan Backpack
If you're in the market for a sleek vegan leather backpack, this unique faux leather option from Matt & Nat is sure to turn some heads. The first thing you'll notice about the Dwell vegan backpack is its design; the pyramid-like design features a wider bottom compartment and a narrower top section, a visually striking look that takes this out of the traditional high-school backpack territory. 
Each compartment has its own zipper enclosure, with the main pocket big enough to carry a laptop (up to 13") and everything else you'll need for your commute to work or school. The Dwell bag also includes side pockets and an interior pocket to keep your phone snug and safe. Best of all, the interior of the bag is made from 100% recycled water bottles, and like with all Matt & Nat products, this bag is entirely vegan and cruelty free.
Best for travel: Samsonite Classic Leather Backpack
If you travel often, you want a backpack that's both stylish and functional; you don't want to be the one clogging up the TFSA line while you try to unbuckle a fussy messenger bag. 
This classic men's leather backpack from Samsonite has you covered on both fronts. This is an attractive leather bag that is specifically designed to make your next airport visit as smooth as possible. The spacious interior can fit two laptops, up to two phones and a tablet, with more than enough space for your chargers, accessories, some books and magazines for your flight, and anything else you might need. 
This Samsonite travel model has a ton of space but is less bulky than many other travel backpacks, so you can also use this as your go-to for your day-to-day commute. Made with genuine leather and with an air mesh backing panel, you'll be so comfortable that you'll forget how stressful travel used to be.
Best antique style option: FRYE Logan Backpack in Cognac
If you're looking for a rugged looking men's leather backpack with some character, this Logan backpack from FRYE should be right up your alley. Constructed in worn brown leather with antiqued hardware, this timeless bag is nonetheless designed with today's needs in mind, with four pockets including a deep main pocket to fit anything you need to carry with you. 
This classic leather backpack looks like something you could have discovered while antique shopping, but still comes with modern amenities including an inner sleeve designed to protect your laptop. FRYE has even included a dust jacket to keep your bag safe while not in use, a nice touch for an antique style backpack that you'll likely be using for years. This is one of the best men's brown leather backpacks we've found, and would make a great purchase for anyone looking for a high-end backpack that doesn't sacrifice functionality.
Best under $200: Solo New York Reade Vintage Leather Backpack
You don't necessarily have to break the bank to get an impressive men's leather backpack. This backpack from Solo New York is a great option for students and daily commuters. You'll get a rich black or espresso leather exterior, a padded pocket to protect your laptop (up to 15.6 inches), handy organizational interior pockets to keep your phone, cards, and any accessories easily accessible, and a padded carry handle for times when you want to go strap-less. 
With comfortable padded straps and an overall look that rivals bags that cost 2-3 times as much, this brown leather men's backpack is a solid contender for anyone looking for an affordable men's leather backpack.
Best luxury option: TUMI Brief Pack Leather
A luxury backpack may sound like an oxymoron, but one look at this stunning leather backpack from TUMI will have you convinced. A beautiful men's leather backpack that functions like an office-on-the-go, the TUMI Brief Pack includes a padded tablet pocket, a zippered pocket enclose that can fit a laptop up to 16 inches, card, media, and pen pockets, and a water-resistant side pocket perfect to hold a water bottle without fear of it destroying your bag. 
TUMI has packed in a number of features into this luxurious bag included a checkpoint friendly design so you don't have to take out your laptop before you board your flight, and the company's Tumi Tracer system that records your bag's individual number into their database in case your bag is ever lost. If that wasn't enough, you can also add a custom monogram to your bag, an elegant touch that allows you to truly make this men's leather backpack your own.