A Luxe Take on a Classic: Best Men's Leather Duffle Bag Options
The best men's leather duffle bag should be the perfect blend of luxury and practicality. It should make everyone in the airport security line envious while keeping your personal items secure and easily accessible.
Whether you're using it for a leisurely weekend getaway or an overnight business trip, an excellent quality leather duffle is a sought-after staple for any man's bag/luggage collection, but as with so many things these days, the options are numerous.
Below, we've highlighted some of the best options on the market today, from classic, affordable choices to designer ultimate wish-list items. While some of the price tags might seem out of reach, remember, the best men's leather duffle bag is an investment piece that could last you decades to come!
What's a duffle? Or is it 'duffel'?
What's the best men's duffle bag? Or wait… is it duffel bag? To avoid any confusion, let's clarify that these two spellings are both accepted and are referring to the same thing — a sizeable cylindrical bag for carrying personal belongings, originally used by the military. While traditionally made of canvas, companies began using higher-quality materials — like leather — for a more sophisticated, luxury option.
The origin of the term is disputed, but the prevailing story seems to be that "duffel" comes from the Belgian town of Duffel, where a heavy woollen fabric called "duffel cloth" was used to make coats and luggage beginning in the 17th century.
Today, duffle bags can be found in a variety of sizes and materials, as well as with added accessories like straps, buckles, zippers, and compartments.
The 7 Best Men's Leather Duffle Bags
Best Under $1000: Coach Metropolitan Soft Duffle 52
This bag has a great classic shape, and the polished pebble leather has a beautiful matte finish for a modern, minimal look and feel. The full-length zipper opening along with the tear-drop shape makes it easy to fill up for a weekend trip. The bag's interior has multiple pockets, including a zippered compartment for better organization and easy-access to the items you need on the fly. Textile fabric lines the inside. 
Because this bag complies with TSA regulations as a carry-on, you can walk off the plane and straight to your destination without hitting the luggage carousels. The detachable and adjustable cross-body carry strap makes it easy to carry around, while the small handles are comfortable and sized perfectly for quick pick-ups. Plus, this beauty sits on four protective feet so it always stays dry and just off the ground. 
Instant Street Cred: Gucci GG Supreme Leather Duffle
Let everyone know you know what's up with the Gucci GG Supreme duffle. The GG Monogram pattern born from the streets of New York and inked by the infamous Gucci Ghost adds a certain touch of street culture to an otherwise classic Italian luxury duffle. If the engraved leather wasn't enough detailing, the red and black shoulder strap adds a hint of bold color to the otherwise subtle pattern, leaving no doubt in anyone's mind that it's a Gucci. 
The bag features the usual round carry handles constructed of top grain leather, as well as an adjustable aforementioned webbing cross-body carry strap. The bag features a full zip opening, metal hardware, and four protective feet. Proudly made in Italy, this bag is built to last, which is great because this is a bag that will never lose relevance amongst youth, artists, and celebrities alike.
Best Small Duffle: Balenciaga Men's Explorer Small Duffle Bag
Like most Balenciaga products, this one looks to re-invent the category and succeeds. While most duffel bags are designed to hold a weekend or maybe even a week's worth of clothing and accessories, the Balenciaga Explorer Small is barely big enough to hold a pair of jeans. Instead, it acts as a cross body bag you could wear to the office or out on the town. Hardly what you'd expect from a duffle bag, but then again, Balenciaga has built a following redefining proportions and giving us the unexpected. 
Everything else about this bag hits all the best notes when it comes to duffle bags. With beautiful grained calfskin leather construction, the bag has two round carry handles and an adjustable/removable long strap for various carry options. The typical Balenciaga wordmark is printed in foil centered on the front, as expected. This is a great talking piece and, well, it's a Balenciaga, so it passes any test.
Most Sophistocated: Saint Laurent Leather Bowling Bag
Nothing quite exemplifies easy elegance the way Saint Laurent does, and this bag is no exception. Crafted in Italy of luxurious grained leather and silver-tone metal hardware, this bowling-bag-style duffle features tubular leather handles and a removable leather-encased padlock charm. The two-way zipper closure is great for easy access to all your goods and the size is absolutely perfect. While the foil logo is discreet, it's recognizable to anyone who knows the brand, so you'll get all the right attention.
Best Colored Leather Option: Bottega Veneta Classic Pillow Duffle
For over 50 years, Italian luxury brand Bottega Veneta has been pushing the standards for innovative craftsmanship to new heights. Inspired by Italian Couture, the brand continues to update their traditional codes with uncompromising directional vision. Using only the most lavish materials, the House produces products defined by a distinctly refined attitude in their carefully considered collections. The Pillow Duffle Bag is no exception. The deerskin used to construct this bag is ultra-soft while holding enough structure to keep the bag's shape, and the result is astonishing. 
The striking camping green leather is accented by silver hardware for an instantly identifiable design. The inside of the bag is lined with a nylon fabric, keeping it smooth and easy to clean. Equipped with the standard leather handles as well as an adjustable/removable cross-body carry strap, this beauty also features three open pockets and one zippered. Made in Italy.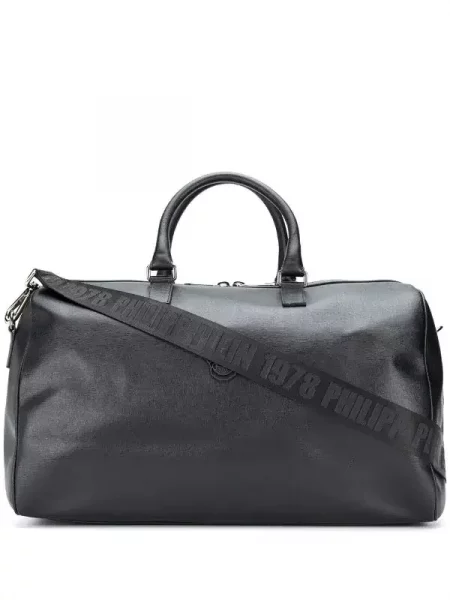 Best Statement: Philipp Plein Matte Leather Hold All Bag
The name may have less clout than some of the others on this list, but if you don't know Philipp Plein, the brand is worth a deep look. The brand has built a reputation for mixing traditional craftsmanship and tailoring with modern accents and proportions, offering a luxury product with distinctly fresh detailing. The matte leather used for his bag is instantly contemporary, while the shape and quality craftsmanship sets this bag apart. The skull patch detail is what really brings this model into the streetwear realm with a modern approach. 
The large patch's tonal color keeps it somewhat discreet and is just large enough for the critics to notice. The dark metal zippers and hardware also sets the design apart and adds a touch of subtlety. Like most bags on the list, the bag features a large adjustable cross-body strap and boasts the 'Made in Italy' stamp of superiority.
Best Luxury Leather Alternative: Louis Vuitton Keepall 55 Bandoulière
The Louis Vuitton Keepall 55 Bandoulière, now available in all black, is at the top of every bag connoisseur's list. Go anywhere with this bag and you're sure to turn heads and attract a lot of attention. With a little skill, you can fit a week's worth of clothes in this generously-sized and cabin-friendly carry-all. Although this bag is not leather, the logo-emblazed coated canvas is as durable and rich as any leather you've seen out there, and all the trims are genuine leather. 
The bag is handmade in Europe and comes equipped with a padlock, because when you carry one of these bad boys, everyone will be wondering what's inside. The wide leather carry handle is super comfortable and durable, and the cross-shoulder carry strap is adjustable and removable for extra convenience while travelling. The silver brass hardware adds a rich touch to one of the more subtle luggage pieces offered by the renowned luxury bag maker.