Best Messenger Bags for Men: Carry It All
In order to safely navigate pandemic-life, you can't simply pop out of the house with your phone, wallet, and keys any longer. You'll need a mask, hand sanitizer, and many are also opting to carry a set of disposable gloves or antiseptic wipes for anything they may have to touch during their commute or weekly grocery outing.
With that growing list of daily essentials, you'll need a proper bag to carry everything you need for the day, and whatever else you might pick up once you leave the confines of your living room/workspace (what else is there to do but shop these days?). Some may opt for a small day bag or even a fanny pack, but that look … definitely isn't for everyone. Many people are also still working and need to transport their laptop during their daily commute, and a small bag you can simply throw over your shoulder is indispensable for weekend road trips or flights. With that in mind, we've set our sights on five messenger bags for men, the compact and popular over-the-shoulder bag first popularized by bike messengers that easily allows them to transport small packages all across the city.
Let's face it: there's a reason that women generally love their purses and bags so much. They're convenient, fashionable, and in the midst of a pandemic, they're downright essential. Push aside any notions of the "man purse" from the recesses of your mind ("It's European!"), and let us help you narrow down the best bag for your needs. First, here are some elements to consider:
What to Look For in a Messenger Bag
Material. The majority of messenger bags are made from water-resistant canvas – it's a durable and lightweight material that will ensure your belongings stay safe and dry and won't throw out your back every time you sling it on. That said, there are some companies manufacturing high-end leather messenger bags for the business market – if you don't mind the higher price tag and the extra weight, a leather messenger bag is an appealing option.
The strap. Given that a messenger bag rests on your body via the bag's attached strap, you want to be sure you pick something that best suits your body type. Some may prefer the look of a slim strap, but keep in mind that may put a great deal of strain on your body if you're lugging your laptop across town. A semi-wide padded strap will evenly distribute the weight of the bag, while removing the tension from your back and shoulder. If you can't get to a store to try these bags on in-person, most bag manufacturers have a number of photos on their sites that show just how the bag and strap line-up and sit on your body.
Size. Most messengers bags should easily fit your laptop along with all of its accessories and some snacks to get you through between Zoom meetings, while still leaving you some room to store the umpteenth new Amazon order you're picking up from the post office. Still, double-check the measurements of your laptop to ensure you're getting the right size bag – you don't want your laptop bouncing around all day because your bag is too big for it.
Design. Obviously, the design and look of your messenger bag is extremely important – otherwise, you would simply throw your laptop in a plastic bag and be set for the day. While many messenger bags are designed primarily for function, manufacturers have realized that consumers are looking for more stylish options, and messenger bags are now available in a huge array of colors and patterns, though the standard black, grey, or brown bags still make up the majority of offerings (you can't beat a timeless design). The below list of messenger bags should have something for every taste and budget, from the affordable and wildly popular Herschel bag to the sumptuous brown leather Greenville Top Handle Workbag from Fossil. Happy shopping!
The 5 Best Messenger Bags For Men in 2022
Herschel Grade Messenger Bag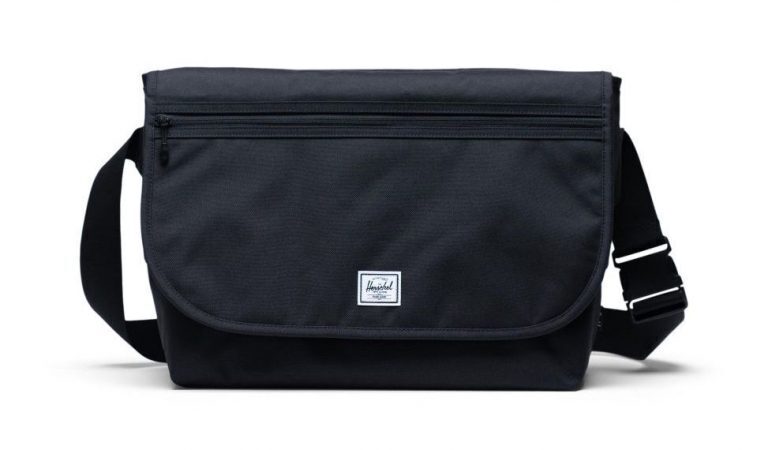 The ubiquitous Herschel Grade Messenger Bag is available in three sizes and is offered with a whopping fifteen color choices, from Vintage Floral Pine Bark to Quiet Shade Plaid, making this one of the most customizable messenger bags on the market. The standard size version features 22.5 litres of storage space and a crossbody strap fastened by a quick-release clasp, which will come in handy when you want to grab that bottle of hand sanitizer on the go without having to sit down and rifle through your entire bag. If you prefer to carry the bag like a briefcase, the Grade comes with a reinforced carrying handle, along with a luggage trolley strap for the next time you're at the airport. 
The Grade also includes Herschel's iconic red and white striped pattern on the inside of the main compartment, as well as a secured inner sleeve with a zipper to stash valuables or anything that needs a little extra protection, a main pocket big enough for your laptop, and a convenient front flap pocket. The only downside to the Grade bag is its reliance on Velcro for the inner flap, which some reviewers have mentioned clings to their stored items. Even with that caveat, the Herschel Grade Messenger Bag is an affordable, sturdy, and potentially flashy option, if you decide to go with one of the more colorful options.
Samsonite Columbian Leather Flap-Over Messenger Bag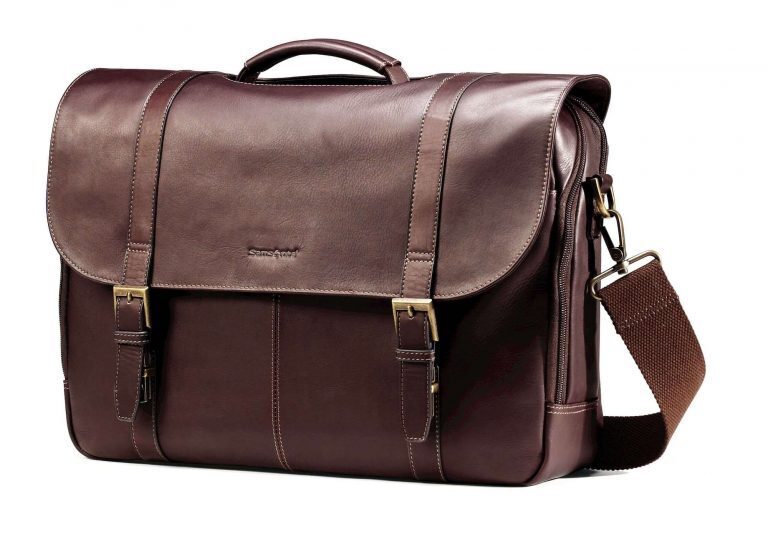 If you're looking for a classy messenger bag that won't look out of place at a business lunch or while you're sipping a martini in the airport VIP lounge, look no further than this beautiful natural leather bag from Samsonite. Geared more towards working businessmen than those who want to schlepp half their belongings across the city, this medium-sized bag can fit a laptop (up to 15.6") in its main pouch, and includes three small inner pouches for accessories like charging cables and headphones, a back pouch for documents, and an organizer to store cards and pens so you never end up with a loose pen leaking all over your bag. There is also a removable compartment to store your cell phone if you want to free up some pocket space.
Weighing just over four pounds, this isn't the lightest bag on the market, but with its Columbian leather design and striking details (including brass hardware throughout), this is one of the sleekest messenger bags you'll find in this price range. Samsonite already has a stellar reputation for making some of the most stylish and durable travel luggage out there, so rest easy knowing that this bag should be as functional as it is eye-catching.
Fjall Raven Känken Messenger A/F
If a more fashion-forward bag sounds appealing, this stylish redesign of the classic Swedish Fjall Raven Kånken bag from 1978 should more than fit the bill. Acme Studios has taken the standard backpack design and flipped in 90 degrees, for a bag that can be worn in the traditional upright position or on its side, a design choice sure to turn some heads as you go about your daily routine. The bag has two pocket compartments; the front features an internal zipped mesh pocket, while the back contains two zipped mesh pockets and a padded sleeve that can fit a laptop (up to 15"). 
Made from Fjall Raven's G-1000 HD S, a densely woven fabric made from 65% polyester and 35% cotton, the Kånken is durable enough to withstand the deepest winter freeze, as well as the hottest summer day. The bag is lined with nylon fabric, and comes with a removable shoulder strap for a fully customizable wear. It may not include a long list of bells and whistles, but with its unique look and ultra-light design (the bag weighs just 800 grams!), the Kånken is one of the flashiest and most dependable bags on the market. 
Timbuk2 Command Laptop Messenger Bag
Timbuk2 makes bags most actual bike messengers tend to use, making it the perfect choice for those looking for a tough yet flexible bag that can withstand the rigors of a full day of weaving through big city traffic. The Command Laptop Messenger Bag is billed as their "no frills" model for travel and commuting, which makes it a simple and sturdy entry from a company that specializes in messenger bags. Made from 100% polyester, the Command bag weighs just over two pounds and comes in a handful of clean and stylish options (the light grey and blue Midway colorway really stands out). A tricot-lined pocket can protect your glasses or your phone, and the bag easily attaches to your wheeled luggage, making it a breeze to pass through airport security without having to juggle multiple bags. 
Available in three sizes, the Command bag should fit most modern laptops, and its simple and effective strap design makes it easy to make size adjustments without an excess of webbing that often clogs up the strap line in other bags. This is a solid bag from a company with a great design reputation that should make your next trip — either across town or across the ocean — a much breezier experience.
Fossil Greenville Top Handle Workbag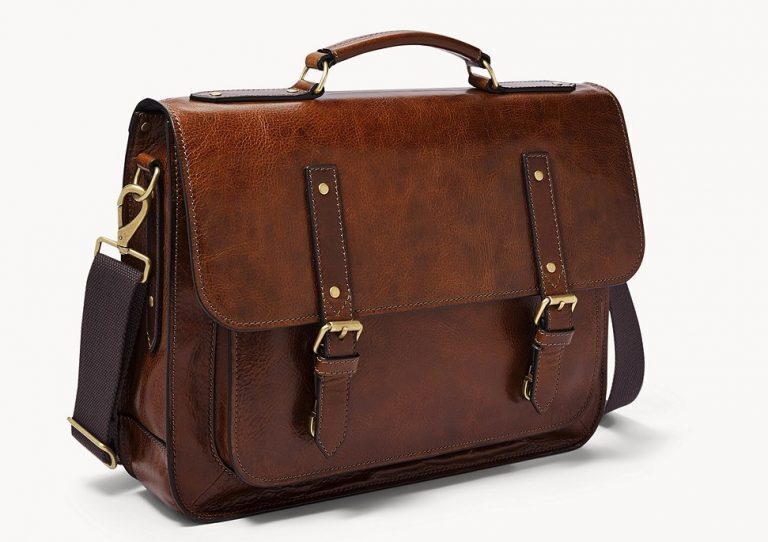 If you don't want to look like a high school sophomore when you hit the streets, the Greenville Top Handle Workbag from Fossil is a great higher-end option to set you apart from the pack, and one of the swankest bags for men on the market. Retailing at just under $400, this is by far the priciest option on this list, but in this case, you actually get what you pay for. Constructed from eco leather, a sustainable leather constructed from organically raised cattle and/or recycled materials, this snazzy brown bag features a padded laptop pocket (up to 15"), a zipper pocket, three pen holders, and three slide pockets. Make no mistake — this is a bag built for business, in both its appearance and its design. The 28" crossbody strap is completely adjustable and removable, and the bag also features a sturdy handle if you don't want the hassle of strapping yourself in for your commute. 
Everything about this bag exudes class and style, from its deep brown leather coloring to its stylish brash hardware. They say to dress for the job you want and not the one you have, and if that maxim also applies to your bag, you might just find yourself moving up the ladder with this bad boy in tow.
This is really a matter of personal taste. Companies that specialize in messenger bags generally only produce bags using canvas – it's lighter and more pliable than leather, which makes it easier to access and adjust as you're out and about (which is why you want a messenger bag in the first place).
The main difference between a messenger bag and a crossbody bag is essentially one of size – a crossbody bag is generally much smaller than a messenger bag. While the purpose of a crossbody bag is to be able to carry a few small items you'll need during the day, a messenger bag can fit your laptop and a slew of additional items, making it the better option for your commute to the office or a coffee shop where you plan to get some serious work done.
Messenger bags are considered unisex – because they strap across your body and the length of the strap is completely adjustable, they can form to most body shapes and sizes. Given that they are created to be functional and practical bags to transport items like your laptop across the city, they are generally less fashion-forward than many popular women's bags, but even that is changing as companies have begun producing fashionable high-end leather messenger bags aimed at men.