Barbell Apparel Review: The Perfect Fit for Fit Bodies
If the burning dumpster fire of 2020/2021 taught us anything, it's that we can't rely on the old rules to help us navigate the new world. Everything has changed, from our trips to the grocery store to the way we interact with friends. One of the biggest changes? The workplace.
With millions now working almost exclusively from home, those in the white collar crowd have waved goodbye to the suit and tie, preferring instead to slip into something a little more comfortable. But some worry that a return to the office means a return to the old way of dressing for the office.
Those working from home – especially those with an athletic frame – have gotten used to their newfound sartorial freedom, wearing what's comfortable instead of what's "professional."  They don't want to go back to wearing uncomfortable, rigid clothing for most of their working lives.
Luckily, Barbell Apparel has come up with the solution.
Super popular and hyper-focused on their target market, athletic wear, Barbell Apparel has been crushing it ever since they exploded out of the gates in 2016. With a stretch and comfort factor that's off the charts, they have exactly what the modern man needs for his eventual return to the office.
Founded on the notion that clothing should be better, a team of friends (and athletes) first launched Barbell Apparel as a Kickstarter project in 2016. Their first goal? Taking denim jeans up a notch.
The success of their Athletic Fit Jeans Kickstarter broke records, with the second highest-funded fashion project of all time even landing them on ABC's Shark Tank. Their success took the term "Athletic Fit" mainstream, and the fashion world followed suit, releasing a flood of stretch jeans copycats. Now featuring a much wider line of clothing options designed with the athletic body in mind, Barbell Apparel has a ton of options that look great without sacrificing comfort.
Check out our Barbell Apparel Review to find the perfect professional option for your workplace.
Make that protein shake and squat your heart out. These jeans can handle it.
So what's the deal with the famous Barbell Apparel Athletic Fit jeans?
Thanks to 21st century materials and technology, Barbell Apparel has been able to do what many thought impossible: they made jeans even more comfortable. Their omnistretch Advanced Flexible Denim gives the wearer total freedom of movement, making these athletic fit pants well-suited for all kinds of settings, whether it's doing errands, hitting the town, or hanging out at a friend's house. Plus, they're designed with athletic bodies in mind, so each pair has the perfect amount of room in the thigh and glutes areas. Thigh space ranges from 26 to 32 inches (compared to around 21 to 27 inches for similar waist sizes from other denim companies).
Barbell Apparel jeans collection includes four fits– Slim, Straight, Relaxed and Boot Cut— in a variety of washes. For our Barbell Apparel jeans review, we've selected our three favorite looks from the current line.
Straight Athletic Fit in Medium Wash
Let's start this Barbell Apparel review with their original classic, the Athletic Fit Medium Wash jeans.
Sure, some organizations still prefer a creased pant leg over denim. But a quality pair of jeans like these, as long as they are combined with the right shirt and jacket, can fit right in. These jeans look great, feel amazing, and are versatile enough to be worn in professional or casual settings.
Sitting just below the waist, there is enough stretch to accommodate any size quads, hips and glutes, while still maintaining a fashionable taper below the knees. So go ahead, make that protein shake and squat your heart out. These jeans can handle it.
Boot Cut Athletic Fit in Jet Black
A great pair of black jeans can take you just about anywhere, and this boot cut option in jet black is no exception. Classic black denim can be dressed up or dressed down, and that Advanced Flexible Denim stretch will keep you comfortable all day long. The boot cut option is especially great heading into the chillier months when you switch out your runners and flip flops for heavier boots.
Available in sizes 28-40, with Barbell Apparel's trademark roomy hip, thighs and glutes, this jean would be a welcome addition to any guy's wardrobe. 
Slim Athletic Fit in Cement
Finally, men's skinny jeans aren't just for skinny guys. If you've ever wanted to rock a stylish pair of slim-fit denim, only to find you can barely pull them up over your thighs, well, then, this is the jean for you. Barbell Apparel has answered the call from men with thicker or more muscular thighs and glutes with this slim athletic fit jean in Cement grey. 
Available in sizes 26 to 40, this jean sits right below the waist and hugs you in all the right places. The omnistretch denim makes this performance-oriented pair of jeans perfect for anything from running errands to stretching it out in your afternoon yoga class, if you were in a bind. And, as with any Barbell pants, have your pants tailored to your perfect length and receive a $20 store credit. 
A good pair of pants can be the foundation of a killer work outfit, but it can be a chore to find the right fit, especially if you've got an athletic frame. Dress pants weren't designed for killer quads and powerful glutes, after all. If you've ever encountered that issue in the past, it's time to breathe a sigh of relief.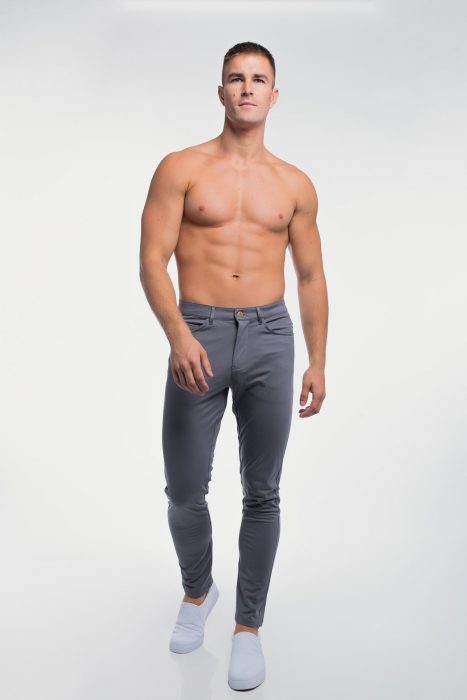 Just as the name suggests, the Anything Pant is ready for, well… anything! Both durable and stylish, it might be one of the most comfortable pairs you've ever purchased. 
Barbell knows their clientele and their passion for fitness. They believe that if you spend hours trying to eat healthy and exercise, the least they can do is help you build a wardrobe that shows off the success of your workouts while still allowing you to remain comfortable.
Functionality and reliability have always been at the top of Barbell Apparel's list of priorities, and that's certainly true of this product. These pants are engineered to create a flawless athletic fit, and it shows. Taking advantage of space-age Ultraflex fabric, these pants are light, breathable, and will also remain wrinkle-free as long as you wear them.
Sure, we love their pants, but Barbell also has amazingly stretchy polos and dress shirts that will fit your chest and shoulders in all the right ways without restricting your movement or making you uncomfortable.
One of the things men love about the ultralight polo is that it takes an old concept to a whole new level, making the polo shirt more accessible to more people. No longer confined to the world of prep school fashion or the tennis club crowd, the ultralight is just right, thanks in part to next-gen fabrics.
Made of Flexmesh fabric, the Ultralight Polo is made to breathe, is super flexible, wrinkle-free, and moisture wicking. The structured collar keeps it business-like up top, while the tailored sleeves and tapered waist are created to show off the guns while not clinging too tightly to your gut.
During the summer you can just as easily wear this to the office as the golf course.
Motive Short Sleeve Dress Shirt
One of the most requested items in the Barbell Apparel catalogue, the button-down Motive Short Sleeve Dress Shirt brings all the sharpness one would expect from a dress shirt while also adding a comfort factor that simply can't be beat.
You might say that it represents the halfway-point between the more casual feel of the Ultralight Polo (above) and the more buttoned-down Athletic Fit Dress Shirt (below). Made of a four-way stretch material, this hybrid Short Sleeve button down is also designed with a tailored athletic fit in mind, and is odor resistant and will remain both sweat and wrinkle free.
It's the best way to stay looking professional while enjoying all the comfort that a stretchy short sleeve can provide, and fits in well in any environment – especially during the summer.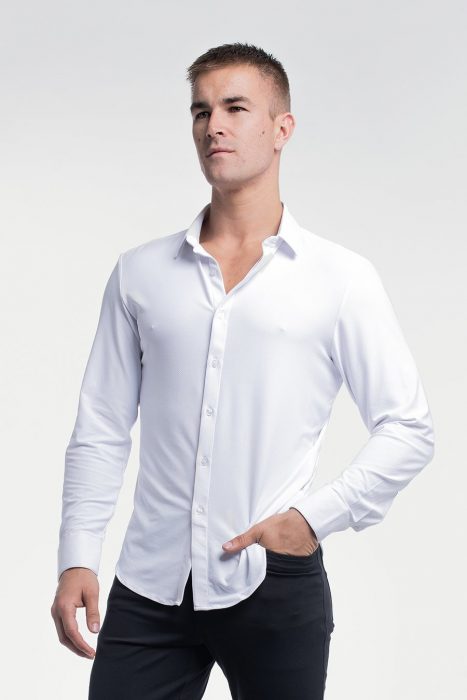 The Motive Dress Shirt is one of the most-requested items in the Barbell Apparel catalogue, and for good reason.
Looking just as good un-tucked as it does tucked-in, this athletic fit dress shirt hits all the right notes, boasts the same four-way stretch material as those above, and might be the most essential piece of your post-COVID wardrobe.
Available in over a dozen colors and patterns, you might find yourself clearing your old dress shirts out of your closet to make room, as these comfortable athletic dress shirts truly take things to another level. Great for more than just a comfortable day at the office, Barbell's versatile fashion philosophy means you can bring your fashion A-game anywhere.
Tossing this dress shirt on after a workout is just as comfortable as putting on a T-shirt. You can't afford not to see what all the fuss is about, so pick one of these up today.
The stretchy-soft comfort of the range available from Barbell Apparel makes looking great a breeze, and the buzz around Barbell Apparel makes sense the second you try on one of their immaculately engineered products.
For those with athletic body types – especially those that don't always find the perfect fit in the dressing room – the hype matches the reality. You've worked hard for that body, so as we slowly begin to contemplate going back to the office, let Barbell show you how you can mix professional style and unrivaled comfort. You can have both!
Wicking fabrics are those designed to draw moisture away from your body as you sweat. Made of modern materials that don't absorb liquids like traditional materials (think Cotton), wicking fabrics are often used in athletic wear, and are a key component of clothing that promises to keep you dry, well-ventilated and smelling great, even after a tough workout.
They offer a 100% Satisfaction Guarantee. If you don't love your purchase, just send it back within 30 days for a full refund, no questions asked.
Yes. Veterans and active duty service individuals receive 20% off their purchases.