Best Men's Running Shorts
If you've been living anywhere but under a rock for the past year, you know that COVID-19 has forced some of your favorite places to close. And it's not just bars, arenas, libraries, and restaurants that have been affected – gyms across the country are all ghost towns as well.
As a result, men of all stripes have been forced into finding alternative options for their physical activities. With the bench press, squat rack and team sports nothing but distant memories, most of us have had pretty much only one option: Running.
Whether you like running or not, you've probably been logging miles outdoors for months. And with the summer almost upon us, that trusty pair of sweatpants is no longer an option. As we round the corner into a warm and sunny future, it's time to grab a little bit of sunscreen and break out the shorts.
But just like men's bodies, running shorts for men are not all the same. If you want to look good while remaining comfortable, you're going to need a new pair. Without further ado, let us introduce you to QMan's list of the best men's running shorts for 2022.
Outside of aesthetic considerations, there are really only two main things to focus on when trying to find your ideal pair of running shorts: comfort and comfort. Anyone that has logged more than a 1-mile jog knows the run-ruining pain of chafing, and that is a nightmare to be avoided at all costs.
Save yourself the rash, and make sure to evaluate the following important components when choosing a pair of men's running shorts.
Let's start with what you don't want in a fabric. Runners should avoid fabrics that get heavy when wet, and that dry slowly. That's why a lot of the shorts on the market are made with synthetic fabrics like polyester, nylon, and spandex.
These fabrics are designed to be elastic to accommodate your movement. By hugging your body, they can help reduce chafing. These materials are also breathable, designed to wick both moisture and heat away from your body while you're running. 
The best running shorts for men also include antimicrobial protection. Antimicrobial fabrics help reduce the growth of microorganisms by promoting moisture movement, something that makes your shorts smell better and last longer.
Another choice you'll have to make when it comes to running shorts for men is related to liners. Much like with good fabric types, a liner is designed to keep the warm areas cool, the wet areas dry, and eliminate the potential for painful rubbing.
Some shorts have built-in mesh or elastic liners, and just like with double-layered running socks, a liner will help reduce friction, a key element in a comfortable run. Another benefit of a liner? You might find that it has a pocket specifically designed for running necessities such as your phone, credit card or house keys.
Shakespeare said it best: "To flash the thigh, or not to flash the thigh – that is the question." In other words, the length of your shorts is usually mostly an aesthetic consideration. However, the common wisdom says that the more vigorous the activity, the shorter the short should be.
A fast-paced exercise like running makes perfect sense here, as more fabric means more material getting in the way of your pace and weighing you down. Many runners swear by a 4" seam (for context, a basketball short will be as much as 11"). Just don't go from a run directly to something like squats. Those short-shorts might end up showing off a little bit more than you intended!
One of the worst things about running in shorts is that you have almost nowhere to put your stuff. Unless you enjoy running with a bouncing fanny pack, it's tough to jog with your phone, headphones, keys and wallet. Some shorts, however, will have great extras like zippered pockets, elastic pockets, and even reflective materials to keep you visible while running in the evening and at night.
2022's Best Men's Running Shorts
In no particular order, here are QMan's 8 picks for the best running shorts for men this year. Any one of these options is sure to have you hitting that runner's high in no time. 
Patagonia Endless Run Shorts - 5"
With two pockets on the sides and one sewn into the middle, these shorts help you take all kinds of stuff with you on your run, and distribute the weight of it evenly to avoid unnecessary jingling or bouncing. They have a breathable front panel and are also Fair Trade Certified.
With an 80/20 polyester-spandex mix, these will dry quickly and stretch with your movement. They also feature a reflective logo to keep you visible while out at night. 
Adidas M20 Floral Shorts - 5"
Just because you take your running seriously doesn't mean that you can't have a little fun with the patterns you choose. These Adidas M20 Floral Shorts are bright and colorful, and the perfect way to celebrate the warm weather on your jogs.
Made from 100% recycled polyester, they also feature Adidas' Aeroready Technology, moisture-wicking fabrics that help you stay cool, dry and comfortable anywhere you go.
New Balance Spring Impact - 3" Split Shorts
Everybody knows New Balance shoes, but have you ever tried to complete the outfit with some bright orange New Balance short shorts? These polyester bad boys are built for a balance of comfort and performance, and are very lightweight.
Their mesh side panels and moisture-wicking materials allow for maximum breathability, and they even have a polyester liner and a mini-pocket for a house key. They also come in black, but let's face it, if you're going to go with short shorts, go with the bright orange!
Vouri Trail Shorts - 6.5"
Vuori's Trail Shorts have a longer in-seam (6.5") than some of the others on our list, but let's face it, everyone's body and preferences are different, and it's possible to enjoy effective, comfortable running shorts that aren't totally tiny.
These Vuori Trail Shorts are lightweight and stretchy, have a back zipped-pocket for small items, and also feature anti-odor and quick drying materials. Along with a reflective logo and an elastic waistband with a drawcord, they'll fit you well and keep you looking stylish all at the same time. Use them for a run around the track or a run to the grocery store.
Under Armor Speed Pocket Shorts - 5"
Under Armor is known for their great athletic gear, but this pair of shorts is all about pockets. Billed as the shorts that "solve every issue you've ever had" with your pockets while running, you'll be sure to have plenty of room for your phone, no matter how big it is.
The front-and-center waistband pocket is waterproof, the lightweight fabric is stretchy and breathable, and it is designed to dry quickly. Along with anti-odor tech woven in, the internal mesh liner will help you avoid any discomfort when you start to sweat.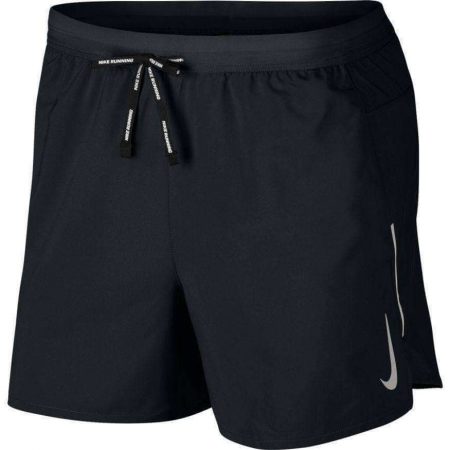 Some of our absolute favorite shorts are the Nike Flex Strides. Not only do they look great, but they also have a soft inner liner and are fabricated from 75% recycled polyester that originated in part from recycled plastic bottles. 
Featuring a zipped back pocket for your phone as well as side pockets, the shorts' inner-liner also has a discreet pocket for small items. Nike's Dri-Fit technology will (you guessed it) help you stay as dry as possible while you're burning up the track, and they're also stretchy and breathable in all the right proportions.
Tracksmith Twilight Split Shorts - 2.5"
If you don't know the little bunny rabbit logo, you should. These retro-inspired Tracksmith Twilight Split Shorts are great, but they also have the smallest in-seams on this list. If you're not ready to fully embrace short shorts, we suggest you move on.
Built from the brand's "Bravio" fabric, the shorts are stretchy, lightweight and very breathable, but what's surprising is that there are also three internal pockets to house all your essentials. The quick-dry polyester/spandex liner won't budge no matter your pace, which is good to know with shorts this short!
Lululemon Surge Shorts - 4"
Our list wouldn't be complete without some Lulu's in the mix. One of the things we like the most about the brand is that they care about quality. Their choices can sometimes be a little bit more pricey than competitors, but you can always return to the store if there are any problems. In many cases, they'll replace your item for free!
These Surge Shorts are super-lightweight and designed specifically for running. Made of 100% polyester, they have 4-way stretch material and wick sweat like it's going out of style.
They're "relaxed fit," meaning there's plenty of room in the glute and thigh areas, and there's even a waistband storage area for your shirt, in case you feel like popping it off mid-run. Their flat-locked seams reduce chafe, and the built-in pocket is perfect for your phone. A great choice.