Best Men's T-Shirts That Go With Everything
Maybe the most versatile piece of clothing in our closets, a great T-shirt can complete any outfit. You can wear it with a crisp pair of chinos, you can wear it with your favorite faded jeans, you can dress it up with a blazer for a business causal fit, and you can wear it to the beach with a pair of shorts. You can wear a T-shirt with just about anything in your closet depending on your mood and the occasion.
A T-shirt is one of the easiest garments to manufacture: you only need one fabric, a simple pattern, and a label. No buttons, no zippers, no fusing, no complicated patterns, and grading. Anybody can design a T-shirt, right? It's easy, right? Well, no, not exactly. Yes, pretty much anyone can make one, but not everyone can make a truly great T-shirt. There are so many deliberations and small refinements that go into making the perfect T that only a few companies can deliver a great model that you'll want to wear every day. We've broken down the basics into 3 F's: Fabric. Fit. Finishing.
What To Look For in a Quality Men's T-Shirt
It all starts with a great fabric. 100% cotton is the best, even better if organic. Cotton can be manipulated to achieve different weights, stretchability, softness, and drape. Egyptian or Pima cotton has a superior feel and will last longer. A more luxurious T-shirt may have some merino wool, which has great antibacterial properties. Although polyester usually won't feel as good as cotton, it has its place, especially when sweat management is important, as synthetics tend to wick away moisture. Sometimes a mix of cotton and polyester can have an amazing feel.
Depending on your style and body shape, the fit and cut you choose are super important. If your T-shirt is too tight it will look awkward and maybe a bit showy, while too loose might be too casual for some occasions. In general, the length should be long enough to tuck in (don't do it though) but not so long that it bunches up. Your sleeves should be a few inches above your elbow and should never form around your arm. For the body, it depends on your personal style. A classic fit (also referred to as "relaxed fit") is your typical James Dean denim and white T fit. Slim is a somewhat more tailored fit, which should be slightly longer yet still not form around your body. A boxy fit will have a wider body, longer sleeves, and dropped shoulder; this is a more casual modern fit.
Last but not least is the finishing. A great T-shirt will be clean inside and out. It'll feel smooth and seamless — never awkward or irritating. Here are a few details to look for:
Soft label or print so you don't feel it.
Flatlock stitching so you don't feel any seams.
Soft neck tape to cover the neck seam.
Neck finishing with good retention so your T-shirt lasts for years.
And, of course, the dying and finishing applied to the fabric is the one you will notice the most. 
The 9 Best Plain T-Shirts For Men Available Today
Since the T-Shirt is such an important part of your everyday fit, you will most likely want to own a few different styles, but if you're anything like me, you will almost certainly fall in love with only one of them. The best T-shirt for you is out there. Like any other excellent wardrobe staple, this is the one that gives you a little extra confidence and makes you feel ready to take on the day. Once you find it, you'll want to buy a few so you can be sure to always have a crisp one ready for a quick grab and go. Lucky for you we've compiled a list of the best choices available.
Editor's Note: For the sake of uniformity, we've gone with all classic white options, but most of the below brands offer a multitude of other colors as well.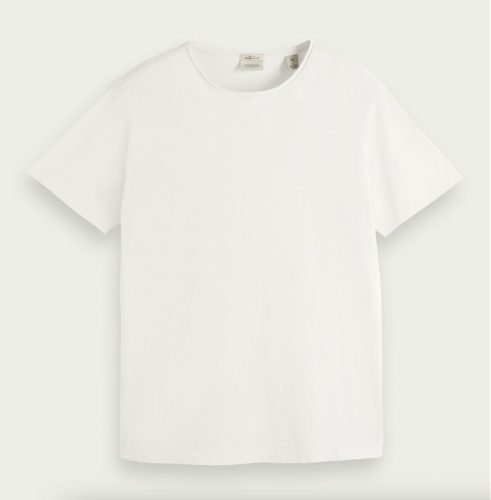 I'm starting the list with my personal go-to. I love the weight of this 100% organic cotton. It drapes a little heavier, making it feel a little more substantial and slightly more elevated than your average tee, so I always feel confident. The cut is not boxy and not slim; for me it just fits perfectly. I love the wide neck opening and the thin inset neck hem — its raw finish rolls a slightly for added comfort. The white is a little bit of a warmer white tone, and the black is rich. I replenish my personal stock of these every season and have at least three crisp whites and blacks in my closet at all times.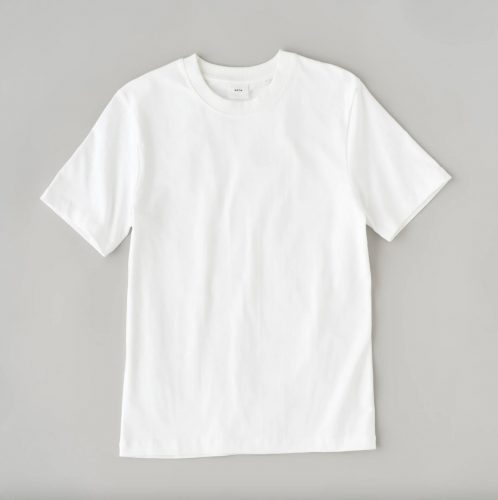 Kotn was launched in 2015 with the mission of setting new standards for conscious creation and consumption. The brand focuses on considered design, relentless quality, and honest value. You can learn more about the good things they have funded since their launch here. Meanwhile, let me tell you about this T-shirt. The Band Tee is constructed of Kotn's own structured heavyweight cotton jersey and features a boxy fit with an extra-wide ribbed neckband. This combination makes this tee feel more like your go-to crewneck sweatshirt than a simple T-shirt. This is a great choice when you need a T-shirt that will take you from morning to late evening.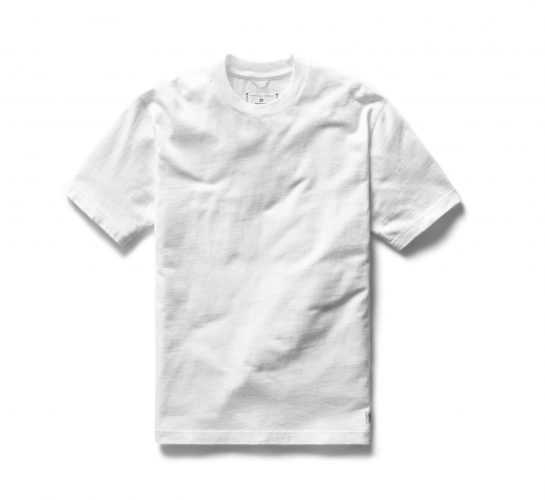 The Reigning Champ Midweight Jersey is the perfect combination of comfort and class. The subtly dropped shoulder construction gives it a slightly more relaxed, modern fit. The set-in sleeves and superior rib collar add a touch of premium, while the flatlock seams and the slight stretch of the jersey weave ensure all-day comfort. I love all the considered details on this style. The woven crest label is discreet and the zig-zag stitch used to sew in the neck label adds a little signature, while the locker loop is a reminder of Reigning Champ's athletic heritage roots. I highly recommend this as one of the most comfortable T-shirts you can find.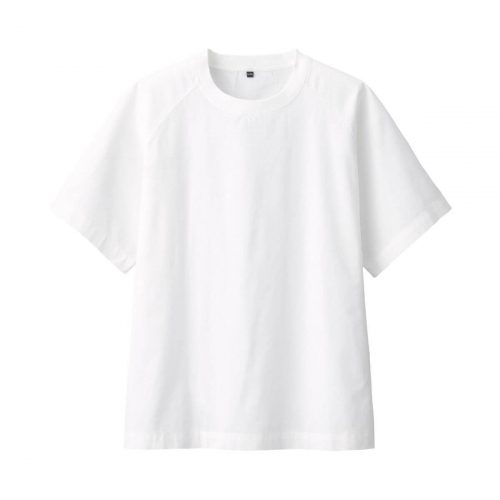 Muji's understated approach to design has set them apart from other brands for years. Everything they do, and they do a lot, is clean and considered. Luckily for us, we no longer have to travel to Tokyo or Shanghai to shop our favorite styles — we can now order Muji from our living rooms. The Organic Indian cotton-washed woven T-shirt is different from every  other shirt on this list. The first thing you will notice about this T-shirt is the drape and crispiness. That's because this item is woven and so feels more like a classic button-up than a T-shirt. It's also shaped with a raglan sleeve construction for better movement. The fit is boxy and a little on the shorter side. If you want a T-shirt that's a little bit more sophisticated, this is the one.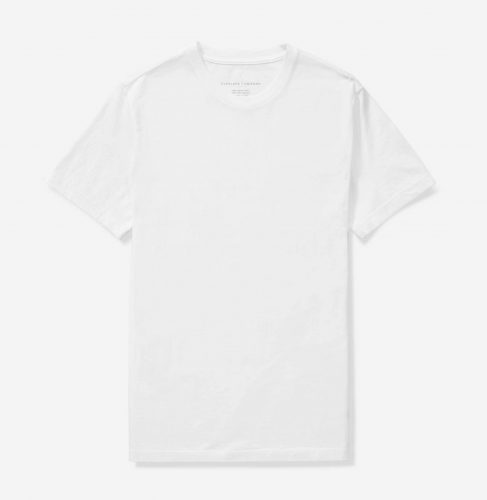 This T-shirt is certified organic—from seed to shirt. The Global Organic Textile Standard (GOTS) certification takes over a year to account for every step of production—from the processing of certified organic fiber into yarn, to the dyehouses, mills, factories, and printers. This is the T-shirt that started it all for Everlane. This style features a classic fit and a super soft hand feel that only gets softer over time. If you're looking for an affordable option and want to feel good about yourself, you should buy from Everlane.
James Perse specializes in T-shirts, and if you've ever owned one, you already know how amazing they are. For those who have never owned a James Perse, let me tell you, this T-shirt will outlast all your others. Made from a tightly spun cotton, the James Perse T has a durable finish and a reinforced neckline that won't ever stretch out. The fibers are super soft and the colors are rich. A perfect relaxed fit tee for any occasion.
The Broken-In Short-Sleeve T-Shirt by J.Crew is the ultimate classic tee. It's offered in classic, slim or tall so you can pick the best fit for you. What makes this T-shirt stand out from the others is the double garment dye applied, which it gives it a worn-in look without looking drabby and old. It is also specifically washed for softness and live-in color. This is the one you'll never want to take off and the one your girlfriend will try to steal every time.
The Noah Recycled Cotton Tee is made in the USA from 6.5-oz heavyweight jersey. Weaving Cotton into a fabric of consistent quality creates an enormous amount of waste. Using this waste to create a new fabric means less uniformity to the fabric — it has a slight texture to it — but I love the effect and am always surprised how soft it remains. The finished garment has a nice weight, which works really well for a premium T-shirt. The boxier fit is perfect. What's even better: buy two, get a third free.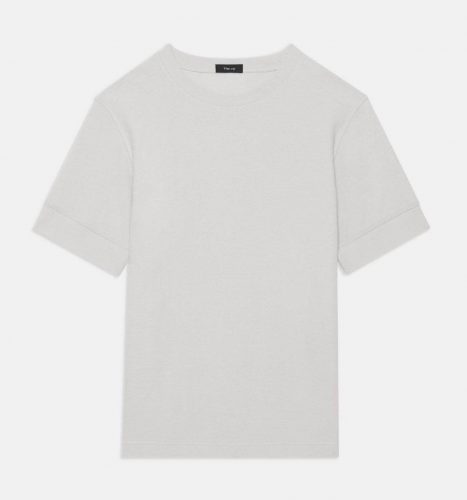 This is how you deliver an amazing premium tee. You could wear this to meet your girlfriend's parents, you could wear it to a job interview… you get the point. This T-shirt is meant to impress, and it does just that with deliberate simplicity. The Sol is cut from a textured terry cotton that's easy to care for. The fabric alone elevates this T-shirt to a level above every other on the list. The boxy fit and elongated sleeves with oversize trim add to the sophistication. With its roomy fit and ultra-breathable fabric, this is a go-to for warm weather days. I would wear this T-shirt every day. The only drawback is the price tag.
A ring-spun cotton jersey is the benchmark for an everyday T-shirt. Jersey weave gives the garment a mechanical stretch without adding elastane. Ring-spun cotton is spun in a way that produces stronger, longer strands that are soft and durable, and free of the rough texture characteristics of cotton. Pima Cotton is the highest grade of cotton with the longest strands so it will last longer and get softer over time. Bamboo and/or merino wool are other great sustainable choices that also offer natural antibacterial properties. (These styles tend to be designed for hiking and the outdoor market, so we didn't include any on this list.) Polyester will be the most affordable but will have less breathability. On the other hand, it will be easier to care for, is lighter, and dries very quickly.
Always follow the care label inside your garments. The manufacturer knows everything about the garment and will give you the best advice on how to care for it. If you've ripped out the tag or you're not sure, the safe bet is to wash in cold water and hang dry. I hang-dry all of my T-shirts.
Absolutely! For uniformity we chose to spotlight the best white T-shirts, but check the "Buy Now" links provided for other color options.