LaKeith Stanfield's Disco-Era YSL Look (and How to Get It)
The Oscars red carpet has, traditionally, been a venue where women of Hollywood step out in garments created to pull focus and announce, "this is an actor you will be taking seriously, babe." Without the Oscars and noteworthy fashion moments, ranging from Audrey Hepburn wearing Givenchy in 1954 to Björk wearing The Swan Dress in 2001, "red carpet" wouldn't even be a phrase we use. Hell, without the Oscars media circuit, I wouldn't have known who Dior, Prada, Valentino, or Oscar de la Renta were or what they did. After years of digesting the red carpet focused on what women wore, I started to wonder why the men of the Oscars weren't having as much fun.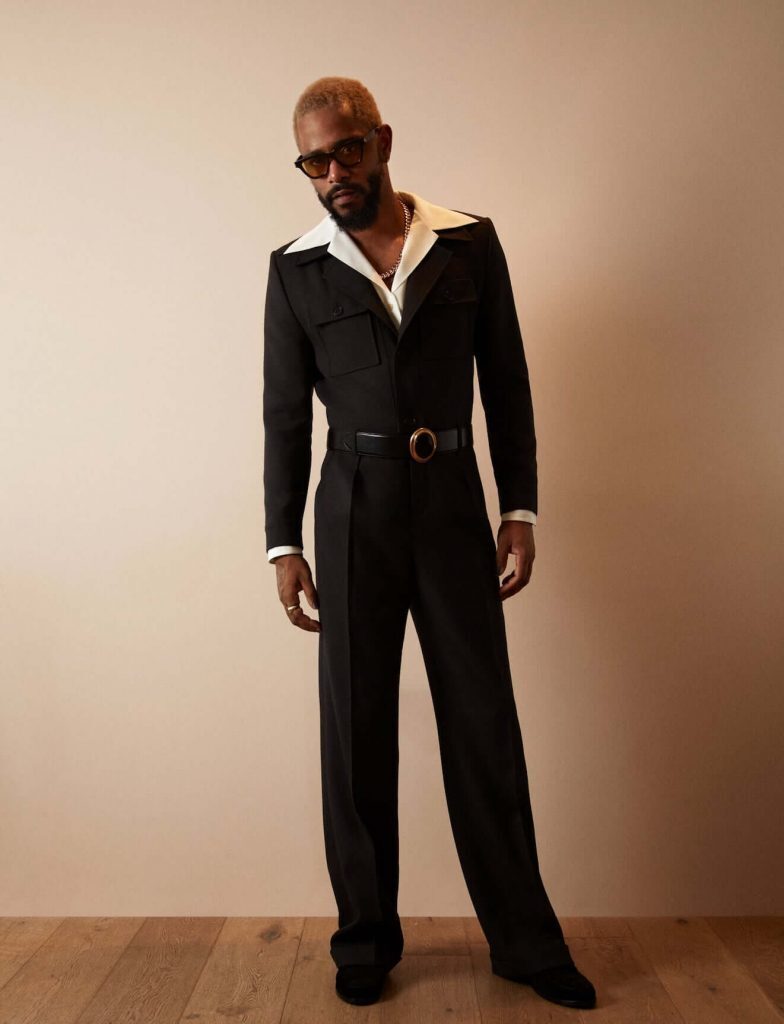 I suppose if a man on the red carpet is going to stick with gendered ideas of clothing, then a suit is what they have to work with — and that's limited. Plus, there's the antiquated idea of a dress code everyone has to deal with each year.
Of the few notable examples of men letting loose at the Oscars, I think of Prince, Jason Momoa and Billy Porter, but the truly jaw-dropping menswear moments on the red carpet are few and far between. 
That said, LaKeith Stanfield now rules at the top of the list. The loafer is correct, the collar is wide, the belt is exceptional, and the chain is HEAVY. Plus, the sunglasses.
It's sleek, it's chic, it fits the theme, it has personality — it does everything a formal ballgown does for someone like Anne Hathaway with a fraction of the fabric. It also says to me, "hey cutie, the '70s are the sexiest decade and you'll never escape its grasp." And for that, I was thankful.
 

 

 

View this post on Instagram

 

 
I could heap compliments on this suit — polished, sexy, bold — but it really does speak for itself. The thing doing the loudest speaking, for my money, is the disco daddy collar. One solid gust of Southern California wind and this man is taking flight — and I'll be on the ground aiming to book the next ticket to follow. Whether LaKeith himself made these decisions or was part of a style team, every inch of the look was considered. Head to toe. Glasses? Perfect. The shoe? Only the best loafer. The belt? I think it's enchanted, actually. We simply must be thankful!
Fashion is cyclical — it survives through reinterpretation, simultaneously brand new and familiar. As much as pop culture and designers influence fashion trends, time periods are the backbone of what most people think of when Capital-F "Fashion" is the topic. If I asked you what your favorite fashion era is, I know you have an answer in the chamber ready to go. I would even place a small wager that a person in your life, of your choosing, that you're confident doesn't care about fashion would be comfortable naming a decade of style they find appealing. For the extra over/under, I'd say it's the '80s.
For me, the 1970s are a transformational decade for fashion. Sexuality and sub-culture affiliations were being expressed with clothing with a new, bolder sense of self, deeply fuelled by the urban influence of disco, RnB, soul, funk, and the burgeoning genre of hip-hop. If the 1960s were about expressing freedom from the stuffy ideologies of "The American Dream," the '70s said: "Let's push it." 
If film, television, and music (the holy trinity) have taught me anything about the '70s, it's that men wanted the freedom to show off a little, and tight, torso-hugging turtlenecks and button-downs were just the ticket.
Saint Laurent is very clearly serving a 1970s aesthetic with LaKeith's red carpet outfit within the confines of the dress code, but it still makes a bold, playful statement. I mean, the man looks ready to dance. We're also about to be delivered a wealth of '70s glamor when Ryan Murphy's miniseries, Halston, premieres on Netflix on May 14. Based on the life of iconic fashion designer Halston, the promo photos of the cast — including Ewen McGregor in the starring role — portray the peak of Studio 54 disco glamor. 
Once I regained consciousness after looking at these photos, I focused all my energy on building a disco wardrobe for this summer. We may not be able to party in a club or cocktail lounge, but I can and will dress the part for me and my Close Friends on Instagram. Since I've been doing a little digging online, here are a few of my personal picks to build your own '70s collection.
First, here are a few characteristics of men's fashion from the early 1970s:
Tight on top, loose on the bottom.
Bold colors.
Bolder patterns.
A sea of textures.
The finishing touches of a well-placed 2-5 accessories.
Remember: tight on top. Find a shirt that fits snugly enough to show off but comfortable enough that you can twirl to the music all night long. Add a blazer to really seal the deal.
In the 70s, the Peacock Revolution was in full swing. Abandoning the stiff, muted look of traditional menswear, 70s men's fashion was all about bold expression. These blazers are a far cry from black or grey options of decades prior.
You don't need to wear bell bottoms to achieve the look, but the pants should be a bit looser so you have more freedom to cut a rug. Any of these wide leg styles would be excellent bases to work with.
The shoe? Again we're focused on danceability so something that's comfortable but not a sneaker. Find a quality loafer or be really bold and get a Cuban heel in snake print. Or really make a statement and find a pair of gold Crocs like Questlove at the Oscars. They're not exactly '70s glamour but I just really love them. As for the sunglasses, you really can't go wrong with these Saint Laurents or a classic pair of aviators.
My personal advice is to make sure you're not dressing as if you're wearing a costume. Over many years of being a drag performer and host, I've seen people take the theme of Studio 54 and show up in Elvis Presley jumpsuits, completely missing the memo. It doesn't matter if it's 2021 or 1971, you're going to a function to look hot and have fun — enjoy it!