Best Coats Guide: 10 Staples Every Man Should Have in his Closet
Coats and jackets are an important part of our wardrobe, not only for the function they serve – to protect against different weather conditions – but for the fashion statement they can make as well. A leather jacket has a lot of attitude and has always been linked to rebellion and youth, a trench coat is all business and sophistication, a fur-trimmed winter parka tells us you're pragmatic, and a pea coat…  well, I think Estelle said it best:
"Dressed smart like a London Bloke (yeah)
Before he speak his suit bespoke (woop)
And you thought he was cute before
Look at this pea coat, tell me he's broke."
            – Estelle – "American Boy" (Feat. Kanye West)
To help you with first impressions, we've put together an all-inclusive guide of all the coats and jackets every man should have in his closet. But first, a little bit of clarification is in order. According to Webster's, a coat is "an outer garment with sleeves, covering at least the upper part of the body." A jacket is "a short coat in any of various forms." Now that we got that out of the way, let's move on to the task at hand. Our guide aims to give you insights into the strengths of each style, giving function, weather patterns, traditions and style equal consideration.
Bomber jackets were first introduced by the US Army in the early 1900s when pilots flew jets with uninsulated open-air cockpits. The early bombers were constructed of sturdy leather and fur linings. The original design has been updated throughout the years, and the model most often replicated is the MA-1 produced for the US ARMY in the early 50s. Today, bombers come in many different styles; styles based on the original design are still available, as well as nylon, wool, and cotton variations. So, what makes a bomber a bomber? A bomber will almost always have a knit waist, knit cuffs, and either a knit baseball collar or a fur-lined fold-down collar. In keeping with the utilitarian design of the bomber, they are usually constructed of a sturdy fabric with a metal center front zipper opening. They may or may not be insulated depending on the model and season.
Alpha Industries MA-1 Bomber Jacket Slim Fit
This jacket from Alpha Industries is a very close replica of the original MA-1 offered in a slimmer, modern cut. The fit is still roomy, and with the rugged nylon, large metal zipper and premium knit cuffs, this jacket is built to last.
Zara's bomber jacket is clean and simple. No insulation, a lighter polyester shell with nylon lining, and black metal zipper. The jacket is constructed with a rib-knit cuff and baseball collar. This bomber is less military, and more chill.
A traditional trench coat is double-breasted, has a built-in belt, and is constructed of heavy-duty gabardine or poplin. Many styles also feature a chest patch, belted wrists and lapels. Burberry lays claim to the invention. Having invented gabardine in the late 1800s, Thomas Burberry submitted the first trench coat design to the United Kingdom War Office, who offered the rain jackets to Class I officers to be obtained as a private purchase.
The jackets made their way to civilian life as officers brought them back and wore them in everyday life. Trench coats have been part of men's and women's fashion ever since and carry a feeling of businesslike respectability. For a modern-day trench coat, look for a shorter length with a more tailored fit, and consider opting for a single-breasted construction. Although British khaki is the traditional trench coat color, go for a darker navy, army green or black for a more versatile look.
Burberry Pimlico Heritage Car Coat
After all these years, it's still hard to compete with the original master. Burberry offers a wide range of trench coats with different technical properties, lengths and tailoring. With high-profile designer collaborations, a dedication to social responsibility and sustainability, as well as years of heritage on their shoulders, Burberry is a global giant. Coveted by the elite class and streetwear aficionados alike, the famous plaid lining makes Burberry one of the most recognizable brands and symbolizes success. Like all products constructed with this level of craftsmanship, a Burberry trench is an investment, so choose wisely and choose one you will love for years to come. If you want modern, The Burberry Pimlico Heritage Coat is one of the best available.
Rag & Bone Khaki Harrier Trench Coat
The cotton/nylon blend twill of this Rag & Bone option has just enough structure and waterproof texture as well as a super-soft touch. The fit and cut are modern with a clean silhouette and a center front placket instead of a traditional button placket. Underneath the placket, you'll find a concealed sturdy 2-way metal zipper and silver-tone hardware. The jacket also features a back vent and a partial cotton lining for added comfort.
If you live in the Midwest or on the east coast, the winter parka needs no introduction. The parka, originally designed for arctic expeditions, has become a staple of east coast living. When the temperatures hit below -10°F on the regular, you don't really have much choice. Most winter parkas are either filled with goose down or a synthetic version. These "feathers" provide pockets that keep you warm by trapping air. With all of the sustainable vegan choices available today, there is less and less reason to buy a down-filled jacket. If you're skeptical and must have down, opt for a brand that uses traceable down to minimize animal cruelty. You also want a parka with a sturdy windproof fabric, a large storm flap covering your zipper opening and maybe even a fur-trimmed hoody. Fake fur, of course. Choose a slightly longer style for added warmth and comfort.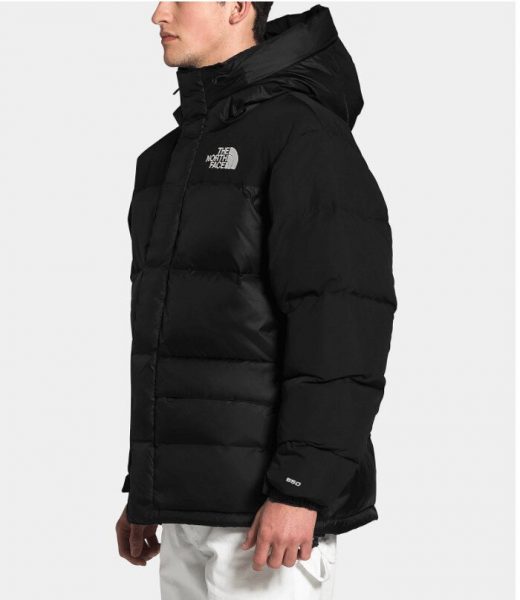 When looking for protection from the elements, The North Face is always a good place to start. This stylish parka is loaded with features fit for an expedition but made for everyday life. The coat offers the protection of a stormflap with hook-and-loop closure that covers the center front zip, and the warmth of 550-fill goose down. It also features a fixed, adjustable hood.
Patagonia City Storm Parka
No outdoor brand has done more for the advancement of sustainable processes and fair-trade practices as Patagonia. It's built into their brand ethos. But they are so much more than sustainable; they are committed to developing some of the most technical jackets available today. The City Storm Parka is insulated with 700-fill-power duck and goose down (recycled from down products), recycled fabrics, and is Fair Trade Certified sewn. It's one of the best fitting coats we've ever worn. It's lightweight and it blocks out everything.
With the changing weather patterns across the globe, and our ever-changing commuter habits, it's hard to argue against the idea of layering as the best way to keep warm throughout the day. Transitional wardrobe staples have quickly gained popularity and none more than the down insulator. On its own, the insulated down jacket will keep you warm without compromising breathability or weighing you down (no pun intended). Worn under a technical rain shell, you have a complete weather package. Of course, as with the parka, there are many options featuring synthetic options to down featuring identical warmth and weight and even better moisture management. Most outerwear and technical apparel brands offer packable versions, so it's easy to always have on hand.
Patagonia Micro Puff Hoody
This jacket is as good as any down insulator out there. The difference is Patagonia achieves this without the cruelty of down. High warmth rating, super breathable and packs down super small. The cuffs and hoody are finished with a soft elasticized binding that fits perfectly every time. It's everything you need in a packable jacket.
Uniqlo Ultra Light Down jacket
This Ultra Light Down Jacket almost single-handedly launched Uniqlo into the American market. You probably already own one or two, and your cousin, neighbor and Uber driver probably all have one too. This jacket is warm, breathable, and has a great fit. It's offered in an array of colors every season and is one of the easiest jackets to wear for any occasion. You could wear this on a date, you could wear it to the office and you could wear it on your annual ski trip. The best part about this jacket is that it's under $100 and stands up to most jackets that cost double that.
No matter where you live, the technical shell is one of the most important staples in your closet. This jacket should be designed with a waterproof material, preferably a laminated fabric that protects against rain and wind while offering maximum breathability. To ensure waterproof ability, look for models with taped seams and waterproof zippers. This jacket can handle all weather transitions and is a crucial piece of layering. A lightweight, hooded version will offer more versatility.
When it comes to technical garments no one does it better than Arc'teryx. The SL in Zeta SL represents super light which is a big focus on this jacket. But don't be fooled this jacket is technically superior. It's made with Gore-Tex and Pac Lite Plus product technology, the best waterproof/breathable technology known to man. This tailored fit is cut for movement and packs super small.
Fjallraven High Coast Hydratic Jacket
The High Coast Hydratic Jacket is a 2.5-layer shell jacket with a clean aesthetic. The polyamide shell features a PU coating and PFC Free impregnation to help keep away all the elements. The fit is impeccable and features a fitted hoody and adjustable cuffs.
Popularized by European and American Navies, pea coats are generally made up of heavy wool and nearly all are a varying shade of Navy. The pea coat is a classic dating as far back as the early 1700s, and modern renditions — although a bit lighter weight — still remarkably maintain the original design and composition of the original. Traditional pea coats are double-breasted with large lapels, closed with large plastic, wood or metal buttons, and feature large, welted hand pockets. Like trench coats, pea coats give the impression of success and sophistication.
Saint James St Hilaire Modern Pea Coat
If it's authenticity you're looking for, look no further than Saint James. They've been at it since the middle ages, they invented the striped sailor shirt, and if that's not enough, you know that striped sweater Picasso used to wear? It's a Saint James. This particular wool pea coat has a slimmer fit and modern detailing but still carries the same authenticity as all Saint James pieces.
We've all heard of duffel bags, but what's a duffel coat, you might ask? This coat gets its name from the Belgian town of Duffel, where duffel fabric — a thick, woolen material — originated.  The style is defined by its wooden or horn toggle and leather fasteners down the front, as well as large outside patch pockets.
Gloverall Original Monty Duffle Coat
This beauty — named after the iconic wartime commander Field Marshall Montgomery — is made of a fine Italian wool blend and cotton herringbone webbing interior. The wooden toggles and jute rope fastenings are just the right amount of detailing, and the slightly oversized fit makes layering underneath easy. With eight colorways, from Grey to Camel and Rust, the Gloverall Duffle would make great addition to any man's wardrobe.
If you live in a very wet climate, a proper rain mac is necessary. Look for a fully waterproof rubberized fabric with welded seams and a large hood. Also make sure to pick a model with storm flaps on all pockets and the main opening. Because the fabric will be less breathable, look for a jacket with chest and back vents built in. These overtly utilitarian creations are usually ¾ length and feature a soft lining ensuring you stay dry and comfortable.
Like the name already suggests Rains delivers uncompromised simplicity rooted in functionality. Everything they do has one purpose, keeping you dry. With meticulous attention to detail, everything rains does is understated and easy. Check out the Jacket in Green. Made from polyurethane and constructed with welded seams, this is one of the best available on the market.
We all remember our first leather jacket. We thought we were so cool. The confidence you get from wearing a leather jacket actually does make you that much cooler. At the end of the day, that's what cool is: confidence. Not all leather jackets are cool though. Perfectos, moto jackets, and bombers are all great, but if you're thinking leather trench, you may want to reconsider. Leather trench coats are just creepy. And if you really want to do the right thing, go for a vegan leather option.
Banana Republic Vegan Sueded Bomber Jacket
This simple bomber style is super clean and sophisticated and easy to wear. It's designed with ragland  sleeves for a great fit and has just enough stretch. Welcome to effortless cool.
This one is a no-brainer. A jean Jacket — and by "jean jacket" I'm referring specifically to a western jean jacket — is just as cool as a leather jacket and looks more effortless, so it's actually cooler. It's easier to pull off and transitions to different functions with ease. You can wear it over a tee-shirt to just about any function, from a happy-hour hang with colleagues to brunch with friends or family. Nothing says effortless cool quite like a nice jean jacket. If you typically wear jeans, you might want to consider a black jean jacket to avoid the obvious Canadian Tuxedo. If you do opt for the tuxedo, do it with pride and own it.
Levi's Vintage Fit Trucker Jacket
Some things are just more obvious than others. I mean, if you're looking for a jean jacket, why would you even look anywhere else? The Levi's Vintage Fit Trucker Jacket is perfect. The jacket features traditional details with a roomy fit and slightly longer sleeves. It's also got hand pockets, which we love. Buy it in black and avoid the Canadian Tuxedo.