Klute Turns 50: Jane Fonda, Feminism & Fascination
"I can't do it. Hire Faye Dunaway."
Those were the words uttered by a distraught Jane Fonda to director Alan J. Pakula. It had been a week since the actress had shadowed sex workers and madams in an attempt to understand the complicated world of struggling actress/call girl Bree Daniels. It was a world miles away from the one Fonda knew, having grown up as the daughter of legendary and venerated film actor Henry Fonda.
After an evening spent in after-hours clubs trying to blend in with this new night-time crowd, she was sure she couldn't stick the landing. "Not one john even winked at me." She would go on to write in her first memoir, My Life So Far, "Even the pimps know I'm not a call girl!" And it was this moment of insecurity that led Fonda to suggest the hiring of her friend Faye. An offer that Pakula flatly refused.
Fonda wasn't the woman the world had come to know. She had changed. Or at the very least – she was changing.
To most people, Fonda was a promising new talent/sex goddess who had just starred in the camp classic, sex romp Barbarella. And with a string of films behind her, she had yet to demonstrate what she could really do.  But all of that was about to change.
Taking on Klute: A Feminist Approach
She had divorced her husband, the celebrated French director Roger Vadim (who also helmed Barbarella), she had gone to India, she had become radicalized, and she had cut her hair. Yes, that signature cut given to her by Vadim's barber, Paul McGregor. The famous shag cut.
She took a road trip, driving from Los Angeles to New York, getting arrested a dozen or so times, according to Fonda's estimate. And, so, as she approached the filming of Klute, she emerged with what Fonda herself has called, "the very early sprouts of feminism."
When Fonda was approached by Pakula with the script for Klute, she had her reservations. In a sit-down interview with Illeana Douglas for the Criterion release of the movie, Jane Fonda recalls, "I was just beginning to understand feminism." (The Women's Movement was something that Fonda said she resisted in the 60's.) And it was on her 1970 road trip that it occurred to her, "Well, if I'm a feminist, I can't play a prostitute." It wasn't until she called up her friend, blues/jazz singer and political activist Barbara Dane, that she was given new insight: "Listen. This script gives you a chance to go deep. And if you can go deep into any human being – that is feminism." And with that, Jane Fonda charged forward.
Once Fonda felt it was politically copacetic, she then encountered her next problem.
In her time researching the people who then helped to make up New York's underbelly, what was especially striking to Fonda were the sex workers themselves. A heart-breaking revelation then followed. "There was no light in their eyes… It was like their soul had been taken out of them." Feeling unsure and out of her depth something else soon occurred to Fonda. During her time in France while married to Vadim, Jane Fonda had come to know a group of extremely high-class call-girls.
These were women that Fonda described as being capable of any number of other things. "They weren't just beautiful. They were intelligent enough to have led other kinds of lives." And then, the emotional wallop that unlocked everything. Fonda learned that most of these women had been sexually abused. "So that is how come they ended up earning their living, making a lot of money with their bodies and their sexuality.
And it was this piece that laid the psychological foundation for Jane Fonda to finally begin to understand and unravel Bree.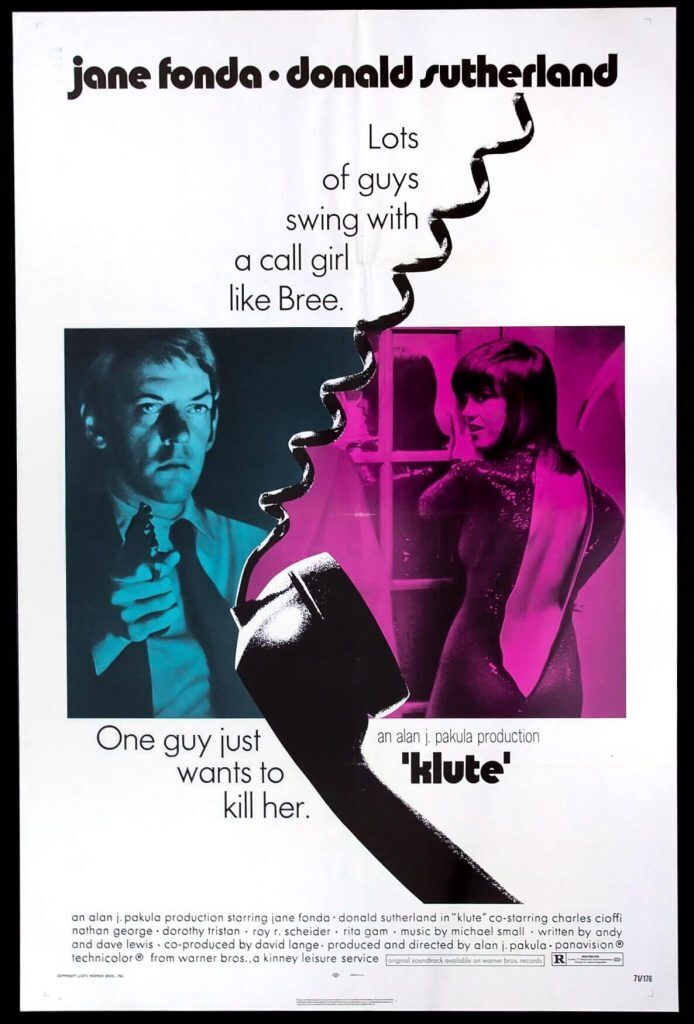 50 Years Later: Klute's Complex Character Portrayal Still Holds Up
The film follows John Klute (played by Donald Sutherland), a detective who is hired to track down one murdered who is suspected to be behind the murders of several sex workers in New York City. Klute comes into contact with Bree Daniels, who is suspected to have also been brutalized by this man two years prior.
What follows is an intricately woven story that succeeds on every level. On the one hand, it's a sexy, psychological thriller. And then on a dime, it becomes a terrifying and devastating film noir.
Jane Fonda's performance won her the Academy Award for Best Actress, and deservedly so. Her depiction of Bree is not unlike the compelling visual aesthetic of the film. She finds every nuanced shade and color of her character. Her performance deliberately weaves in and out of focus as she mines the depths of Bree's fragile mind and stoic demeanour. By the end of the movie, Bree feels less like a character and more a fully realized human, with her heart beating right in front of you.
One of the final scenes that helps bring the movie to a close has Bree Daniels, dressed in a floor-length sequinned dress, sitting at a desk while listening to a recording of a call-girl being brutalized while on the job. The camera is close up on Bree's face and it never cuts away. And in this devastating moment, Jane Fonda turns in a tour-de-force performance without even saying a word. We watch her heart break on camera, and worlds collide on her face.
An interesting element of this movie is how advanced it is as it relates to the social politics surrounding sex workers. I revisited the film a few months ago after it was released on the Criterion Channel's streaming platform, and I was delighted to discover that not only had the film aged beautifully – it in many ways has remained timeless.
At no point does the movie shy away from the realities surrounding how dangerous sex work can be. But it also never judges its subjects. We as the audience are presented with an inherent understanding that these women have these whole, full, complicated lives that have brought them here. While we may not agree with their choices, or want this life for them, we understand these women. And we have compassion for them.
And in the humanizing of these women, I can't help but have the words of Barbara Dane echo in my brain. "If you can go deep into any human being – that is feminism."