A Barfly's Ode to the Unfilled Glasses & Bars Around the World
"We've stepped into Suspiria," I say to my post-Soviet counterpart, Kiki, after we sit at a table inside the NewAge Caffee in Skopje, North Macedonia. The temperature is much colder inside the space than outside, and the curio cabinets surrounding our table display what I can only assume are magic potions.
On a small stereo next to the kitchen the warbling voice of PJ Harvey echoes, when in walks Zhanna, a seventy-five-year-old woman, the proprietor of the establishment. She meanders around her kitchen before taking our orders and asking me how I like my absinthe served. This is both Zhanna's business and home, a creaky house off an alley, not far from the city center. It's a venue that is notably a prominent safe zone for the rainbow flag community, and anyone needing respite from the brutal, clean lines of the former Yugoslavian republic, or just the general soccer-forward bars in the neighboring area.
NewAge Caffee in Skopje, North Macedonia. Photo: NewAge Caffee Facebook.
Zhanna makes her own liquor, she tells us as we all light cigarettes from our two-dollar packs, although her daughter makes most of the libations these days. "My daughter chooses the music and makes the absinthe and rakia from my recipes. I am mostly the talker these days. She is not the type to sit and chat." My one glass of absinthe nearly blinds me, which of course means I need to buy a full bottle to take home and make a deep, personal relationship with. In a few days, curfew is returning in the country, with bars and restaurants fully closing indefinitely. A shame for the hospitality workers in this relatively new country, and for us barflies who collect our stories from the Zhannas we meet.
A Mythological Place of Socializing and Storytelling
The Bar (capital T and capital B) as an idea seems to have waned in relevancy this century. Our meetups grow more virtual; our vice options broadened beyond a jug with three X's branded on it. The moments young people get to seek out now have possibilities beyond a pint glass and a half-full ashtray. And now, over a year into a pandemic that puts these venues last on the priority list and first on the unsafe list, many of us feel the setting for our most joyous and/or most embarrassing memories may fade beyond saving. However it's possible that the stories, the music, and the memories can all grow stronger the more this lifestyle is threatened with extinction. In the 18th century, nostalgia was usually listed as a disease (beside dropsy, jim jams, and grief), so what's to stop that vintage ailment from being an aftershock from our current, wretched pandemic situation? Many are lately lamenting their loss of bar time, but can we save it beyond being relegated to future campfire stories?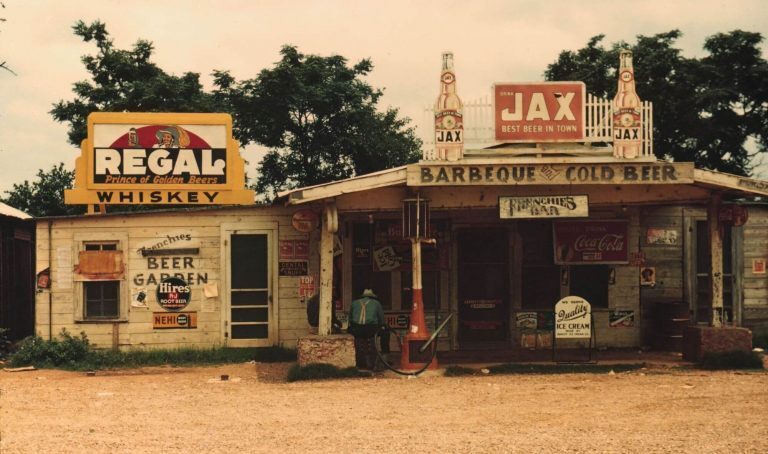 Frenchie's Bar in Melrose, Louisiana, circa 1930. Photo: Wikimedia Commons.
"I love Putin!" exclaims Zhanna. I, half cut on her home-cooked magic liquors, am perplexed. "What? Why?" Zhanna stops and points her finger at me with defiant wisdom. "Everyone loves one crazy man. It might as well be him," she says with firm confidence as she brushes away the cat (an actual black cat named "Cat") that lives in this wickedly arthritic home straight out of a goth Pinterest user's wet dream. We tell Zhanna's daughter that we love her music choices, and she responds with only a smirk, either out of language barrier or of hearing this from westerners like myself too many times over the years. The cherry blossoms in the outdoor section blow in the early spring wind, and Charlotte Gainsbourg's twee voice from the speakers feels almost to be the cause of the breeze. "Everyone can be everyone here. It is my home," Zhanna proclaims. From Russian businessmen to dreadlocked backpackers, the NewAge Caffee is one of those mystery spots in the world you want to disappear into until next Cosmonautics Day.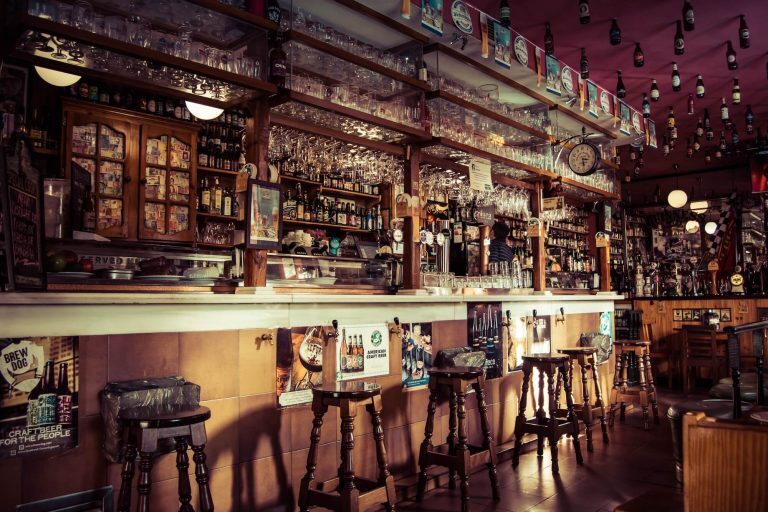 Small pub in Madrid, Spain. Photo: Unsplash.
From a sixteenth century pub in the New Forest in England's Hampshire area, to the fictional back pool room of Cheers where Harry the Hat could pull together his best ruses, the bar is a place of mythology, a place where you can plan a bachelorette party or a revolution. It's a setting where you can feel like Hemingway or feel like John "Bluto" Blutarsky. It may be a tad trite to simply say "Don't forget the bar" or "Let's save bars" as if I'm heading a gang of 1970s ne'er-do-wells, attempting to save the rec center from a Snidely Whiplash type developer, but we may need to be proactive at this nexus of history to make sure these places don't fade. Nashville, Tennessee, for instance, is growing too quickly through the influx of transplants, and the beloved venues there are in danger of being plowed over. Recently, the infamous Exit/In venue was put up for sale, and the locals decided this was enough, prompting an enormous rally to preserve it. The purchasing developer has since promised to maintain the venue, but with the recent history of gentrification in that city, the native population are skeptical, and right to feel so.
Transcending Time and Borders
Da Nang, Vietnam, Christmastime, 2019. I'm parked on a stool at the Universal Pub in the city's Riverside neighborhood. The fifty-inch screen behind the bar plays a soccer game that has the older Englishmen who are bookending me enthralled. Even at my six foot three, 220-pound frame, my presence is negligible. My bartender for the evening is a young woman who works her room with the exact flavor of poise and frankness I love to be around. She's paying a sliver  more attention to me, doing a great job of noticing my higher-than-average cigarette schedule, recognizing that her Commonwealth regulars can seem intimidating to someone as new as myself.
Tiger beer is forever the drink in Da Nang, whether on the streets or in the pubs. I do, however, notice a bottle behind the bar that couldn't be anything but a drinker's talisman. It's a regular booze bottle, with no branding, and a full cobra inside, surrounded by small lizards, bugs, and sticks. "Cobra liquor," I think to myself. "Well, that will sort you right out." I motion to the bottle, and the bartender brings it down, pours me a two-ounce shot and says, just loud enough for the brutes beside me to hear, "Snake. It's good for your snake," giggling at her innuendo. Down it goes. An earthy taste, but not unpleasant. My "snake" does not react, however you'd think by the reaction of the regulars that I'd just passed some archaic toxic test. They turn the soccer down and invite me to choose what music I'd like on. I am Captain Benjamin Willard in Apocalypse Now, having just eaten the shrimp that proves my courage in the briefing.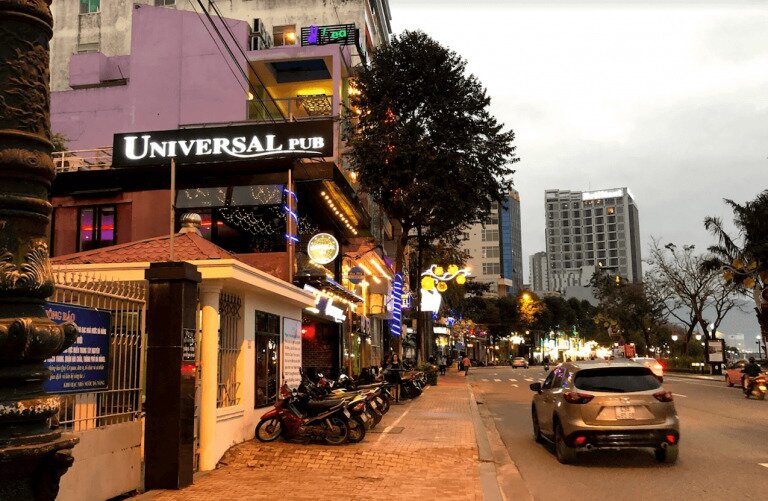 Universal Pub in Da Nang, Vietnam. Photo: Akihisa Higuchi. Editor's note: this bar closed its doors permanently on January 2, 2021. 
I fly out of Vietnam on Christmas Day soon after. Thirty-five hours, door to door, Da Nang to Kansas City, Missouri. I sleep in the Narita Airport during my layover, snoring into the faces of bemused and/or annoyed Japanese business types. (Read about my mastery of the lost art of sleep here.) It's my birthday in a few days, and after the Matchbox 20 cover band in the "jazz" bar in Da Nang, I feel a need for the original American artform. My reliable friend and MVP of my life, Hayley, is coming to meet me for a small birthday celebration. After the president of the Negro League Baseball Museum so kindly opens up the doors on his day off to give us a tour, we head to the Blue Room next door.
Hayley immediately becomes friendly with the band on their break and, through her fraternizing, it becomes known to the patrons and staff that I'm celebrating a birthday. The host, wearing a suit made of what I can only describe as glitter and sunshine, announces to the venue what day it is to me. A man a generation older than me named Doug sits beside and buys me a drink. We discuss the staccato horns in David Bowie's music and how he was influenced by early soul acts and was originally a trumpet player. Doug's daughter and her fiancé let Doug know that they are leaving, but Doug remains with me. We spend the night comparing stories of American football and his time in the military. Still today, Doug and I speak weekly and share our playlists of contemporary and classic jazz.
Blue Room at the American Jazz Museum, Kansas City, Missouri. Photo: The Blue Room Facebook.
Zhanna at the NewAge is nonplussed about the lockdown as any seventy-five-year-old in the former Yugoslavia is. She's been through enough in her life that two weeks of not filling me full of absinthe won't vex her. "You are wanting bottle of absinthe to drink until am open again?" Of course I do. Death in the Afternoon cocktails on your AirBnb patio are a great way to see a pandemic through when you can't cozy up in the best bar you've ever been to for the next few weeks. Zhanna slowly disappears into her back shed and returns with the green elixir, hands it to me, then puts both her hands on my shoulders. "I love you!" she belts out in her delightful Slavic accent amidst a deep laugh. You know what, Zhanna? I think I love you too.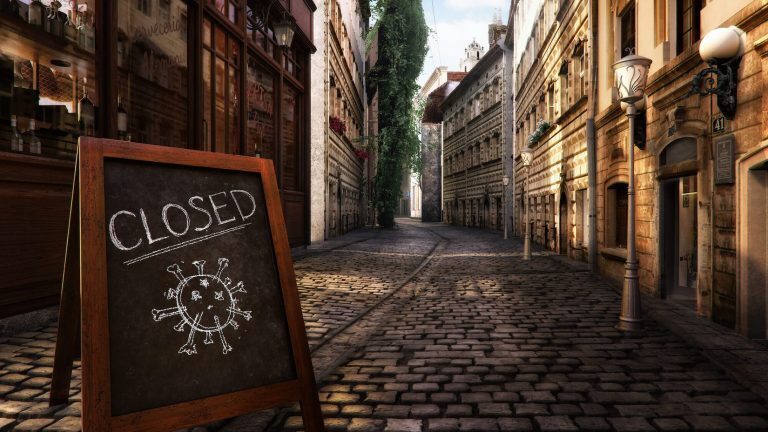 Bars all around the world have been facing unprecedented challenges in the wake of the COVID-19 pandemic, so don't forget to show your love!
Donate. If you have a local favorite spot, get in touch directly to make a donation, or do a little digging to see if your city or town already has an active crowdsourcing campaign.
Order. This may vary by location, but many bar establishments offer food and alcohol take-out and delivery options.
Patronize. If bars are open in your area, go! Not a drinker? Not a problem. Alcohol doesn't need to be a factor to support and enjoy the ambiance… and many places make an excellent mocktail!
Buy merch. Many establishments have gotten creative over the past year and have merch or gift cards available for purchase. Every little bit helps, so picking up a t-shirt from your favorite local haunt is a great move.