Whether you walk the course or ride an electric cart, you're going to need a good golf bag to keep your clubs and everything well organized. But what does "good golf bag" really mean? 
Yes, a golf bag is essentially a bag that holds your clubs. But the best golf bags on the market go far beyond that basic purpose. Whether you're looking for a minimalist carry bag, a versatile stand option, or an ultra-roomy cart bag, the best golf bags will house exactly what you need so you can access your gear with ease when you need it. The last thing you need is a difficult-to-manage bag stressing you out before you've even taken your first swing.
Below, we lay out a few things to look for, as well as our picks for best golf bags in 2021.
What To Look For In A Golf Bag
If the bag doesn't feature 14 golf club separations, don't even bother. The last thing you want is all your clubs clanking together and having to fight to remove a club because three other clubs follow the one you're trying to pull out. You have enough to worry about out there; your club selection and availability should be effortless.
A good golf bag will also have a large pocket with easy access to your golf balls, a great cooler compartment for your, um… water, as well as an extra-large pocket where you could store a jacket or sweater, and a few pockets to keep personal items. Apart from pockets, a good bag will also have a hook or two for you to attach your brush and towel, a couple of loops to hold your umbrella in place, and maybe even a system giving access to balls and tees without having to reach inside any pockets.
Now that we got through the basics of what to look for, we need to choose the right system: carry, stand, or cart. 
Carry bags are very lightweight, lacking in real structure, and often only have one or two pockets. These are for the minimalist golfers out there, and/or those who love walking the course. Most people will opt for the two full-size options — stand or cart — and these are the categories we've focused on here.
If you're walking the course without a pushcart, it's important to equip yourself with a stand bag. Backpack straps and lightweight material ensure comfort walking the course, and a pop-out stand forms a tripod, so your bag remains in standing position for easy access to all your clubs. These bags are great for the golfer who occasionally feels like carrying the bag for 18 holes, but who still wants access to all of his gear. 
That leaves cart bags. The largest and heaviest of the three, cart bags can neatly fit all of your clubs with room to spare for whatever else you need with you on the course. These bags don't have a built-in stand option as they're not intended to be carried around the green.
When walking with a pushcart or riding a cart you can use any cart bag. (You can also get away with using a stand bag, although you may have some obstructed pockets and clumsy straps to deal with.) Some companies are now making pushcart specific bags, which consider weight and pocket organization best suited for walking the course.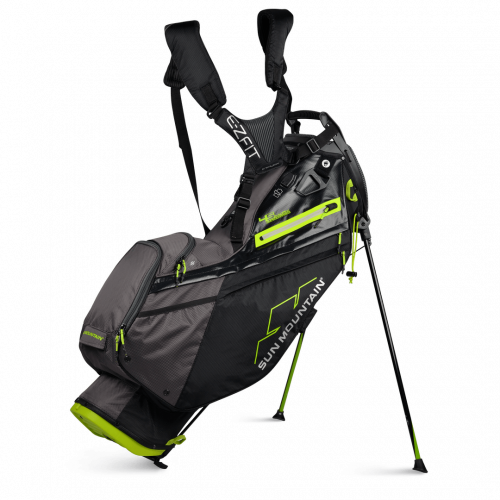 Sun Mountain 4.5 LS 14-Way Supercharged Stand Bag
Perhaps the mother of all stand bags, the Supercharged holds nothing back. It all starts with the award-winning E-Z Fit Dual Strap, one of the most elaborate shoulder-carry systems on the planet, giving the user an easily adjustable superior fit and comfort level. These carry straps feature a three-layer ergonomic construction with additional grab loop for maximum carry comfort. The bag boasts ten pockets in all, including a full-length clothing pocket, hydration pouch, multiple accessory pockets, and a waterproof velour-lined valuables pocket. And if that wasn't enough, here's where it gets interesting. The bag features a Phillips Power Bank capable of powering speakers, phones, and any other electronic device. The 10000mAh Lithium battery powered Bank has two USB ports, one standard and one rapid charging, allowing you to charge multiple devices at the same time.
Titleist Hybrid 14 Stand Bag
The Hybrid 5 Stand bag is perfect for someone who walks the course most of the time but likes to ride a cart from time to time. The bag is lightweight and features an automatic stand while also having a cart/trolley-friendly design. The premium double strap makes it super comfortable and easy to carry and has a Cart strap tunnel if you would rather use a cart. The quick access waterproof valuables pocket is super convenient as are the two exterior water bottle pockets. All in all, this bag has seven pockets, including a large easy-access ball pocket and an expandable apparel pocket. The 14 cuff dividers are super convenient, well sized and have just the right amount of cushioning. The bag also features great tour-inspired handles for easy carrying and lifting onto your cart. Aesthetically, this bag is a winner, and the five colorways are all fire.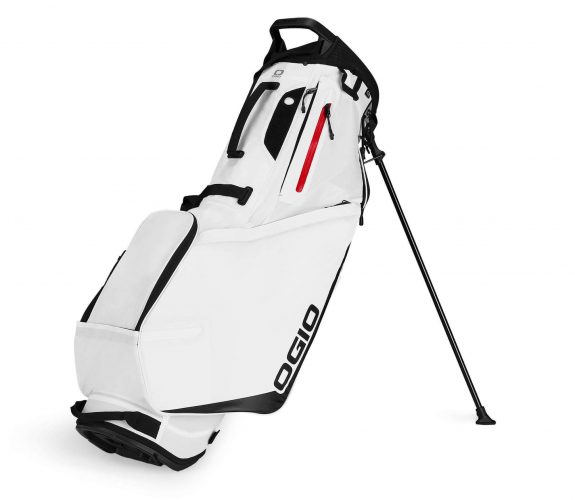 Ogio bags made a splash when they first launched into the market over 10 years ago, and while OEM Golf manufacturers have stepped up their game, they all struggle to keep up with Ogio. Ogio's look and feel is more like an action sports brand and that alone is reason enough to buy one of these bags. They just look better. Looks aside, this carry/stand bag is one of the top on the market.
The focus with this bag design was to deliver the lightest most comfortable walk possible and Ogio has delivered. The ultra-light, anti-abrasion rip-stop and refined design delivers durability and maximum performance. The Fit Disk carrying system coupled with premium redesigned shoulder straps improves weight distribution and comfort. The bag features five zippered pockets, walking accessible stash pockets for water and/or cell phone, and a removable ball pocket panel. The bag is also constructed of recycled plastics and has an oversized carry handle for easy manipulation. If you insist on carrying your bag, this is your best option.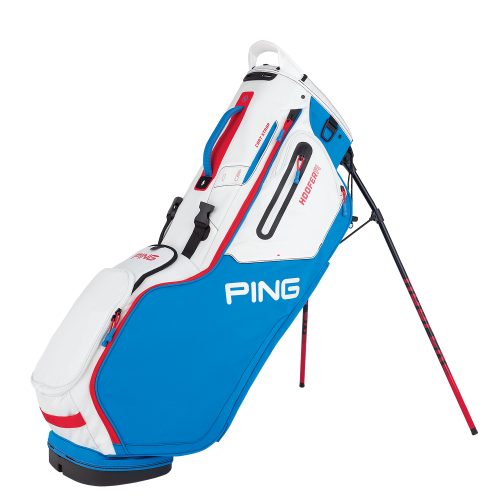 The Ping Hoofer 14 stands out amongst stand bags with its unique profile and 14-slot compartments for easy organizing of all your clubs. The newly engineered back puck makes it easy to convert your carry straps from a single over the shoulder system to a full backpack style depending on your preference. The bag is also designed to easily strap onto a cart with its pass-thru channel ensuring un-obstructed access to all 12 pockets. The bag features a rain hood conveniently attached inside the cushioned hip pad for added comfort when not in use. Amongst the 12 pockets you will find a quick-access magnetic rangefinder pocket as well as a conveniently situated water bottle pocket accessible during your walk. All of this packaged into a beautiful design weighing a mere 5 lbs.
With Vice's direct to consumer distribution model, you know your dollar will go a little further, so it's not surprising to find their new golf bags amongst some of the best for a fraction of the price. The Cruiser bag features a 15-club configuration, water repellent materials and a highly-detailed design. The padded carry straps and ergonomic carrying handle are integrated into the top encasing for simple transportation and maneuvering. The bag is equipped with eight different pockets with dedicated storage solutions for balls, gloves, accessories and even an extra sweater or windbreaker. This is one of the lightest bags you can find so it's great for walking the course as well. If your favorite streetwear brand made a golf bag, it would probably have a lot of the same details as this bag.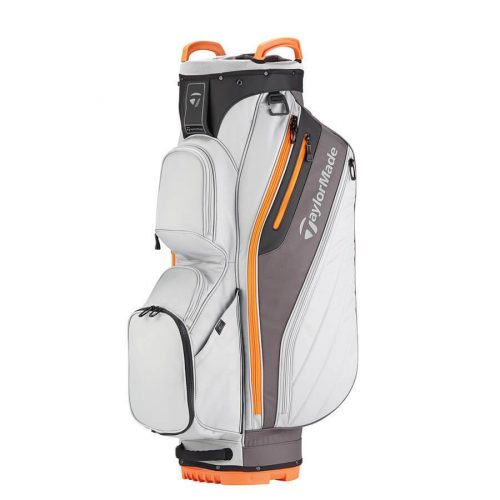 Most cart bags are designed with driver carts in mind and, although they can easily be used on any cart, they are usually not specifically designed for push carts. With more and more golfers using push carts, TaylorMade jumped on the opportunity and has designed a bag specifically to be used with most popular push carts. The designers engineered a new 14-club top shape and a trolley notch in the base to ensure a perfect fit and the ideal angle for choosing your clubs. The strategically placed tarpaulin panels ensure long-term abrasion resistance when using cart straps. 
The bag also weighs in at an astonishing five pounds, making it one of the lightest cart bags on the market. This not only makes the bag easier to push around, but also easier to carry in and out of the house. And since it's crush-resistant, you don't have to worry about throwing it in the back of the car either. The full-length club dividers are well-organized for easy club selection and storage. You'll find all the usual pockets, including an easily accessible insulated water bottle pocket, two micro-suede valuables pockets, and a tee pocket amongst the total of ten compartments. This is the best pushcart bag. It's available in four colorways.
Sun Mountain Build Your Own Bag C-130
The C-130, Sun Mountain's best-selling cart bag, was created to work best on a cart. All aspects of this bag were designed with the cart in mind. The reverse orientation top with three utility handles for easy manipulation features the best 14-club layout of any bag on this list. We love the putter slot, which is encased in plastic and will fit the biggest Super Stroke grip you can find. The bag has an integrated Smart Strap system, eliminating pocket obstruction, and features cart bumpers to protect your clubs and your bag. All 13 pockets on this bag are front facing for on-cart access, including the velour-lined rangefinder pocket conveniently constructed with a quick access magnetic closure. 
The bag is available in over ten great colorways, and if that's not enough, pay a little extra and build your own by customizing over ten different panels and components, creating a true one-of-a-kind bag. You also have the option of customizing your bag with an embroidered name or phrase. Sun Mountain is one of the only golf brands dedicated to designing and manufacturing bags and carts. It's their primary focus and it shows.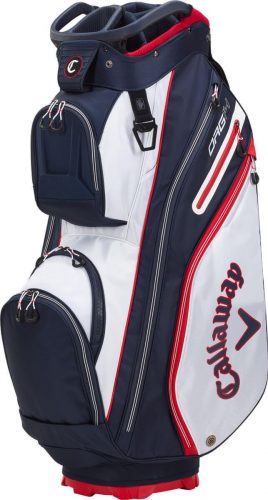 The re-designed Callaway Org 14 Bag offers massive amounts of storage and multiple cart and trolley-friendly features. The unique arched top with 14 club organization slots and built-in oversized handles optimizes access to clubs on electric carts and push carts. The full-length dividers and putter well have TPE molds for shaft protection. The bag is constructed of heavyweight fabric to ensure durability over time. The ten front-facing pockets include an improved molded rangefinder pocket, a velour-lined valuables pocket with a waterproof zipper, as well as a dedicated cell phone pocket and insulated beverage pocket. The new Trolley-friendly hook and loop straps will secure the bag in place without obstructing pockets. The padded single strap is stowable, so it won't interfere with your trolley like other bags out there. The bag also features a carabiner towel hook and glove attachment. This bag packs a lot of value for a reasonable price.