The Best Golf Push Cart Options This Season
There's nothing quite like sauntering down a beautiful fairway after a well-hit drive.
And while ripping around a course in a golf cart can have its moments, golfers today understand that, as long as you're healthy enough to do so, the game of golf is often best enjoyed on foot. This makes a golf push cart one of the most quintessential golf accessories.
To enjoy the game the way it was meant to be played, you need the right companion to help you lug those clubs around all day, which is why everyone should get themselves a quality golf push cart. But which one is the best golf push cart for your style and sensibility? Read on to find out!
What to Look For in a Golf Cart
The term "push cart" is becoming more and more of a misnomer, because today's carts move fluidly whether pushed, pulled or driven with a remote control. But no matter what you call it, be it a trolley, a golf club carriage, or a golf bag rickshaw, they all serve the same basic function. They help you get your gear where you need to go without resistance or fuss.
But that's not to say that all golf push carts are the same. There are a lot of options on the market today, so here's what to look for before buying a new golf push cart. 
The choice between two, three and four-wheeled golf carts might seem a bit arbitrary at first glance, but this is the place to start when looking for the best push cart for golf because it is the most fundamental design element.
Early push carts were bare-boned, two-wheeled versions with few accessories or features, making them little more than golf bag carriages. For infrequent golfers, they remain a good choice because they are affordable and compact, so they won't make a big dent in your wallet or your storage space.
The introduction of three-wheeled push carts brought the full gamut of accessories into play, ranging from drink holders and umbrella holders to a convenient spot for a scorecard, as the increased stability provided by the third wheel made it possible for push carts to carry more weight while remaining highly maneuverable.
Add a fourth wheel, and you get the utmost in stability and weight carrying capability, making it easy to add a wide range of accessories.
Golf carts can carry a lot more than just a set of clubs, but not all golfers feel the need to bring anything more than the basics out on the course, so this is a good place to start narrowing down your choices for a new golf push cart.
If you have minimalist tendencies, then you aren't likely to need much more storage than your golf bag provides. However, if you prefer to have everything you could possibly need within arm's reach, larger models with ample storage baskets are your best bet.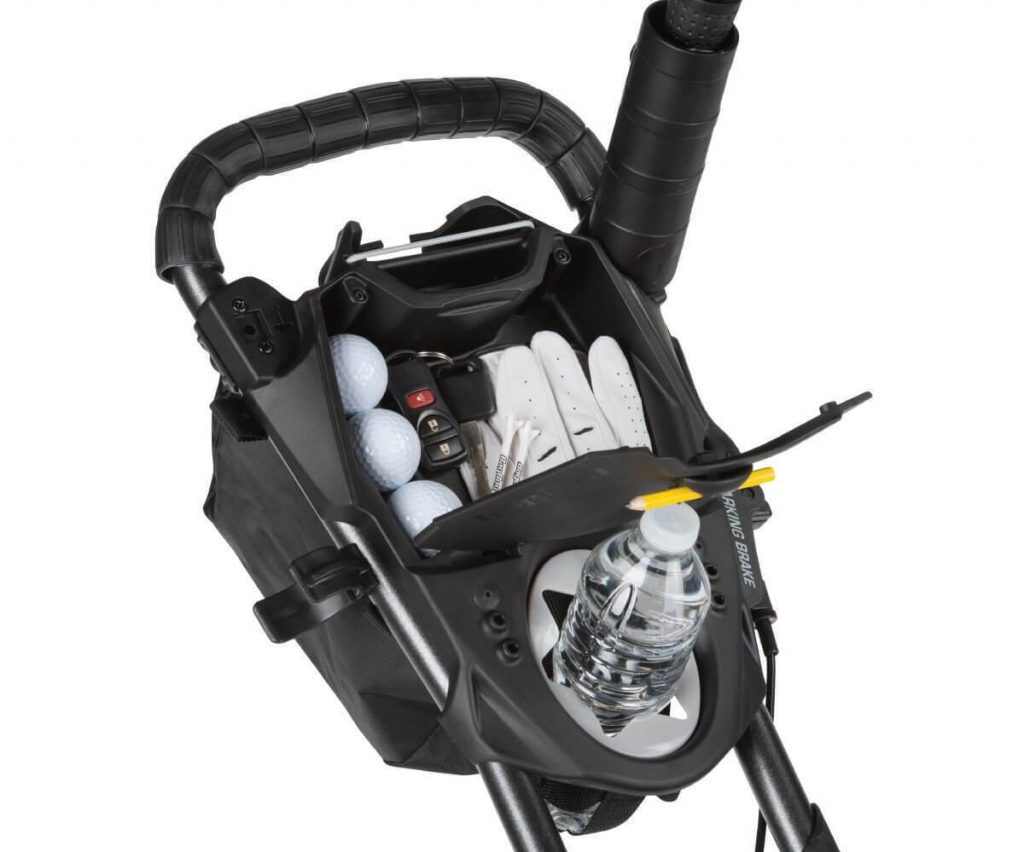 Golf push cart makers understand that their products carry precious cargo, so today's braking systems are all fairly reliable. Hand brakes have overtaken foot brakes in popularity, as most people find them more convenient, but each system works just as well as the other, so personal preference reigns supreme on this front.
Above all else, a golf push cart should be easy to use. It's meant to facilitate your journey, not slow it down. Ease of movement is the paramount concern for functionality, so look for something as light as possible for maximum maneuverability and minimal drag.
What's also important is how a push cart opens and closes.  It might seem like a minor issue at first glance, but when functionality is lacking in this regard, it can become a source of aggravation over time.
Without further ado, here are the best golf push cart options in 2022.
The 6 Best Golf Push Cart Options in 2022
Best Overall: Bag Boy TriSwivel II Push Cart
This three-wheeler from Bag Boy takes the cake as the best overall golf push cart of the year because it provides the best balance between compact mobility and massive storage at a reasonable price point.
Thanks to Swivel Tech technology, the free swivelling front wheel rotates effortlessly, which makes it easy to navigate all kinds of terrain in tight spaces. The TriSwivel II also features Bag Boy's patented Top-Lok attachment system, so you never have to worry about your bag jostling itself free and falling off.
Add to that a beverage holder, umbrella holder, scorecard console and ball storage area, and you get a cart that brings everything to your fingertips.
Best Four-Wheel: Sun Mountain PX4 Push Cart
Sun Mountain has earned its reputation as one of the best golf push cart manufacturers thanks to offerings such as the PX4. Available in eight color combinations, this four-wheeler brings supreme stability, nearly effortless functionality, and more storage than most people will need for a trip around their favorite track.
Easy to open or close in just two steps, the PX4 builds on the Sun Mountain's successful Pathfinder line of push carts with a single-piece handle that includes lots of integrated storage. Between the mesh basket, accessory console, drink holder, dual umbrella attachments and velour-lined pouch for valuables, this model has dedicated storage for everything golfers need, but it is still easy to push with one hand.
Best Remote Control: Callaway Traverse Electric Cart
Once thought of as unnecessary gizmos, self-driving remote controlled golf carts are the way of the future. Although not a new concept, the technology has finally caught up to the idea, and Callaway put it all together with this offering.
Driven by high-torque twin motors, the remote control capabilities of the Traverse allow for variable speeds and complete directional control. The lightweight aluminum frame conceals the portable rechargeable lithium ion battery that holds enough charge to make it through 27 holes on a single charge.
Including all the storage golfers have come to expect, there's room for your scorecard, umbrella, beverage and more. Arriving at a premium price point, the Traverse clearly isn't for most golfers, but if you want to walk the course without any kind of hindrance, this is the cart for you.
Best Looking: Walker Trolley Cape 1.5
Even if your golf game isn't any good, you can still look good on the course with the striking Walker Trolley Cape 1.5. Built with premium materials – anodized aluminum, leather and waxed canvas – and featuring a refined simplicity that will please golf purists and design aficionados alike, the Cape 1.5 is in a class of its own. 
Building off the success of the original Cape model, the Cape 1.5 features a new buckle system to help secure golf bags of all sizes. Riding on inflatable tires, the Cape 1.5 delivers a ride as smooth as its anodized aluminum finish.
Best Budget: Bag Boy M-350 Pull Cart
Weighing in at just 10 pounds, Bag Boy's ultra-lightweight M-350 is one of the lightest push carts on the market. This bare bones two-wheeler has minimal storage, with just a scorecard console alongside the tee, pencil and ball holder, but that's kind of the point with this model.
Perfect for people who rarely get the chance to make it to the course, or new players who have yet to find their golf accessory preferences, the M-350 is light on the course and light on the budget.
Best to Impress: GolfBoard
Will this modern invention appeal to a younger generation of golfers? Is this unique design a way to bring a new, more modern, skater-esque energy to the game, or is it a sacrilege to the sport? Some combination? Is this even a golf push cart? The answer is unclear, but either way, if you show up with this lithium-ion-powered beast, you'll be sure to turn heads. While the price is a little steep at approximately $7,000, the GolfBoard definitely seems like one of the coolest ways to enjoy a day in the sun with your buddies.
Developed by surfer Laird Hamilton (along with Bally Total Fitness Founder Don Wildman), the GolfBoard weighs 115 pounds, but can handle another 285 pounds when fully-loaded. Unfortunately, the 285 pounds includes you, your clubs, and any booze you're trying to sneak onto the course. Does that mean that some of your more "big-boned" friends can't use it? Probably. However, if you weigh less than 200 pounds (and if you have a few thousand dollars burning a hole in your pocket) this could be an option for you!
The GolfBoard works pretty intuitively, and to operate it you use a wireless controller that manages acceleration and breaking. What's cool is that your body movements control the steering! When using a GolfBoard, you can either attach your bag to the front, or carry your bag over your shoulders while riding.
Whichever option you choose, it'll be sure to speed up your play. According to the manufacturers, you can play a full 36 holes using the GolfBoard in under five hours (which is usually the amount of time a slow group takes to complete 18!).