The Best Putters for an Extra Edge on the Green
When you're on the course, it's always nice to enjoy free-flowing, ice-cold beers with your buddies, time away from emails and distractions, and the beauty of nature.
But besides the camaraderie and exercise, there's one thing that is guaranteed to help you have a good time when you go golfing. That's sinking putts, and lowering your score. Is the key to improving your game really that simple? For most of us, it can be!
That's why everyone from touring professionals to occasional golfers should have the best putters for their respective styles.
We've all seen it happen countless times, and you've probably experienced them more than you'd like to admit. You start off with a perfect tee shot on a Par 4, setting up an easy approach. Your short iron lands on the green and leaves a hefty divot, rolling about 15 feet from the pin.
Now, just to tap it in for birdie… aaaaaaaaand SH*T.
You've hit it too heavy and off the mark. All of a sudden you're putting for par, but you miss again and it rolls even further away. The next putt is too timid, leaving it short. Arrgh! Mercifully, you tap it in for an absolutely shameful double-bogey. Yet another attempt at glory passes you by. 
It turns out that improving your putting is one of the most surefire ways to massively improve your game. If you're like so many quintessential men out there, it's time to take advantage of the end of the golf season and grab yourself the perfect new putter for a really good price. Below is QMan's list of the best putters on the market. Find one that's perfect for you!
Finding the Right Putter for Your Style
Before we get started, let's talk a little about putters, putting style, golf jargon, and materials.
Unless you hit that mythical ace or chip in for birdie, your putter gets put to use on every hole, and for most of us, it is used far more than one stroke per hole. This makes it the most heavily used and most important club in any bag.
Putting styles, just like putters, vary significantly. Some people like to stand tall, others prefer to hunch their shoulders over the ball, and there really is no single "right" way of doing it. Ultimately, it's about finding something that suits your body type and putting style, so this collection of this year's best golf putters has a little something for everyone.
Head Design: Mallets vs. Blades
Putter designs fall into two broad categories, mallets and blades. The "mid-mallet" models straddle the line between the two. See, you're learning already!
Mallet putters have large, sometimes intricately shaped, heads that help even out the weight distribution. This design helps with stability throughout the stroke and usually delivers better balance than blade putters.
Thanks to their imposing size, mallet putters have a larger sweet spot than traditional blades, which helps players who are still trying to find their stroke hit the ball with greater predictability and consistency.
If you are a player who hits putts with a straight back-and-forth motion, mallet putters are the way to go because their design and markings make it much easier to find the right alignment.
Still favored by traditionalists, blade putters are small and simple, with the overall design still resembling the putter your grandfather probably used.
They suit players who putt with an arc because their weight balance helps close the face at impact. Today's top blade putters use a variety of inserts and milling techniques for greatly improved predictability and reduced tradeoff between accuracy and consistency.
Golf Jargon, Explained: Toe Hang & Face Balance
Although many golf companies now include toe hang numbers in their specifications, the figures are hard to interpret for anyone who's not a hardcore golfer, so here's an easy was to understand what it means in practice.
If you balance your putter across your open palm, with the shaft parallel to the ground, it will naturally want to rotate one way or the other. If the face points up, that means the putter has a face balanced design. If the tip of the putter turns down to point at the ground then it is a toe hang putter.
What this means on the greens is that if you have a straight(ish) putting stroke or tend to miss putts to the left, you'll probably have more success with a face balanced putter, as the face will want to stay more square at impact.
Toe hang putters are better for players who have a bit more arc to their putting motion, or tend to miss putts to the right, as the toe hang helps close the face at impact.
The 8 Best Putters on the Market in 2022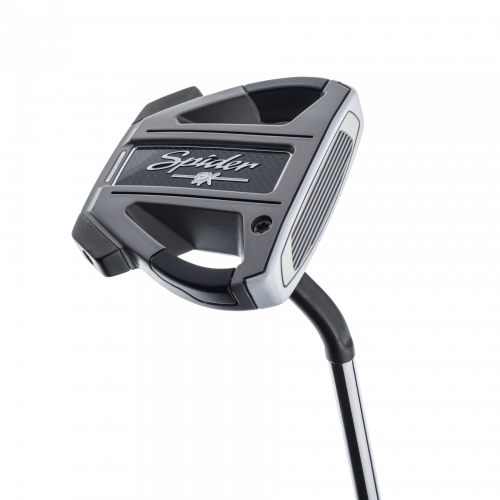 With the MySpider EX line of putters, TaylorMade set out to achieve "putting made personal." Showing that you can have your cake and eat it too, this line brings unmatched personalization and premium performance to the table. After all, a quintessential man always matches his golf clubs to his outfit, doesn't he?
Players can choose from 14 different color options for the head, face insert, True Path™ alignment aids, as well as other elements. Getting the visual aids of your preference is a huge plus, and the ample design choices (single dot, triple dot or dual rail lines) and color options (11 colors for dot visual aids, 14 for solid lines) makes it easy to suit any preference.
And if that's isn't enough customization for you, add your unique touch on the heel, toe or center (or all three) with their laser engraving option. With a short slant hosel for 28 degrees of toe hang and the Pure Roll2 insert, a MySpider EX offers excellent forgiveness with unparalleled customizable visual cues.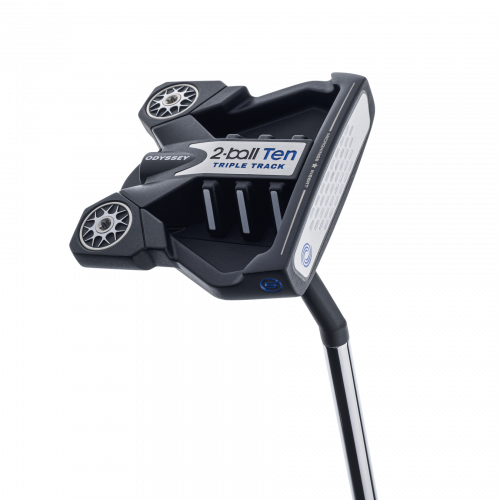 Golf purists and traditionalists might scoff at the look of the Ten 2-Ball series of mallet putters from Odyssey, but don't let their hangups stop you from drawing your own conclusions.
These putters can help anyone shave a few strokes off their average because they provide a huge alignment advantage. When you address your ball with a Ten 2-Ball in hand, the white circles make it look like there are three balls in a row, which will help your visual system plot the course of your stroke.
Each of the 11 models in the Ten series features Odyssey's Stroke Lab shaft and Microhinge Star Face insert, and multiple neck options are available, so you can find the perfect Ten for your taste.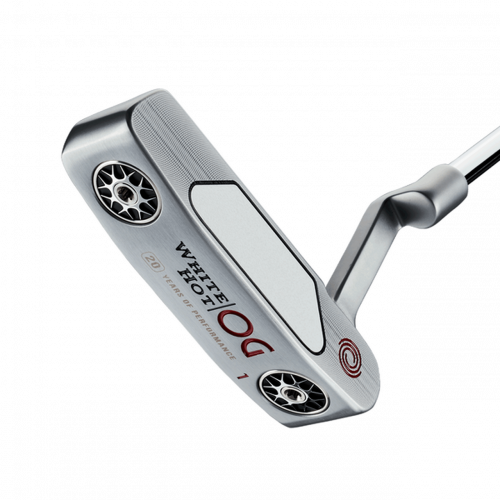 White Hot putters combine a classic look with a modern feel, creating a blade putter with outstanding performance and aesthetics.
The machined finish and iconic insert evoke the first generation of White Hot putters that took the golf world by storm 20 years ago. With tried, tested and true technology, Odyssey's updated collection kept all the best and improved the rest to create an inclusive collection of almost any variation you could imagine. 
This year's White Hot OG lineup counts 16 putters, offering everything from a traditional blade and crank hosel, like the White Hot OG #1, to face balanced or toe hang mallets with a variety of hosel styles. All come with Odyssey's excellent Stroke Lab shaft, giving golfers of all preferences ample selection.
Cobra KING 3D Printed Agera
For the KING 3D Printed Agera, Cobra partnered with HP to create its first collection of 3D printed multi-material putters. Until recently, 3D printing technology was simply too costly to bring its design benefits to golf clubs, but Cobra and HP found a way to make it happen with this premium putter.
The massive mallet shape and components, including forged aluminum, nylon lattice, tungsten and SIK face Technology, combine to deliver one of the most forgiving putters on the market. With a moment of inertia (MOI) rating of 7540, it's at the top of the heap in terms of stability and consistency.
Even on mishits, whether you strike the ball off the heel or the toe, the predictable distance control will help anyone sink a few more putts.
Bettinardi Studio Stock 7 Putter
This offering evokes the classic look of Odyssey's White Hot OG line, but Bettinardi's excellent craftsmanship and attention to detail put this putter in a class of its own.
As one of the few quality "hybrid" putters on the market today, Bettinardi's mid-mallet design combines easy-to-follow visual cues and a soft feel for a face balanced putter worthy of the pro tour. With an asymmetrical design, Bettinardi's Roll Control Face™ does not use an insert. It is milled with exacting precision to promote top spin at impact, which will help your putts from skipping or jumping at impact, shortening the distance required to get your ball to a true roll.
Bettinardi offers players ample customization options, making this one of the best putters out there for avid golfers with discerning taste.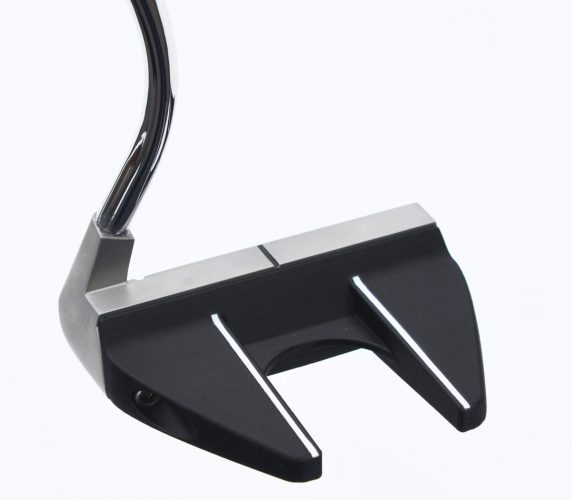 When a golf club is developed in collaboration with an Olympic and PGA Tour major champion, you can be sure that its pedigree will be more than enough for your game. And that's exactly what you get with the Axis1 Rose.
Using Justin Rose's input, Axis1 set out to create the world's first "Perfectly Balanced / Torque-free" putter by designing a putter that brings the center of gravity precisely in the middle of the face, in line with the shaft axis, for sublime balance and consistently square impact.
The mallet design facilitates visual cues, and even though its lightweight design and unique balance take some getting used to, it sends putts along the target line with perfect predictability.
Wilson Staff Buckingham Infinite
With the Infinite line of putters from Wilson Staff, you can get premier performance without the premium price point.
This expansive line features 11 models in a variety of head design and hosel combinations. Each one is named for a Chicago landmark or neighborhood, in a nod to the home of Wilson Staff's corporate headquarters.
The standout in this collection is undoubtedly the Buckingham putter. The mallet design works harmoniously with counterbalanced technology that moves the balance point closer to the hands for a stunningly smooth stroke. Add to that a double-milled face for consistent impact and an anti-glare finish for improved visualization, and you get a putter with a premium feel at a bargain basement price.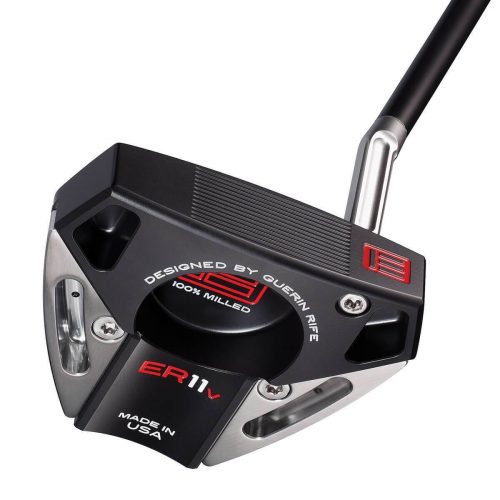 Evnroll might not be a household name, but this specialized putter manufacturer certainly should be top of mind for avid golfers. Their offerings run the gamut of putter designs, but their V series putters are taking mallets to new heights.
At the head of the V Series pack is the ER11v, a full-sized, high MOI mallet with four hosel options. As with their other putters, Evnroll's patented "Sweet Face Technology" allows for consistent forgiveness, no matter where the ball strikes the face, that will help any golfer improve their distance control.
The hosel options let players choose from three different toe hang angles or a face balanced design, so every putting style can find its match.