The Best Golf Shoes For Any Terrain
They say you can accomplish anything with the right pair of shoes. A nice pair of kicks gives you all the confidence in the world, so in a game where mental fitness is everything, you better be sure you love the pair on your feet. Of course, when it comes to golf shoes, it's important to find an option that gives you the support you need, but that confidence boost from finding a pair that looks great too might just provide that extra edge you need.
The last few years has seen the emergence of golf shoes resembling your favorite streetwear and running models. They wouldn't look out of place off the course yet are packed full of technology designed specifically for golf. Most golfers we know are sporting one of these new styles on the green, and traditional golf shoes are looking more and more out of place.
Our selection below of the best golf shoes in 2022 offer the best of both worlds: fashion and function. Look good, stay comfortable and *hopefully* score some low scores.
Top 8 Best Men's Golf Shoes in 2022
We almost don't even need to say anything about this shoe. It's a 90 — one of the most recognizable sneakers of the past 30+ years. The Air Max franchise has its own Wikipedia page, and some of the limited-edition models sell for thousands of dollars. Aesthetically, the golf version is an exact replica of the famous sneaker, featuring a large visible air pocket in the heel for extra cushion. Their EVA foam midsole also adds to the comfort while the spikeless rugged rubber outsole ensures grip and stability in all conditions. Additional eyestays and overlays add stability to the shoe to ensure no heel slips and a sturdy stance during big swings.
We love that Nike updated the lacing system to a traditional tongue and lace system missing from previous versions of this shoe. This is a great sneaker for the sneakerheads or anyone looking for great comfort on the course mixed with a little 90's nostalgia.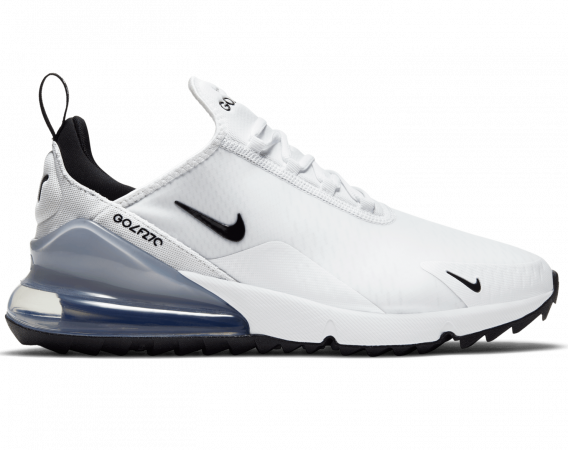 Another great Nike offering, this one also looks exactly like its running equivalent. Nike says it's a stitch-for-stitch replica of the original big Air icon with additional breathable mesh and innovative traction that performs at the highest level of play. The most prolific feature of this sneaker is the large air cushion spanning the full length and width of the heel, coupled with a foam midsole, giving this shoe superior comfort and a striking appearance. The sneaker also has a heel counter to help stabilize your foot. 
The breathable mesh is built with a waterproof overlay that keeps water out while making it easy to clean. The integrated tongue construction with a stay lace system makes it easy to slip on and off, while the outsole is specifically designed for amazing traction and walking comfort.  These are the best golf shoes for walking the course. You'll be tempted to wear these to get groceries, and no one would know the difference, but please, keep them in your golf bag.
Note: These run a little small. We would recommend a full size up.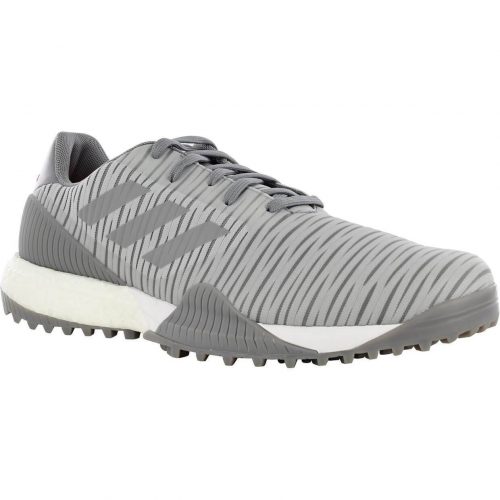 Adidas CodeChaos Sport Golf Shoe
When the Iconic Boost midsole launched almost a decade ago, it revolutionized sneaker design. You couldn't get your hands on any styles featuring the futuristic looking sole. Everyone copied it, while Adidas just kept improving it. Today, the midsole has been incorporated into a large percentage of the Adidas running and lifestyle offerings, and now you can enjoy Boost's comfort and bounce in a golf shoe.
The CodeChaos Sport features a waterproof upper with a mix of textiles coated with a film overlay. The sneaker is designed with a Fitfoam-molded polyurethane sock liner for added comfort and to ensure your foot stays in place. The designers equipped this style with the Adiwear outsole utilizing the Traxion pattern to ensure a stable shoe fit for competition. This is a great lightweight option.
ECCO Biom Hybrid 4 Spikeless Golf Shoe
When we think of ECCO (not to be confused with streetwear brand Ecko), we think of a reliable, no-frills style with great foot support. While the brand isn't known for the most exciting silhouettes or designs, they've built a reputation helping customers who need extra comfort and support from their footwear. And, boy, this shoe does not disappoint; it's one of our favorites. 
The Biom Hybrid 4 features state-of-the-art components starting with the durable ECCO YAK leather with micro perforated embossing and Gore-Tex waterproofing technology, so you know these shoes are super breathable and will keep you dry no matter the conditions. And it doesn't stop there. The new MTN Grip outsole featuring the proprietary Fluidform is one of the best spikeless soles available today. And to make sure your feet are always firmly planted in place, the PU midsole design is constructed with TPU inserts on either side that securely hug your foot in place. 
Inside the shoe you will find a superior inner lacing system, which links the sole unit to the laces via an invisible enforcement, an advanced last designed to bring the player closer to the ground, and a removable and washable Ortholite inlay sole. This is not your dad's ECCO shoe and is a great choice for players spending a lot of time off the fairways.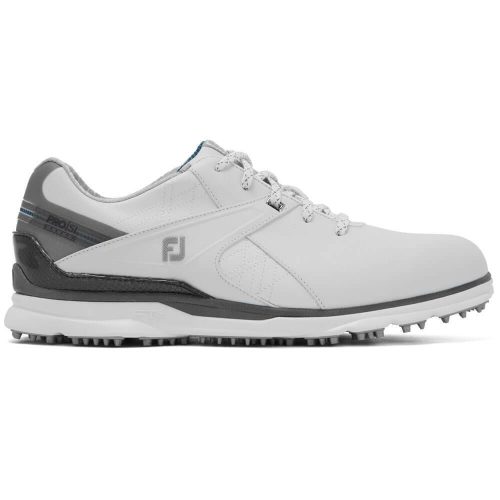 FootJoy Pro Spikeless Golf Shoe
FootJoy has dominated the golf shoe market since before you were born. If your grandfather golfed, he probably wore FootJoy. The Pro Spikeless features a Pittards leather ChromoSkin upper, which is about as buttery as leather can get. This top grain leather offers superior feel and natural breathability. The shoe also features a proprietary FTF outsole offering amazing perimeter stability. We can't overstate how important that is. The infinity outsole adds even more traction and stability with its tour proven pattern. If you're looking for a great lightweight shoe with excellent stability and traction in all weather conditions, the Pro Spikeless is a great choice.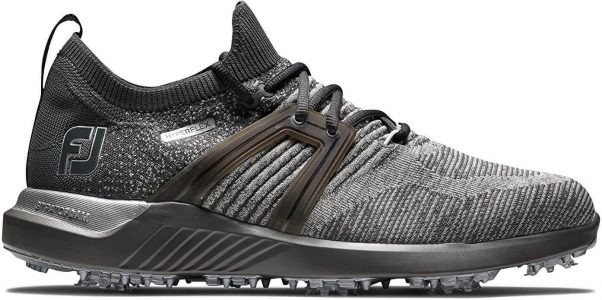 Another great delivery from the golf shoe giant, the Hyperflex Spiked is the perfect balance of modern-day athletic sneaker design and traditional golf shoe technology. The knit upper offers the most comfortable and breathable option of any shoe on this list, while the spiked outsole offers equally impressive stability. The midsole and heel stays ensure your foot remains in place, and the lacing cage ensure comfortable and stable lacing. The collar and integrated tongue are also constructed of ribbed knit fabric for even more comfort. 
This is as close as you'll get to wearing your favorite running shoes to the golf course. If you're looking for a super lightweight, ultra-comfortable and unmatched athletic styling, this is the one for you. FootJoy also offers different widths, so if you have particularly wide or narrow feet, it's worth the extra search for your exact size.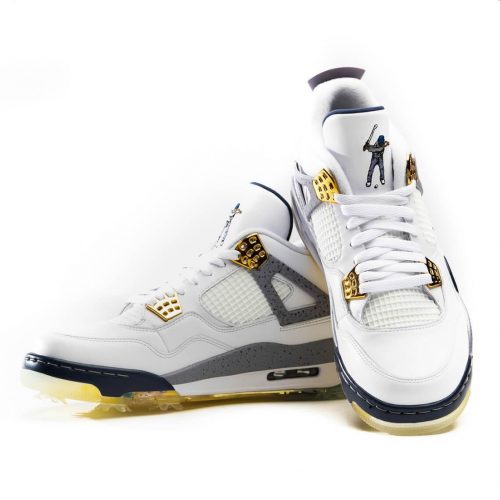 Michael Jordan's love for golf has been well documented. (We've all enjoyed watching him and Charles Barkley go at each other throughout their careers.) So, it's no surprise the Jordan brand has been making golf shoes for some time. The previous models drew inspiration from the Jordan 3, 4 and 6, but they never went all the way; they never felt like the real thing. Each pair had subtle hints of the iconic Tinker Hatfield designs, but they never quite hit the mark. That is, until now. 
Aesthetically, the Air Jordan 4 is an exact replica of the sneaker we love so much. Of course, the outsole features a minimal soft spike formation, and the brand has added some features to make this shoe playable at all levels, but we don't even need to go into too much detail. Because, at the end of the day, do we really care? It's a Jordan 4. Period. The bad news is that this shoe is hard to find. It's available from resellers GOAT and StockX but they won't be cheap, especially in the popular sizes. Keep your eyes peeled to Nike.com for future releases.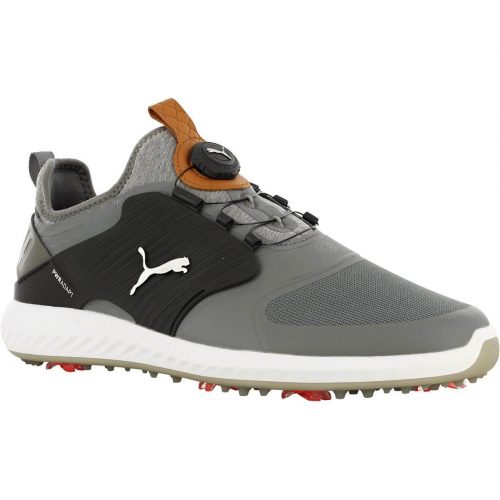 Puma Ignite PWRAdapt Caged Spiked Golf Shoe
Puma has made a big leap into golf, even acquiring sports equipment company Cobra Golf. This has helped them equip some of the best players on tour, including Bryson Dechambeau and Rickie Fowler. They are also one of the most prolific lifestyle footwear and apparel brands in the universe, often working with top-notch designers and always advancing technologies.
The Ignite PWRADAPT Caged is a perfect mashup of all these things. The design plays into the 90's tech styling, which will appeal to younger players, while keeping a clean minimalistic silhouette that makes it easy for anyone to wear. This model features more technology than any other shoe on this list. The supportive PWRCAGE saddle unit wraps around the medial and lateral portion of the shoe and integrates with the midsole, offering groundbreaking comfort and support. 
As you lace these up, the laces tighten the heel cups, locking your foot firmly into the shoe. This is something often found in high-end snowboard boots and plays an integral role in providing added stability. The full-length IGNITE Foam cushioning platform and PWRADAPT technology provides responsive comfort and traction that adapts to the way you move. All this support allows for a Flat-Knit Mesh upper for added breathability and comfort. The Gripzone Traction and Tornado Cleat pattern adds even more grip and stability, making this one of the most technically advanced golf shoes on the market.
In a game where every little twist and minute detail affects the trajectory of the ball so drastically, we can't stress enough just how important a good golf shoe is to your game.
Playing with your running shoes or sneakers instead of golf shoes is not that different from playing ice hockey in sneakers. Just a tiny little slip at impact will turn a great shot into a 2-stroke penalty. If you walk the course, it's that much more important. If you're going to walk 10 KM through damp grass, hilly terrain and possibly even a slight drizzle, you better hope your feet are dry and comfortable. Don't skimp out. Buy yourself great golf shoes and enjoy your outings that much more.
No. Golf shoes are generally recommended, but not required — unless you're at a particularly exclusive club with rules regarding footwear. At most courses, you can wear your running shoes, loafers, or really any shoes you'd like, as long as they don't damage the turf.
If your shoes came with a care label, it's always best to defer to that, since it'll take into account the materials specific to your pair, but our Sneaker Care 101 guide is a great resource for keeping most kicks box fresh.