Ask a 20-something cool guy if he golfs, the usual answer will be along the lines of, "Golf? My father golfs; it's whack." Who could blame them? From the sidelines, golf seems like something that falls somewhere between a lame, slow-paced pastime for old dudes and an elitist cult. 
Since the beginning of time, golf has represented the elite class and has systematically been exclusive to rich white men. Expensive private memberships, strict dress codes and snobby attitudes have all helped to promote this image. This attitude still lives today in some circles, but there is light at the end of the tunnel.
In the past 20 years, golf has strived to be more inclusive. Many private clubs have now become semiprivate, more affordable, and open to all walks of life. The effect Tiger Woods has had on golf is unmeasurable. Not only was Tiger Woods the best to ever play, but he did also it with bad drives and amazing recovery — something we can all relate to. At the same time, the golf channel and social media have shown the world a side of golf most of us had never seen before.
Now that golf is more popular and more inclusive, we are finally starting to see some progression in the fashion of golf. You still have to wear a collared shirt on most courses, but now you are allowed to have it untucked, and in some cases, we are even seeing some approval of different collar types. We've traded plaid pants for slim fit technical pants that actually wick moisture and stretch in the right places. We've ditched our clunky brogues for sporty sneakers made for golf, and we're seeing great colors and designs of golf shirts featuring technical fabrics. 
The Best Men's Golf Shirts and Tops in 2022
With all these style options, it's a great time to start playing the greatest game on earth. If you're already an addict, make sure you have the right style, because when it comes to golf, confidence is everything. Use this list to stay on top of your game. 
Malbon x Nike Therma Victory Half Zip Top
Founded in 2017 by culture and golf enthusiasts Stephen and Erica Malbon, this brand is exactly what the golf world needs. Malbon provides quality products and storytelling from a different perspective, deeply rooted in community experience and lifestyle. The brand aims to inspire today's youth to take up the sport through unmistakable branding and playful creation. It would be easy to mistake Malbon for a skateboard or streetwear brand, and we think that's a great thing for golf. 
The brand has attracted a following of creatives and stylish young people who love the game and want to express themselves through the way they dress and their lighthearted approach to the game. This Nike Victory top, a collaborative effort between Nike and Malbon, is a great example of progression in golf wear. Perfect for those early fall games, the half zip top lets you hold in the heat when the chill sets in, or vent it out when the round heats up. The fuzzy fabric adds comfort, while the Malbon embroidery on chest and Buckets logo on the right arm lets everyone know where you stand.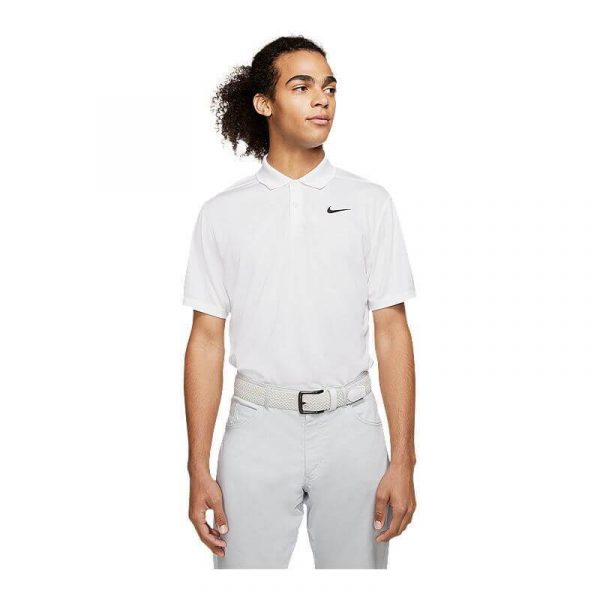 The Nike Dri-FIT Victory Polo is a classic. The fabric has a soft feel and wicks sweat to help you stay dry. The best part is that it's made from 100% recycled polyester. The double-knit fabric features a pique texture for a classic look. This polo has a perfect relaxed fit that has enough room to move but looks modern and refined. The collar is a high-quality knit so you know it won't curl and look beat up any time soon. We love the forward shoulder design and the 2-button placket.
Adidas Primeblue Two-Tone Polo
This midweight polo is the perfect blend of tech and fashion. The absorbent Aeroready fabric wicks away moisture, keeping you dry throughout your game, while the weight of the material transitions to your early fall games when you need a little more warmth. The hybrid set-in raglan sleeve construction coupled with the stretch of the fabric allow for unrestricted movement. The fit is perfect. Just relaxed enough for big movements but slightly more fashion in its length and tailoring. The collar is ribbed with lots of flex and retains its elasticity after many washes to keep it looking crisp. The colors are great and the garment is sustainable using Primeblue high-performance recycled material made in part with Parley Ocean Plastic. This is our favorite polo on the list.
Puma EGW Cloudspun Mat Henley Golf Shirt
The Puma EGW (Excellent Golf Wear) Collection is an assortment of golf apparel aimed at the younger, creative individuals who bring their own fashion, culture, and individuality to the golf course. Everything is muted, clean and understated in design. In fact, the pieces look more like something a designer or music producer might wear to work. But since the fabrics and cuts are made for golfing, you will find freedom of movement, moisture-wicking capabilities, and everything else you would expect from golf wear in every piece, no matter how casual they might seem.
The golf shirt trades the typical collar construction for a Henley with a slight mock neck and is built using a circular knit for added comfort and fit. The fabric boasts 6% stretch and all the seams are flat locked, so you'll never feel them. We can't guarantee your marshal will approve of the collar, but if they don't, maybe it's time to look for a new course. I mean, it is 2021 after all. Haven't we progressed beyond policing people's style choices?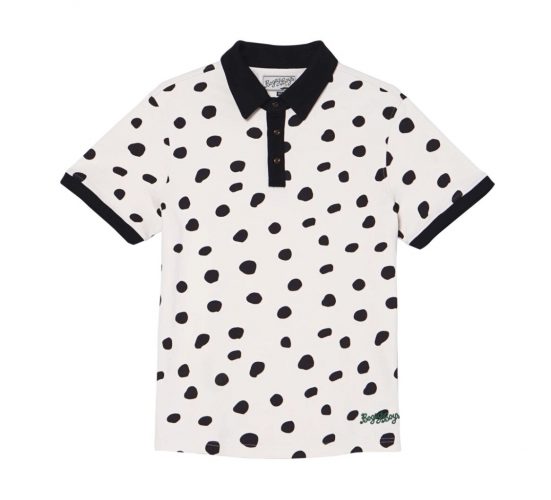 Bogey Boys Dalmatian Polo
Started by American pop/rap star Macklemore, Bogey Boys hits a little different. With only two years of golf experience under his belt, the singer launched Bogey Boys with a different approach (no pun intended). Less emphasis is placed on the technical side of golf apparel while more efforts are placed on delivering garments with a vintage feel. Tacky prints, large appliqués and loose buttons-ups all stir up memories of past golf champions who played in a day when golf was less serious. If you're looking for a relaxed, lighter take on golf wear, this is the brand for you. The Dalmatian polo is the only cotton polo you will find on this list. Buy it for the fit and the print, and if you want to go one step further to make sure everyone on the course notices you, don't stop there. Buy the matching pant.
RLX Airflow Multi Stripe Polo
This lightweight stretch jersey polo has the perfect blend of technicality and fashion appeal. The nautical stripe pattern is equally at home on the course as it might be on the beach and even on a dinner date. This jersey not only wicks away moisture but also provides UPF 50 protection and a really good stretch, making it the best polo you could wear on that scorching hot day walking the course. What's more, the polyester fabric is recycled, so you can feel even better about your purchase.
Eastside Golf Staple Polo
Founded in 2019, Eastside Golf is the new kid on the green, and they've been making big waves with their line that melds golf chic with streetwear swagger. The company's mission is to encourage the younger generation to take up golf, which has traditionally been seen as a leisure sport for those with a few more years under their belt. In a welcome move, they also place a focus on showcasing people of color in their campaigns, promoting a more diverse set of players than what we generally see in golf advertising. 
The Eastside Golf Staple Polo is the company's signature piece, offered in crisp white, black, or navy options. With custom ribbing on the sleeves and collar, this polo has a luxurious look and feel, and you're guaranteed to be the only one on the course with a polo featuring a golfer taking a swing while rocking a massive gold chain. This one is guaranteed to turn heads on and off the green.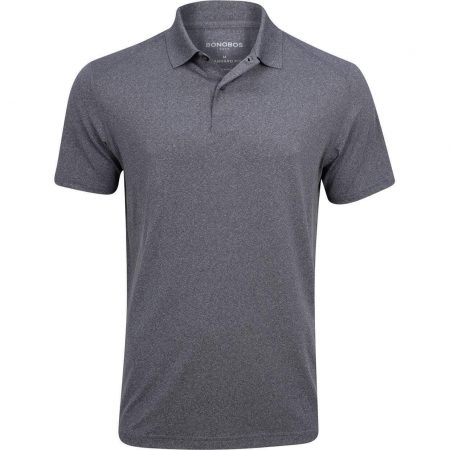 Bonobos has become widely successful in recent years for producing clean and stylistic clothing for men, manufactured to ensure the best fit. The popular e-commerce company has now thrown their design expertise into a golf line for men, including the reliable and sleek M-Flex golf polo. Available in classic white, black and navy, along with a slew of pastel colors, this is a dependable polo you'll want to always have in your arsenal. The design features a two-button closure, a ribbed collar, and Bonobos' M-Flex stretch sections, allowing for a wide range of movement that most golf polos simply can't offer. The design includes UV protection to stave off sunrays from burning you up during the day, and the polyester construction is wrinkle-free, which will save you from having to break out your iron before you hit the course.[