The Bald Truth About the Best Hair Loss Products For Men
Sitting back and watching your hair get thinner and thinner can make you feel powerless. Don't get me wrong—there are plenty of cool, good-looking bald men. From Bruce Willis, to Vin Diesel, to The Rock, there's more than enough evidence that says you don't necessarily need hair to look your best. However, if you're losing hair against your will, or you're dead set on keeping your luscious locks, hair loss can feel frustrating and even downright embarrassing. No need to go wig shopping just yet, though! 
Here at QMan, we've compiled a list of hair loss products that will help you get your confidence back ASAP. Hair loss is actually fairly common for a number of different reasons, and luckily, there is an abundance of treatments available for your receding hairline. 
Read on for QMan's 2022 guide to the best hair loss products and treatments for men and you'll be on your way to thicker-looking hair in no time!
Causes: What's the deal with hair loss?
While many men are familiar with the dreaded term "male pattern baldness" (also known as androgenetic alopecia, which is often cause by genetic and hormonal factors), hair loss can actually be caused by a variety of things. Apart from genetics, aging, and hormonal changes, things like diet, stress, and a number of medical conditions can all cause hair loss. 
While it might be super tempting to dive into the world of hair loss products to address your issue, it's important to discuss your hair loss with a doctor first to rule out any underlying causes. You don't want to start slathering a bunch of treatments onto your scalp when your hair loss might be a result of something more serious that may need medical attention.
Solutions: What kind of product is right for you?
There are many factors to consider when shopping for a new hair loss product. Depending on your budget and schedule, the type of hair loss treatment you need might differ from other men. If you're looking for something that's quick, low-maintenance, and inexpensive, it might better to opt for treatments like hair vitamins or hair growth shampoos and conditioners. 
Further, more holistic treatment routes that include things like eating a healthy diet and washing your hair less frequently could work for you. If time and money aren't a problem for you, investing in options such as medicated products or laser treatment could be the way to go. No matter your hair type or what your specific lifestyle entails, there is guaranteed to be a perfect hair care product for you out there.
Best Hair Loss Products & Treatments for Men
Best Overall: Rogaine 5% Minoxidil Extra Strength Hair Regrowth Treatment Foam
Rogaine is a tried and true brand name when it comes to hair loss products. Not only is it clinically proven to reduce hair loss by going straight to the fair follicles and regrowing your hair, but its active ingredient—minoxidil—works its magic on even the most severe cases of hereditary hair loss by encouraging blood flow to the scalp. 
As it's a foam, it's incredible easy to apply, dries in a snap, and leaves no mess. All you have to do is apply half a capful twice a day by massaging it into your scalp. How simple is that? This pack in particular comes with three 60g canisters, which works out to a 3-month supply. It's definitely an investment, but it's one that's completely worth it due to its efficacy.
Best Quick Fix: Toppik Hair Building Fibers
Now that you're waiting for a hair regrowth product to kick in, what do you do in the meantime? A hat? A hood? No need to cover up an unsightly scalp completely when you can simply conceal your hair loss with this innovative product from Toppik. This brand's Hair Building Fibers, made from colored keratin protein, are to be shaken or sprayed onto your scalp in areas where you need a little extra coverage. 
The fibers blend seamlessly into your real hair to create the appearance of thicker hair and conceal your hair loss, and they wash out easily with a little shampoo. They're even designed to resist sweat and harsh weather, so you don't have to worry about keeping your look up throughout the day. Available in nine different shades, this hair loss product is a great option for those looking for a quick solution for thinning hair.
Best on a Budget: The Mane Choice "The Alpha" Multi-Vitamin Scalp Growth Oil
For a hair loss product that only costs $11.99, this hair regrowth oil certainly packs a punch. Is there anything more appealing than the idea of obtaining a gorgeous head of hair for such a small price? This lightweight oil from The Mane Choice stimulates and rejuvenates your scalp with its vitamin blend and moisturizing properties. Plus, it's non-greasy, so you can even massage it on in the morning and go about your day without without worrying about it messing up your do. Most importantly, it's sulfate-free!
Best Shampoo: Paul Mitchell Tea Tree Scalp Care Anti-Thinning Shampoo
This anti-thinning shampoo from Paul Mitchell is yet another drugstore level product that seems it would be way pricier than it really is. For only $20, you can add this powerful cleansing product to your regular shower routine. Many shampoos can actually cause hair loss as they can be quite harsh, but this one works by focusing on the root of the problem. 
This shampoo gently cleanses and stimulates your scalp without stripping it of its moisture. Its unique combination of natural ingredients such as Kakadu plum, pea peptides, clover flower, turmeric, and ginseng are an unbeatable team when it comes to scalp care. It's also color safe for those with dyed hair, and it's free from sulfates, parabens, and gluten.
Best Subscription Service: Hims Hair Power Pack
Hims is a sleek, modern brand that delivers a variety of health products and supplements directly to your door. While they offer a plethora of products that target everything from mental health to erectile dysfunction, their hair loss products are are some of the best. Their elegant, minimalist packaging and brand design is easy on the eyes, and their products can be ordered individually or in sets like their Hair Power Pack. 
The pack includes finasteride pills, minoxidil drops, a thickening shampoo, and biotin gummies. Each of the items work together to treat your hair loss holistically, from all angles, rather than just one. Finasteride is an FDA-approved daily tablet that promotes hair health and regrowth by preventing testosterone from breaking down into DHT—a hormone that damages hair follicles. According to Hims, it's been shown to effectively help regrow hair in approximately 85% of the men who take it. All this and more, shipped right to your door!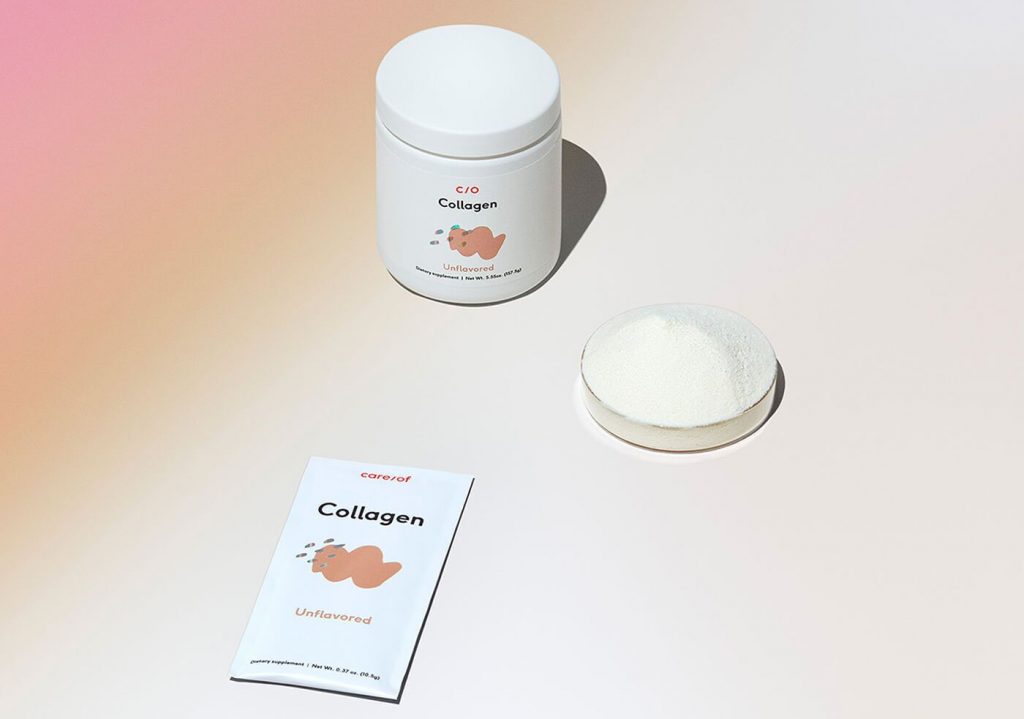 Best Supplement: Care/of Keratin Vitamin & Collagen Powders
Care/of is pretty much everyone's go-to supplement subscription service at this point. Their list of targeted health goals is lengthy, including supplements that support things like immunity, energy, brain function, sleep, and more, but they also sell supplements that specifically work to support your hair care journey. More specifically, they offer a keratin vitamin called "The Good Hair Day" and a number of collagen powders that can be stirred into your drink of choice. Achieving better hair through a morning coffee, afternoon tea, or post-workout smoothie? Sign us up! Fuller hair couldn't be easier.
Best Laser Option: Revian Red Hair Growth System
Hold up—lasers? We know, it sounds a little intense, but stay with us. Think a little less lightsaber and a little more LED light therapy. The Revian Red is a cap that uses Modulated Light Therapy (aka red LED light) that is said to promote blood flow to the scalp, reduce inflammation, and stimulate your hair follicles, all by tapping into your natural reserves of nitric oxide. 
You may have seen people go to the spa for similar treatment on a larger scale, or purchase LED face masks to treat their skin problems. This is exactly that but made specifically for you and your hair loss. It does sit at a steep price of nearly $1000, but Revian offers a 100% money-back guarantee. So, if you've tried everything else, why not give it a shot?