Best Bidet Toilet Seat For Ultimate Cleanliness & Comfort
Although many of us never thought we'd hear the words "toilet paper is so yesterday", modernizing your at-home bathroom with a bidet is becoming an increasingly common way to… go. If you're not a regular bidet user, you might find yourself shutting down the idea of installing one without needing to think twice about it. However, a common occurrence with bidets seems to be that once you use one, you're a convert for life.
Here at QMan, we've curated a list of some of the best bidet toilet seat options for 2021. Whether you're looking for a more sustainable approach to personal hygiene, or you're just eager to test out a new kind of clean, read on to learn a bit more about bidets and how to determine which is the best bidet toilet seat for you and your price point.
Hopefully, at this point, we don't have to explain the nitty gritty of what bidets do. We all know they're cool pieces of technology that help you wash up after using the bathroom. What many people may not know, however, is that today's bidets often offer far more than a simple stream of water. From heated seats, to air drying, to varying degrees of spray power and innumerable high-tech features, luxury bidets can truly be next-level additions to your bathroom.
Unlike a bidet attachment—which is a non-electric bidet that simply sits between the toilet bowl and seat that you already have—a bidet toilet seat replaces your current seat entirely. When it comes to bidet toilet seats, both electric and mechanical options are available. Often, bidet attachments are less expensive than bidet toilet seats, as they don't have the personalized features and functions that many of the electric bidet seats offer, but the seats are certainly a more lavish and high-end option.
Best Bidet Toilet Seat Options in 2021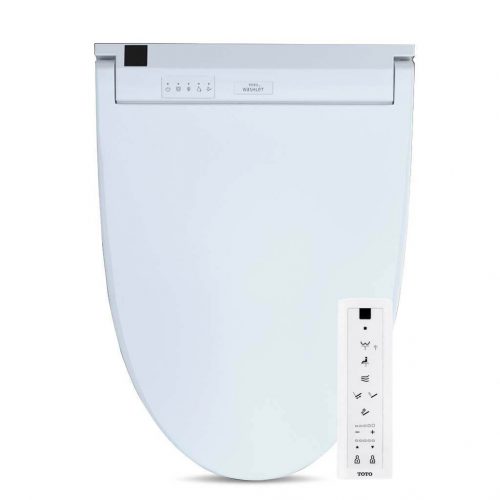 The TOTO Washlet C5 is an electronic bidet toilet seat that offers the brand's specialized PREMIST and EWATER+ technology, which mists the toilet bowl before each use and ensures that the wand automatically self-cleans when you're done. Gentle yet effective, it allows you to adjust water pressure and temperature to your liking. It even features a dual-action spray with an oscillating option that ensures you're getting the best clean possible every time.
The Toto Washlet C5 also has a SoftClose heated seat, which means even your late night trips to the bathroom will be quiet and spa-like. Beyond that, it even provides powerful filters that act as air deodorizers, and a warm air dryer with five different temperature settings. This way, toilet paper can be eliminated from the equation completely. Once you've tried out all the different settings with the remote, you can set personalized settings so you don't have to adjust it every single time. Set it and forget it, as they say! Plus, this bidet toilet seat is super easy to install by yourself, so there's no need to call in any plumbers.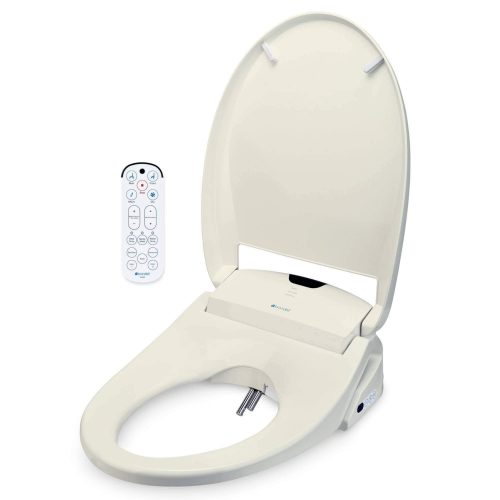 Brondell Swash 1400 Bidet Toilet Seat
The Brondell Swash 1400 is the brand's latest addition to their line of luxury bidet toilet seats. This modern model features an updated silhouette that hides the the water supply inlet and electrical cord, which offers a sleek look that blends into your bathroom. Also unique to the Swash 1400 is a blue LED nightlight that allows you to use it in the dark. 
This bidet toilet seat also has an air deodorizer, which is unique in that it has a replaceable cartridge that can be replaced if it ever needs a refresh. Another cool feature that Brondell offers is a wireless remote control that comes with a magnetic wall mount, which keeps it out of the way and handy at all times. Most importantly, the remote allows you to set up two user preset profiles, meaning that you and whoever you share a bathroom with can maintain your own unique bidet experiences. This bidet toilet seat also has extended, stainless steel, oscillating dual nozzles that provide a longer cleansing range including a front spray for those who need it.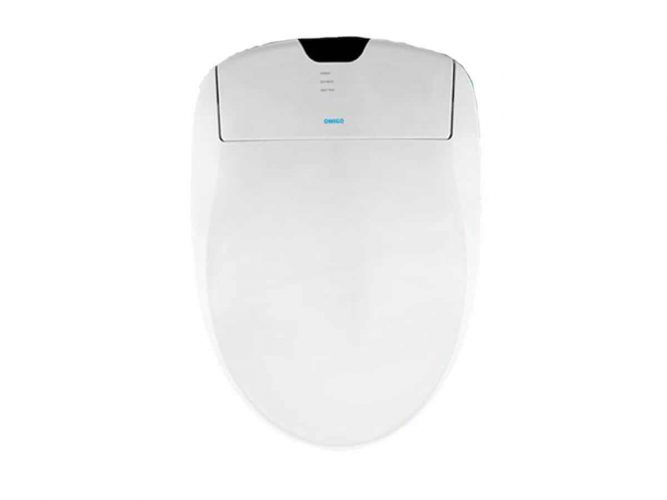 Omigo Luxury Bidet Toilet Seat
This luxury bidet toilet seat from Omigo is very similar to the classic Japanese bidet, but with some luxurious updates. This seat features an internal ceramic water heater and stainless steel nozzles at both the front and rear that are completely rust-resistant. These nozzles offer seven different positions, four water temperatures, three spray widths, and three pressure settings, as well as on-demand oscillation, which all add up to the custom bidet experience of your dreams. Its quiet-close seat is sturdy, and can carry up to 330lbs.
This Omigo model is also extra sustainable due to its special Eco Mode setting, which conserves power by turning off the heated seat after ten minutes of being idle. It even features a built-in seat safety sensor that requires skin contact to operate, preventing any accidental bidet mishaps. No one wants that! Most importantly, this bidet toilet seat comes with a three-year warranty that'll come in handy if you ever experience any issues with it.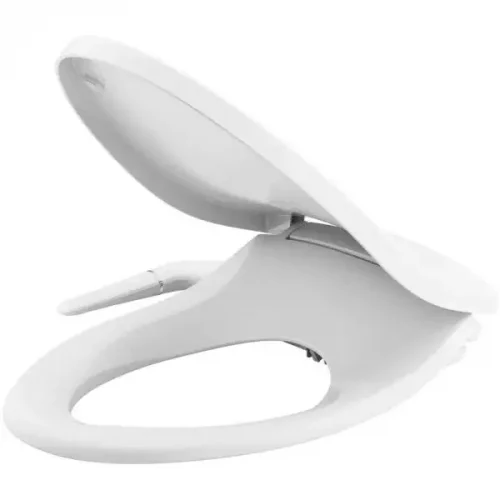 This elongated manual bidet toilet seat from Kohler is one of their best models. The Kohler Puretide, like many of these other luxury seats, features a quiet-close lid, adjustable spray settings, and a self-cleaning wand, but it differs in that it is non-electric. Though it only has a single wand, the convenient, mechanical, manually-operated side handle allows you to adjust the position and pressure as you need. No batteries or nearby outlets necessary!
The Puretide also offers a subtle, ergonomic design that doesn't draw too much attention and fits most elongated toilets easily. Something that makes this one of the best bidet toilet seats is that its quick-release hinges allow your to remove or transport the seat as needed, whether it be for easy cleaning or to adjust for guests. It's super easy to re-install, too, as it requires no tools due to its quick-attach hardware, which includes grip-tight bumpers that prevent the seat from shifting around while in use.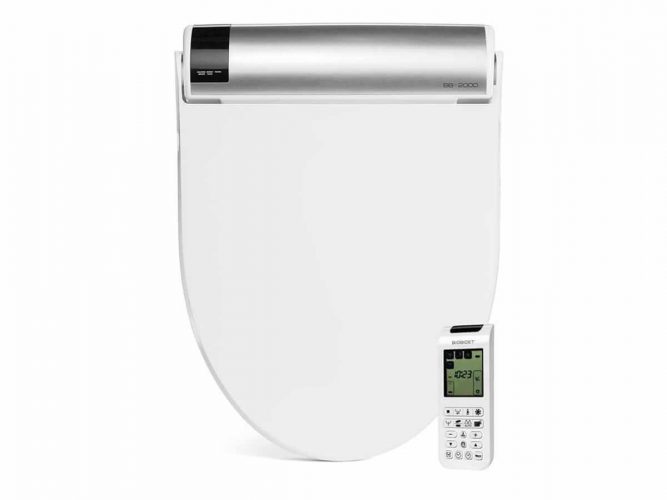 The BioBidet Bliss BB-2000 is a smart, premier class bidet toilet seat that will fit most elongated toilets. In addition to its self-cleaning Hydroflush and Hybrid Heating technology, as well as its unlimited warm water, nightlight, and wireless remote, this seat also offers its specialized Vortex Wash, which uses a high-volume spray for the ultimate cleaning experience. Besides the Vortex Wash, the 3-in-1 stainless steel nozzle on this seat also provides front and rear sprays.
BioBidet's Energy Save Mode is also as eco-friendly as it gets, as it reduces the need for both electricity and toilet paper. Sturdy and monochromatic, the BB 2000's design is instantly recognizable as a modern classic. The wireless remote is equally chic, thanks to its unique and user-friendly 3" LCD screen. With arguably one of the strongest spray pressures on the market and a durable design that can seat up to 420lbs, this is definitely one of the best bidet toilet seats, and is certainly the beast of luxury bidets. It even includes a so-called "enema function"—but we'll let you look into that.