Best Cold Brew Coffee Maker For Café Quality At Home
Cold brews have gained popularity over the last few years as caffeinated thirst-quenching saviors — not to be confused with a bitter ice coffee (although if it's the only thing on the menu remotely similar to a cold brew, we'll take it.)
Quick lesson: ice coffee is filter coffee poured over ice – whereas, cold brew is coffee grounds steeped overnight. The flavor distinction between two is palatable. The cold brew process makes cold java less acidic than hot coffee, leaving almost no bitterness to taste. We've compiled a list of cold brew makers that will bring cold caffeinated heaven into your own home (with the help of your favorite coffee).
OXO Good Grips Cold Brew Coffee Maker
Oxo has become a household name for their easy to use countertop appliances, like the Good Grips Cold Brew Coffee Maker. This machine has everything required to bring a professional coffee shop setup to your home to make the best cold brew coffee (including a glass carafe). Steeping coffee in cold water for 18-24 hours sounds simple, the reality is that the process is more complicated than one would expect, but this cold brew maker keeps it simple. After adding your coarse coffee grounds, pour cold water into the container, and let the rainmaker do its work — the brew-release switch starts the steeping of the coffee, creating a delicious concentrate. The clear markings on the side of the carafe help with portioning out the concentrate. This pick for best cold brew coffee maker is a beautiful example of why cold brewing is so popular.
Hario Mizudashi Cold Brewing System
For people who do not like too much fuss – the Hario Mizudashi Cold Brewing System is simple and straightforward. This system comes with 3 pieces to assemble, including a reusable filter – and the size of the pitcher can accommodate (up to) 4 cups. Be ready to take some time pouring small amounts of water over coarsely ground coffee beans, then using a wooden spoon (in the skinny filter) stir as the water passes through. Although this kit recommends leaving the coffee in the fridge for around 8 hours, the flavor profiles probably won't peak for about 12-18 hours. Hario's reputation in the coffee game is strong — this cost-effective cold brew coffee maker will help anyone (even a novice) feel like a coffee master.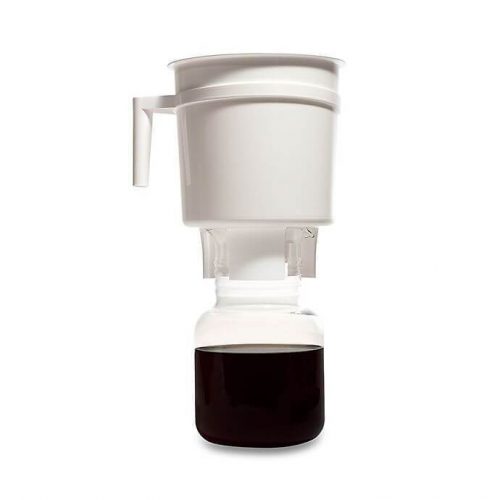 This cold brew maker may not look pretty sitting on top of your kitchen counter, but it's one of the best options on the market. The Toddy Cold Brew System has been around for decades and includes a brewing container, disposable and reusable filters, stopper, detachable handle and a decanter (with lid). Choosing between the two brewing options — The Toddy Classic and the Toddy Dual Filtration method –is nothing more than selecting personal preference. (We liked the dual filtration system for flavor, and because no coffee grounds were found in the glass carafe.) The brewing process does take approximately 12-24 hours, but the concentrate can stay fresh in the fridge for up to 3 weeks depending on how much coffee you drink. This cold brew system may seem expensive, but considering it can be used to make hot coffee, or strong cold brew concentrate that can be divided into about 1 coffee per day, it's very reasonable.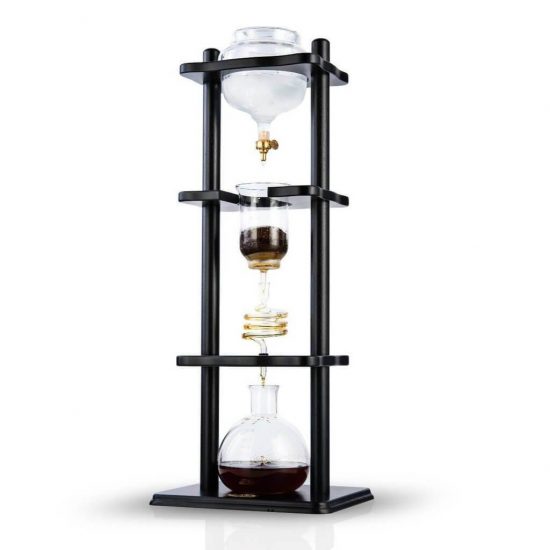 This beautiful drip tower is made from premium hand-blown borosilicate glass, with a design almost looks out this world. The Yama Cold Brew Tower is a serious investment but promises to be the best cold brew coffee maker, improving after every brew cycle. The tower may seem overwhelming, but it's quite intuitive – it's designed to create a controlled drip, removing acidity, and pouring the smoothest coffee your palate has ever tasted — in less time than the average steeping methods. The boldness is controlled by an adjustable valve, and the spiral chamber creates an even drip into the glass decanter. Whether you are making coffee for one cup, or a full pitcher, the brew can live in the decanter for up to 2 weeks. This luxurious brewing tower is worth the money for the acid-free coffee, but more importantly, the drip time.
Cuisinart Automatic Cold Brew
Cuisinart has always been ahead in the countertop kitchen appliance world, so it is no surprise they wanted to join the cold brew phenomenon. This steep station can be considered non-traditional, it's unique spin technology brews coffee in as little as 25 minutes – and can accommodate 3 different strengths: mild (25 minutes), medium (35 minutes) and bold (45 minutes). To brew just add water to the 1-liter removable water tank, then add coffee to the reusable filter, and finally just press the brew — the spin technology will start its magic, creating a smooth cup of joe. The glass carafe can hold 7 cups and has a removable stainless steel filter — the cold brew can keep its flavor for up to 2 weeks. Just to be clear, the result of Cuisinart's cold brew method is not a concentrate, it is ready to drink cold brew coffee. If only this machine was programmable!
Takeya Deluxe Cold Brew Iced Coffee Maker
This American made cold brew maker is simple and uses less coffee to create a delicious cold cup of java. This leakproof pitcher yields 4 servings, (1 Quart), has a no-slip grip silicone handle, and is made of high-quality shatterproof Tritan™. The coffee filter is made of a fine mesh, which can be used with most size coffee grounds. This model is a great entry maker for anyone interested in converting to the low-acidic world of cold brew. Eventually, you may want to upgrade to a method that uses glass, instead of durable plastic – but the Takeya Deluxe Cold Brew Iced Coffee Maker is still a great place to start.
Bruer Cold Drip Coffee System
Bruer's Cold Drip System was created to make specialty coffee in your own home. This cold brew method is a simple three-step process and makes approximately 20oz of concentrate in 3-12 hours. The adjustable valve gives you control of the drip time — turning the regulator clockwise changes the drip time (anywhere between 1 second and the recommended 1.5 seconds). Finding your preferred boldness will require some trial and error, but remember not to create too quick of a drip, or a double drip, because the coffee will taste like weak dirty water. The borosilicate glass tower holds ice and water, which filters into the center (soaking the coffee grinds), then passes through the stainless steel filter and into the glass carafe. This cold drip coffee system is reasonably priced, easy to clean, and comes in a choice of four different colors to fit any kitchen aesthetic. 
Dash Rapid Cold Brew System
Dash has revolutionized the cold brew game with its Rapid Cold Brew System — for those who love the sweet, smooth taste of coffee, but only have minutes, this machine is for you! Simply add water and the coffee grinds of your choosing to the container, then use the easy turn dial to select your flavor intensity, and voila! Its ColdBoil™ technology uses pressure instead of heat to extract the cold brew, moving 16 servings of coffee to the carafe in no time. Depending on your coffee's intensity the percolation can take anywhere between 5 and 15 minutes, and your cold brew will stay fresh in your fridge for up to 10 days. To keep the machine in pristine condition, simply run the machine (using only water) after every use. The modern design of this machine compliments any kitchen, we only wish it had a longer power cord.
Yes! You can select any coffee beans, as long as they are ground to a coarse consistency. Steeping your coffee of choice in cool water, for a long period of time, will saturate the coffee grounds. The trick is to never expose them to the high temperatures which can release oils and create an acidic taste.
The short answer is, yes! Although heat extracts more caffeine, cold brew is generally steeped into a concentrate with a higher ratio of caffeine. Cold brews generally have to be diluted with water, or milk(s) to drink. An average 10oz cup of cold brew contains approximately 275miligrams of caffeine, where a 30oz cup of hot coffee contains around 25 milligrams.
The cold brew makers mentioned above will result in coffee with a higher percentage of caffeine than your local Starbucks. Acquiring coffee equipment for your home is a great idea - especially when it comes to saving money. Once you've mastered your cold cup of joe make sure you're prepared for your friends to visit your kitchen more often.