High-Tech Camping Gear For the Best Outdoor Experience
As summer slowly comes to an end, many of us are packing up for our last trips of the season. If you're like most folks, you've probably spent the last year or so mastering the art of spending time outside, thanks to pandemic-era restrictions.
Soaking up as much of the sun as you can before the cool weather hits is always fun, but gathering all the essentials you need in the great outdoors can be stressful. While you probably have most of your basic gear on lock by now, treating yourself with a product or two that will make life extra comfortable in the wild can't hurt.
There is an overwhelming amount of luxury camping items to choose from nowadays — from portable toilets and fire pits to GPS watches — and it can be confusing to even know where to start. Lucky for you, we've rounded up some of the most popular high-tech camping gear of 2022 in this QMan best-of list. Read on to learn how you can update your kit for your next outdoor adventure!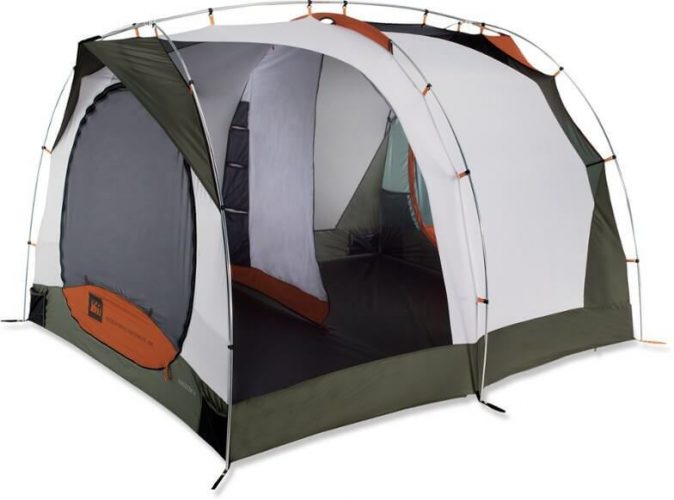 This three-season tent will allow you to continue camping through the end of summer and beyond! Protecting you and up to four tent buddies from a number of harsh conditions, the two-door Kingdom 4 is color-coded for easy installation and uses subbed pole assemblies, pole clips, and sleeves to ensure a secure, freestanding pitch. It even includes a backpack carry bag with storage pockets! If you're ready for an upgrade from your beginner tent, this one from REI Co-op is tried and true. This tent will support your camping endeavors—rain or shine!
At a steep $1,150, this ain't your basic tent. When we say high-tech camping gear, this is what we're talking about. The Entry Pack TS tent from Snow Peak fits four to six people in its bedroom, but it also provides an indoor living space for when you've had enough of the bugs or the weather isn't cooperating as you'd hoped. Plus, it features more mesh than most, so you're guaranteed to have proper ventilation and can still take a peek at the awesome nature views. Water-resistant and sturdy, this model is perfect for camping trips year-round. The Entry Pack TS is a smart investment that holds the flashy elements that typically come with a high price tag. Neutral and subtle in design, both aesthetically and functionally, it is certainly a worthwhile addition to your camping kit.
Tentsile Stingray 3-Person Tree Tent
Trying to move away from your standard, everyday tent? The Tentsile Stingray is your match made in heaven. The Stingray is a tree tent, which means you can hang it between trunks and sleep suspended above the ground. Marketed as "a treehouse in a bag", this tent is anything but average. No need to worry about whether it can hold your weight, either—the Stingray can support up to three adults, or two adults and two kids. It's ideal for a young family of four! Whether you aren't eager to share the forest floor with other creatures, or you're just looking for a novel experience, this is a go-to option. It was even featured in New York City's Museum of Modern Art! What other tents can you say that about? Quite literally a work of art, this is the tent for you.
Furrion eRove Electric Cooler
This is not your grandpa's cooler, that's for sure! This battery-powered, solar-rechargeable model from Furrion is unique, to say the least. Talk about high-tech camping gear! If you're able and willing to spend $900 on the perfect cooler, look no further. The eRove will keep your food and drinks fresh without the hassle of a regular cooler. If you're fed up with melting ice and warm beer, this electric cooler is the answer to your prayers. Plus, it can fit up to 72 cans, which means it's perfect for both your low-key camping trips and banging backyard parties. It also comes with detachable cup and umbrella holders, so you can set up and chill out the right way.
Yeti Hopper Flip 12 Soft Cooler
Maybe spending more than a few hundred dollars on a cooler freaks you out—and that's okay! This is where Yeti comes in. Still high-tech but well within your budget, the Hopper Flip 12 is the way to go if you're not ready to splurge. Featuring Yeti's unique Dryhide shell, Coldcell insulation, and a Hydrolok zipper, this cooler is as tough and reliable as they come. Leakproof, waterproof, mildew and UV resistant, all while keeping your goods as cool as can be? It almost sounds too good to be true, but we're not kidding! With a wide-mouth opening for easy storing and a Hitchpoint grid for all your favorite gadgets, this cooler will be a hit the next time you set up camp.
Goal Zero Nomad 7 Plus Solar Panel Charger
The last thing you want when you're out in the middle of nowhere is a dead phone battery. Of course, we all want to take the opportunity to disconnect, but…not fully. The Nomad 7 Plus is a portable solar panel that charges phones and other USB devices with the power of good old Mother Nature. It features an LED indicator that guides you to the best place to set it up and displays the strength of the current solar conditions. Its detachable kickstand helps keep it at the perfect angle to get your devices back up and running in no time. How else are you going to share all those amazing views on Instagram?
LifeStraw Personal Water Filter
This little gadget may be unassuming in appearance, but it definitely packs a punch. At just under $20, it may not sound luxurious, but the LifeStraw is one of the coolest camping inventions and remains a must-have in any outdoorsman's kit. This staple survival tool allows you to drink out of bodies of water through a straw. Thanks to its innovative membrane microfilter, the LifeStraw removes 99.9% of bacteria, parasites, microplastics, and sediment from the water you find in nature, which means you'll be able to hydrate in a pinch without getting sick. It also weighs less than 2 ounces, making it super portable, and its filter is good for five years of use. It might not be the most glamorous item, but it could save your life!
VSSL Adventure Ready First Aid Kit
When it comes to high-tech camping gear, this might take the cake. VSSL has created a number of useful gadgets, but their sleek, stylish, and easily portable first aid kit definitely tops charts. Stored in its waterproof, compact, and impact-resistant container is a curated set of 46 first aid essentials meant for the outdoors. Not only is it a fully stocked first aid kit, but it also doubles as a flashlight and compass—how cool is that? This VSSL product is guaranteed to help you nurse any camping mishaps, but it could also be a really useful item to keep in your car or take with you on any other kind of trip. You never know when you'll need it most!